We all have bad hair days…but it doesn't have to be all the time!
Women (and men) with straight or curly hair battle this almost everyday — having frizzy hair! And it sucks when moisture sucks the life away from your hair and the result? Dry, poofy, fluffy, spongy and totally uncontrollable hair!
Why does this happen, you ask? Well, we'll explain.
When your hair lacks moisture, its outermost layer called the cuticle opens up and takes in the moisture from the air, which causes the hair strand to swell, thus creating the unattractive frizz. Lucky you, you may no longer be committed to a lifetime of frizzy hair especially during humid days if you follow these tips to transform your frizzy hair into cascading shiny tresses.
Are You in Curly Hair Denial?
If your hair is frizzy all the time – perhaps consider the fact that you might have naturally wavy hair and are just in denial!  Start adding a bit more moisture to your hair (or even better, grab some curl defining cream) and wear it in a scrunched or curled fashion and see how it feels. It might be life-changing!
1. Wash Your Hair with Conditioner only.
Shampoos can dry your hair so if you have curly hair, which tends to be drier than straight hair, you're more prone to getting frizzy hair if you wash frequently with shampoo. Instead of shampoo, try co-washing or washing your hair with conditioner only. Water and conditioner could be enough to keep your hair clean and soft. There are now cleansing conditioners available in the market that are specifically designed to cleanse your hair while maintaining its moisture.
2. Only Use Sulfate-Free Shampoo
The sulfates in shampoos are the main culprit why shampoos leave your hair dry after washing. Thanks to sulfate-free shampoos, your hair will never have to suffer again. Plus, there are also shampoos that have high glycerin content which makes it even better in helping your hair lock the moisture in. Glycerin coats the hair with moisture and blocks outdoor moisture from getting in.
When choosing the right shampoo, make sure that glycerin is listed high up in the ingredients list because the closer the ingredients are to the top of the list, the more concentrated they are.
The best Sulfate-free shampoo's include:
3. Use the Right brush or Comb.
If you're dying to cut your thick, curly hair so you can just take the tangles right out in an instant, hold that thought, you need to read this. Maybe you just need the right brush to keep your hair from tangling. Find a detangling brush or a wet brush that works to help detangle your hair easily.
Before you shower, you might want to use a boar bristled brush to help distribute your hair's oils. This way, when you shower, the oils will then easily be lifted away from your scalp and onto your hair strands.
Once your hair wet, be super gentle when brushing it out.  Only use a wet brush on wet hair (it detangles and doesn't pull). Your hair is at the greatest chance of breakage when its wet!
4. Don't Wash Out Your Conditioner
This is a trick I have found for my pube-like frizzy hair.  I wash my hair as usual, then condition.  Then I only wash out the conditioner that is on my scalp, and leave the rest in my hair.
It helps the curls form beautifully and stops the dreaded frizz!
I then dry my hair using a defuser and scrunch my hair to enchance the curls!
5. Avoid Using a Towel to Dry Your Hair
When drying your hair, don't rub your hair with a towel. It can cause friction which damages your hair. Just squeeze out excess water with your hands, pat dry and let your hair air dry.  Grab some of those microfibre turbans instead.  They are so much more gentle on your hair strands.  Another option is to use a soft t-shirt to wrap your hair.
For curly hair, you can also use the plopping technique which helps dry curly hair while compacted in a T-shirt. Here's a full tutorial.
6. Invest in a Silk or Satin Sleeping Cap
It feels nice to sleep in a cotton pillowcase but it's not nice on your hair. Cotton pillowcases can suck up all the moisture in your hair. So, to avoid this, wrap your hair in a bun at night, and invest in a sleeping cap.  Preferably a silk, satin or even bamboo material.  You can also use silk pillowcases.
These stop the hair from tangling in your sleep!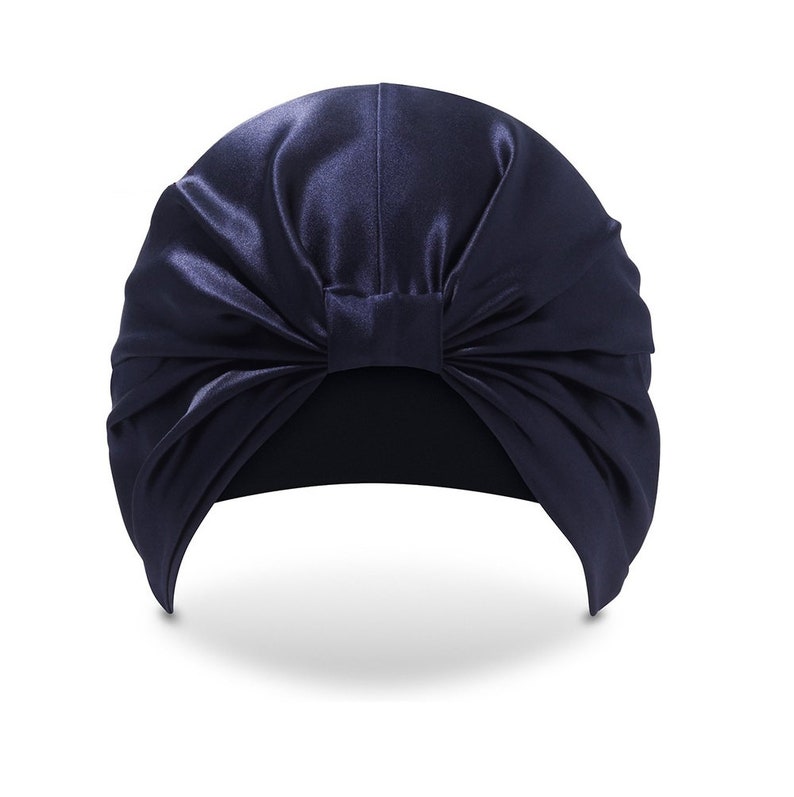 7. Get the Right Haircut.
When you have curly hair, you need to be specific on your haircut to avoid it looking thicker or frizzier than it already is. Curly hair and straight hair should not be cut the same way. Curly hair should be cut when dry so you'll know what it would actually look like. You may also need an experienced hair stylist who can shape your hair that's perfect for you and who can help you understand how to manage your hair. As much as possible, get a regular trim to prevent split ends.
8. Use a hair iron or straightener. Sometimes.
Probably the fastest way to tame your head of hair is by using a hair iron or hair straightener. Dermatologist Jeannette Graf explains, "Flat-ironing helps ruffled hair cuticles lie flat, which creates more surface area to reflect light." This means it will also make your hair glossy.
However, be extra careful not to fry your hair strands. When ironing, use a gliding motion to prevent burning your hair, and choose ceramic plates that will help protect your hair from too much heat. You may also want to put some heat-protectant serum or spray before ironing as an added protection to your hair.
9. Rub vitamin E onto your scalp.
This goes with any type of hair. Rubbing vitamin E onto your scalp will help nourish your hair from the roots. Softsheen-Carson stylist Johnny Wright, who works with former US First Lady Michelle Obama explains that some of his clients actually break open vitamin E capsules and rub the gel directly on their hairline.
Vitamin E is an antioxidant that helps increase circulation, thus stimulating growth. There are also vitamin E serums that are specifically designed for the hair.
10. Eat right.
We all know beauty comes from within…sometimes, literally. Eating right and having a healthy diet not only helps our immune systems grow strong, it also makes our hair grow great. A diet with the right amount of egg yolks, (which as L-cysteine which optimises the production of keratin) olive oil and anchovies (which contain omegas needed to hydrate your hair from the inside) can go a long way. So the next time you think about putting those anchovies on your pizza aside, think again.
What are your tips to manage frizzy hair? Share it with us!