Choosing outfits to wear on Christmas Day when you're the Mum isn't easy. We have so many things to consider….
Is my outfit suitable for running after toddlers?

If I get spewed/pooed on – will it still look okay?

Will I be too hot/cold?

Will it cover my belly/bat wings / chunky thighs?

Will it make me look pretty?
Plus comfort is a HUGE consideration as Christmas Day is always so long and you really need to consider clothing and shoes that will carry you through without pinching or having to pull or push tops that might be too tight.  You don't want anything that clings, but you don't want to look like a brown sack either.
So here are the Stay at Home Mum approved outfits that are both practical and pretty to wear at Christmas.
Outfit #1:
The Christmas Breton Shirt by Boden Clothing
Why we love it:  It doesn't scream 'I am obsessed with Christmas' but still has beautiful festive colours.  You can wear this all year round without people looking at you like you are a crazy person.  Pair it with a pair of shorts and a pair of Converse for a cute outfit that looks like you have your shit together, even if you don't!
The 3/4 sleeves hide the upper arms (which is a sore point for loads of Mum's).  It is bright and beautiful and will look fantastic on Christmas Day! Plus it is longer in the body!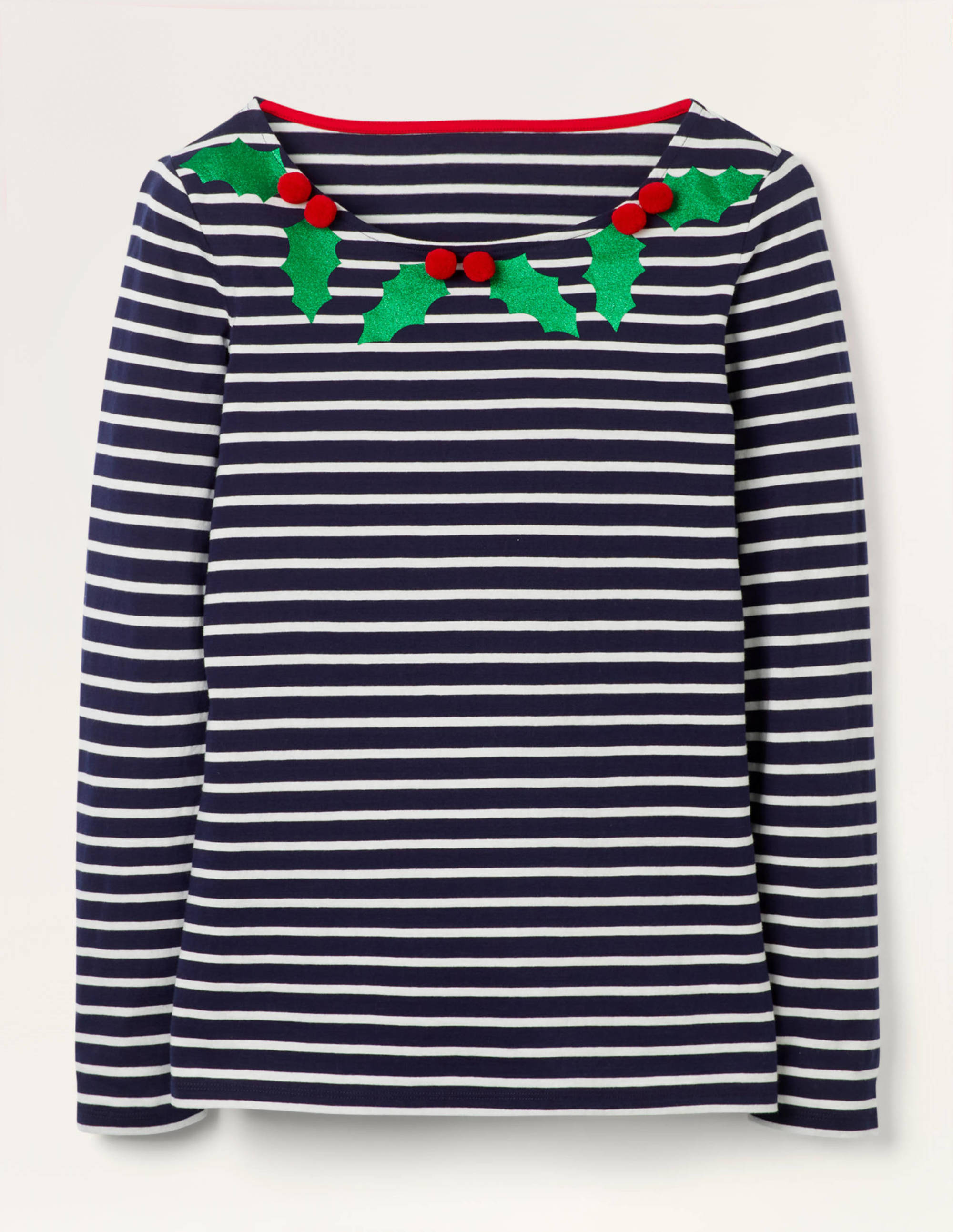 Chino Shorts
Finding shorts for women that don't show what you had for lunch or are too long and make you look sixty – are really hard to find.  That's why I love these, they are the perfect length, they are well made and really keep your belly in check without cutting you in half.
I personally own three pairs of these shorts and they are FANTASTIC!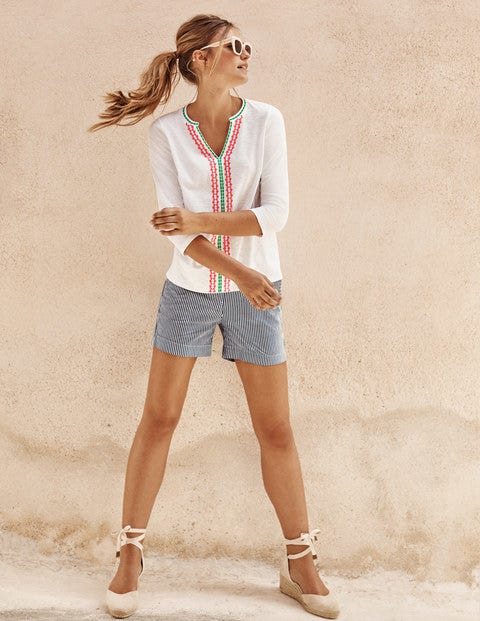 I'm proud to admit that I own three pairs of these bad boys.  They are comfortable, look fantastic, and the older and dirtier they look, the cooler they are.  Really, you can pair Chuck Taylor's with any outfit and it is going to look fabulous.  These Ballet Flat style are just a tad girlier!
---
Outfit #2:
Natural Jungle Mix Top
Oh 3/4 shirts, how I love thee!  They hide all the bad and show off all the good.  Plus this gorgeous shirt is also in Christmas colours.  It will look great with jeans or shorts and doesn't look to 'Mummy' like.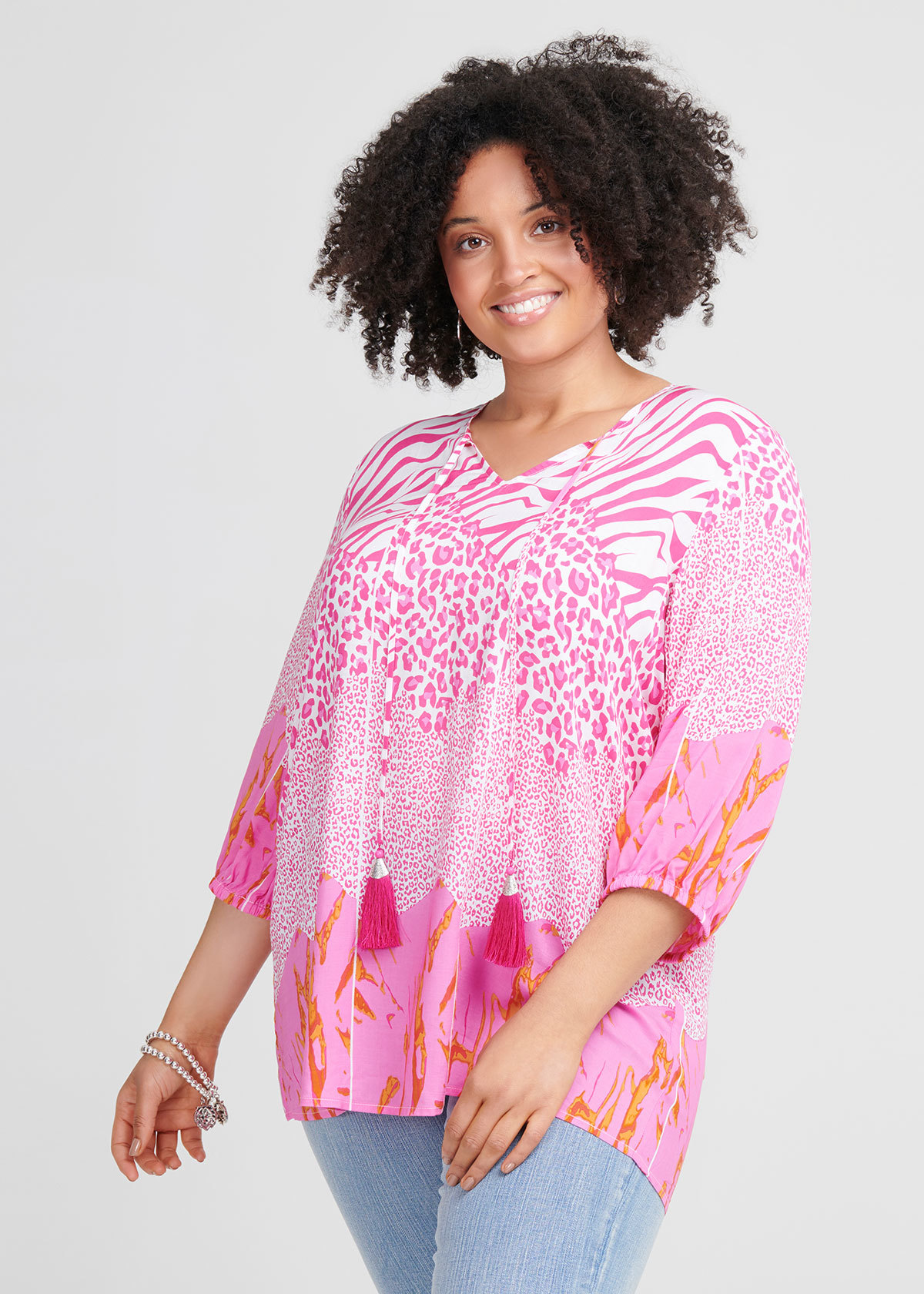 The Bestfriend Jegging
Jeans can be hot – so if you are going to be out in the sun all day, don't even think about jeans.  However, if you are in airconditioning, jeans are great.  I've found since I've had a Mummy Tummy that jeans can get really uncomfortable around the middle, which is why I love these jeans are they are S-T-R-E-T-C-H-Y.  Stretchy is a Mums best friend.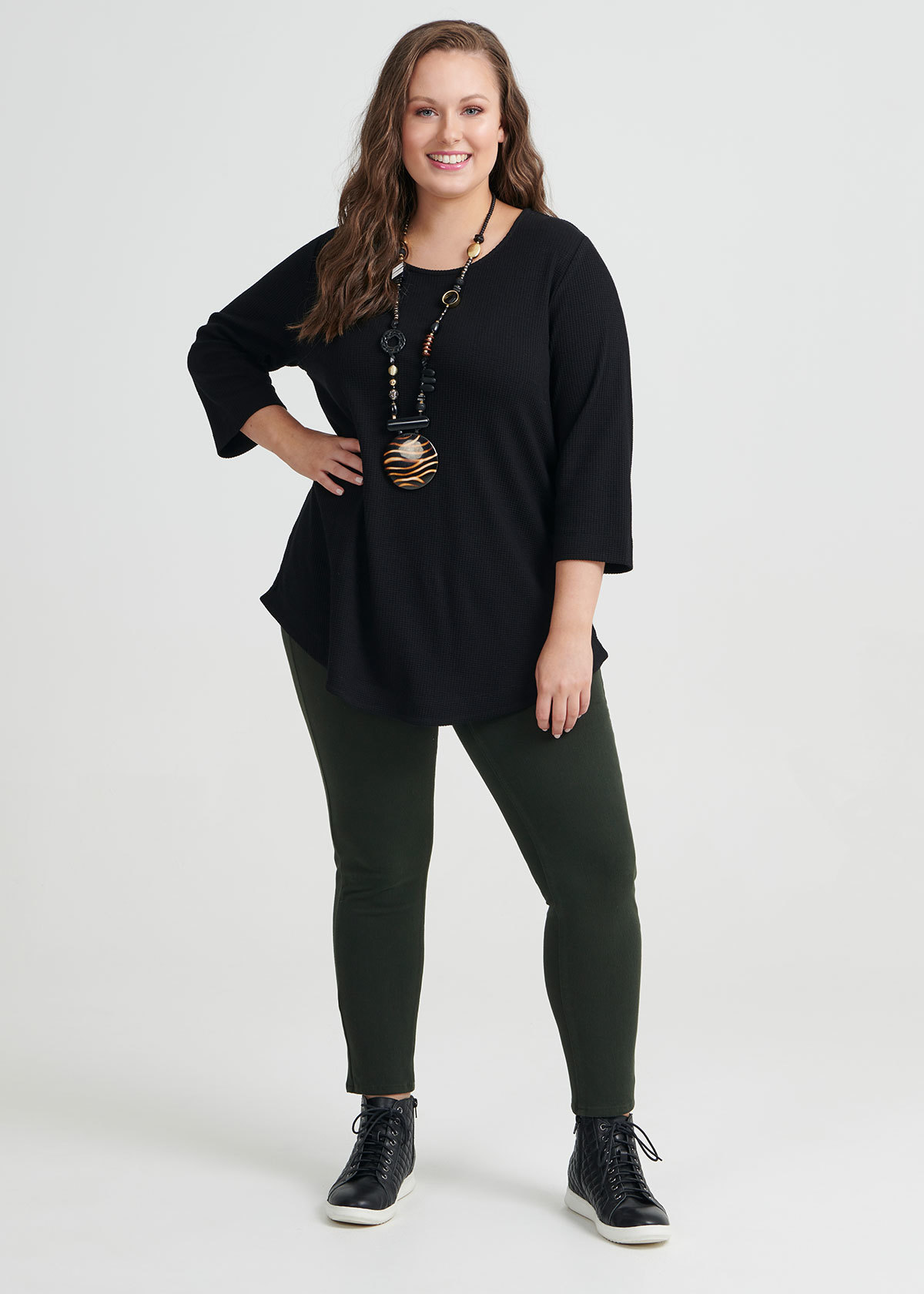 ---
Outfit #3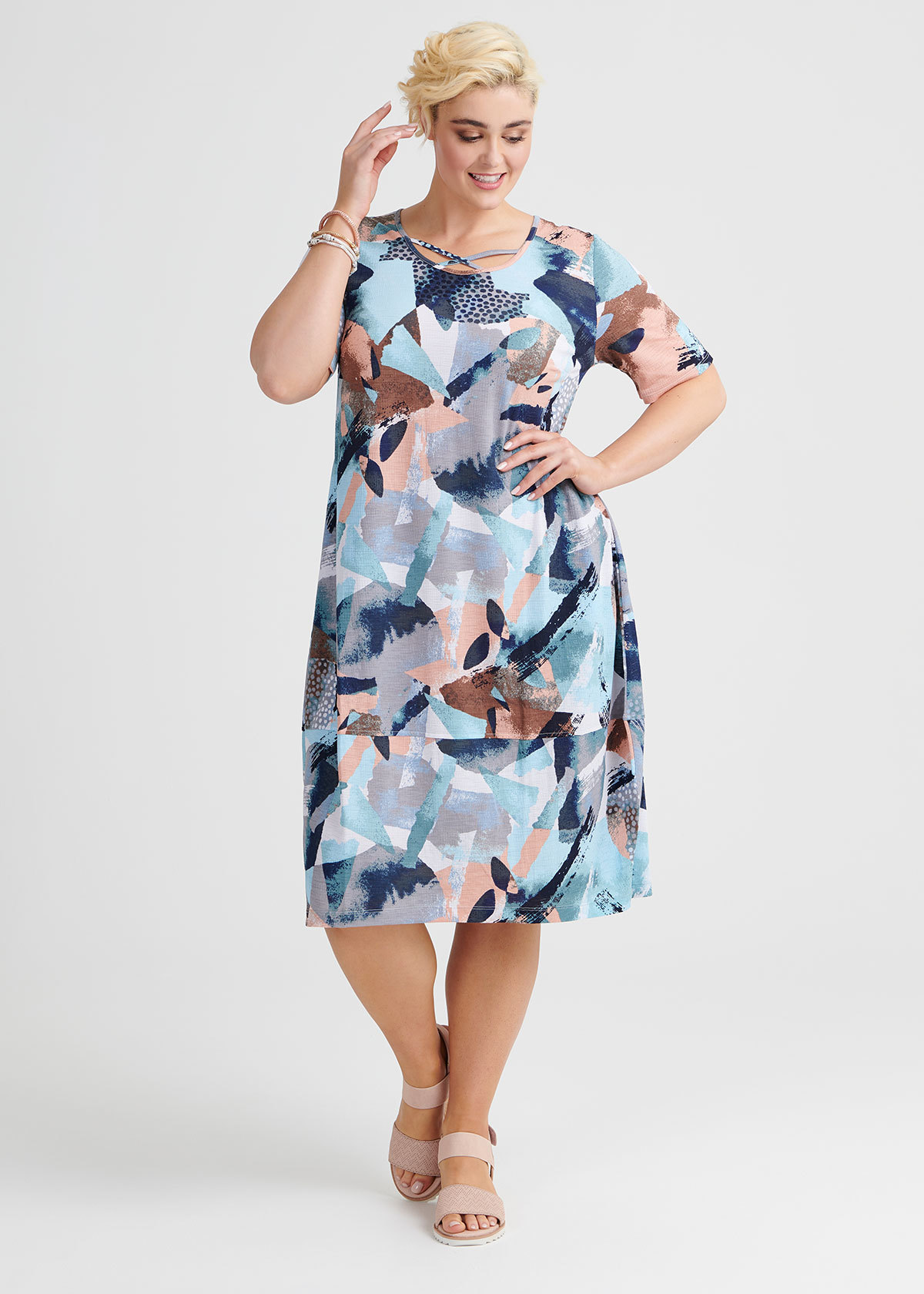 or…
In soft, comfortable cotton jersey, the elegant scoop neck and roomy front pockets give this dress a contemporary look that works equally well in the office or at your go-to brunch spot. We also added a super-flattering shape with a ruched waist (to hide any bumpy bits).
Need the perfect everyday heels for warmer weather? These ver satile wedges are just the thing. The mid-height heel and soft suede upper with cushioned support make comfort a top priority. What's more, the contrast trim and circle-shaped straps add effortless chic.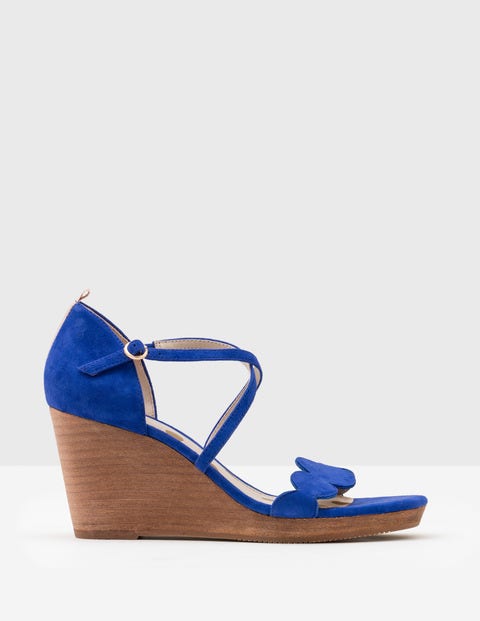 ---
There you go, three outfits to choose from! If you don't have any of these products, you can just look for something  that you already have that is similar and then put it on to pick the perfect one! That or you can buy a new one as a 'gift' to yourself!
More practical and pretty outfits to wear on Christmas day…
When the day is done, change into party heels and head out for dinner. Being such a lovely flame colour, it's a winner for Christmas drinks and parties. Remember a scarf and a jacket for travelling when it's chilly.
Overall, Christmas Day is a time you want to enjoy.

You have plenty you need to worry about without agonising over your outfit. Shop now and look your best as you launch into your Christmas Day comfortably and with an effortless summer feel.