Bit Scared About

Buying a Formal Dress Online?
Don't be! We have done all the research for you and found the most reputable sites to buy formal dresses online – worldwide!  Sites that we have purchased from personally – and that get great reviews online!
No cheap horrible knock-offs either… just the real thing!
Advantages of buying a formal dress online:
Unique! You certainly won't turn up to your school formal with someone else in the same dress.  In fact, because of the fantastic names we have included in this list, most of them ensure that they don't sell a dress the same to another person going to the same event – smart huh!
Plus when you buy online – you can shop around for the best deal on the same dress.
Formal Dress Styles Trending in 2021
2021 is the year of the Hollywood Glamour Formal Dresses. Think dramatic and bold.
Colours:  Black or White, Peacock Blue and Blood Red
Style:  Tailored suits, mermaid style, halter neck, two-piece or even a jumpsuit!  Trains are also in 2021.
Fabrics:  Faux fur, tulle, velvet, lace, Satin
What's New?  Scuba fabric!  Sounds weird – but it holds in all lumps and bumps, and looks svelt!
Can't Afford it? Hire It!
If you want to go couture on a cola budget – there are ways around that.  There are companies now that will enable you to hire designer dresses for formals and school proms – for a fraction of the cost of purchasing.
These are some of our favourites:
I used the services of GlamCorner myself when I had to MC the Gympie Chamber of Commerce Awards night and I wore an exquisite Rebecca Vallance gown that I couldn't afford to buy if I saved for a year!  The dress arrived on time and was PERFECT! (see the photo below – third from the left).
They stock designers such as Alex Perry, Alice McCall, Fame & Partners, Thurley and Rebecca Vallance
Check out their range of formal dresses here >
What are the Best Formal Dress Websites?
That's a great question – because there are loads of formal dress websites around that are cheap knockoffs from overseas or they are poorly made or they don't have a great range.  That's why we put together this list for you – so you don't have to go anywhere else!
United States Formal Dress Websites That Post to Australia:
When it comes to formal dresses, the United States has all the latest and greatest styles.  Most do make their dresses to order so you need to take this into account if you are looking for a dress in a hurry!  Here are the best stockists in The United States:
CoEdition is a US Website that has plus-size formal gowns (and fashion in general) – but they have some of the most well-known amazing formal dress brands around!  Brands that they stock include:
See their range of formal gowns here >
If you are wanting the latest styles of formal dresses including loads of two-piece options, lots of bling and high skirt slits, then Cocomelody could have the formal gown for you.  Cocomelody has only just started releasing their formal dresses, in the past, they were known as wedding dress designers – and they still do this – but their range of gowns are very glamorous!
Remember their gowns are made to order – so if you decide on one of their dresses – you will need to allow time for production.
Check out their range of formal dresses here >
The Trumpet-Mermaid Ankle Length Sequined Gown CS0304 from Cocomelody
If you are into quirky, alternative nerdy or retro type formal dresses – Modcloth is the place to go!  All their dresses are so adorable and really they are timeless.  Now they don't have a massive range – but it is worth checking out for something a bit different.
The Dauntless and Daring Velvet Maxi Dress from Modcloth
Another fantastic retro and vintage styled dress shop that I have bought from on multiple occasions.  Perfect for Rockabilly, Punk or Alternative Fashion.  They have plenty of dresses that are perfect for a school formal!
Australian Stockists for Fantastic Formal Dresses Online
Bariano is one of the leading names when it comes to beautiful ball gowns and formal dresses – and luckily here in Australia, there are loads of stockists of this amazing brand.
Find the cheapest Bariano stockists here >
Bariano Red Bandeau High Low Organza Gown
Catch
Okay this one is TOTALLY OUT OF THE BOX, but you will thank me I promise.  Catch has last seasons ball gowns and formal dresses – and you get the real thing – real cheap!  And no they aren't shit brands – they are the fancy ones.  Check out the brands (and what they have). There are only limited sizes – but it could be a place to score a bargain!
This Tadashi Gown from Catch is only $177 – and it is the REAL THING OMFG!!!
Danielas
Danielas is based in Melbourne and stocks the largest online range of ball gowns and formal dresses in Australia (big call!).  Designers stocked at Danielas include Jadore, Nookie, Elle Zeitoune, Samantha Rose, Jesse Harper and Les Demoiselle.
They also have beautiful plus size gowns available.
Check out their range of formal dresses here >
The Aria Gown in Dusty Pink from Danielas
Offers Worldwide Shipping
Offers Afterpay
Vivid Gowns stock glamorous gowns that are slinky and sexy!  They cling to all the right places and make 'The Girls' look great!  They stock sizes from 4 through to 24 and have an impressive range of colours of styles.  Designers they stock include Jadore, Elle Zeitoune, Nookie, Maddie & Belle.
Duchess Boutique
Love the dresses the ladies wear on The Bachelor?  Well if you want a truly swanky dress (and don't mind shelling out for it) – Duchess Boutique has the most glamorous dresses available.  Some of the designers they stock include Andrea, Chic Couture, Embellished Masks, Mac Duggal, Prima Couture, Tania Olsen and Terani Couture.
The Iconic has a HUGE range of beautiful formal dresses – with just about every designer you can think of.
Some of the best worldwide designers include
Check out their range here >
Rebecca Vallance is the designer of fabulous gowns that are classy AF – with a big price tag to match.  High class and high-quality gowns that will never date!
Check out her range here >
The Galerie Gown in Red from Rebecca Vallance
If you are looking for a designer show-stopping ball gown – then this is the place you want to go.  All glamour, feathers and body.  Make sure you have loads of cash though!
Stocking over the top designers like Mac Duggal (pictured), Jovani, Portia & Scarlett, Terani Couture and La Femme.
White Runway has more 'affordable' formal dresses (that is up to $500) and they often have really great sales (there was a fantastic dress reduced to only $150).  Designers they stock include Jadore, Bariano, Romance the Label, Samantha Rose, Talulah and Zhivago.
Check out their range of formal dresses here >
Gossip Gowns
Gossip Gowns is one of the stockists of THE BEST formal dress brand anywhere in the world – Sherri Hill.  Yeah – super dooper expensive, but the dresses are so beautiful!  Other fancy brands they stock include Tina Holly, TPC and Jovani.
Check out their range here >
Drool – this Soft Sequin Ball Gown from Gossip Gowns
With prices from $60 through to $1000 – Sentani have a huge range of ball gowns and formal dresses in most popular styles and colours.
Designers include Portia & Scarlett, Ashley Lauren and Tilly.  Many of their dresses come in sizes from 4 all the way through to size 30.
Best of all they have loads of two-piece dresses which are huge in 2021.
Check out their range here >
The Jade Two-Piece Formal Dress from Sentani
If you are looking for a chic yet simple designer gown, Shona Joy has some absolutely gorgeous sheath style dresses perfect for a school formal.  Think deluxe material, skinny straps and pure class!
This online store is specifically for Year 12 Formals – all the dresses and gowns are age-appropriate for the younger set. They carry designers such as Jadore, MRB The Label, Two Sisters the Label, Dream Dresses and Billini
The Camilia Petal Gown in Pink Available from Miss Runway Boutique
Got Limitless Funds to Spend on a Dress?
Okay, saddle up because we have a few stockists of handmade couture gowns that are out of this world!
Check em out!
Have this gown custom made just for you for only $2022.06!  It is beautiful though.
I love this lady – she makes the most amazing Gothic gowns that are just so beautiful.  Check this one out:  It will set you back a cool $3,510.00!
Check out her other gowns here >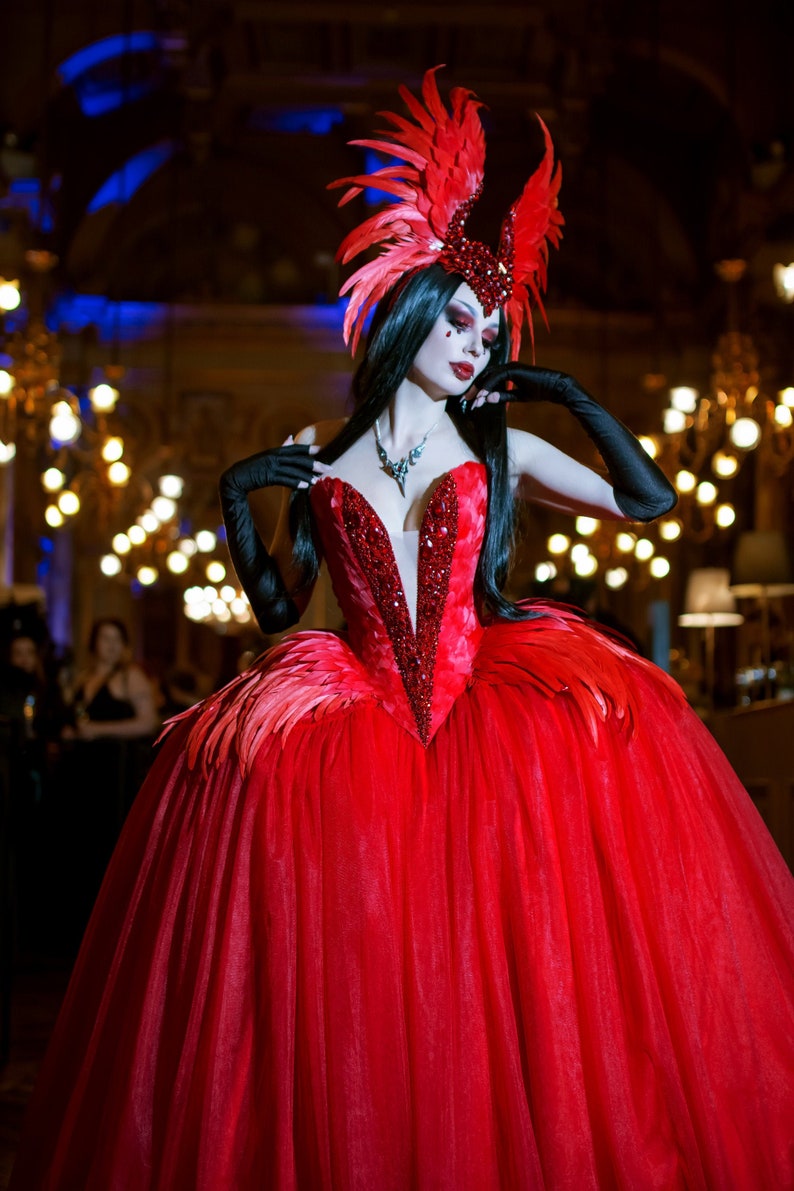 Phoenix Dramatic Fairytale Ball Gown from Alice Corsets
Remember to bookmark this article as we update it constantly.
If you want to be added as a stockist to the list, please contact us at [email protected]