99% of young men watch porn. But a new App on the market may just be the solution to helping men quit porn addiction – for good!.
For men who are addicted to porn and want to stop, but don't want to seek a professional in person, there is now an app on the market that will help them on their journey to go porn-free.
In fact, the new app is promising men that they will happily go porn free within 90 days.
More Reading: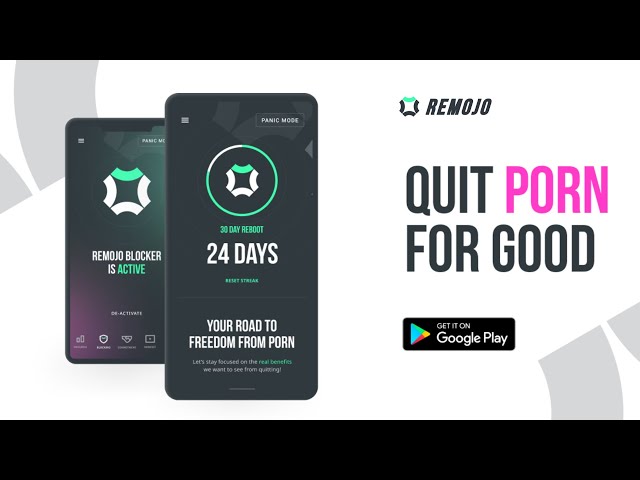 Called Remojo, the app blocks all porn and also has ways to track your progress in being porn free. The app was only released in September and is 'the world's only complete program for blocking and quitting porn, for good."
How Do I Know I Have a Porn Addiction
Millions of men are addicted to porn. The signs of porn addiction include:
Relationship Issues
Compulsive Viewing
Anxiety and Depression
Desensitisation
Dissatisfaction with life
How Does Remojo Work?
Remoji is a fantastic all-round porn blocker, but it also helps you to set your intentions, track your progress, challenge your beliefs around porn and gently helps you gain more self-control over your porn use.
The great thing about the Remojo App is that you don't need to face the embarrassment of going to your GP to get a referral for help. Most men just won't do that. So this is a great way of treating porn addiction at home by rewiring and changing their mindset.
Remojo is a Porn Blocker – But Much More Than That
Remojo blocks all pornography on all your devices, and not just porn websites. It also blocks any pornographic content on social media sites and even triggers that can affect your porn use.
But apart from blocking porn, Remojo offers positive thinking and experiences that rewrite the brain's mindset. By being more optimistic and treating yourself to more uplifting experiences, you can slowly see life outside of turning to porn whenever you get stressed.
What's On the Remojo App?
The Remojo App offers a huge array of content, from podcasts to guided meditations and most importantly, access to an online community with like-minded people wanting to quit their porn addiction.
It also has success stories and a whole section on men's mental health.
What if You Relapse?
Whenever someone is giving up an addiction, there are going to relapse at times. Remojo helps with that by having accountability partners and also 'streaks' which show how many days you have been clean.
How much Does Remojo Cost?
Remojo has a free trial for three days, then plans from $4 – $4.99 per month. You can cancel anytime.