I do love celebrity weddings. They are usually a bit whacky, or they might start new trends so I always look forward to it.
With COVID still ravaging the world, many celebrities have postponed their weddings – and there is still a good chance many of these celebs will do the same in 2021 – but until we hear otherwise – they are due to tie the knot this year! Let's see who..
Katy Perry & Orlando Bloom
With the birth of little Daisy Dove Bloom in 2020, and their engagement on Valentine's Day in 2019, we hope to see long term couple Katy Perry and Orlando Bloom finally walk down the aisle.
This will be both couple's second wedding. Katy was formerly married to Russell Brand for 14 months in 2010, and Orlando was married to Australian model Miranda Kerr for three years in 2013. Orlando and Miranda share a son, Flynn.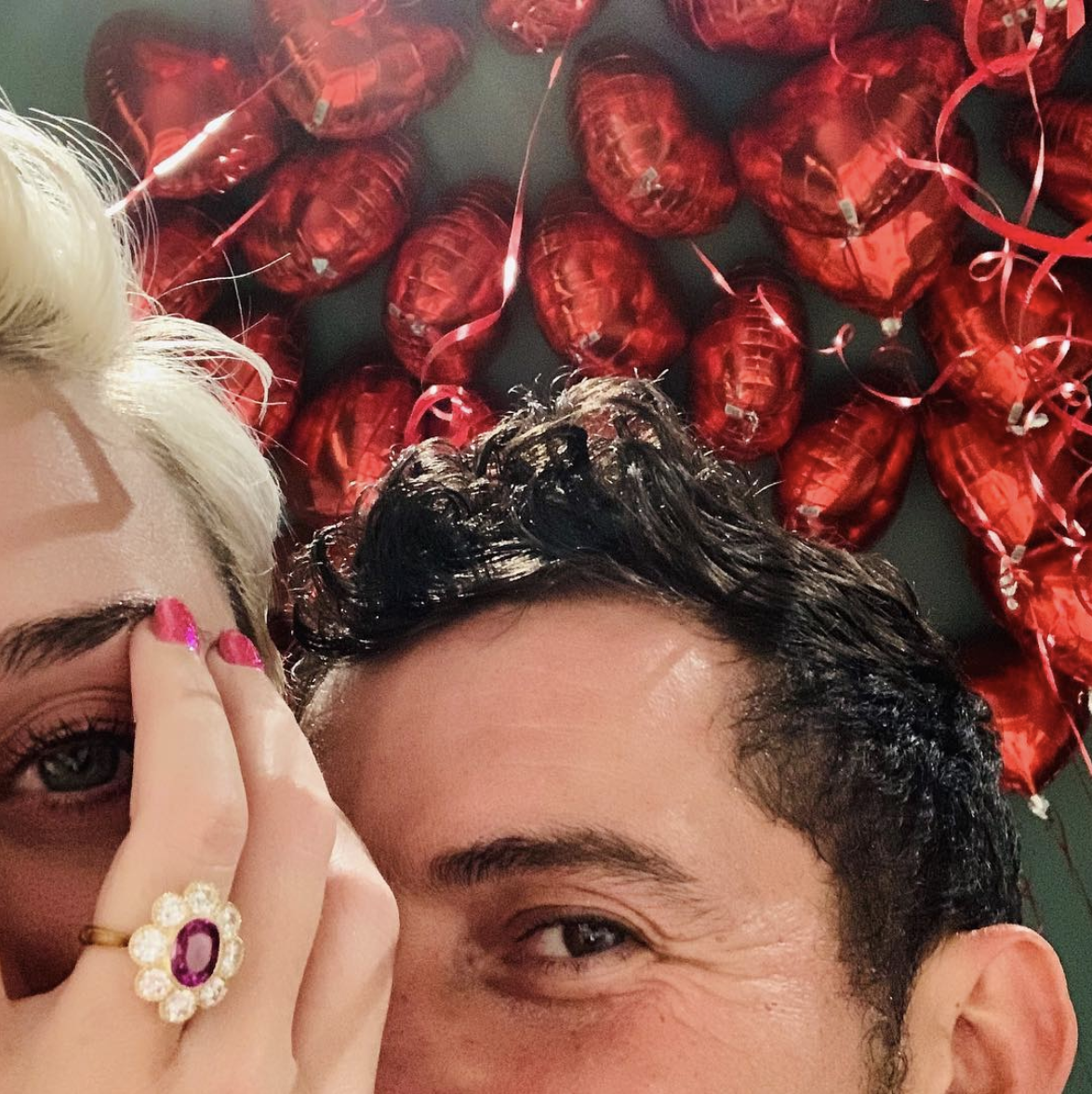 The Ring: Katy is wearing a gorgeous 4-carat pink oval-shaped diamond encircled with eight white diamonds. It is reputed to be worth $5 million dollars! This is the second most expensive engagement ring worn by a celebrity. The first being Mariah Carey's engagement ring given to her by James Packer before they called off their engagement.
---
Ariana Grande and Dalton Gomez
Ariana Grande and her fiancee Dalton Gomez were engaged in December last year after less than a year of dating. It is Grande's second engagement, following her failed engagement to comedian Pete Davidson two years ago.
According to sources, they are planning to get married this year. They have been patiently waiting because of the pandemic but the wedding date is closer than we think.
The ring: Ariana has shared images of her stunning diamond and pearl engagement ring. At an estimation, Ajay Anand, CEO of Rare Carat said he believes it is an 8-carat oval diamond of high color and clarity, meaning we are talking a ring worth $750,000 or more. Many have also speculated the pearl may be a family heirloom.
---
Lana Del Rey and Clayton Johnson
Rumors began in December 2020 when Lana Del Rey wore what looked like a giant rock during an appearance on The Tonight Show with Jimmy Fallon, and the next day, a source for People reportedly confirmed suspicions: Lana Del Rey is reportedly engaged to Clayton Johnson, her singer boyfriend of about four months. The two musicians have still yet to confirm the engagement rumors themselves.
The couple were recently seen kissing in a snap Johnson shared on Instagram celebrating his 32nd birthday as he captioned the photo 'Happy birthday to me.'
According to People, the couple got engaged after meeting on a dating app, and they've been following each other on Instagram since August.
It is reportedly Del Rey's second engagement According to Us Weekly, she and Scottish singer Barrie-James O'Neill reportedly got engaged in summer 2013 after two years of dating, but in June 2014, Del Rey revealed she and O'Neill had broken up.
The ring: There have been little glimpses on Instagram which began sending fans in a frenzy back in October after sharing pic of herself dressed up as Dorothy from The Wizard of Oz, if you look very closely, you can see the sparkler on her left hand.
---
Maria Sharapova and Alexander Gilkes
Another December engagement – Former tennis star Maria Sharapova became engaged to British art dealer Alexander Gilkes in December 2020. The couple reportedly started dating in 2018.
Sharing on Instagram Maria announced, "I said yes from the first day we met❤️This was our little secret, wasn't it."
The Russian has been engaged once before to former NBA star Sasha Vujacic but the pair split in 2012. Her fiance was also previously married to a designer.
The ring: The ring is reported to be a custom-made five carats Jessica McCormack designed jewel handcrafted in 18K rose gold and oxidized silver with a central emerald cut diamond, with a price tag of $500,000 (£300,00 GBP/$400,000 USD).
---
Lily Collins and Charlie McDowell
Lily Collins and Charlie McDowell became engaged in September 2020.
The 31-year-old English-American actress shared a photo to Instagram announcing their news and showing off her brand new ring.
"I've been waiting my lifetime for you and I can't wait to spend our lifetime together…"
McDowell, 37, is a film director and producer. He is the son of British actor Malcolm McDowell and actress Mary Steenburgen
The ring: Her ring is a stunning a rose cut square diamond set in a yellow-gold band, custom-made for her by jeweler Irene Neuwirth.
According to Apeksha Kothari, the chief operating officer of diamond search engine Rare Carat, a ring like Collins' could have cost between $75,000 and $100,000.
---
Liam Payne and Maya Henry
In August 2020 it was revealed that Liam Payne and Maya Henry were engaged after two years of dating. The One Direction star and Henry reportedly first started dating in 2018.
Payne, shares three-year-old son Bear Grey with ex-girlfriend Cheryl Cole.
The ring: A source shared that instead of spending a fortune on a ring that didn't mean anything, he proposed using his grandmother's most prized possession, which he had remodelled for his bride-to-be.
---
Brooklyn Beckham and Nicola Peltz
In July 2020 Brooklyn Beckham, the 21-year-old son of Victoria and David Beckham announced his engagement to girlfriend of seven months Nicola Peltz, 25, in a post on social media.
"Two weeks ago I asked my soulmate to marry me and she said yes xx."
The American actress is the daughter of billionaire Nelson Peltz whose net worth is estimated at $2.45 billion.

The ring: Her ring is an elegant and classic design with an emerald-cut diamond solitaire set on a very fine band of platinum or white gold. It is believed the ring could be in excess of $625,000 (£350,000).
---
Will this be the year J Lo finally say "I Do" to Alex Rodriguez
Jennifer Lopez and Alex Rodriguez, 45, were forced to postpone their wedding due to the global pandemic. The couple got engaged in March 2019 and planned to get married in June last year.
"It was a big deal," she said. "We had been planning for months and months and months, and it was overseas"¦ Maybe that wasn't the right time."
It is the sixth engagement for the star, who has been married four times.
---
Jenna Dewan and Steve Kazee
In February 2020, Jenna Dewan and Steve Kazee announced their engagement on Instagram.
"A lifetime to love and grow with you…you have my heart."
The couple also welcomed their first child together in March 2020. Little Callum Michael Rebel Kazee.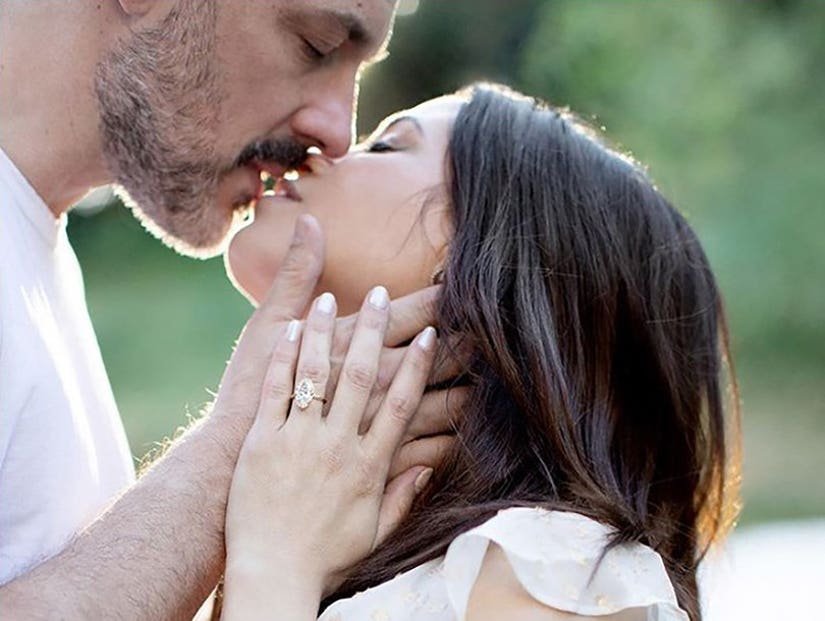 The ring: The ring was designed with the help of Dewan's pal and Twilight star Nikki Reed and her jewelry company, BaYou with Love. It is is made with a conflict-free diamond and recycled gold handcrafted in Los Angeles.
---
Sarah Hyland and Wells Adams
Modern Family's, Sarah Hyland, and The Bachelorette's, Wells Adams, shared their engagement news back in July 2019.
"That can't eat, can't sleep, reach for the stars, over the fence, world series kind of stuff ✨❤️ @wellsadams," she captioned a series of photos, which showed Adams getting down on one knee.
The couple have been together since 2017.
The ring: Sarah's ring features a beautiful white 5-carat Oval cut diamond on a simple thin band, from Lorraine Schwartz, and could retail from $160K.
---
Gwen Stefani and Blake Shelton
After five years of dating, pop star Gwen Stefani and country singer Blake Shelton announced their engagement in October 2020.
"Hey @gwenstefani thanks for saving my 2020… And the rest of my life.. I love you. I heard a YES!"
Gwen filed for divorce from musician Gavin Rossdale in 2015, and Blake announced his divorce from ex-wife Miranda Lambert the same year, the couple have been dating ever since.
The ring: The ring features a classic, six-prong setting with a 6-carat solitaire oval diamond set in a white gold or platinum band, putting the cost somewhere above $680,000.
Blake had the ring custom-designed, said a source, adding that the country music star asked Stefani's dad for permission before popping the big question. "It meant so much to Gwen that Blake was so traditional about it."
---
Who do you predict will be the next celebrity to finally get hitched? And who are you predicting will pop the question in 2021? Or maybe have an oops baby?