Christmas Gift Hampers that are Perfect for Anyone!
It's been another tough year this year, but you can still spread some Christmas love to those you can't see this Christmas. Send them a beautifully packed, delicious Christmas hamper to share that Christmas spirit.
Most stores that stock Christmas Hampers will be able to deliver the hampers directly to their door! How easy is that? We've selected the most delicious and high-quality Christmas hampers for any budget.
The Best Christmas Gift Hampers under $150.00
The Christmas season throws a few curveballs, which is why you'll love these 'just in case' gifts from First Class Hampers. The perfect package to store in the pantry for when those unexpected visitors come bearing gifts, First Class Hampers has a wide variety of gourmet hampers and luxury Christmas gift hampers filled with high-end products. From general assortments featuring a bottle of beer, bubbles, or spirits, to packages designed for pampering, you'll never be caught short at Christmas when you stow a few gift hampers away. Make sure you can help someone feel special at your next seasonal party (unless you fall in love with the curated selection yourself!). Discover their full range of Australian-made gift hampers here.
The bright, fresh and zesty aromas of the Chandon Australian Sparkling sets the tone for this hamper. Featuring light and easy-to-eat treats, this gift is perfect to sit back, relax and enjoy.
These Christmas Bites Hamper by The Hamper Emporium is literally full of yummy bites! It includes toffee popcorn brittle, tarts, nuts, and an award-winning classic bottle of Cabernet Merlot! Just send this to someone's front door to put a smile on their face!
Treat someone to one of the best sparkling Chardonnay in Australia along with all of the decadent treats included. The gourmet selection included toffee brittle, roasted peanuts, berry, and almond chocolates. Yummm!
Keep it nice and simple and show that you appreciate someone with this Christmas Appreciation Basket. This basket includes milk chocolate starts and Jacobs Creek Chardonnay Pinot Noir.
Go for something a bit different, and get this hamper which included refreshing beers and nibbles! Perfect for lounging by the pool on Christmas Day! Read More >
Best Christmas Gift Hampers Between $100.00 – $250.00
Are you gifting for a food lover this Christmas? We have something they're going to adore. This gourmet Christmas hamper is filled to the brim with delectable delights from cakes and tarts to nuts and spreads, what more could you want! Read more >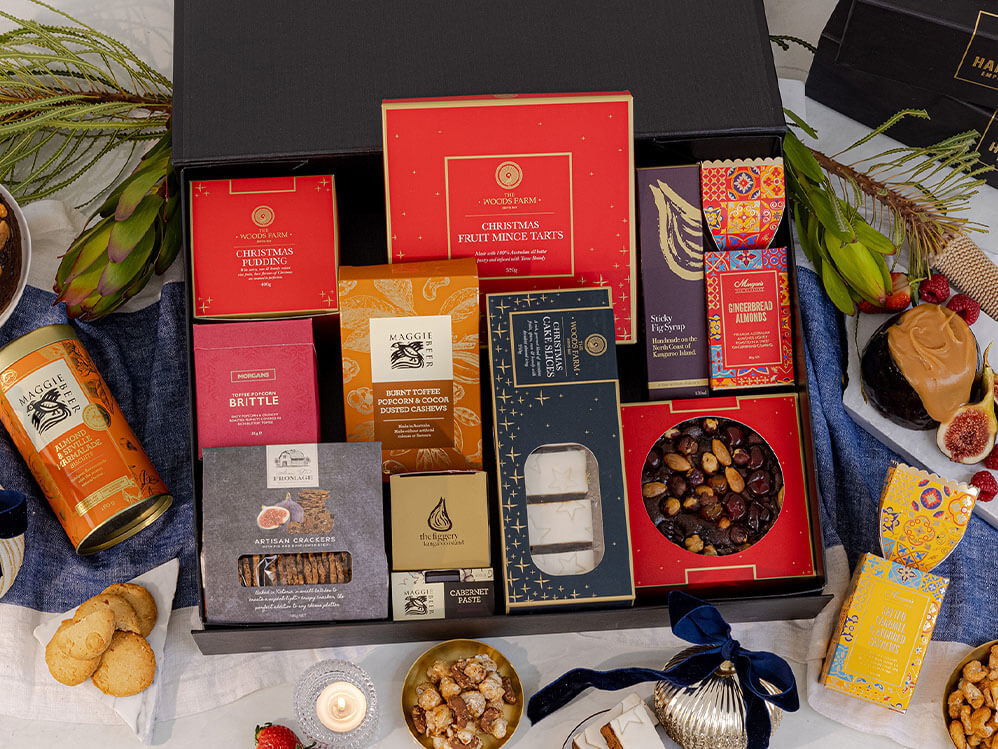 For a gift hamper perfect for any Mumma you know that is desperate for some self-care, have a look at this! They will be soaking away any stress with bath salts and skincare, then slip into a beautiful satin robe! Heaven! Read More >
Don't forget to spoil the men in your life. Get this luxurious hamper that includes a super soft robe, bath wash, treats, and bottle of Shiraz. Read More >
The Best Christmas Hampers $250+
Spoil the queen in your life with the luxurious hamper! Perfect for a long soak in the bath, drinking rose, and eating some choc berries! Sounds like absolute bliss!
The ultimate hamper for entertaining. With a combination of French Champagne and scotch whiskey as well as being jam-packed with delicious treats, it will keep any guest happy!
Carefully selected wine and gourmet treats, this hampers feels like pure gold! Including world-renowned Champagne and shiraz! It will be a sure winner for any special person.
Gift this serving bowl jammed with delicious treats and Moet & Chandon Brut. The stainless steel bowl will hold 9 litres, so perfect for the next cocktail party!
Okay, so really go all out and show how much you care with the Deluxe Christmas Hamper. I don't think it gets any more luxurious than this! Gift it to someone hosting a massive Christmas gathering and it will make their job a whole lot easier!
There you go…Christmas Gift Hampers that are Perfect for Anyone and from a range of budgets and retailers hopefully we have made your choice that little bit easier.