They are no longer little kids, but not yet grown up – so getting the right balance of gift is quite hard…
So your girls are pretty much grown up – not little kids, but not quite teens. They are too old for toys and too young for brand-name makeup and expensive perfume. And buying gifts for them takes you a lot of time to think!
But worry no more because, we asked our fans and followers of Stay at Home Mum what are the best gifts that you will be buying for your princesses for Christmas this year, and these is what they suggest!
1. Get Their Ears Pierced
Provided you are happy for them to get it done, and they are old enough to take care of them, getting their ears pierced is a really great gift idea.  You can also let them choose the earrings of their choice.  The first pair of earrings a girl has should be reasonable good quality to help prevent any infections in the ear. Take your girl to a professional piercer rather than getting them done at the local chemist or hairdresser (although some of these places do have fully trained staff – just check their credentials and certification!)
2. Their Own Pets
If they are mature enough, look into a new pet for them.  It gives them a good sense of responsibility!
Great ideas for this age include:
Goldfish or Fighter Fish – only require a small bowl, some water conditioner and food Hermit Crab Seamonkeys Guinea Pig Budgie or Parrot
Hermit Crab
Seamonkeys
Guinea Pig
Rabbits (if your area allows it)
Budgie or Parrot
3. Cool Laptop Satchel for School
Ditch the 'My Little Pony' schoolbag and replace it with something timeless.  A good quality bag for her laptop or just a nice school satchel will make her feel all grown up!  Our pick is this Marvel Comis Strip Messenger Bag!
4. E-commerce Vouchers
If your little girl is into the online world, perhaps look at getting her a voucher to spend online.  Think vouchers such as:
5. Card Making Kit in a Tin
Craft making kits are perfect for girls of this age.  It keeps their hands and minds busy, and allows them creative flow.  Either grab a kit like this that is all inclusive, or grab all the bits and pieces from places like Lincraft or Spotlight.
6. Their Very Own Camera
Camera prices have significantly dropped and you can now pick up a good quality camera for under $100!  We love these FujiFilm Instax Polaroid Cameras!
7. Board Games
Yes, board games are perfect for this age.  But don't go too baby-ish.  Good suggestions include:
However, if you happen to be lucky enough to have an Xbox or Playstation – go for the online versions of the above games.  Less pieces to lose and the whole family can still play!  You can get games and consoles from EB Games, Big W, and Kmart.
8. Lockable Diary or Journal
This is a great age to provide them with a special diary – just for them.  Let them keep their most sacred memories in a beautiful lockable case.  This is the type of gift they remember and keep forever!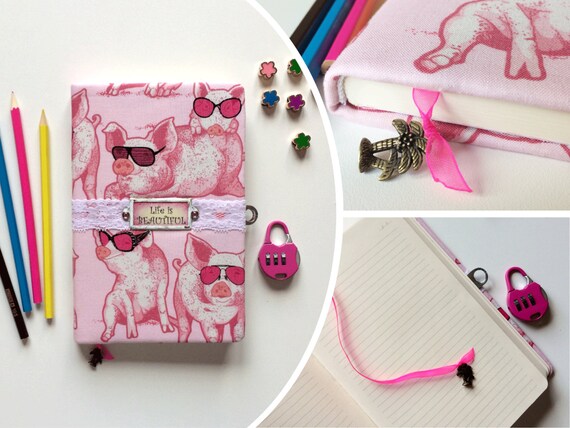 9. Headphones
Let her listen to her favourite tunes on the go!  Headphones are a great gift for girls when they start listening to music and developing their own musical taste.  So you don't have to listen to that crap, get her some headphones.  Prices range from $300 to $1500 and everything in between!
10. Portable Speakers
Most girls love music, why not grab them a portable speaker.  This one is super-cute and works with a Smart Phone or MP3 Player.  It is also sand and water resistant.. because you know what kids are like!
11. Microscope
As a kid, I adored Science-based gifts, but there wasn't much around!  Now the world is our oyster!  It is easy to buy a good quality microscope that kicks arse, for not a whole lot of cash!
12. Hair Straightener or Curlers
Not a super hot one like a GHD or she will burn all her hair off!  No – grab a cheaper, not so hot version if she is into doing her hair.  You can even buy curlers now that you can sleep in!
13. Hair Chalk
Hair chalk is nifty as girls can put it in, and it washes straight out.  You can pick it up from your local supermarket in the hair aisle.
14. Tickets
Tickets to something your little girl wants to go to is a very grown-up option.  There are so many options now.
Water Park
Cinema
Theme Parks
Concert
Theatre
Bellabox is a monthly subscription box that showcases what's new in makeup, skincare and haircare.  A minimum of 5 sample or full-size products are included and delivered to your door every month!
16. A Magazine Subscription
Buy her a year's subscription to a magazine, something that she wouldn't buy for herself!  Our picks for primary school aged girls include:
17. Karaoke Machine or DJ Music Mixing Deck
If you don't mind your child belting out the latest Rhianna tune or if they like to make their own music, why not think about a Karaoke Machine or mixing deck?  You can usually pick them up at Kmart or Big W.
18. Make Your Own Lip Gloss Kit
Yes, lip gloss is fun – but what if you can make it from scratch!  There are loads of different lip gloss kits on the market.  Here is just one of them.
19. Sunglasses
Sunglasses are both pretty, fairly inexpensive and practical.  Check out your local Chemist for a pretty pair you think your primary school aged girl might like.  I love this pretty floral pair – cute!
20. Room Decorations
Oh, there is so much choice here.  New lamps, fairy lights, book-ends, doona covers, clocks…. See what she is into and go wild.  Even better, get her a voucher and go shopping together so she can choose!
21. Bean Bag or Fancy Chair
Another good idea for her room!  Her own chair or Bean Bag where she can relax, read a book or chat for hours on the phone!
22. Yoga Mat
Yoga Mat's are a fantastic idea for a gift for a young girl.  You can pick them up for about $20 from most big shops (Kmart, Big W etc) or even camping stores.  They are also handy to have a sleeping bag if you go camping.  Some places even do personalised Yoga Mats!
23. Books
Books are a timeless gift – for everyone and anyone.  Great books for this age group include:
Got any more ideas?  Let us know at [email protected]!