Interest and Hobby Boxes
The membership that delivers a thrilling experience to your doorstep – every month. Have you ever wanted to be a detective? Are you fascinated by what makes a Serial Killer tick? Do you find clues where others don't? Now is your chance to put your skills to the test, and see if you can catch a killer. Hunt A Killer is a monthly membership that spins dark tales for you to untangle.
The Details:
Based in USA
The gift of a lifetime, or spoil yourself in monthly interactive murderous tales.
Month-to-month or long term plans available. Cancel any time. Free U.S. shipping.
Our Killer curator ships on the 22nd of each month. Get thrilled.
$30 Per Month
Website: Hunter Killer
To face the foulest creatures and most hideous curses known to wizardkind, you'll need to master your Defence Against the Dark Arts. Unbox the latest crate from J.K. Rowling's Wizarding World with specially-curated collectibles, artifacts, apparel and more.
The Details:
Every month, we deliver 4-6 premium art supplies (often times full kits) right to your doorstep along with a unique piece of art. We're artists ourselves and search constantly for the best possible supplies. We feature a new artist every month to help inspire you to create something amazing.  What would you make if art supplies were delivered to you every month?
The Details:
Based in USA
Basic or Premium packages
unique art supllies to suit your artisitc needs
Delivery to your door
$35.00 per month, shipping from USA
Website: Sketch Box
Get Surprised…Get Inspired…Get Quilty! Quilty Box delivers a package of amazing products each month curated with the coolest fabric companies, designers, bloggers, artists,and organizations across the community. Quilty Box is your monthly muse to keep you growing and creating.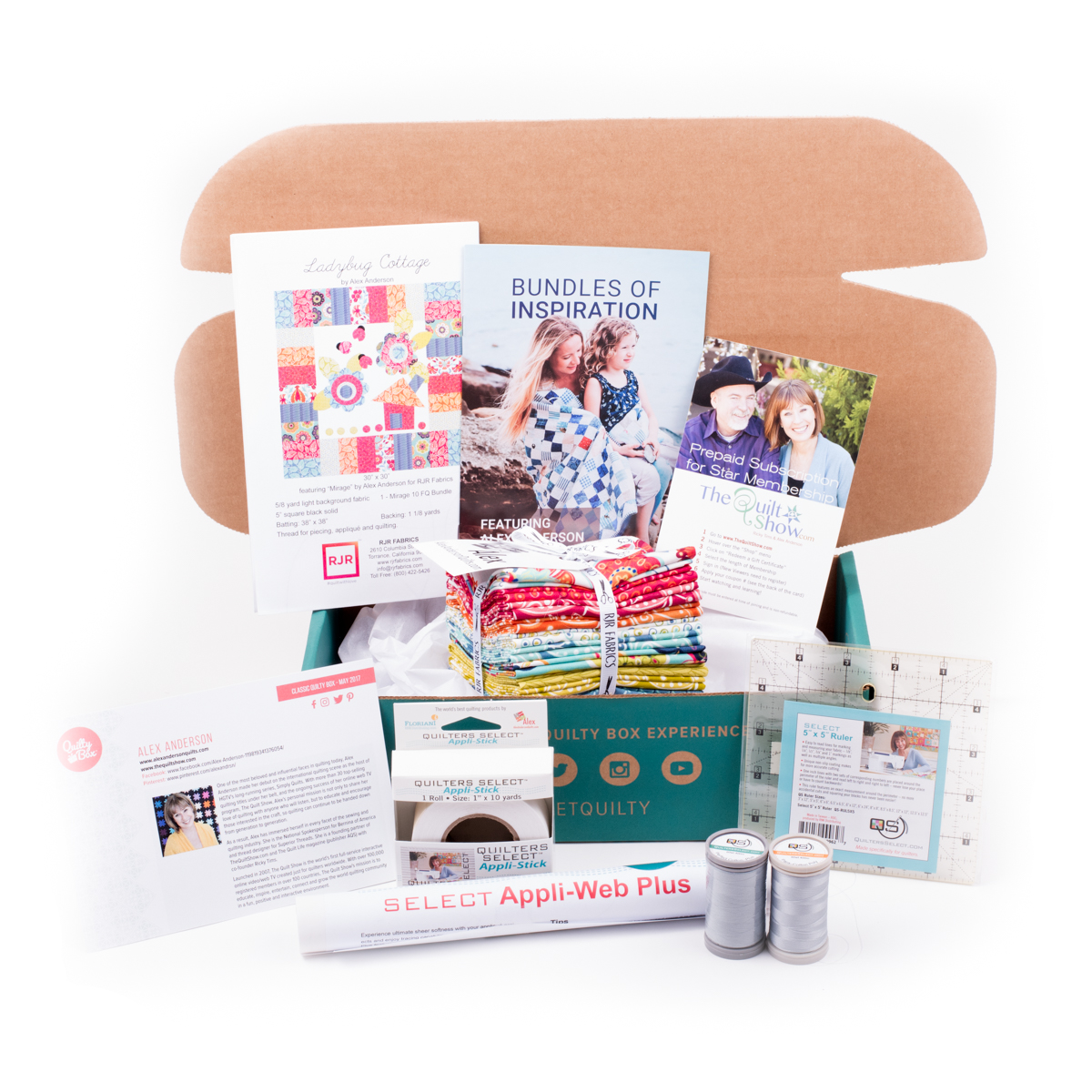 The Details:
Based in USA
Add extra supplies to your stash and we'll deliver inspiration all over again!
Using the fabric and supplies, start creating! Share your progress online to Quilty Box's thousands of followers for support, encouragement and new ideas.
Choose your delivery subscription: one, three, six, or twelve month plans! Each and every box is curated with care by our renown featured artists. We ship around the 11th of each month.
$48.00 per month, shipping form the USA
Website: Quilty Box
Pharrell Williams is a creative force, using music, fashion, and design to express his distinctive style. From his beginnings as a teenage prodigy and multi-instrumentalist in early-'90s Virginia Beach, to being named Billboard's Producer of the Decade in 2010, Williams has never stopped creating.
The Details:
Based in USA
Artist, Musician, Entrepreneur
Items that inspire Pharrell everyday
Jam-packed with value and exclusives
$17 per month, shipping from USA
Website: Pharrell Williams Quarterly Box
Chroma Club is joy in your inbox, coloring books for art therapy, a zen infusion or just for fun.
The Details:
Based in USA
Your books will ship each month with a week of your renewal date.
Ships worldwide from United States
Subscriptions automatically renew. Cancel anytime
$8.00 per month
Website: Chroma Club Box
Fresh Fiction curates a box filled with new releases, in a combination of print books and eBooks, for readers. Every box includes 5 – 7 books. We strive to bring you the new and now in genre fiction, like romance and mystery, and introduce you to bestsellers and new authors alike.
The Details:
Based in USA
Subscribe for only $25.95 a month. Save if you sign up for a 3-Month Plan!
We select new books and eBooks for you to explore.
Every month we ship a brand-new box straight to your door.
Website: Fresh Fiction Box
When you sign up for Bookishly's Tea & Book Club , every month you will receive a surprise vintage paperback, four bags of gourmet tea and some delightful Bookishly stationery.  An oasis of calm through the letterbox, wherever you are in the world! By popular demand we also now have a Coffee & Book Club . Freshly roasted medium ground coffee and one of our lovely vintage books.  Click 'subscribe' to find out more!
The Details:
Based in USA
You tell us whether you want tea or coffee and place your order and we dispatch your welcome pack right away. This welcome pack counts as the first box of your subscription.
The welcome pack contains the coffee, the book and the information the recipient needs to register their subscriptions. Recipients must register online in order to receive their remaining two boxes.
It's super easy to register. All recipients need to do is visit the website as directed. They then enter their unique code (this comes as part of the welcome pack) and enter their delivery details. That's it!
$45.00 per month, shipping from USA
Website: Bookishly's Tea and Book Club Box
When you sign up for our signature crate, you will receive a box of carefully curated, high end greeting cards and paper goods delivered right to your doorstep each month. No more running to the super market to buy greeting cards. No more giving the same card that everyone else is giving. It's time to stand out and wow your friends and be unique.
The Details:
Based in USA
We ship on the 22nd of every month, or the closest business day following the 22nd. We only ship out

"¦

  Show more
Ships worldwide from United States
Subscriptions automatically renew. Cancel anytime
$19.99 per month
Website: Magnolia Crate
The Sew Sampler Box is a monthly subscription quilting box that automatically delivers surprise quilting goodies to your door every month! Each month will feature a specific theme sure to surprise and inspire you!
The Details:
Based in USA
$99 to join and $24.95 per month
Boxes ship from the 20th of each month
Each month you will also receive a Block Recipe to make a quilt block with three size options; 8″, 12″ and 16″.
Website: Sew Sampler Box
The ZBOX is a monthly themed box, filled to the brim with memorabilia from your favourite film, TV, and gaming franchises.
The Details:
Based in USA
An exclusive designed t-shirt
 4 to 7 products in each box worth over $60
 Discounts on subscriptions for 3, 6, and 12 months
 Prices start at only £28.20
Website: The ZBox
Next Page: Subscriptions Boxes for Pets