Makeup and Beauty Subscription Boxes
Makeup and Beauty Boxes are perhaps the most popular of the subscription boxes available.  What I like about them is you get to try sample-sized products without spending a fortune.  One negative would be you end up with a draw full of stuff – but they do make great Christmas stocking fillers for the items you won't use!
Bellabox is my favourite subscription box – I get it myself and I love it!  When you sign up you receive a box full of the latest and greatest beauty, hair care, makeup and baby products – and they customize them to your likes, looks and taste. They quite often will also include new fragrances, nail polish, beauty tools and skincare!  If you are into beauty products – you'll love this box!

BIT I LOVE:  You can give a box subscription (3 month or six month) for a gift!  Love that idea!
The Details:
Based in Australia
Monthly Cost:  $17.95 per month for the monthly subscription plan
Minimum Term of Subscription:  3-Monthly
Cancellation Terms:  Cancellation anytime after three months.
Website: Bellabox
The Peony Parcel sends a subscription box every three months that includes 5-7 premium full size and travel size beauty, lifestyle and wellness products that help you enjoy some 'me' time. Products include beauty and bath products, candles, gourmet treats, stationery and surprises sourced from emerging and premium Australian brands.
The Details:  Based in Australia
Quarterly Cost: $69.95 for the subscription box (including free shipping Australia wide). Other boxes start from $79.95
Minimum Terms of Subscription: Three months
Shipping Costs: Shipping is included in cost.
Cancellation Terms: Notification needs to be made 7 days prior to payment date.
Website: Peony Parcel
---
Recommended for those 35 and older, for $49.95, you will receive a customised box with at least 4 full-sized K-Beauty products and an accessory item (i.e. hair/cosmetic accessory) delivered to your door every 2 months.  This is an overseas box (ie Seoul) but they do post to Australia.
The Details:
Based in Seoul (Korea) but posts to Australia
Four full-sized K-beauty products and accessory items
Box is despatched every 2 months
US $49.95 per box
Website: Pink Seoul Plus Box
GLOSSYBOX is an online subscription service that has fast become a favorite of beauty addicts worldwide. Take the hassle out of choosing between brands and new makeup products with GLOSSYBOX. With a GLOSSYBOX subscription you'll also receive samples of the best hair products and the best skin care products for women. Order your beauty products online and receive five travel size beauty products conveniently delivered to your door.
The Details:
Based in USA
Revamp your makeup bag
5 trending beauty products worth over $74!
Handpicked by our GLOSSY beauty experts
At least 2 full-size offerings in every box
Get summer-ready now!
$19.58 Per Month
Sign up for My Stylish French Box and receive a seasonal box every three months filled with carefully curated items from France. If you prefer, you can purchase a one off box for yourself or for a friend. Each box brings you a selection of authentically French and perfectly stylish items for you and your home.
The Details:
Based In France

1 Box Delivered that Quarter

Free Shipping

Automatic Renewal

$195 every 3 months
Get your pout hooked on these long-lasting liquid lipsticks! Every month you'll get 3 new lipstick shades for less than the price of 1. You'll never get same color twice.
The Details:
Based in USA
Get 3 liquid lippies for less than $20
Free US shipping
$19.99 Per Month
Website: Kiss Me Live Glam Box
Experience the Magic of wanderlust let us take you on a beauty journey with our wanderlust beauty box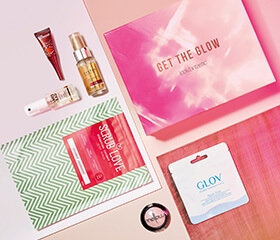 The Details:
Based In Australia
Selection of luxurious treats
Free shipping and delivery
Only 14. 50 per month
Website: Look Fantastic
Next Page: Vegan and Ethically Sourced Makeup Subscription Boxes