Never in my entire life did I think grocery shopping can be so nerve wracking. I see it in zombie movies all the time, but didn't think of myself as one of the characters lol.
Kidding aside, the COVID-19 pandemic has changed everything.
With the threat of the virus, we can no longer just do what's normal. We are told to stay in our homes and when we go out, it feels like going to a war zone.
I can stop going everywhere else, but we need food. Everyone needs food. Shopping for groceries is a necessity and a number of people go in and out of there. The scary part is that our enemy is invisible. You're lucky if you don't contract the virus and if you do, well fuck.
Fortunately, we can decrease the chance of contracting the virus by making sure we clean and disinfect.
I thought of it on my way to get groceries and I laughed at the idea I had… what would a germaphobe do? It was insane to think of, but it made so much sense.
And so, here is what I decided to do every time me or any of my family members have to go grocery shopping. Safety is our top priority here and we aren't going to take any chances.
First and foremost, if you're over 60 years old or have a respiratory disease, don't go out. Someone else should shop.
Plan what you're going to buy and make sure it lasts for at least 2 weeks.
It is best to get everything you need in one go. If you happen to lack something, you can only buy it after 2 weeks. Try your best to live with what you have in the meantime.
Wear a mask, put your hair in a ponytail and if you can tolerate the heat, wear clothes that will cover your arms and legs.

Disinfect your trolley. Spray alcohol or use wipes.
An alternative is wearing disposable gloves when grocery shopping, but these must be removed and thrown in the bin straight after you leave the shops….and you have to wash your hands!!
Stay away from people. Apply social distancing!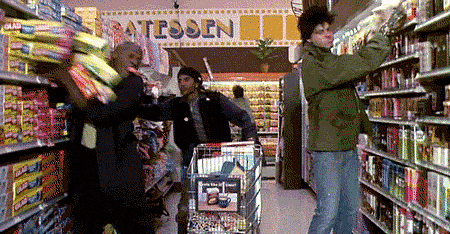 Don't touch or pick up a product UNLESS you're 100% sure you're going to buy it.
We have this habit of picking up product and changing our minds, then picking up another one. Do you know how many other people did exactly that? Perhaps one of them has contracted the virus?
After grocery shopping, go straight home. Don't spend too much time outside. The less time you spend out, the less chances you're exposed to the virus.
Don't forget to dispose of your disposable mask in trash bins!
Don't put it anywhere mindlessly. Any of your family members might hold it or kids might play with it.
Before going out of the car, sanitise your steering wheel, keys, wallet, phone and any of your valuables that you brought with you outside. Even cash!

(Better still, don't use cash!)
NEVER wear your outside shoes inside the house, leave them outside.
If you can create your own disinfecting foot bath, disinfect your shoes before removing them.
Don't bring your groceries inside the house immediately.

Have a table prepared outside the door and leave it there, preferably under the sun.
On the table, wipe down and disinfect what you bought.
Sanitise your groceries.
Wash fresh produce thoroughly.
Here's a detailed video on how to disinfect your groceries. It's quite long, but worth watching!
WASH. YOUR. HANDS.
Wash hands, elbows, face or better yet, take a bath after sanitising the groceries.
Make sure not to hug, kiss or even let your kids near you before you have taken a bath and changed your clothes!
Clothes worn outside should go straight to the laundry.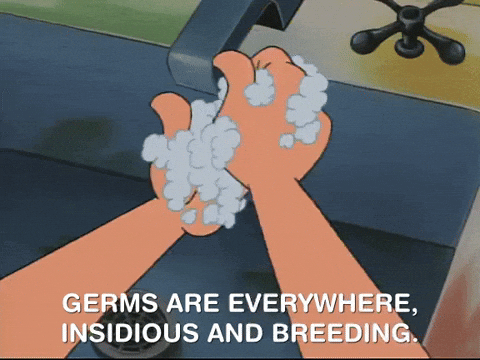 Reading through this list is exhausting, I know.

Even more so when applying all this when grocery shopping. But complacency is the window that the virus can take advantage of.
Take note of these tips and worry less about getting the virus and passing it on to your family.
Also, thank the germaphobes! We're learning a lot from them!