Cleaning your kitchen involves every aspect, from the larger appliances to the smaller areas like your chopping boards.
So don't forget to add chopping boards to your list of things to spring clean! Compared to some of the other tasks on our list, this is an easy one!
Chopping boards are a household essential – but how do you go about cleaning them and storing them to maintain safe food preparation and practises? We have some information on chopping board hygiene.
First, let's discuss the types of chopping board…
Traditional Timber
Plastic
Glass
Rubber (the new kid on the block)
Steel (never seen or heard of one – but Wikipedia says they exist!)
Quite often in the kitchen shops you will see packs of coloured plastic boards – ever wanted to know what they are for?
Red = Raw Meat
Yellow = Cooked Meat
Blue = Fish and Seafood
Green = Salad and Vegetables
Brown = Root Vegetables
White = Dairy Products
These colours are universal worldwide and are mostly used in restaurants.
Depending on what you are cutting on your chopping board and what type it is will determine how it needs to be cleaned. If you are chopping vegetables you can simply wash it with hot soapy water and then sanitize every few uses. If you are chopping meats then you should clean and sanitize the board every time. Clean in hot soapy water scrubbing with a non-scratch scourer sponge.
Chopping Board Sanitizer
Use one part vinegar to 5 parts water sprayed on a chopping board as a sanitizer for your chopping board.
Wipe down with a clean sponge. Avoid spreading germs by ensuring your chopping boards have been cleaned correctly.

Additional Chopping Board Cleaning Tips
Using dishwashers will both clean and sanitize your board. As long as your board is dishwasher safe (most timber boards aren't!) then you need to make sure the cycle is at least 80 degrees. Some even have an antibacterial wash option.
The other thing to ensure when cleaning your boards is that they are completely dry before storing. This ensures there's no moisture lurking that can promote bacteria growth.
When using boards for meats you need to ensure you take extra steps. The recommendation is to use plastic or glass for meat as there is nowhere for meat and bacteria to lodge.
Wooden cutting boards should be oiled weekly to seal the grain against bacteria. Mineral oil works great for this. Never use vegetable or cooking oil to season a wooden cutting board; these types spoil the wood and will produce a rancid smell. Remember to replace boards that are severely scratched or grooved from wear: It's too easy for bacteria to get caught in the cracks.
If you've been working with particularly pungent foods like garlic, onions or fish, eliminate their odors trapped in the cutting board by wiping a fresh lemon wedge on the surface area after you've cleaned and sanitized it.
Also for extra cleanliness even if you can't see anything on the bench under the board better safe than sorry and wipe down the bench with the sanitizer solution also.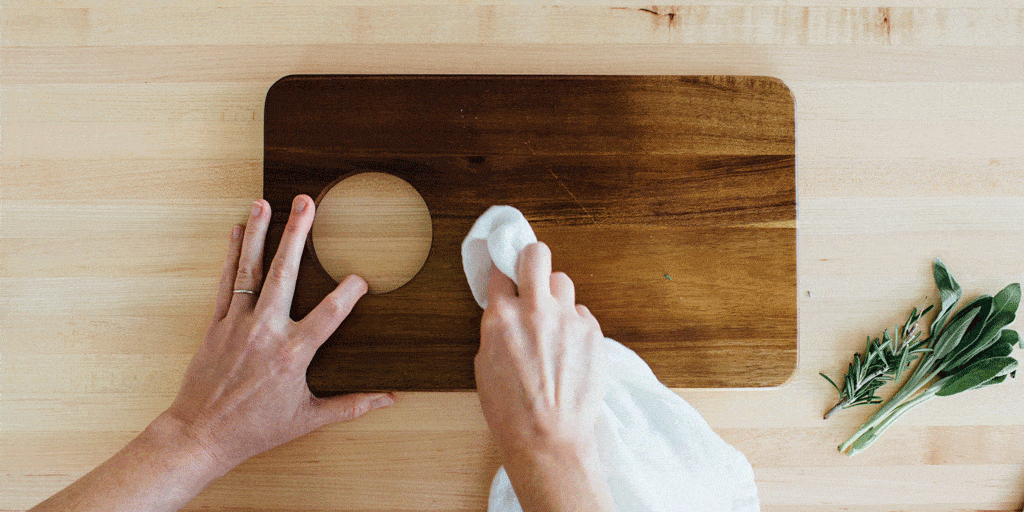 What are your chopping board tips?