This article contains affiliate links which may provide SAHM with a small commission.
We Tried the Dinnerly Meal Kit and Here is Our Honest Review
Every single day there seems to be another new meal delivery service starting up online here in Australia. I think this is a good thing – our lives are so much busier now that getting a decent meal on the table has become a chore for many families and the cost of our weekly grocery shop just seems to be going through the roof.
In the past I've always thought that meal delivery services were expensive – and a lot of them are (cough cough Marley Spoon) – you are paying for convenience and fancy ingredients. But Dinnerly is not expensive. Dinnerly is really an affordable meal kit, especially for families. With Dinnerly, I'm starting to see meal delivery subscription services as a waste-free, decision-free way of getting food on the table every night. In fact, I may never have to visit a grocery store again!
So I've been making my way through the list of them to try each one, cook them and evaluate their value for money and taste to see which one is the best or which might be a good choice for you!
Before you read ahead – this review is quite lengthy and involved – so here is a quick breakdown of what we will be covering:
What actually is the Dinnerly Box?

Why Use a Meal Delivery Kit such as Dinnerly?

Food Quality

Delivery Areas

Cooking the Dinnerly Meals

Pricing

What are the meals like?

Dinnerly compared to other Meal Delivery Kits

How to Sign Up To Dinnerly

Promo Code

Dinnerly Summary and Rating

Dinnerly is a full meal delivery subscription service. How it works is that you go onto their website, choose how many people you are cooking for and the dishes you wish to cook – all that is packed fresh and delivered to your door for a certain price. Dinnerly is a meal subscription box that means you don't need to go grocery shopping anymore – everything comes pre-packed all ready to go. All you need to do is cook – and even that is easy.
Dinnerly sources their products from local Australian farmers (winning) and uses only free-range chickens and products that contain no artificial preservatives, flavours or colours. Each meal is portion controlled which makes it great for people watching their weight.
They offer different meal delivery kits depending on your dietary requirements such as:
Dairy-Free
Low-Calorie
Gluten-Free
Healthy
Under 30 Minutes
Kid-Friendly
Vegetarian
One-Pot Meal
Reduced Carb
Which is great because my husband is sensitive to Gluten and sometimes it is hard (and expensive) to come up with ideas for meals. Each meal also spells out the nutrition per serving and any contained allergens (peanuts, soy, egg etc).
All recipes have a digital recipe card – so you can just see what meals are included in your box and then check out the recipe on the Dinnerly website.
When choosing recipes, you can choose from a two-person box or four-person box.
Why Use a Meal Delivery Service such as Dinnerly?
People are busier now than ever before, and quite frankly sometimes I'm just sick and tired of making the decision about dishes to cook for dinner every single night. Meal Delivery services such as Dinnerly do all that for you, and they do the shopping – all we have to do is the cooking.
So Dinnerly would be great for busy Mums, working parents, people who struggle to come up with nice dinner ideas or if you are focusing on weight loss or calorie-controlled eating – you can do that through Dinnerly as well. I think if you had elderly parents – that Dinnerly would be a great option!
I quite like trying meal delivery services as I'm not the best cook in the world and this teaches me new ways of putting flavours together – so it is effectively teaching me how to cook!
I think meal delivery kits would make the perfect gift for new parents, for older parents who struggle to get out to shop regularly or just for busy family weeknight dinners.
But remember, Dinnerly is a Meal Delivery Subscription, so when you sign up, you will be charged weekly (and your meals will arrive weekly). But you can just order one week to try it and then cancel your subscription – just remember to go into your account and cancel!
Dinnerly Food Quality
The food was beautifully packed and there was no excessive packaging (winning – I hate excess packaging!). All the vegetables were pretty fresh and the meat was still frozen and cold (the box comes with ice packs to keep everything cool). What I did like are the individual servings for the additional smaller items such as cheese and nuts, which ensured there was no food wastage. Dinnerly keeps the prices down by using ingredients that are both cheap and filling such as produce that is currently in season, pasta and rice.
If you are expecting fancy ingredients then Dinnerly is not for you.
Dinnerly are not stingy either when it comes to their food. If you need half a garlic head for a recipe, you can pretty much guarantee there will be a whole clove or at least quite a few heads in the box. That's a winner too because you can use those little 'extras' for additional taste or use in other meals.
Dinnerly Delivery Areas (and a cheats way to get it anyway)….
One negative with Dinnerly (and almost every other meal delivery kit in Australia) I suppose was that they don't yet deliver to my area (I live in Gympie which is rural Queensland – we miss out a lot!), but I had the package delivered to a friend's house instead and just picked it up later that afternoon. So if you live outside the delivery area – find out where is the closest area that they do delivery too.
This is a sneaky way to still get your box! But on their website they do say if you want Dinnerly to be delivered in your area, to drop them a line. So I highly recommend you do that as they are planning to expand all of their delivery areas.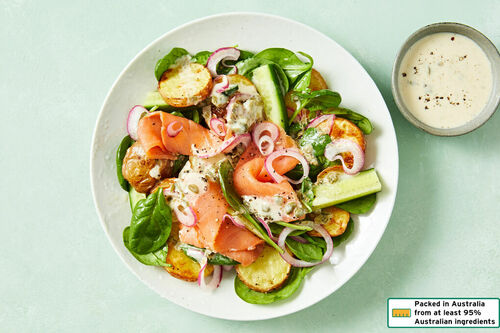 Low-Cal Smoked Salmon and Potato Salad with Creamy Caper Dressing

Dinnerly Review:

The Cooking / Recipe
The first recipe I chose to make was the Baked Chicken and Couscous. It was very easy to make and didn't take very long, and yes even the average Joe could make it. One thing I wasn't a fan of was the recipe had to be downloaded – that was a bit of pain – other Meal Delivery Kits have 'Recipe Cards' which I personally liked as I could keep them and look through them to make the recipe again if I really liked it. However, it does make sense that digital has its benefits too if you don't have a printer, are environmentally conscious, etc.
Once the recipe was printed it was easy to follow, but because it was just on a sheet of paper, I lost the damn thing pretty quickly. Maybe another reason it's not printed for you.
On the bright side, it is less packaging and because Dinnerly is a cheaper option than the more up-market Marley Spoon, I need to expect that there will be differences that the lower price represents.
The meal was delicious – serving sizes were good; not too big or small – just satisfying. I think if you were a really big eater is may not seem like a whole lot of food, but many meal delivery kits tend to over-serve which isn't good for the waistline!
Plus when you compared the cooking times between Dinnerly and Marley Spoon – Dinnerly comes out on top. The meals were far quicker to make! Cause I don't want to spend all night cooking.
Dinnerly Review: Cost
Dinnerly was much cheaper than say Marley Spoon (by the way Marley Spoon actually owns Dinnerly). Where Marley Spoon had spectacular recipes that involve a tonne of ingredients and took ages to cook, Dinnerly had simple meals, smaller meals and fewer ingredients. So you can see why Marley Spoon is more expensive. I would liken Marley Spoon to a Friday night meal and Dinnerly for more traditional and simple weeknight dinners.
Dinnerly touts itself as being Australia's most affordable meal kit as low as $5.25 per serving or less.
One thing I do like is that you aren't locked into a contract, you can skip, pause and cancel your order at any time.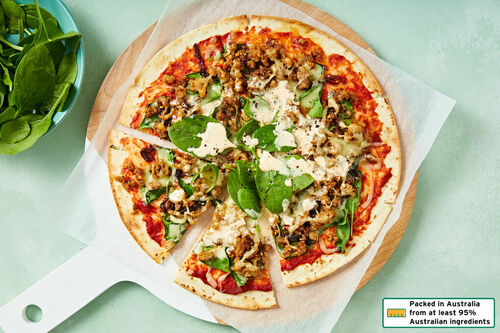 Peri Peri Pork Pizza with Cheddar Cheese and Baby Spinach
Dinnerly Review: What Are The Meals Like?
When writing this review and looking at all the delicious meals, I honestly had to go find something to eat! Sadly, I was out of all of my Dinnerly meals – so it was toast.. with Promite. Their range is really vast – of course, not everything is going to suit everyone. I do like how there are a lot of multicultural meals though because not only do I enjoy foods from right around the world, I'm trying to encourage my kids to try new flavours. Dinnerly does change up a portion of the menu from week, so you always have a selection of consistent meals to choose from plus new ones to try in your next order.
If anything the meals are simple and some can even be a bit plain. Great for fussy eaters.
But an example of some of the meals include tacos, pasta, noodles, rissoles, burgers, meatballs – simple fare!
Dinnerly Review: Vs Other Meal Boxes
So now we compare the whole experience of Dinnerly compared with other Meal Delivery Boxes available in Australia.
The Pro's of Dinnerly
I think Dinnerly is good value for money. Dinnerly is a low-cost meal kit service.
It means I don't have to go to the supermarket and talk to people or drag the kids and husband along.
The meals are healthy, simple and tasty.
There are Vegan options, Family Friendly options, and Gluten-Free Options for people with allergies.
Perfect for large families, The Dinnerly Family Box can cater to up to 24 servings per week.
I like that they cater to special dietary requirements.
Meals are quite simple and plain. Perfect for picky eaters.
There isn't a load of packaging. Items such as tomatoes and lemons are just 'loose' in the box.
They take the hassle out of having to think about what's for dinner.

The Con's of Dinnerly
Their delivery areas although are quite large, they don't cater to a lot of rural areas in Australia. Makes sense however as supplying rural Australia with fresh food and timely delivery would a logistical nightmare.
The portion sizes are good for the average person but a big eater may not be satisfied with the quantity. However, this is an opportunity to adjust your portion sizes if you are looking to lose weight.
I wish they had a recipe card that you could keep to re-make the recipe later on, but it's not a big deal. The recipes could be structured a bit simpler for more clarity. You can, however, print them off if you wish.
You do have to add some of the extra little ingredients such as olive oil, salt, pepper etc.
How to Sign up to Dinnerly
If you are keen to purchase a Dinnerly subscription for yourself, it is really easy to sign up. Just pop into their website and choose whether you want a two-person or four-person plan (three meals or six meals per week). You can let Dinnerly choose those meals (good if you are sick of thinking about what is for dinner), or alternatively, you can go in and choose the meals you would most like to try.
Get Your Exclusive Discount Code
To get a discount (because who doesn't love a good discount) – we have an exclusive coupon code which will get you $60 off for the first 3 boxes.
Dinnerly Review: Summary
I like how Dinnerly is simple, with simple ingredients and is affordable. I really think this is something I would continue to buy, especially when I'm sick of thinking up new dishes. I do struggle to come up with new meal ideas, plus I find it easy to blow out my grocery shopping budget, so this could actually be cost-effective for my family.
I think Dinnerly have listened when it comes to complaints about other meal delivery kits and really have put thought into easy of use and simplicity in not only their ordering system, but their meals and their box packaging.
As we only are simple eaters, I think Dinnerly would be better for us than Marley Spoon, which is for fancier tastes or people who really love to cook.
All up – I would give Dinnerly a 4/5 rating.
Good for families, good value for money, and simple dishes. Dinnerly is like fast food, but without all the calories. I think if there was a printed menu and all of the seasonings were provided that I might bump that up to a 5!
Dinnerly Promotional Code / Coupon Offer
Enter the code (click "show code" below) into the "promotional code" box on Step 4: Payment of the Dinnerly checkout process. See screenshot below.