10 Best Prams in Australia 2021 Edition
I'm a new mum and I'm looking for a pram that I can use as long as I possibly can (because prams can be expensive!). With the pandemic, I'd like to shop online, I'd like a pram that is both pretty and practical and best of all – I want value for money! But that goes without saying, I'm not willing to compromise safety at all. Prams are essential to go on with this new normal with the utmost comfort.

There are so many brands offering quality prams. You only want the best for your babies, we all know that. But also take note of what's best for you.

Here's our list of the best prams in Australia to date.
MOST STYLISH CITY PRAM
Bugaboo Cameleon 3 just like its predecessors is of superior quality. It looks freaking fantastic, super stylish, polished and just a bit posh.  What's more, is, it's durability can last for generations. It's also very easy to use. The seat is adjustable so you can your baby facing you or the other way around. Watching your kid won't be a problem with Bugaboo Cameleon 3. The seat is reclinable so your baby won't feel uneasy as they sit up straight or sleep soundly. You also won't have a problem with the handlebar as you can adjust it to your height and you can rotate it too to fit the terrain. Bugaboo Cameleon has been around for a while and it's one you've learned to love, you'll love this one even more!
Type of pram: 4-wheel pram
Suitable Age: 0+ months
Weight: 9.6 kg
RRP: $1299.00
Online Stockists:
2. The Mountain Buggy Urban Jungle
BEST ROUGH TERRAIN PRAM
Babies want in on the adventure too! But we have to admit, it's a bit hard tagging along with a newborn or a toddler on rough terrains unless you have the perfect pram built for just that.  That's why the Mountain Buggy Urban Jungle made it to this list. It's the perfect baby buddy for adventure in and out of the city. It's the perfect sized pram for that you can still use until your kids turns five! It's adventure-ready with its big air-filled tires, while still fit for strolling on concrete. It has a reversible seat liner, a grab bar and a bottle holder too! Your baby can be comfortable even on an adventure with its reclinable seats. Of course, safety is the number one priority, Mountain Buggy Urban Jungle has extensive protection and a sun cover too. It even has a travel system for newborns. So if you're the adventurous mum and dad, this one's for you.
The original all-terrain buggy, urban jungle™ is an award-winning, versatile all-rounder that is perfect for adventures in the city or off the beaten track – the ideal, comfortable sized buggy for parents who desire flexibility.
Type of pram: 3-wheel pram
Suitable Age: 0+ months to 5yo (25kg)
Weight: 11.5 kg
RRP $799.99
Online Stockists:
Baby Barn Discounts $699.00
3. Steelcraft Agile Elite
BEST VALUE FOR MONEY PRAM
This is one sexy pram! Steelcraft Agile Elite makes parenting look sleek with its leatherette handlebar and linen look. You don't have to compromise safety with style on this baby because of its safety security, Agile™ Sure Lock. This ensures the frame is locked in when in use. It's also very easy to fold with one lift when you need to stow it away. And your baby is happy with its full recline backrest and padded pillows. It has a full cover and you can adjust the handle to your comfort as well. It's definitely hassle free!
Type of pram: 4-wheel pram
Suitable Age: 0+ months to 5yo
Reversible Handles
Comes in three colours: Dark Chambray, Black Linen and Grey Linen
One-Lift Fold
Weight: 9 kg
Stockists: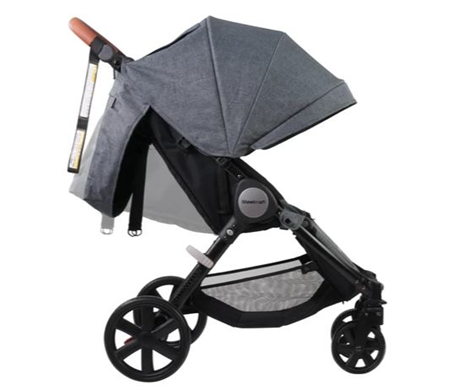 BEST COMPACT PRAM
Let me just flex Britax Flexx a little. It has that extra X factor! It's a compact and lightweight stroller that's complete with a bassinette. You can even recline it to four different positions. Its soft leatherette handle and armbar make your baby more accessible to your reach. For safety, all it takes is one push and the brake is locked. Britax Flexx is a pram made for mums and dads who want a smooth stroll with their babies.
Type of pram: 4-wheel pram
Suitable Age: 0+ months to 5yo
Weight: 12 kg
Online Stockists:
5. Steelcraft Express
BEST BASIC PRAM
Keep it simple with Steelcraft Express! It has all the basics in check, adjustable leg rest, lockable swivel wheels, storage pocket and storage basket. No need to be fancy, Steel Express is ideal for travelling. It's light and easy. That's all you need really to take your baby around.
Type of pram: 4-wheel pram
Suitable Age: 0+ months to 5yo
Weight: 7.5 kg
Online Stockists:
MOST PRACTICAL PRAM
A savvy mum knows value for money! Steelcraft Savvi is your pick. It's packed with features you're looking for in a pram and it comes with an amazing price. You can convert the seat into a lay-flat bassinet. Its definitely travel friendly with a quick folding system. It's complete with boot cover, harness pads and rain cover. Get your checklist for a good pram and you'll find what you're looking for in Steelcraft Savvi.
Type of pram: 4-wheel pram
Suitable Age: 0+ months to 5yo
Weight: 9 kg
Online Stockists:
BEST LOOKING PRAM
There are horror stories but parenthood can be fun! You can make it fun with Bugaboo Fox! Wherever you want to go with your baby, you can take Bugaboo Fox 2 with you. Its a pram carefully designed for tiny nooks and traffic. It has a one of a kind wheel design that makes navigating tight spaces easy. It also has power steering so moving around is a breeze for you. And with Bugaboo Fox's premium fabrics and padding, the baby will be super comfortable.
Type of pram: 4-wheel pram
Suitable Age: 0+ months to 5yo
Weight: 9.8 kg
Online Stockists:
BEST LIGHT FULL-SIZED PRAM
Chores don't stop when you're a parent. You still need to pay the bills, go to the grocery, get coffee and all our other routines that means taking our babies with us. Whatever your needs are, Bugaboo Lynx is customisable to fit those needs. It also has enough accessories to match. Its one-handed push feature makes it easier to go through these chores and makes it the perfect pram for negotiating a crowd or potholes on the side of the road. The wheels are puncture-proof so you can take the Bugaboo Lynx on the rockiest of gravel roads without worrying you will ruin the tyres.
The Bugaboo Lynx has an extra-large sun canopy making it perfect for walking your baby in the Australian sun, a reclinable seat with three different reclining positions, a height-adjustable handlebar and reversible seat (so baby can face or, or the world).
Type of pram: 4-wheel pram
Suitable Age: 0+ months to 5yo (23kg)
Weight: 9.4 kg
Reversible handles
Comes in black on black, black with grey melange, Aluminium/Grey Melange and Black.
Comes with a Bassinet
RRP: $1299
Online Stockists:
9. Maxi-Cosi Zelia
BEST BUDGET PRAM
Maxi-Cosi Zelia is a great pram for practical parents. It can be used until your kid is four years old! It's a compact urban stroller and baby pram. It comes with features that makes you comfortable in carrying or strolling your baby with. Heads up, the car seat is sold separately.
Type of pram: 4-wheel pram
Suitable Age: 0+ months to 4yo
Online Stockists:
Bubs N Grubs Baby Store $447.00
Baby Barn Discount $455.00
Baby Co $469.00
10.
Phil & Teds Go Buggy
MOST LIGHTWEIGHT PRAM
Ready, set, Phil & Teds Go! Phil & Teds Go is THE pram for the on-the-go parents! At only 5kg, it's very light and compact for the city parents. Guess what, it's also an umbrella stroller for travels and everyday walks. With its size it's a breeze to pop it in and out of the car.
Type of pram: 4-wheel pram
Suitable Age: 0+ months
Weight: 5 kg
Online Stockists:
Baby Barn Discounts $299.00
Baby Village $399.00
Which pram suits you? If you're a new mum or you have kids and you know what you want in a pram, we hope our list helped in you in choosing which best pram in Australia to buy this time around. Being a parent definitely isn't a walk in the park, but you can walk in the park and have fun with your baby with the right pram!