Epic Cubby Houses You Can Buy Online in Australia
Trying to think of a good way to get the kids off the screen out outside playing over Summer? Why not grab a cubby house.  I have fond memories of my tree house as a kid – we spent hours hiding from our parents, reading books and swinging on the tyre underneath – that is until a nest of paper wasps decided to move in close by.  Note to self – never try and swat paper wasps with a badminton racket!

Here are our absolute favourites!  10 Epic Cubby Houses that you can buy online in Australia.
The most epic cubby house for little girls!  Imagine the sheer squeals of joy of delight on Christmas morning!
This adorable Cubby House will become the central gathering place in your backyard. It's the ideal space for interactive and creative play. This unique Cubby House has a large side activity window which allows children to interact inside & outside of the house.
The top and side plaques allow for extra personalisation. In harsher weather conditions or when not in use, a removable window cover (provided with kit) can be fitted in window opening to help protect Cubby's internal furniture and fixtures
It's made from Fir Wood timber, comes in prefabricated panels and can be erected by one person in approx. 1 hour or less. All you need is a powered screw driver.
The spacious Spring Cottage playhouse by Backyard Discovery will set your backyard apart from all others. This enormous playhouse is the largest and most unique in its category. The beautiful colors and contemporary curved roof design will surely turn a head or two. Your children will enjoy the outdoors by skipping through the garden gate on their way around the back to sit at the snack window and prepare feasts in the fully-stocked kitchen for all your neighbors. Whether your kids are sending notes back and forth in the mail box, creating their own masterpiece on the chalkboard. This cedar playhouse will provide your kids hours of endless fun and imagination while playing with one of the 13 interactive features also including the sliceable fruit, flower box, porch light, doorbell, and toy phone.
The Spring Cottage is made from 100% cedar. With small, tight knot structure, your lumber will be less likely to develop small cracks emanating from knots. In laboratory testing, our durable cedar wood proved to be rot resistant and highly resistant to natural decay. All lumber is pre-stained (not painted) for a smooth appearance, as well as cut and stamped with the part number to help speed up the building process. Some pilot-hole drilling may be required.
Playhouse Features
Flower Box
Working door with Doorbell
Deluxe Play Kitchen with sink, stove, and cutting board
Mailbox with Flag
Sliceable fruit
Play phone
Chalkboard
Snack window with bench
Hinged garden gate
Assembly Required: This product comes partially assembled in a box with assembly instructions included.
A small but delightful cubby house perfect for a small backyard.  It has a perspex door, a colourbond roof, planter box and skylight.
The Whacky Tower Playhouse is a fantastic piece of play equipment that will bring new levels of excitement to your garden.
Featuring a balcony, slide and bright green exterior, this playhouse is ideal for the most imaginative and active of children. With loads of different features designed to enhance your playing experience, this playhouse is the obvious choice for any child, with it also representing fantastic value for money.
Material: Fir
Assembly Time: 30 Minutes
Cabin Base Dimensions: L102cm x W95cm
Platform Dimensions: L152cm x W95cm
Playhouse Dimensions: H1.5 x W1.0 x D1.5m
Overall Dimensions: H2.4 x W1.5 x D2.0m
Age: 3-10yr Olds
The Turbo Tower cubby fort is going to be your child's centre of fascination every time they are outside.  It is the cool toy to have in their own backyard and will entertain them for years to come.  The rope ladder and climbing wall are two ways to access the fort, or your kids can go right up the slide!
Stockist:
The most popular in our range, the Shak really steps it up. With a massive 2300mm of width it gives the kids plenty of room inside and out.
Big enough for sleep overs, or just sitting on the 2300mm wide verandah having afternoon tea, the Shak will be a great addition to any backyard.
As with all our cubbies the Shak can be customised to suit your backyard, with the addition of side decks and accessories the sky is the limit for this beautiful
cubby.
Standard Features Include:
17mm weatherboards.
Colourbond roof.
Three windows all with sliding perspex.
Jarrah window and door frames.
Jarrah trim external plywood door.
Moisture resistant yellow tongue flooring
Generous 800mm verandah
Stockist:
For Your Backyard for $1895.00
Fully hand made from 90% recycled timber. Wooden wheels for maneuverability. Solidly built with screws, glue and silicone joins. Finished in 3 coats of Marine Varnish with UV protection for long lasting and new look. Hand painted designs and quality fixtures. Fold down table, windows stay open with pneumatic side stays.
Stockist:
Cubby King Creations for $3099.00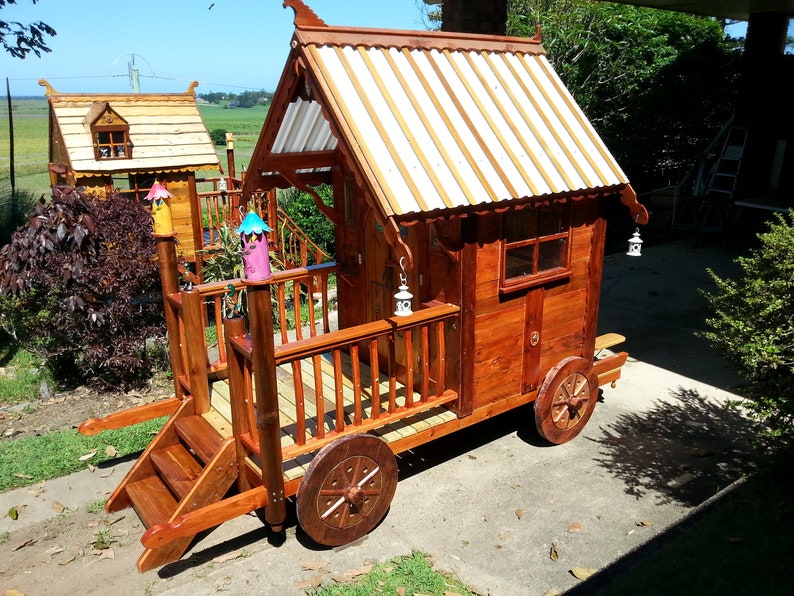 What are your Cubby House Goals for 2020?