Teachers get apples for every occasion.
Christmas, back to school, Teacher's day.. Apples never fail to remind teachers how loved and appreciated they are by their students — or their student's parents.
1) A Thank-You Art Frame
Many of these types of frames can be downloaded from Etsy and then you just pop them in a frame!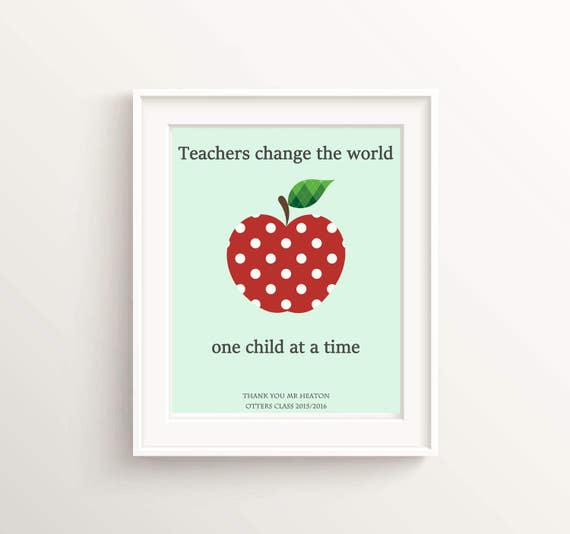 2) Make An Apple Mason Jar
These are really easy to make at home!  Grab a mason jar (most kitchen shops stock them) and some red paint. Paint the inside of the mason jar and allow to dry.  Tie some twine around the top with a few cardboard green leaves.  Fill with pencils – done!
3) A Jar full of sweets!
Fill it up with their favourite candy!
4) Personalised Teachers Apple Socks
These Personalised Pink Teachers Apple Socks make the perfect gift for that hard to buy teacher at the end of the year! They can be personalised in a pretty Script font with any message you decide.
Grab them from Hard to Find for $24.99 with free shipping
5) A Personalised Tote Bag Saying 'You Are Totes the Best Teacher!'
Easily personalized and also very practical.
6) A bucket full of apples
Grab a basket at a local stationery store and fill with both red and green apples.  Add a label!  Easy and thoughtful!
7) A 'Make Your Own' Toffee Apple Scented Bath Bomb Kit
This gorgeous little kit makes 5 delicious toffee apple scented bath bombs.
8) An apple card
With a sweet message from the heart!
9) An apple wall decor