Gender reveal parties are all the rage – and they are here to stay. After all, finding out the sex of your baby is a huge milestone and is perfect to share with your closest family and friends at your Baby Shower.
When Will You Know the Sex of Your Baby?
During most pregnancies, an ultrasound is done at the 20 week mark and this is when a skilled ultrasound technician can let you know the gender of your baby. If you don't want to know (and want it to be a surprise for the Gender Reveal Party), ask your technician to write it down on a piece of paper that you can then give to the person who will putting the balloon together for the baby shower. Make sure you give it to a trusted person who won't tell before the big day!
Planning the Big Reveal
Send out the Baby Shower invitations three weeks before you plan on holding the celebration. Grab a selection of gender reveal decorations (that won't give it away) and then plan your party. You can even hand out little blue and pink stickers so that your guests can 'predict' what sex they think you might be having!
There isn't just gender reveal balloons to announce the sex of your baby. Other people use the following methods:
Gender Reveal Cake: The piece of paper from the sonographer is given to the bakery where you order your cake who will make the inside of the cake pink or blue.
Gender Reveal Box: Another method is to open a big cardboard box that is filled with little pink or blue balloons!
With the growing popularity of Gender Reveal Parties, the demand for beautiful gender reveal decorations, particularly gender reveal balloons has increased. And we love the following balloons the absolute most!
Location: Ships from The United States
Price: $27.63
Designed and made in the United States, this gender reveal balloon via Etsy is a complete kit and comes with a balloon hanging kit because helium isn't always easy to find. The Gender Reveal Balloon kit comes with a giant black balloon, 8 pink and 8 blue mini balloons, one long black ribbon and a needle for popping.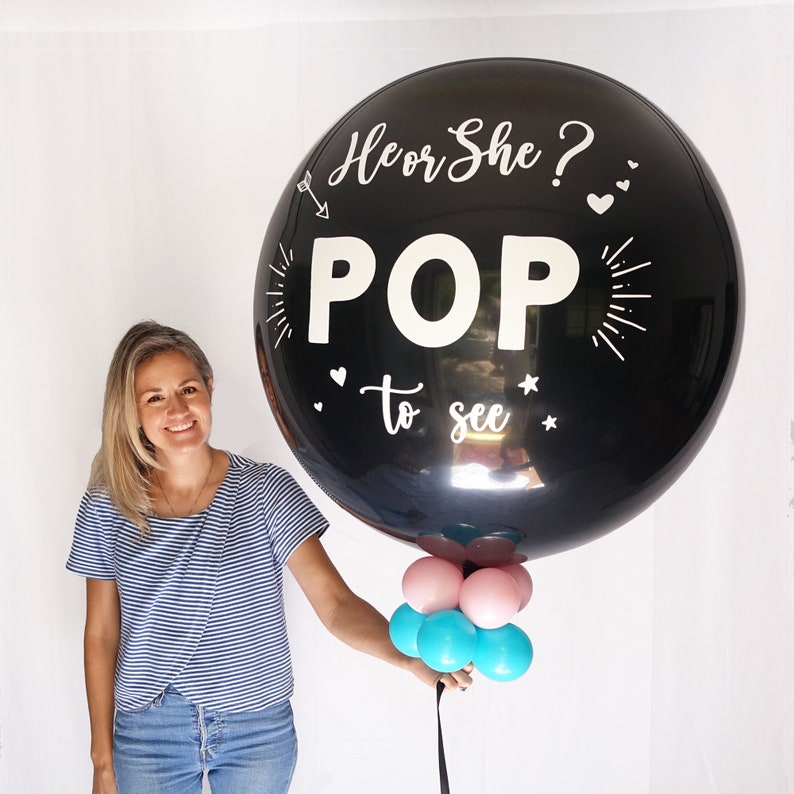 Location: The United States
Price: $24.32
Size: 24″
This Gender Reveal Confetti Balloon is a DIY kit that does take approximately an hour to put together ready for your perfect gender reveal. Everything needed is included in the kit. With over 117,000 positive reviews, you know that you will get exactly what you are looking for.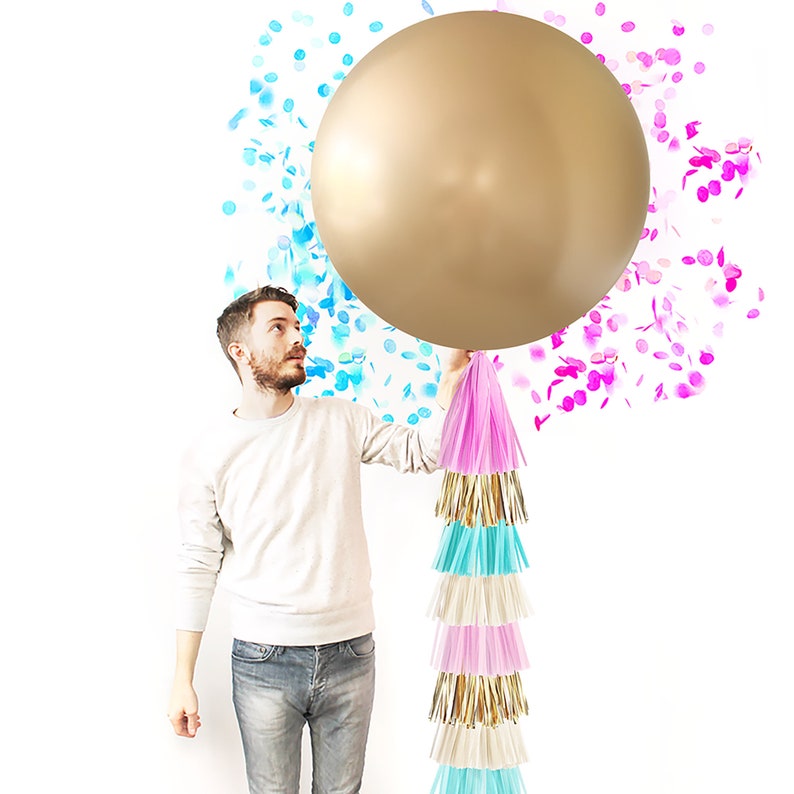 Location: Australia
Price: $27.98
Size of Main Balloon 36″
This 93-piece gender reveal balloon party set has everything you need for your Gender Reveal Baby Shower. The kit includes:
1 x 36″ black gender reveal balloon
1 x 'Boy or Girl' Paper Banner
1 'Mommy to Be' Sash
2 x Boy or Girl Round 18″ balloons
12 'Team Girl' Stickers
12 'Team Boy' Stickers
6 x Blue Glitter Gender Reveal Cupcake Toppers
6 x Pink Glitter Gender Reveal Cupcake Toppers
10 Blue Latex Balloons
10 Pink Latex Balloons
30 x Boy or Girl Photo Booth Props
1 x 10 gram bag of Pink Confetti
1 x 10 gram bag of Blue Confetti