25 Adorable First Birthday Outfits for Girls
Planning your daughters first birthday is always fun! Trying to pick a theme, the decorations, the cake and of course the outfit! If you are stuck for birthday theme ideas, some popular first birthday themes for girls are:
Mermaids
Unicorn
Princess
Frozen
The Very Hungry Catipillar
It's also about marking a milestone of making it through the first year of parenthood – AND SURVIVING! Dressing up your little girl and snapping up some cute photos is one of the highlights!
Here are 25 of the most adorable girls first birthday outfits:
This beautful first birthday dress is just gorgeous. You can even puchase a matching head band. Every dress is handmade with lots of love. Read More >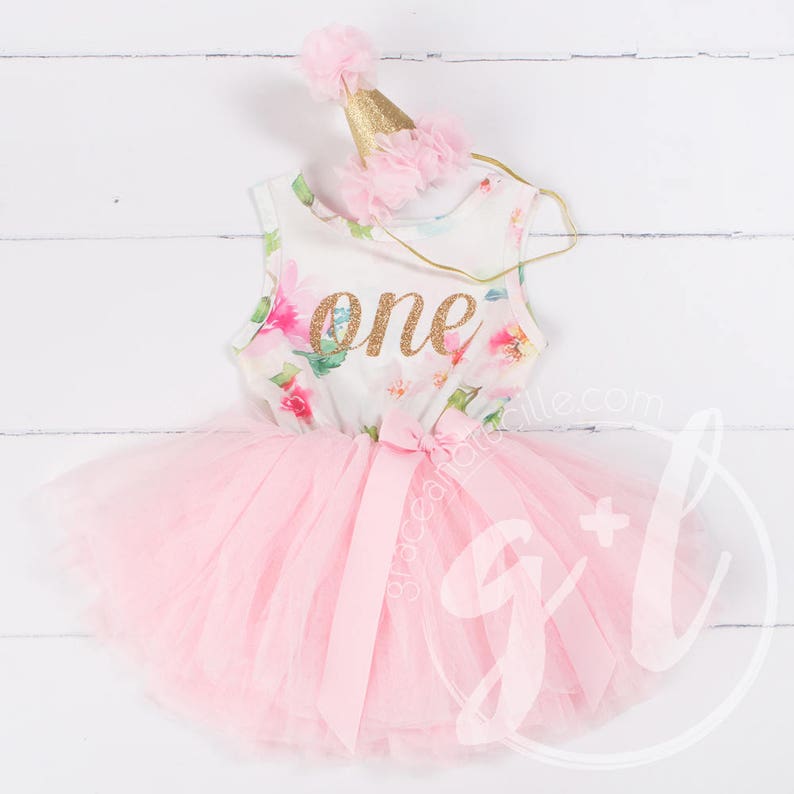 (Ships from The United States)
---
It sure is Onederful to be turning one! This 3 piece set includes a sparkly gold onesie, tutu and matching headband. Read More >
(Ships from The United States)
---
This beautiful birthday outfit is such a nice colour. The dark blue and pink floral go really nicely together. Any little girl is going to look just stunning in it. Read More >
(Ships from the United States)
---
Make a statement with this gorgeous unicorn bodysuit and pastel tutu! The tutus are handmade with lots of love. The matching crown just gives it that extra special sparkle! Read More >
---
Check out the knee high socks that come with this birthday outfit? Its freaking adorable! Really make a statement with all the matchy accessories such as the headband, socks, and tutu! If you are having a disney themed birthday party, this outfit is a perfect match! A beautiful handmade tutue with a personalised onesie. You also have a selection of colours to choose from! Read More >
---
It's My First Birthday Outfit
---
Let your little girl really make a statement with this stunning rainbow tutu birthday outfit! You won't lose sight of her at her birthday party that's for sure! Read More >
---
This birthday outfit is a bit toned down with beautiful pastel skirt, simple bow and onesie. Choose from short sleeve and long sleeve onesies. Read More >
---
This stunning red tutu is bound to bring out your little girls eyes! Match it some cute red shoes and your little girl will be getting fussed over continously by the grandparents. Read More >
---
The Tinkerbell Birthday Tutu comes as a complete outfit including jewellery and shoes! The onesie can be personalised and the parents can even order matching t-shirts! Read More >
---
Peter Rabbit is an absolute classic, and the Peter rabbit print in this outfit is absolutely gorgeous. Dress up your little girl in this beautiful set which includes a teething ring, bib and headband. Read More >
---
For something a bit different, why not get this adorable barnyard outfit? It comes with denim jeans with little cow patches, pink headband and a personalised onsie. Read More >
---
This "Wild and One" dress is perfect for a boho themed first birthday party! Select from gold, silver and mint glitter writing. You're little girl is sure to get many compliements when she wears this dress! Read More >
---
Your daughter is definitely one in a melon! So make a statement with this cute watermelon onesie with matching bow! Avaliable in size 0 and 1. Read More >
---
Birthday Shark Doo Doo Doo! If you are hosting a baby shark themed birthday party, check out this cute dress! The flower headband is a really nice touch! You can purchase this set in either long sleeve or sheet sleeve. Read More >
---
Donut Tutu Birthday Outfit
Ever look at your baby and think they are so cute, you could just gobble them up? Well, add to that with this donut tutu outfit! A great option if your daughter has a birthday in winter, with the long sleeve onesie. Read More >
---
Personalised and causal birthday outfit is simply adorable! It includes a personalised oneside, floral pants and matching bow. Select from a variety of colours and designs to find the right fit for your little one! Read More >
---
This "One" set includes a onsie, bib, cake topper and 12 cupcake toppers! How cute is that! The design is avaliable in silver and gold glitter. You will be able to snap up some very cute photos of your little one in this outfit. Read More >
---
For a more casual, simple look this dress fits the bill. Personalised and embroided with your little one's name, they wil be soaking up plenty of "aww look at her dress!". Read More >
---
The Very Hungry Caterpillar is a fun, classic and different birthday theme! This romper perfect for a cake smash or party! Comes only in the size 18-24 months. Read More >
---
Have your birthday girl stand out with this stunning vintage inspired tutu and onsie! The tutu is made with high quality fabric and the head band is stretchy and soft. So adorable! Read More >
---
For something different, check out this yeallow and gold onesie and tutu set. The yellow tutu is made of full, high quality fabric, along with a matching floral head band. The onesie consists of a gold glitter font and comes in sizes ranging from 3 months to 24 months. Read More >
---
This first birthday outfit is the right one if you are planning on a mermaid theme! Just look at the turquoise and purple! Personalise the onesie and make sure to plenty cute photos of your little mermaid! Read More >
---
Ahh Llamas! Personalise this gorgeous llama onesie. It's design is casual enough that you can dress up your little girl more than once! This is a must for any Llama Themed Birthday! Read More >
---
This yellow romper is beeautiful! It comes with buttons for easy changing and crosses over at the back. You can even personalise the One or custom design! Too Cute! Read More >
---
Lets face it, Frozen isn't going away any time soon. This "Anna" Frzone Birthday outfit is a perfect outfit for any Frozen themed birthday party. Read More >
---
Need more inspiration, checkout out these great articles:
---
We hope you enjoyed our list of 25 Adorable First Birthday Outfits for Girls. We hope your little one enjoys their birthday!