They love cars, robots, superheroes, sports — the list is just endless when you have boys.
So, when your little rascal turns a year older, you've got a multitude of birthday party theme choices for them.
Check out these fantastic and fun birthday party themes for boys who love cartoons, superheroes, sports leagues, circuses, and so much more! We have birthday themes for baby boys, right through to teenager boys and everything in between!
If you want ideas for girls, check these out! 
1. Disney's Mickey Mouse Birthday Theme
He's everyone's favourite! You can even play a hidden Mickey if you want.  Mickey Mouse is perfect for a 1st – 4th birthday party theme.
2. 
Dinosaur Themed Party
This roaring dinosaur themed party is perfect for your little dinosaur and his curiosity about the Mesozoic era. Perfect for a 1st through to 8th age birthday boy – there is so much you can do.  For a Dinosaur Birthday Cake, double-stack a sand cake or chocolate cake, cover in green mock cream (grass) and place a few mid-sized dinosaur figurines on top!
Dinosaur Party Activities:
Have dinosaur fossils buried in the sandpit as a party activity.
Hold a dinosaur egg hunt
Pin the tail on the dinosaur
Dinosaur Party Bags:
Mickey Mouse Stickers
Mickey Mouse Cards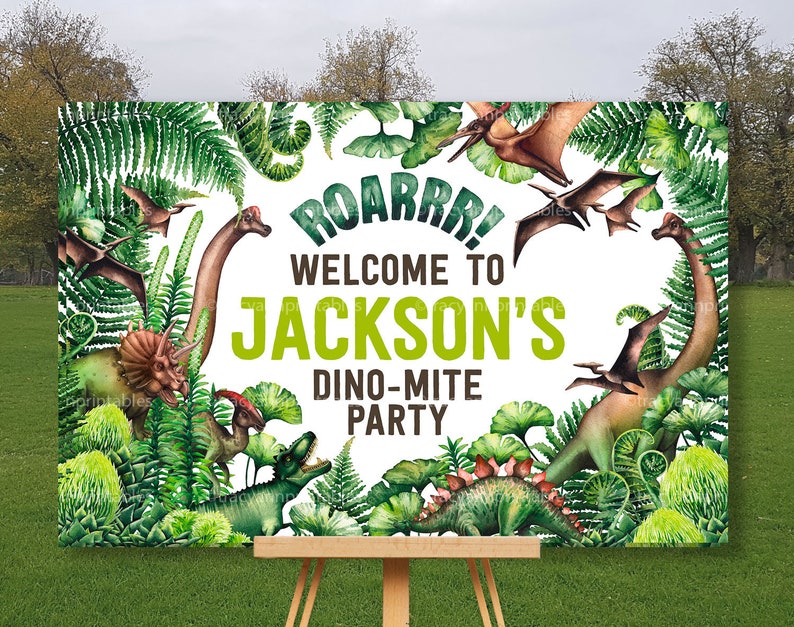 3. Batman Party Theme
Let him feel like he's in Gotham City with this awesome Batman Party Theme. Grab some Batman Masks so that all the boys can be Batman during the party.
Batman Party Bags: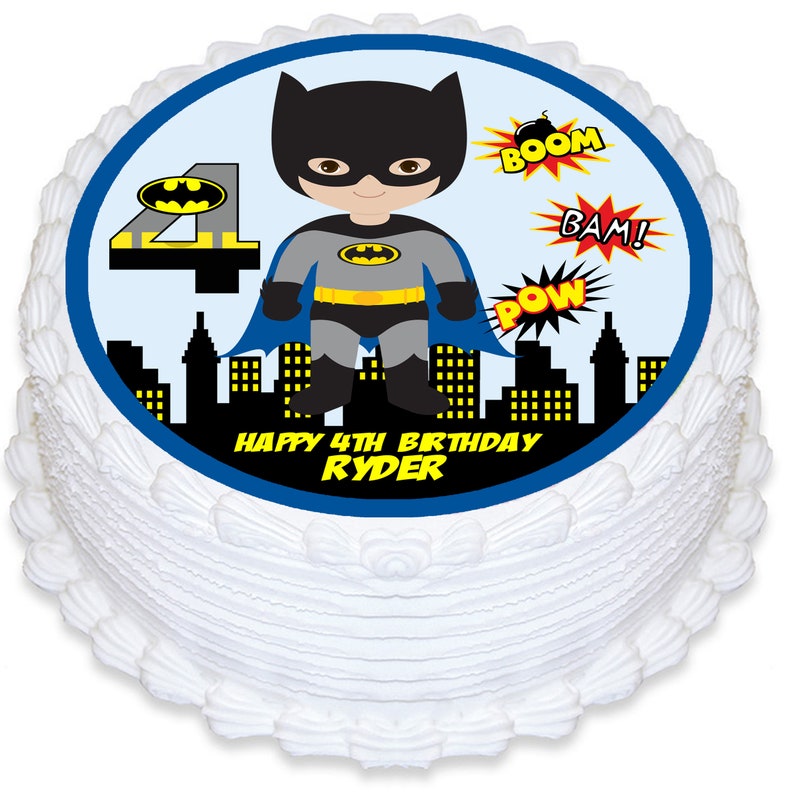 4. Outer Space Birthday Party Theme
If you have a little one who's curious about outer space, take him to the universe and the stars with this amazing outer space birthday party theme. Have some guests come as aliens, and others as astronauts!
Space Food:
Have some 'Saturn Rings' (which are just Burger Rings) in a bowl
Shape some sandwiches into stars
Have fruit kebab rockets
Outer Space Party Bag Ideas:
Space Stamps
Space Tattoos
These pre-made Space Party Favour Bags (pictured below) from Etsy are cute and only $3.90 each.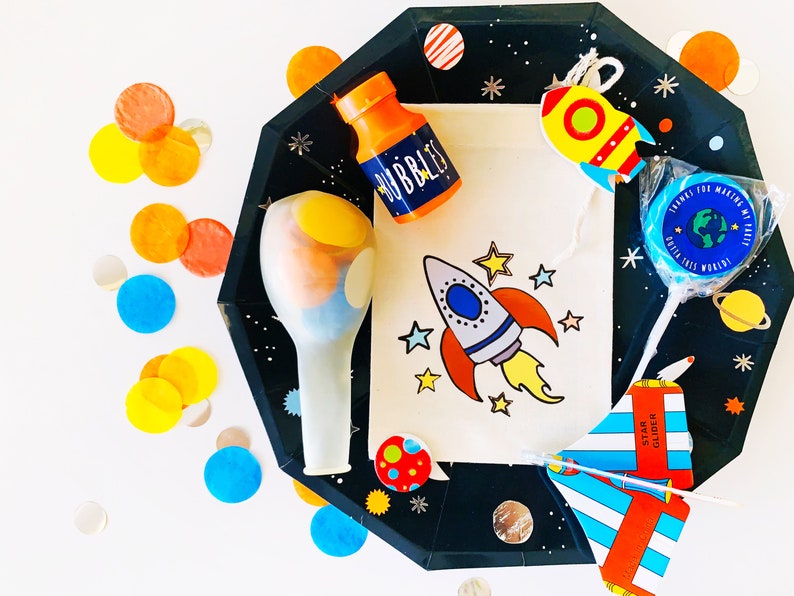 5. Lego Themed Birthday Party
Your Lego-loving tyke will surely have a blast with his Lego-themed birthday party. Lego Birthday Party's are great from ages 6 – 10.
Lego Party Favour Bags:
6. Dr. Seuss Birthday Party
To celebrate your little love's mischievous side, this Dr. Seuss birthday party is just the right one for him. Great for a first through to 5th birthday party. Dr Seuss is especially good if you have twins!  Thing 1 and Thing 2 can have a joint Dre Seuss Birthday Party that caters to two!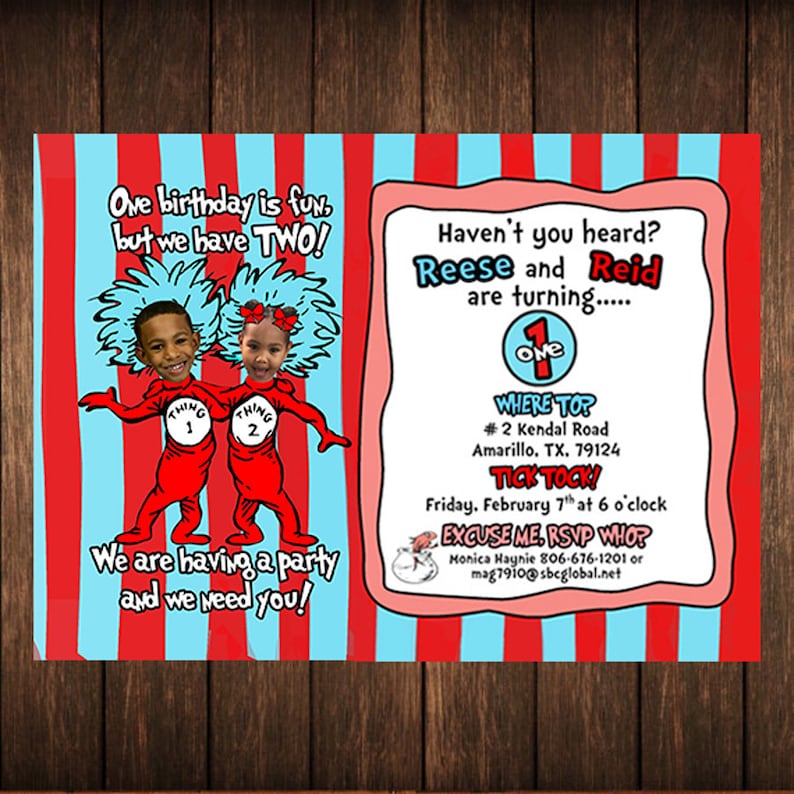 7. Pirate Party Theme
This is what your sneaky little pirate had been dreaming of having for his birthday.
Pirate Birthday Party Activities:
Have a treasure hunt and follow the map to find the hidden treasure!
8. Pokemon Go Party Theme
Pikachu is everywhere in this Pokemon Go birthday party theme for your little wanderer.
9. Art Party Theme
Your artistic little one will definitely enjoy this art party theme with all the fun and games to enrich his artistic skills you have prepared.
10. Construction Party Theme
Build. Play. Repeat. This construction party theme will surely get your cheeky little tyke going.
11. Teenage Mutant Ninja Turtles Themed Party
Give your enthusiastic Leonardo or Donatello or Michelangelo or Raphael a party of a lifetime with this Teenage Mutant Ninja Turtles themed party. Cowabunga!
12. Circus Themed Party
Everything is fun when you speak about circus and this is is what your little magician will have with this circus themed party.
13. Science Themed Birthday Party
Your little Einstein is not going to let his birthday pass without having a simple experiment: Science + Friends = Fun!
14. Superhero Birthday Party Theme
Gather all superheroes known to mankind and put them into one superb birthday party for the little superhero in your life.
15. Nerf Gun Party
Take your Nerf war party to the next level with this Nerf Gun party theme for your little sharpshooter.
16. Battle Themed Party
Gear up and have your little fighter prepare for the yummiest battle of his life with this battle themed party.
17. Baseball Themed Party
Your baseball fanatic tyke will definitely enjoy his baseball themed party like he's in a major league!
18. Captain America Party Theme
Who doesn't love Captain America? (Even Mum's do! Lol!) Give your tiny captain a blast with his Captain America themed party!
19. Fishing Birthday Party
Want your little fisherman to have the best time of his life? Let him have an adorable fishing birthday party!
20. Little Monsters Theme
Your little monster will surely be screaming with excitement with his little monsters themed party.
21. Car Racer Themed Party
Take your little racer to the finish line with this car racer themed party.
22. Cars Themed Party
Your little Lightning McQueen, is not about to let anybody stop him from enjoying his Cars themed birthday party.
23. Minecraft Party Theme
This Minecraft party theme is what your Minecraft addict needs to make his birthday complete.
24. Lumberjack Themed Party
Get him totally excited with this lumberjack themed party… and even share stories about the woods.
25. Backyard Camp Party
Let him explore the outdoors with this backyard camp party. You can also include some fun outdoor games that he and his friends will really enjoy.
26. 
Nautical Party Theme
This nautical party theme is perfect for your future marine man. Anchors aweigh!
27. Safari Themed Party
Take him to the jungle at his safari-themed party as he is joined with his jungle friends.
28. Royal Prince Themed Party
Make your little prince feel like a king in this Royal Prince-theme party.
29. Owl Party Theme
They only come out at night and this what intrigues most of the boys, so having an owl party theme will get them excited.
30. Woodland Party
Everything about the woods is exciting for little boys, so this woodland party will be the best for them.
31. Galaxy Themed Party
Let him have a mystical party "under the stars" with this galaxy themed party and feel him love you "to the moon and back."
32. Star Wars Themed Party
Your young jedi will have a blast with this totally cool Star Wars themed party.
33. Gamer zone themed party
Your little gamer's ultimate game zone — his birthday party that gives him an all-access to all his favourite games in one whole day!
34. Xbox Party
His favourite toy for his birthday? Why not!
35. Aeroplane Themed Party
Take your little pilot to the skies in his aeroplane themed party.
36. Hot Air Balloon Party
Everything feels great when you're up, and this hot air balloon party will really light up your little balloon-loving boy's day.
37. Cowboy Themed Party
For your little cowboy, nothing is ever cooler than being at the ranch. So take him to one and let him experience a day in the life of a cowboy.
38. Hawaiian Party Themes
Let him experience Hawaiian fun on his birthday complete with a tiki bar full of chocolates and candies.
39. Peter Pan Neverland Themed Party
Awaken his senses with this Neverland themed party for your curious little Peter Pan.
40. Surfs Up Themed Party
Your little surfer will definitely enjoy the rest of his birthday in this Surfs Up themed party.
41. Where The Wild Things Are Themed Party
Dress your little Beau and make him be the "King of all wild things" even for just a day on his birthday!
42. Favourite Animal Themed Party
Like literally! You can even ask his friends to wear their favourite animal costume for a day of fun and exciting animal-themed activities.
43. Tribal Themed Party
Your little Indian will surely be excited with this tribal themed party along with some fun tribal games for him and his friends.
44. Jungle Safari Themed Birthday Party
45. Football Themed Birthday Party
Game time is on for your little footie-loving tyke with his football-themed birthday party.
46. Farm Barn Themed Party
This is what your farm-loving boy have been wanting ever since! Let him enjoy the farm for a day!
47. Basketball Themed Party
Show him you're his number one fan with this amazing basketball themed party.48. Golf Themed Party
Your little golfer will surely get excited with this golf-themed party.
49.
Toy Story Themed Party
Collect all Toy Story characters and place them in everything at your little boy's Toy Story themed party…even in the loot bags!
50. Ninja Warrior Themed Party
Your little ninjas will be kicking with excitement with this cute Ninja themed party.
51. Ghostbusters Themed Birthday Party
52. Bluey Themed Birthday Party
53. The Very Hungry Caterpillar Birthday Party
54. Ninja Party
55. John Deere Birthday Party
What's your favourite birthday party theme?