A lot of parents are now looking at creating a lolly free party bag for their 

children's

 parties.

Lolly bags are a natural way to end a child's birthday party. After an afternoon of fun, games, presents and cake, the host thanks all the kids for coming to the party by offering them a small bag filled with surprises. However, these surprises are often sugar filled candies, chocolates and treats.
Most kids are already wired from all the snacks, cakes and cordial drinks at the party that the last thing a parent wants is a bag filled with more lollies. So, if it's your turn to play host and pack the lolly bags, why not try a healthier approach? The kids may miss out on the Mars Bars, but you can be sure that their parents will be grateful!
Choose Nutritional Treats
Standard lolly bag treats include mini chocolate bars, lollipops, gummy worms and snakes and anything else loaded with sugar. The good thing about these items is that they are small and individual but they are also packed with bad things. So why not try a different approach. Instead of adding a chocolate bar to each bag, pick up a package of muesli bars and add one to each bag. Or, consider adding a small pack of raisins, dried apricots or chocolate covered Goji berries instead? Other great individual treats to include may be fruit poles, fruit roll-ups, fruit snakes or grab n go yoghurt's, all of which can be found in the snack or health food section at the grocery store.
Try Homemade Healthy Treats
Another option is to offer the kids a tiny platter of your own home cooking. If you love to bake, then whip up a batch of some of your specialities such as mini muffins, shortbread biscuits and sweet tarts, Sure, they may not be the healthiest treats but you can be sure they are better than some of the other alternatives. Furthermore, you can add different flavours to the sweets, such as zucchini and carrot muffins, or blueberry tarts.
Toys, not Treats
Another thing you can do is pick up some toys instead of the traditional treats. Head to the party section of the grocery store and look for things like poppers, noise makers and bubbles. This will provide your children with more entertainment than a bag full of candy and will leave
them less likely to have a stomach ache come bedtime.
Personalised Sunglasses are a fun lolly-free treat!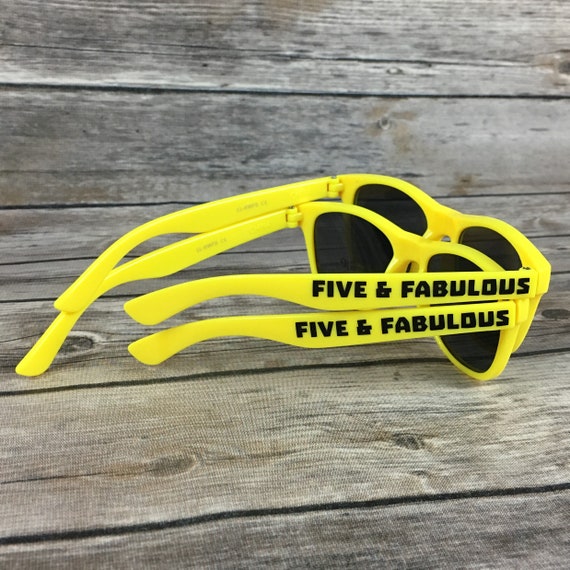 Here is a list of other alternatives:
Blackboard Chalk and a small chalk board
Colouring in books and a small box of coloured pencils
Small box of Lego
Matchbox Cars
Rubbers
Stickers
Box of Cards
Balloons
Bubble Mixture
Bouncy Rubber Balls
Kids Books
Crazy Straws
Sunglasses
Whistles
Face Masks
Box of crayons
Temporary Tattoos
Hair Clips or Elastics for Girls
Glow Sticks
Plastic Animals
Lip Gloss
Key Rings
Skipping Rope
Bubble Bath
Cookie Cutters
Water Guns
Slinkies
Fairy Wands
Pirate Hat