Who doesn't love a baby shower? I do and I love shopping for them even more.
With Mum receiving so many pretty things for a Baby Shower, doesn't it make sense that the item be practical as well as pretty?
I've put together a few ideas (and some from our Stay at Home Mum readers) for some baby shower gifts you absolutely can't go wrong with. With our list of practical and some unconventional gifts, everyone new mum will want you at their shower.
Grab your girlfriends and sweep your eyes over these awesome baby shower gift ideas. Happy shopping!
1. An Adorable Outfit from Pat Pat
Any excuse to buy a beautiful outfit for an impending bubba is fun – and we love the outfits available for newborns from Pat Pat.
2. A Nappy Cake
Nappy Cakes are just BRILLIANT as they look incredible (and make for the most beautiful Baby Shower Gift), but they are also so practical as every piece of that Nappy Cake can be used by the New Mumma Bear. So beautiful and practical!
We love the following stockists of Nappy Cakes:
3. Organic Muslin Wraps
Unless you are already a Mum, you have no idea how many Muslin Wraps your new baby is going to need! They are practical as they can be used as a wrap, a swaddle, a burb cloth, a cuddle blanket, a light sheet or a scarf.
Our favourite Muslin Wrap stockists:
4. A Lullaby Soothing Projector for the Nursery $35
Having beautiful soft lullaby music in your baby's nursery can be just the trick for trying to get a bubba to sleep. The SoundSpa Lullaby has three natural sounds (ocean, rain and twinkle) and also has a visual projection that your baby can watch on the ceiling of the nursery. This is a very thoughtful gift perfect for a baby shower!
5. Ready-Made Home Cooked Meals
Baby shower gifts don't always have to be about baby stuff. Sometimes, the best gift is something that relieves the stress new parents encounter. An original and hugely thoughtful gift is a home-cooked meal. This means the baby's parents are spared the chore of cooking, while still being able to eat freshly made, nutritious meals. Hurrah!
Either make a huge batch and freeze them for the new Mum's freezer – or organise a meal delivery service instead.
Discount Codes from Popular Meal Delivery Services:
6. A Strucket
A Strucket is an ingenious product made by a Mum who got sick of putting her hand in dirty nappy water. It is both a bucket and a strainer, and also has a drainer so you don't need to lift up a heavy bucket full of yukky water.
Stockist: Strucket (Ships via Australia)
We all know that new Mum's don't get a whole lot of sleep! This Comfort Suit Wrap from Pure Baby will keep the baby cosy and warm during the Winter months. The organic cotton is super soft on baby's skin, and why gender-neutral colours? So Mum can use the outfit for her next baby or so that they can be recycled to another Mum. Mum's can never have enough soft onesie suits!
8. Gift Voucher for TV
Grab your new Mum a year's subscription for Netflix, Stan or a Fetch TV Box. Gift Mum the gift of entertainment during the long hours of the night!
We recommend at Fetch Mighty!
Stockist: Kogan
9. A Vicks Warm Steam Vaporizer
These are must-have baby essentials – and are also good for kids and grown-ups who have colds, coughs or flu's. I have two of these!!!!
Where to buy a Vicks Vaporizer:
10. A Wall-Mounted Clock with Thermometer
You know how everyone says that 'You just dress baby the same as you.'. But it is really hard to judge sometimes how warm or cool to dress Bubs. That's why having a thermometer in their room so you know exactly how hot or cold it is, is a really great idea.
Stockist: Amazon (Ships Worldwide)
11. A Baby Rocker or Baby Swing
Every Mum needs a baby rocker, and there are baby rockers available for every budget.
Check out our article on the 10 Best Baby Swings to Put Your Newborn to Sleep 2022.
12. Baby Printed Milestone Cards
Capture all the special moments of baby's first few months with these printed Baby Milestone cards. This kit includes 13 different cards and is gender neutral so the perfect gift when you don't know the sex of the baby yet!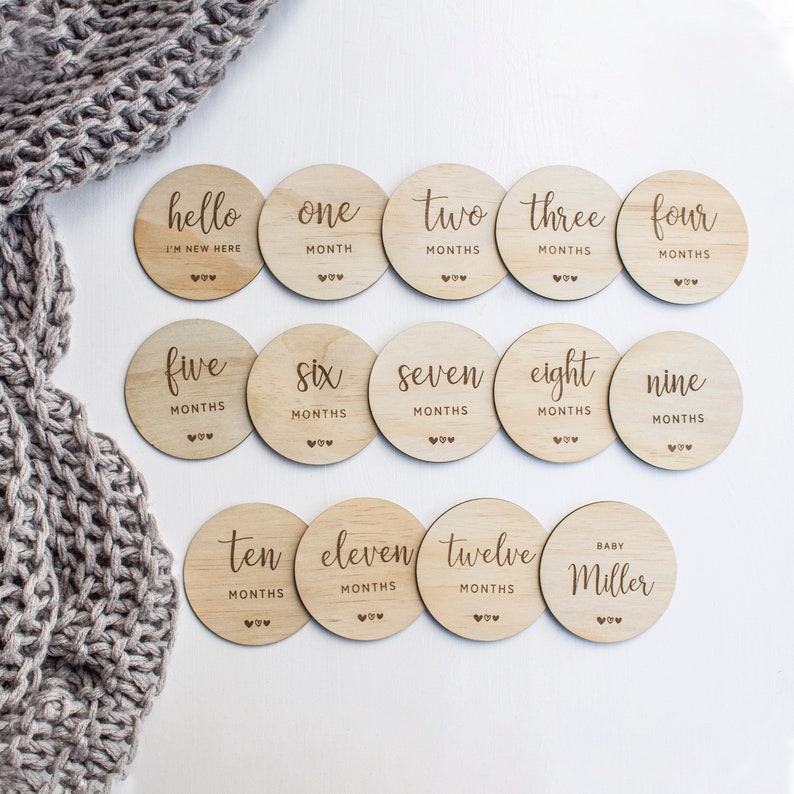 13. A Floral Labour Gown
Sometimes it is nice to buy something nice for Mum, instead of baby.  This is sort of a combination of both.  It has a pull-down neckline to make nursing easy, or for that direct skin to skin contact after birth. The perfect garment to wear in the maternity ward on your way to being a Mumma.
Check out our list of Maternity Gowns to choose from.
14.  Lactation Biscuits
Because only friends give friends biscuits that will also help your milk come in! You can make your own Lactation Biscuits (we have a shit hot recipe) – or alternatively, you can buy them from these stockists:
15. Baby Closet Clothes Dividers
An inexpensive gift that will save a new Mum load of heartache when sorting new baby clothing!
Stockist:
If you are the new Mumma Bear is worried about the environmental impact of all of those disposable nappies (but geez they are so convenient!) – now you can have the best of both worlds by using Eco-Nappies!
We love the range from Comfy Koalas!
What was the most awesome baby shower gift you ever received?
Baby Shower Gifts