14 Ridiculously Cute Hats for Cats
Now I don't own a cat. I think they are horrible creatures that are snooty and have really itchy fur. But even this cat hater had tears of laughter seeing these hats – on cats….

Adorable overload.
This kitty sombrero was designed to be both cute and comfortable. Unlike most sombreros, this hat was designed specifically for your smaller four legged friends, including ear holes for comfort. It would make a perfect Cinco de Mayo accessory, or even just a fun taco Tuesday / every day photo prop for your cat or miniature dog.
Ole!
Stockist: Pawsome Crochet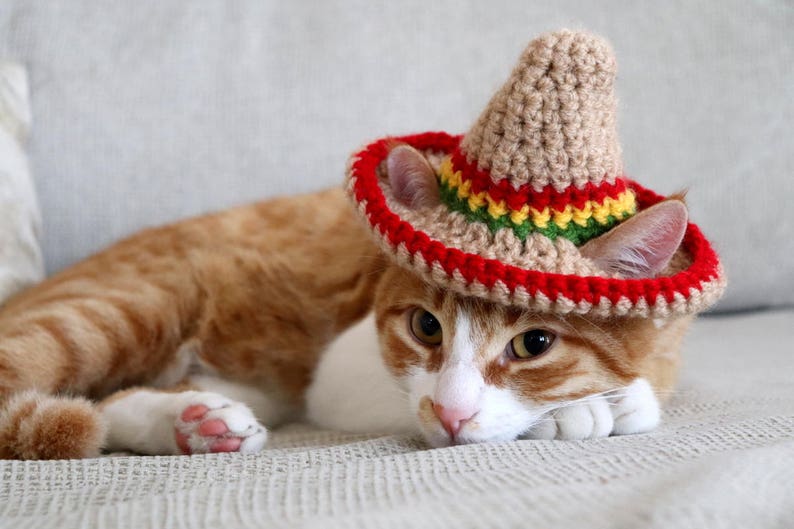 Cute accessories for male cats can be hard to find. Designed with that in mind, these pom pom / beanie style hats make a fun winter accessory for your tom.
Stockist: Pawsome Crochet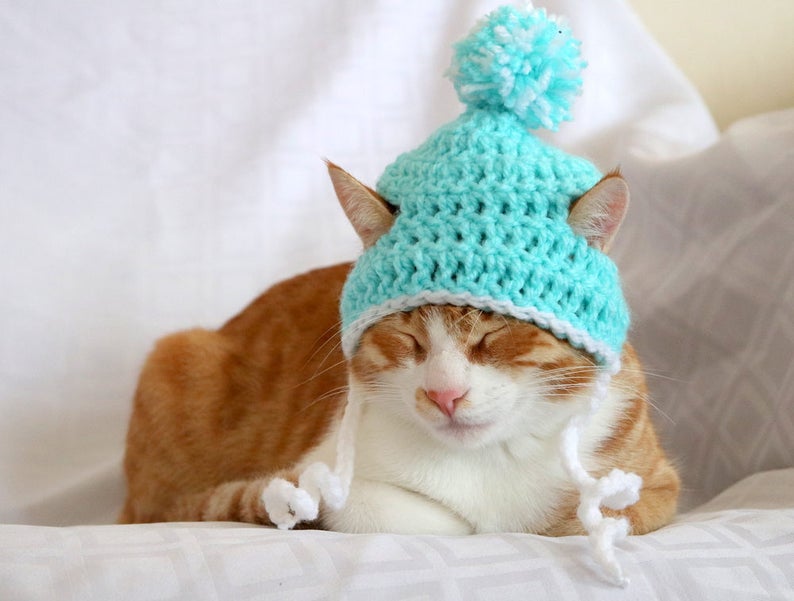 Vitamin C is playing on your school's stereo. Your cat has worked hard to get where your cat is. Cat exams and Cat homework, your Cat was the first cat to graduate in the family. Hey, congratulations. Using the elastic strap, have your Cat walk across the stage in confidence.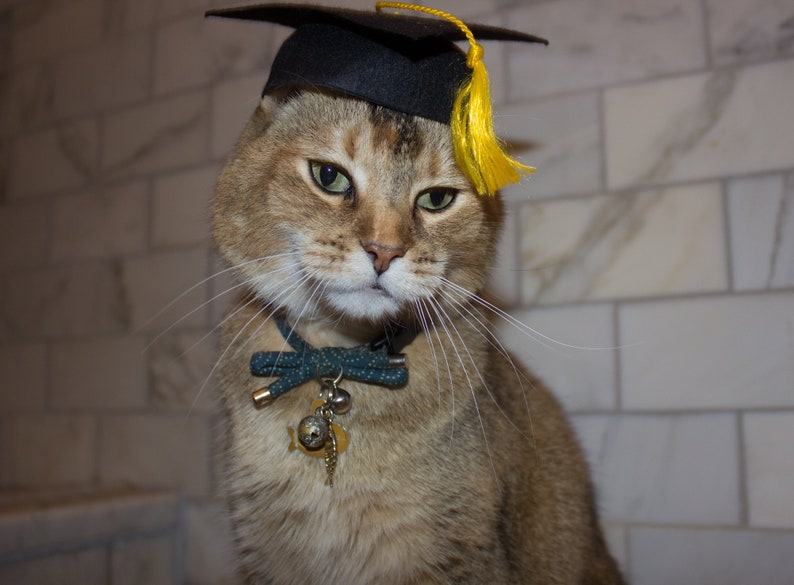 Multicolored ears covering hat for Sphynx or Cornishrex cats. Also fits for small dogs. Cold be done with or without ears.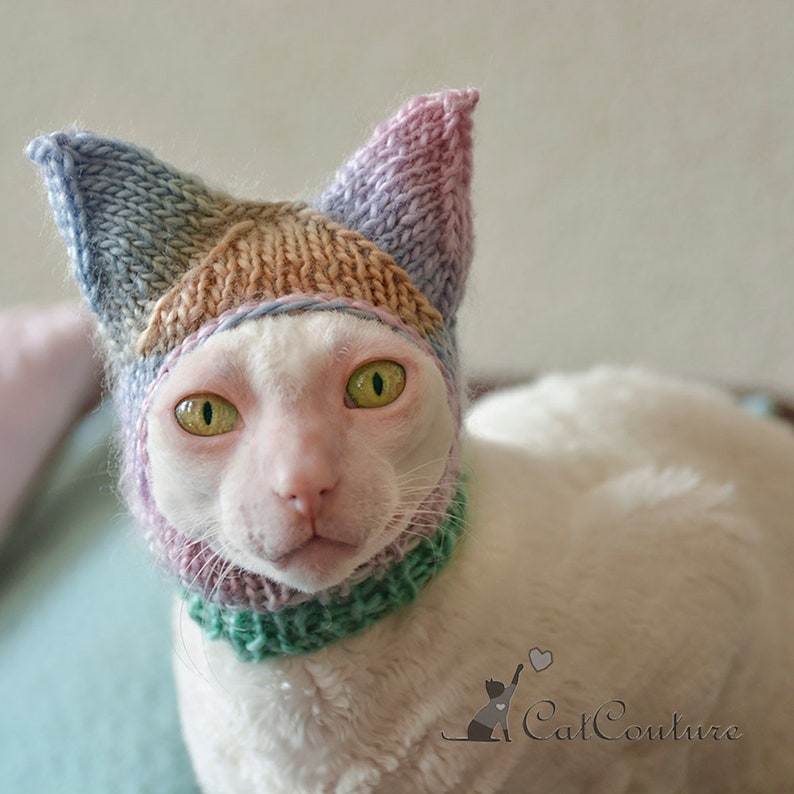 Show your smaller four legged friends some love with these adorable valentine's day themed hats. These colorful little pom pom hats were designed to fit cats, kittens, and extra small dog breeds. Each hat has two ear holes, ear flaps with straps, and an applique heart sewn on the front. They would make adorable valentine's day or year round photo props.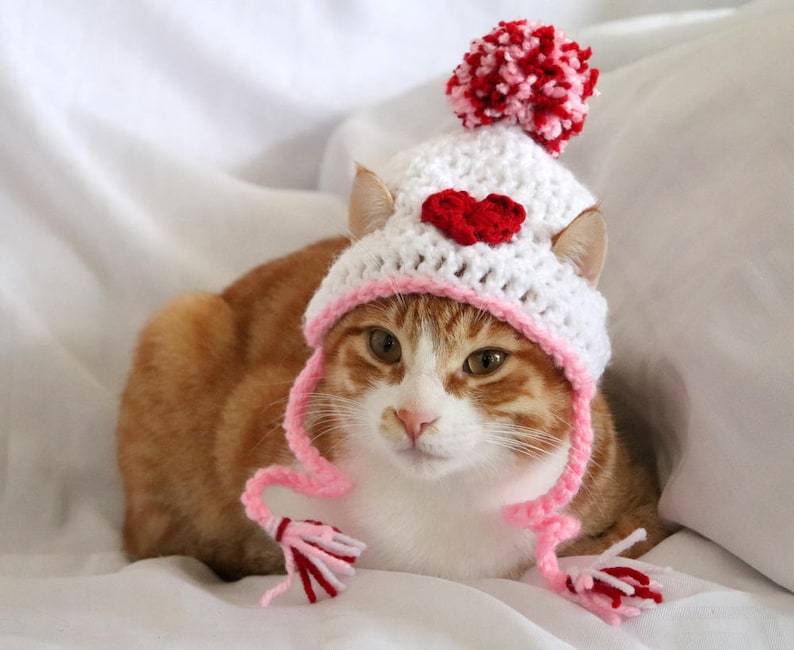 Make your cat THE cat in a hat. Delightful whimsical cat hat just like the character wears! Hat ties under chin. Fits all average size cats.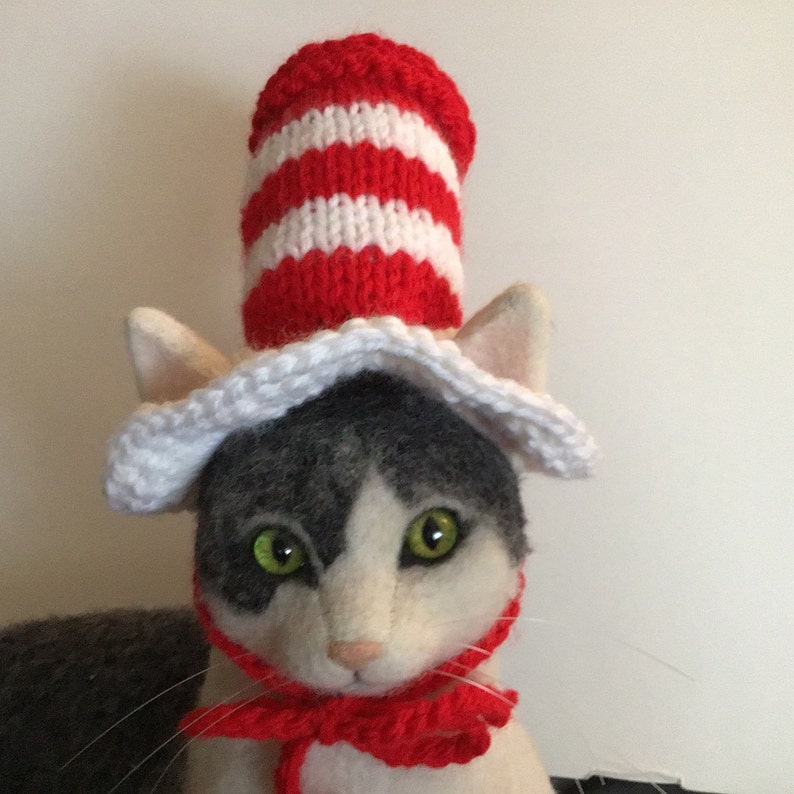 This version of the famous Sherlock Holmes hat is just what your cat (or dog) needs to wear, during the quests for clues needed to put together for the mystery puzzle they are concerned with. The deerstalker hat is designed primarily for cats to be lightweight and easily tolerated but it can be worn by small size dogs, chinchillas, ferrets, guinea pigs, etc).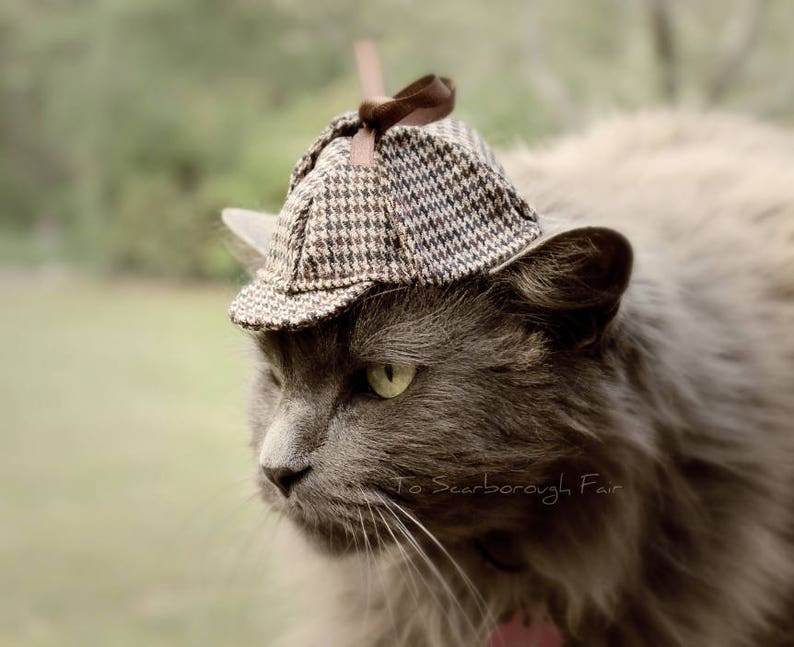 Propeller hat! Colorful wedges and wood beads, topped by a golden metallic power-driven shaft with radiating blades! This will aid your kitty in his/her flying endeavors. Or it will just add even more adorability to his/her look.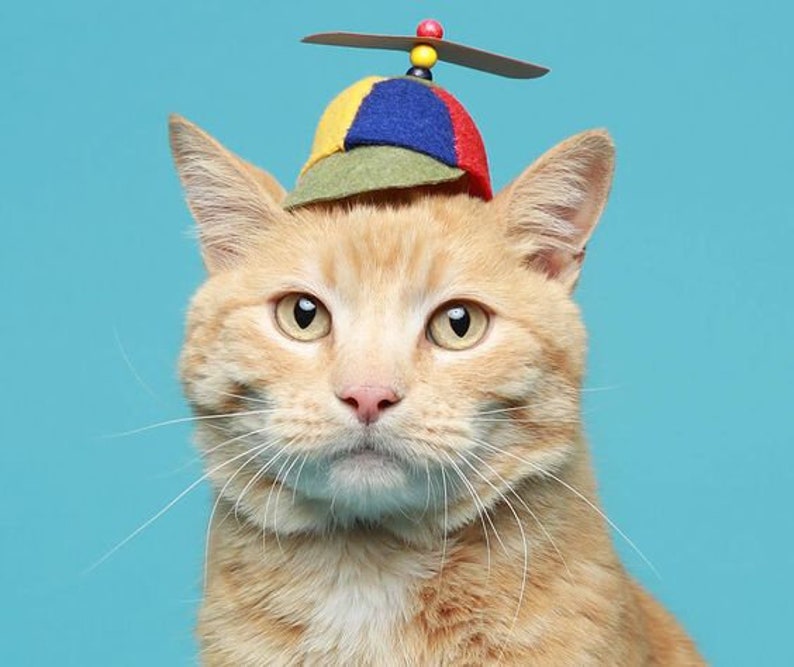 Unicorn hat for cats and small dogs. Adorable fantasy hat. Fits all average size cats. Hand knitted with delightful colorful tendrils for the mane. Gold unicorn horn surrounded by roses and flowers. Recommend spot washing as needed.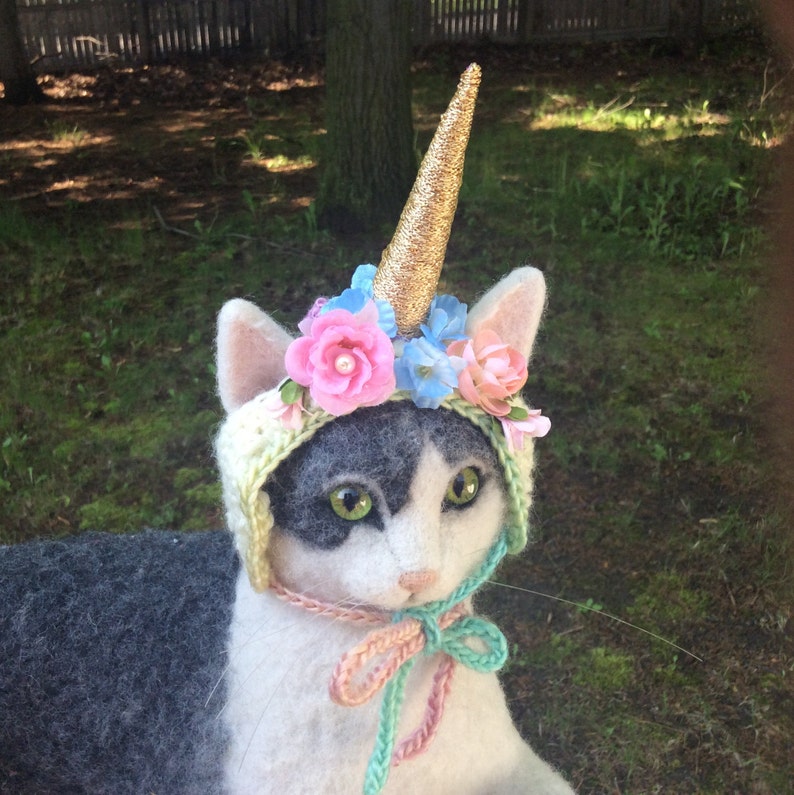 Jane Austen inspired hat for the cat who has everything. This hat has a crocheted brim and pure silk, yes, pure silk on top. It also has hand dyed tea stained hand made muslin roses, giving it a vintage effect. Delicate and beautiful! Note that because hat is made with 100% silk, it is not washable, only dry clean, and is subject to water stains because pure silk, is you know, high maintenance (like some cats?!!)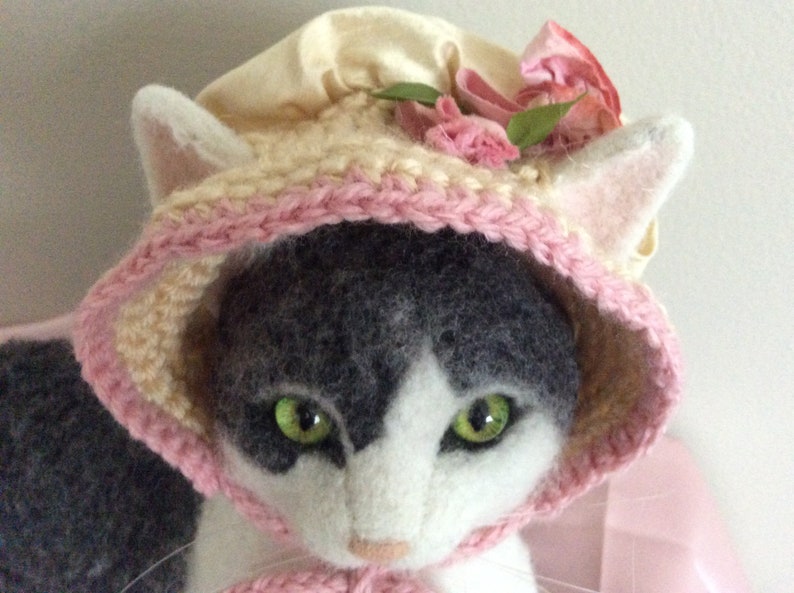 It's a jungle out there, and most of us have only dreamt of what it might be to be king of the jungle. The Jungle King lion hat allows our 4 legged on and onlys to live the dream, and rule the other animals in that jungle we call home. Secured with an adjustable velcro collar, made of plush caramel fur lined with satin, Jungle King will turn any pet into a born ruler.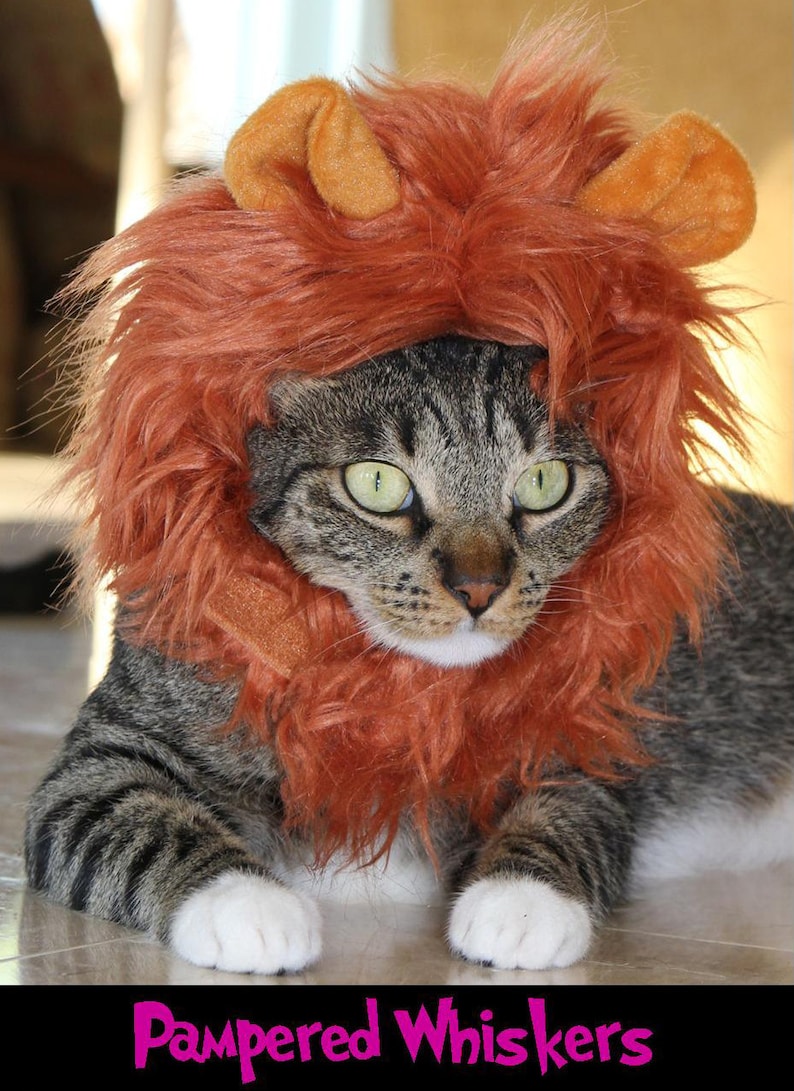 Your cat can be as hot as Harrison Ford in this delightful little brown cowboy hat. Look – look at him!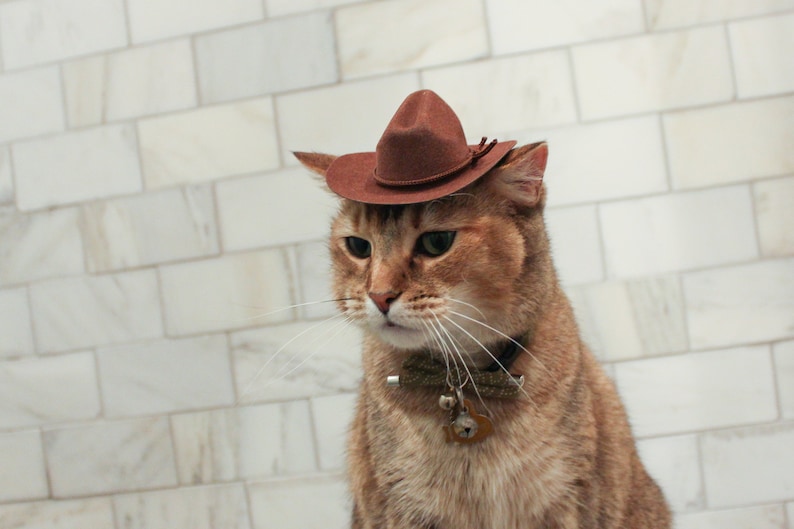 Cats can look their most fabulous selves too. Have a night in with your kitty cat and make yourselves gorgeous!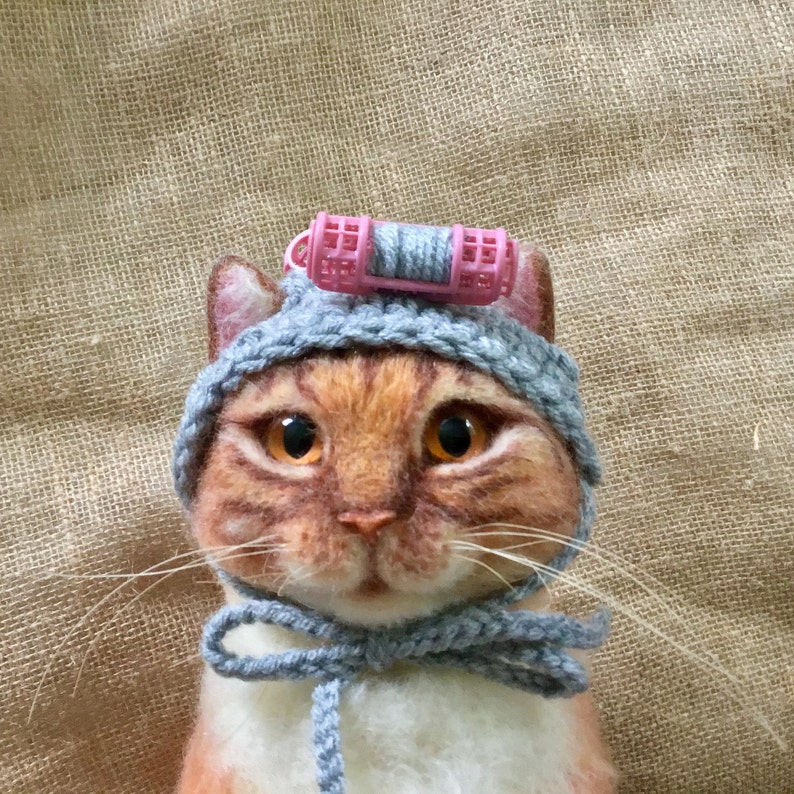 They say that you are what you eat, so why not let kitty wear his favourite food on his head!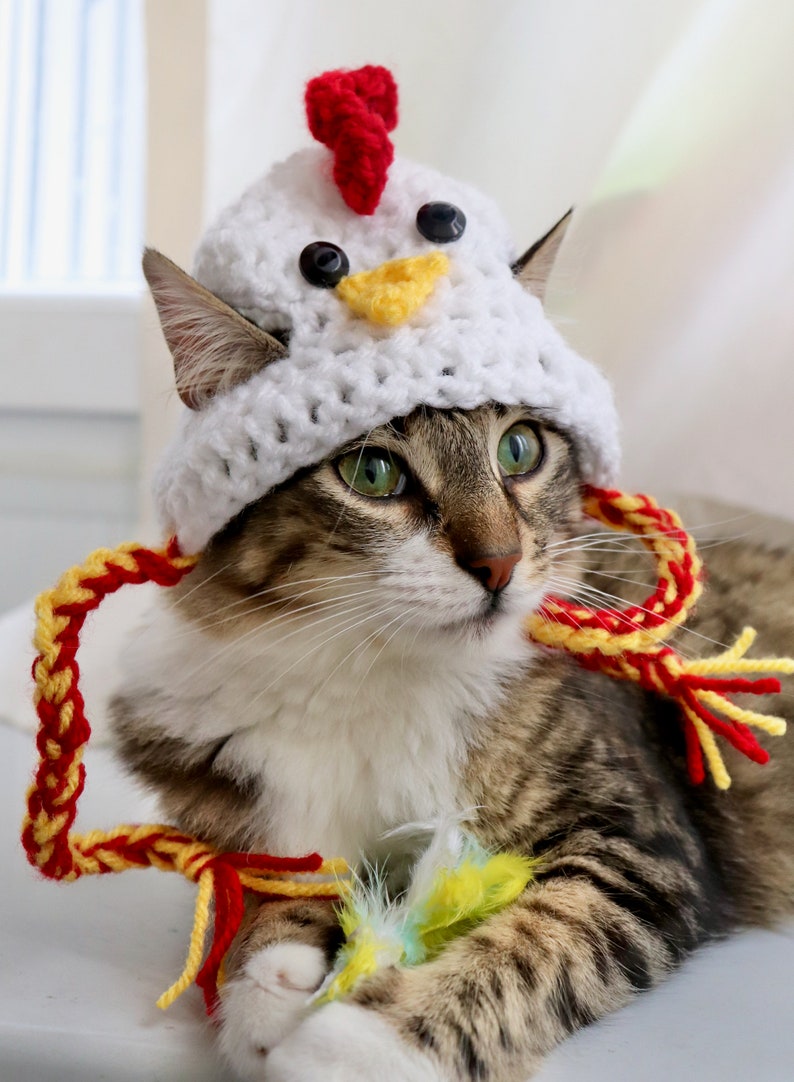 Aren't they so freaking adorable!