Whether you are trying for a baby, or are pregnant already (btw, congratulations!), there is so much that needs to be done before your new baby arrives.  
If you don't even know where to start – don't panic – you have nine months!  We have broken down all the things you need to organise before your baby comes.
You have shit to do – let's get cracking!
Things to do AS SOON AS you find out you are pregnant:
Start on Pregnancy Vitamins!
If you haven't started already, start on pregnancy vitamins including Folate. Expecting Mum's bodies require folic acid to help prevent Spina Bifida and iron due to the bodies increase in blood.  Iodine is also recommended as it assists with the normal growth and mental development of your baby and is also great for breastfeeding Mums.
So your pregnancy vitamins should contains the following ingredients, so check on the side of the packet that it includes:
Folic Acid (at least 500mcg)
Iron (Ferrous Fumarate) (at least 12mg)
Iodine (at least 250mcg)
Start a Pregnancy Diary
Start keeping a track of how you are feeling and the progress of your baby.  It also helps remind you of Doctors appointments, scans and things to do!
We love the Baby and Pregnancy Journal by Vanda Baby Cards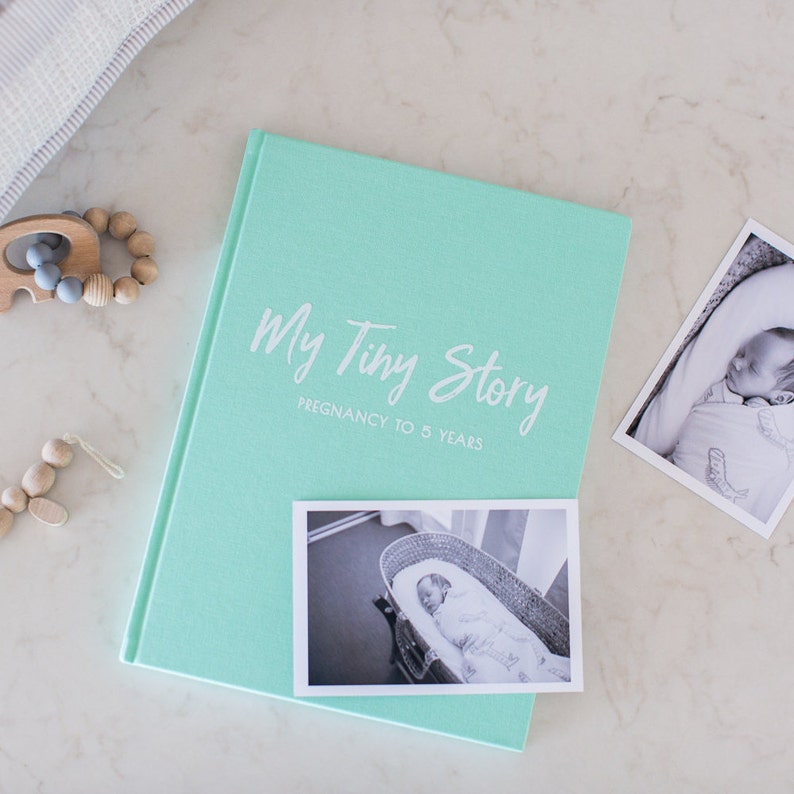 Get a Current Medication Check
Check with your GP about any current medications you are taking and whether or not to stop them. Take the prescriptions with you if you are seeing a new doctor.  Ensure you tell your doctor about all the vitamins and pre-pregnancy medications you are taking.  Many local pharmacies do this too so ensure you check in with a health professional.
Watch What You Eat
Do not start eating for two (even when heavily pregnant, the only extra nutrients you need is about a 1/2 sandwich!).  If you are starving (and pregnancy will do that to you), feast on healthy snacks such as low-fat yogurt, nuts and fruit. Pregnancy is not the time to diet!
Here are a list of clean snacks under 100 calories which are great for pregnant mums-to-be to eat!
Make Your Pregnancy Announcement
Plan how you want to announce your pregnancy (and tell people NOT to announce it until YOU have!). If you need some creative ways to announce your bundle of joy, check out this article on 15 of the Most Creative Pregnancy Announcements Ever!.
Start Stocking Up The House
Start stocking up on household items when they come on sale – like toilet paper, toothpaste etc.  There are a few excellent deal sites that have bulk items super cheap – grab them when you see them come up!  It is never too early to start stocking up!
Some of the best deal sites for items like this include:
Ponder Baby Names
Start jotting down baby names you like. It's really easy to forget an epic name at 3am in the morning when you think of it (baby brain already remember!). Here are some great baby name resources to check out:
Track Your Pregnancy with an App
Download a good pregnancy app to keep a track of your week by week progress.
Our top 10 Pregnancy Apps include:
What to Expect
Wee Mail
The Bump
Baby Bump
Hello Belly: Pregnancy Tracker
Pregnancy Tracker
I'm Expecting Pregnancy App
Pregnancy Assistant
Sprout Pregnancy
Ovia
Baby 2 Body
Ditch the Foods You Shouldn't Eat
Eat well and ditch the soft cheeses, deli meats and seafood.  Your Doctor can guide you further on your diet.
Make an Appointment with the Gyno
Make an appointment with your Gynaecologist to make sure everything is okay (your first scan is usually 8 weeks+), and you can organise your scan and blood tests.
One Baby Item Per Week
Grab a large plastic container and start buying one item for baby, every pay week.
Invest in a Few Good Maternity and Nursing Bra's
Ditch all underwire bras – your boobs will hurt.  Invest in some soft maternity bras (at least 3). These will get a hard work-out so buy good quality and they should hopefully last you through this pregnancy, and hopefully the next one (if you have a next one…).  Also, consider the material – we really love Bamboo as it is soft on the skin and breathes well.
Start Saving for Baby
Start putting aside some money in a separate account to save for baby and your time off work (if you work!).
Next Page:  Shit To Get Done SIX MONTHS Before Your Due Date