The Traditional Gift for the first year of marriage is PAPER!
Paper is the traditional 'theme' for a first wedding anniversary. The paper theme dates back to the Victorian era and is thought to be symbolic of the first 'chapter' in your new married life. Plus back in Victorian times, paper was made from hand, so it was considered special and rare.
If you are approaching your first wedding anniversary – happy anniversary!!! It takes a bit to get used to being Mr and Mrs (or Mr and Mr or Mrs and Mrs) – that's not even taking into account one or both of you have changed your surname! There is much symbolism in the paper theme, you are starting your story together on a blank piece of paper. Paper is from trees which grow slowly and surely with time, just like relationships.
But Paper? What Gifts Can I Buy with Paper?
But if you are thinking first anniversary gifts and that paper as a present seems a bit 'meh' – well we got you there. You see there are so many really innovated paper-themed anniversary gifts that are truly thoughtful. The first anniversary is extra special because it signifies your first year of married life, and often the early years are where you are the most besotted with each other before those fierce relationship fires turn into coals that stay warm hopefully forever.
So if you are asking yourself 'What are good ideas to celebrate a first marriage anniversary?' – well,we've got you!
Get a customised digital artwork (that you can then get printed to the size you wish for your wall). Have your names and your first-anniversary date included – something you can both remember forever. Perfect piece of paper for your paper-themed first-anniversary!
Remember this is a digital download – so available worldwide.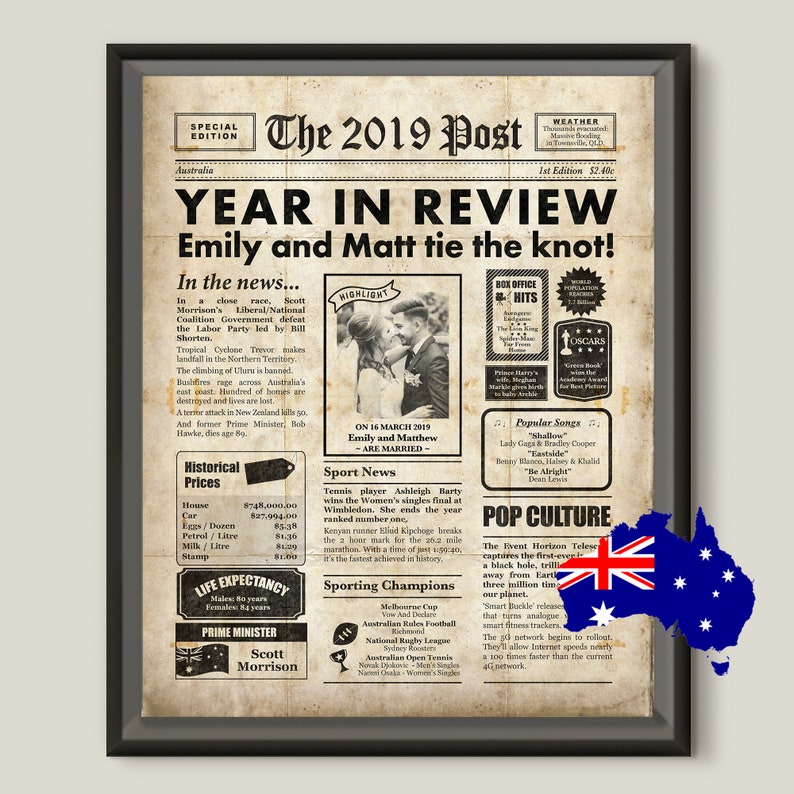 2. Custom Map of Where You Met, Proposed and Married
A great way to remember the location you both met, where you proposed, and where you got married. Totally personalised to you and your love story. Plus it is the type of gift that you can have framed and put up in your house so you remember it forever.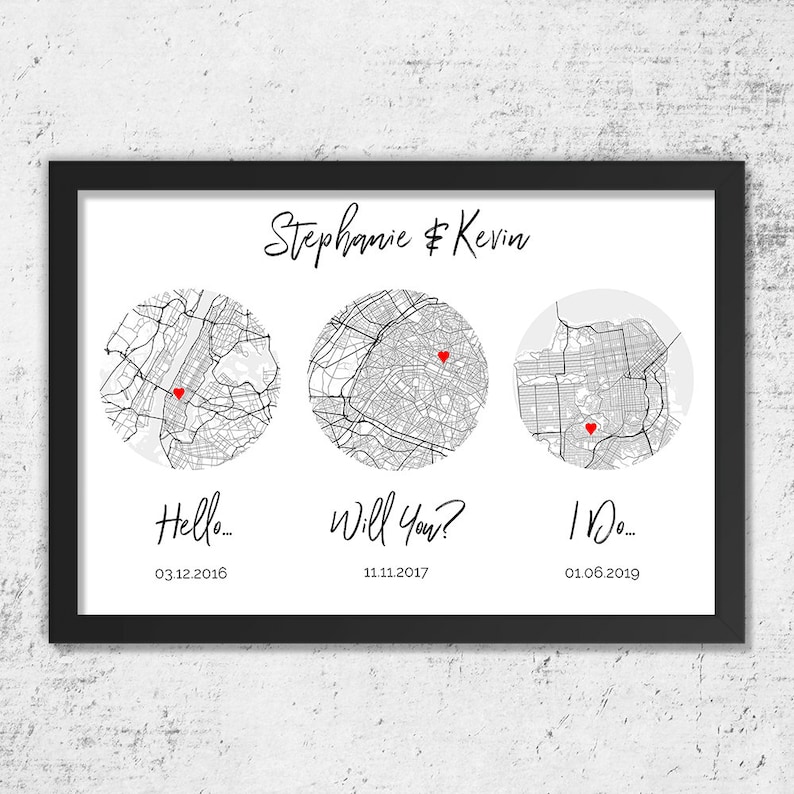 Go 'Yellow' for your first anniversary! A fully customised drawing of the two of you (and even pets too if you like) that is delivered to you digitally for printing to the size you want!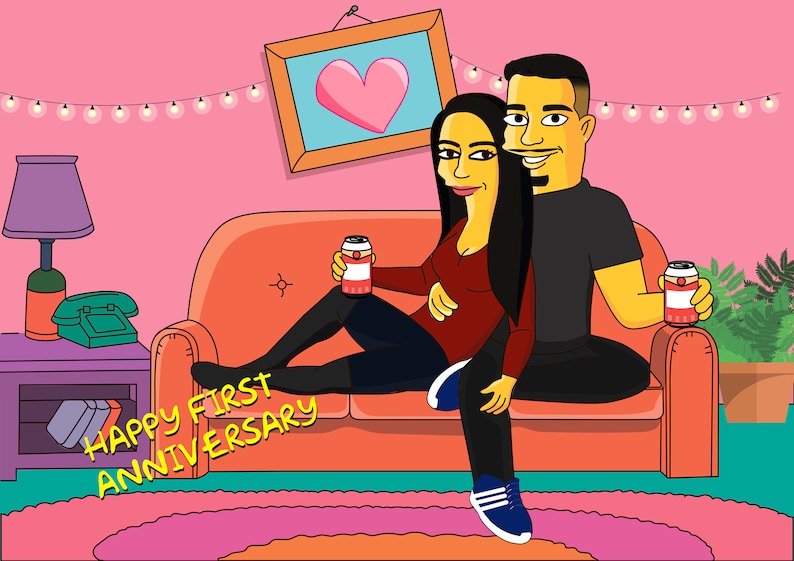 4. Buy Your Love a Ticket
Whether it be movie tickets, tickets to a show, tickets to the football, or even plane tickets (when Covid has finally passed). Tickets are a thoughtful and freaking awesome gift for a paper anniversary.
Here are some ideas for tickets:

Get the words to your wedding dance on a canvas in a heart-shaped design. Perfect for your bedroom where the two of you can see it every day, remembering the best day of your life. Different sizes are available depending on what fits your space.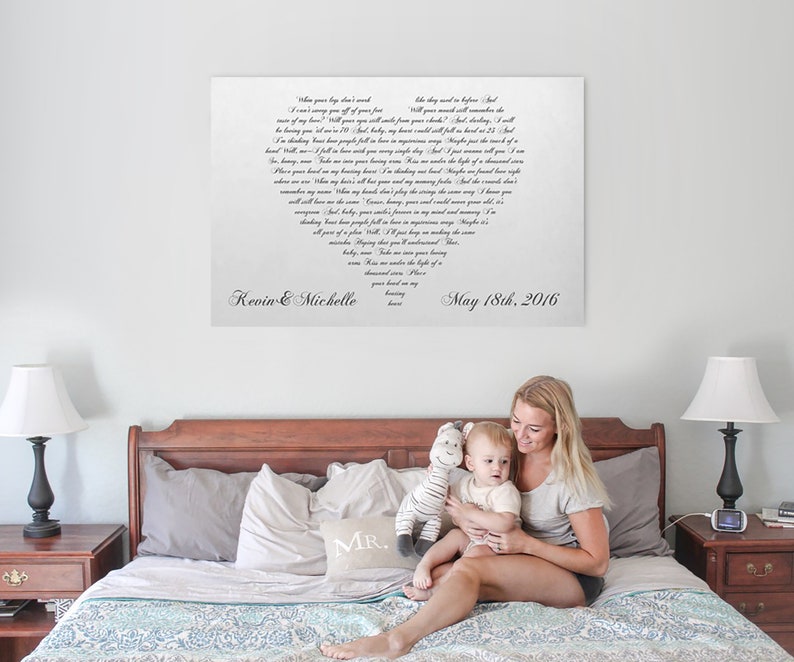 6. Personalised First Dance Sound Wave Photo
You will never forget the first dance at your wedding. But you can immortalise that song together with an image of your first dance in this customised Sound Wave Photo. Truly the most perfect gift for a first anniversary gift.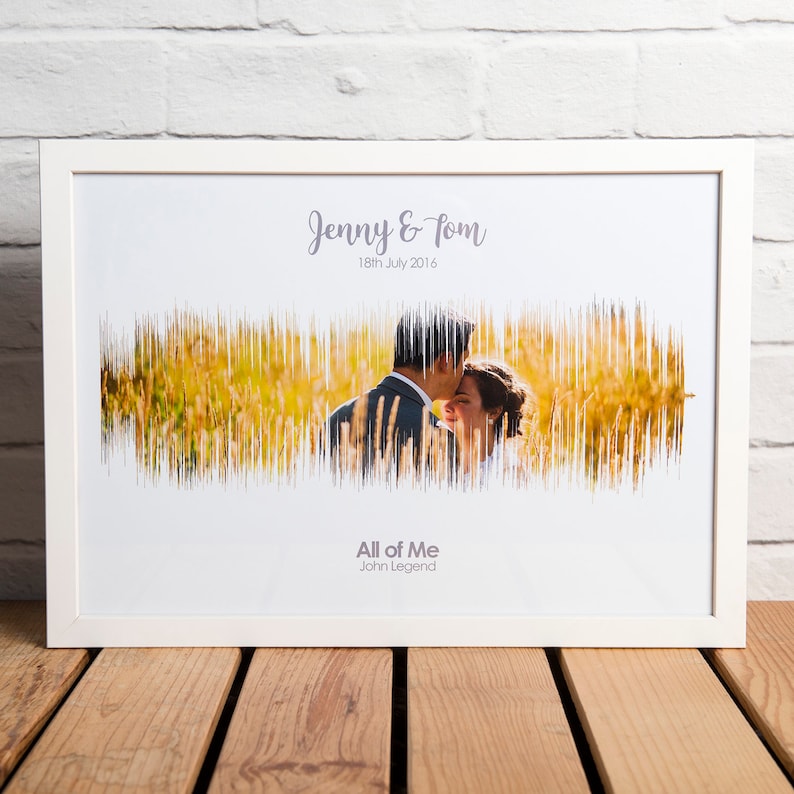 7. Write a Love Letter to Your Spouse
Love letters are written from the heart, and they are a free and meaningful way to remember a first wedding anniversary. Tell each other about the best parts of being married and what you both have to look forward to in your future.
Your love now really can be written in the stars! This Star Map will chart an exact point in time (can be the time you met, the time and day you got married etc) – and it will be charted and provided in a digital download that you can then have printed and framed for your wall.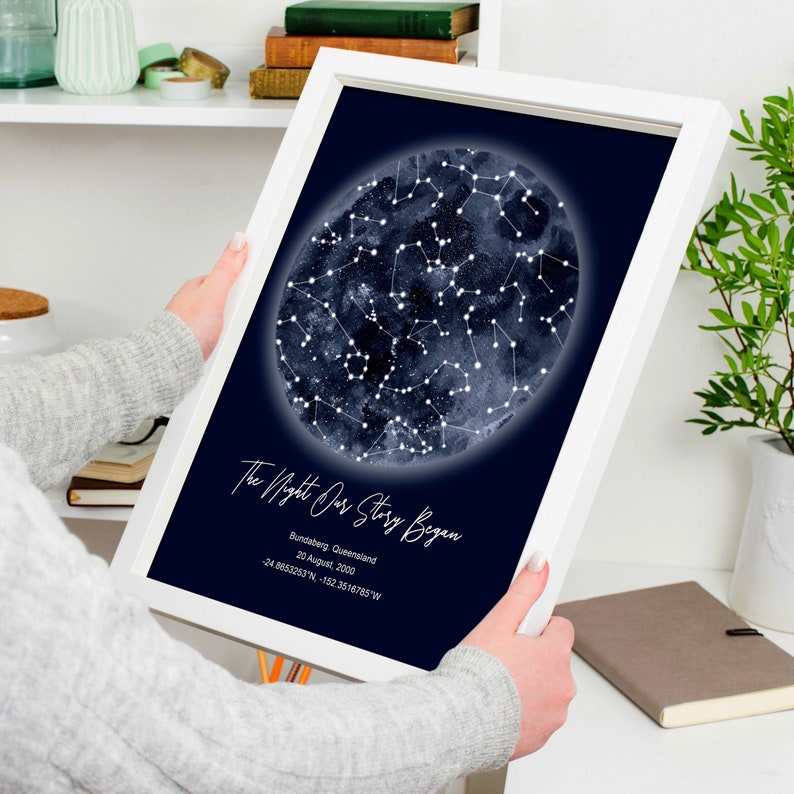 Check out the latest best-sellers list and choose a great read for your significant other.
Some fantastic books out now that are great (particularly for husbands) include:
Check out the current best-sellers here>
10. A Dirty Weekend Away
Because who doesn't want to get down and dirty with your significant other? Just print out the hotel reservation and place it in a card for the 'paper gift'. Even during Covid you can still go away in the State you live in – choose a beautiful boutique hotel that is fancy so you can lock out the world and just enjoy each other.
11. Something Naughty to Read in Bed
Or if you are going away on a dirty weekend and need a bit of inspiration – perhaps an erotic book!
Check out the range of erotica here>
These are personalised first wedding anniversary gifts that represent paper. We will continue adding ideas as we think of them!
Did you get something awesome for your first wedding anniversary? Tell us!