Whilst talking in the office last week, we got talking about vibrators, and how many of them each of us has.
The numbers varied. Some had just the one, others had six or seven. Every shape, every colour, every style. But what surprised us the most was the answer from one of our younger staff.

"I've never owned one…"
Well, this made all of us want to go out to the nearest grown-up shop right away and pick one out for her (purple is her favourite colour, so that's easy!). But she was mortified.
"I have a boyfriend, I don't need a vibrator…"
Ohhh honey, honey honey…
ALL women need, deserve a vibrator. Men have a very handy thing called a hand, but for us gals, getting to the Big 'O' isn't quite that straightforward. An Amazing vibrator is just essential – no matter our age! If you have yet to experience the sheer thrill that a good vibrator can bring, then please, go out right now and do yourself a favour.
Here are our favourite picks of earth-shattering, toe-curling AMAZING women's vibrators!
Why we love the OVO Silkskyn E8:
The OVO doesn't LOOK like the average vibrator. No gaudy veins, bright colours or a set of balls hanging off the side. It is streamlined and beautiful. Beautiful enough that if the kids found it in your top drawer, they probably wouldn't giggle because it isn't exactly obvious what it is. It is sleek and sophisticated and we love the colours (it comes in baby blue too).
Bits Mum's Need to Know:
It is 'whisper' quiet. So you can get off with the kids in the next room!
It has a 15-year warranty! I'm sure I can wear it out in that amount of time!
No batteries required! It is rechargeable.
Stay at Home Mum Staff give OVO Silkskyn a 9.3/10.
So pretty! This is the 'Chanel' of the vibrator world

Once you go black, you don't go back! Rabbit has been the leading name in vibrators for years – but in the past, they have tended to be a bit over the top.
Best Bits:
It is quiet – remember how loud some of the older style vibrators were. "Mum, why are you brushing your teeth in bed????"
Rechargeable – no looking for batteries 10 minutes after you have started, only to take them out of the toys in the kid's rooms.
12 Speeds, 8 patterns.
Waterproof
Comes with a satin storage bag
Stay at Home Mum Staff give the Fifty Shades Freed Vibrator a toe-curling 9.7/10.
It looks so wrong… but ohhhhh soooooo right! Such an Amazing Vibrator.

I'm totally besotted with vibrators that don't look like vibrators. This amazing vibrator is no exception. It looks like a great big 'tooth'. The vibrations on this little pocket rocket are amazing. It has not just one, but TWO motors…WEEEEEEEEEE
Best Bits:
Speed Adjustable Motor(s)
Powerful!
Quiet and powerful
Compact size (11.6cm)
No batteries – rechargeable. Get up to two hours of pleasure in a single charge.
Waterproof (you can use it in the bath!)
Stay at Home Mum Staff give WeVibe Gala a 8.9/10.
Earth-shattering vibes! Man-friendly too – and it has an app!

If you find that most vibrators don't have enough power, you would be fairly familiar with the Hitachi Wand style Vibrators. Supremely powerful, it is only a rare woman that can stand it at full throttle!
Best Bits:
Seven different modes of vibration, pulsation and escalation
If somebody finds it, it is just a 'massager'.
It gets warm as it is used…
Waterproof
USB rechargeable
Stay at Home Mum Staff give it a 9.8/10.
The iVibe Select iWand Hitachi-Style Vibrator – pretty and practical!
This is a hybrid between glass and vibrators – and girls – you need to get onto the glass phenomenon. Simple, effective and affordable – this is perfect for the vibrator beginner, or the advanced sex toy lover.
Best Bits:
The glass outer-layer can easily be removed for cleaning – or temperature play.
Made from phthalate-free glass.
Stay at Home Mum Staff give this vibrator a 9.6/10.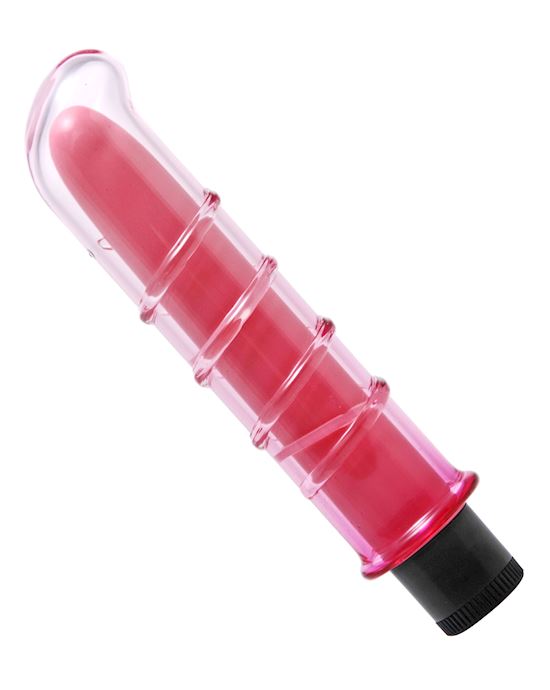 So there you go – our five favourite women-friendly vibrators that will certainly make nights a lot more exciting – for both you – and your partner (if you are game!)
Which of these vibrators for women is your favourite?