Every Family Needs a Beach Trolley
Spending time on beautiful beaches is something that we like doing. What about all of the stuff you took with you on your trip? Can you manage to carry everything while still spending quality time with your friends and family? The short and sweet answer is NO!!
Swimming, lounging, and having a picnic with relatives are all exciting and fun activities to do on a sunny day at the seashore. However, transporting all of the essentials, such as beach towels, apparel, beach umbrellas, and beach chairs, may be difficult, particularly if you are travelling with children or pets.
That is why having a nice beach trolley is essential: it may save you from having to make many journeys and make hauling a heavy load much simpler!
More Reading:
A Beach Trolley Isn't Just for the Beach!
Everywhere we go, we can rely on our solid and reliable beach trolley to serve us. From market visits to camping vacations to children's birthday celebrations, there is something for everyone! They're very adaptable and constructed to endure for years to come; you'll never leave home without one.
What to Look for in a Beach Trolley:
Durability and Longetivity
When searching for a beach trolley, we highly suggest you first determine how frequently you will be using it and how long you want to keep it before deciding. If you don't live near the beach, or if you're only going to use the trolley for a limited period of time, it makes more sense to spend less money on a beach trolley that isn't built to last a lifetime.
On the contrary, if you are a regular visitor to the beach, it is preferable to make an investment in a product that will last for a long period of time.
The Cost (yes! of coursie!)
It's a no-brainer when it comes to pricing. The cost of beach trolleys differs widely from one place to the next. So, before making a final selection, set a budget, consider your needs and wants for the beach trolley, and shop around.
Keep in mind that low or inexpensive beach trolleys often last just a season or two and don't function very well on soft sand. If you want an upgraded trolley with wheels that can handle any terrain, you can expect to spend extra.
The Portability of a Beach Trolley
The main purpose of a beach trolley is to make life simpler, which is especially true if you plan on bringing toys, coolers, and fishing equipment to the beach with you. That's why portability is so important. After all, no one would want to spend their time and money filling their trolleys only to learn that getting to their favourite place is a struggle worthy of a strong-man competition once they have there.
That said, only choose beach carts that are simple to push or pull and carry. The portability of the trolley is crucial if you want to transport the trolley in the vehicle and then restock it once you get to the beach. Investing in a foldable model makes sense in this case.
Weight
Another key factor to consider is the weight of the trolley, as you do not want to realize later that you are unable to use the cart because it is too heavy. Rather than purchasing a beach trolley that is already too heavy or difficult to maneuver while empty, it is preferable to opt for versions that are more compact and simpler to maneuver after they have been fully loaded with everything you need for the day out.
Lightweight beach trolleys are easier to load and unload from vehicles because of their smaller, more manageable weights.
Best Beach Trolley's in Australia:
With six new limited edition colours and designs to choose from, the Vuly Beach Wagons are ready for your family's next journey! Designed with high-quality materials, these buggies can withstand any terrain and are fitted for both children and freight.
The arrival of Summer in Australia means that a new Vuly Beach Trolley will be an excellent addition to any family's collection!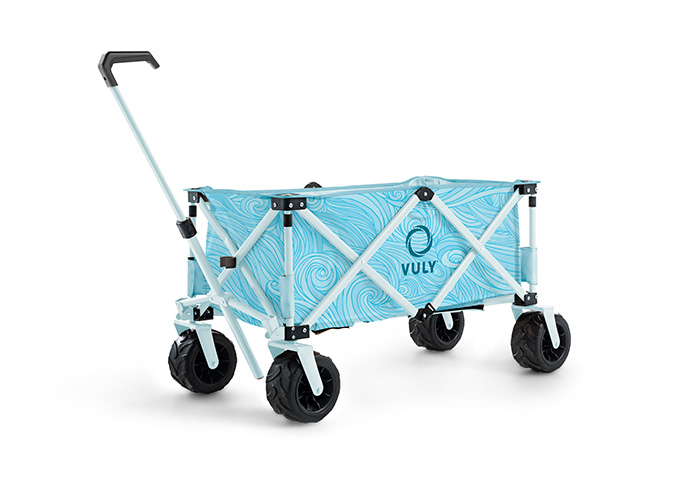 If you are camping, heading to the beach, or just transporting stuff about the yard on a gardening day, the Wanderer Rugged Cart is an absolute must-have. The beach trolley has been developed with safety measures such as a grip that locks in place to prevent it from buckling while in use.
The ingenious compact design collapses for convenient storage, and the telescopic handle allows for easy extension. Also, the detachable wheels may be removed for easy storage and two cup containers on the side of the cart, as well as a beach umbrella holder, make this huge wheeled beach buggy a convenient option for your vacation!
The huge wheels make it easy to drive the cart across difficult terrain and sand, which makes it a delight to bring along on vacation!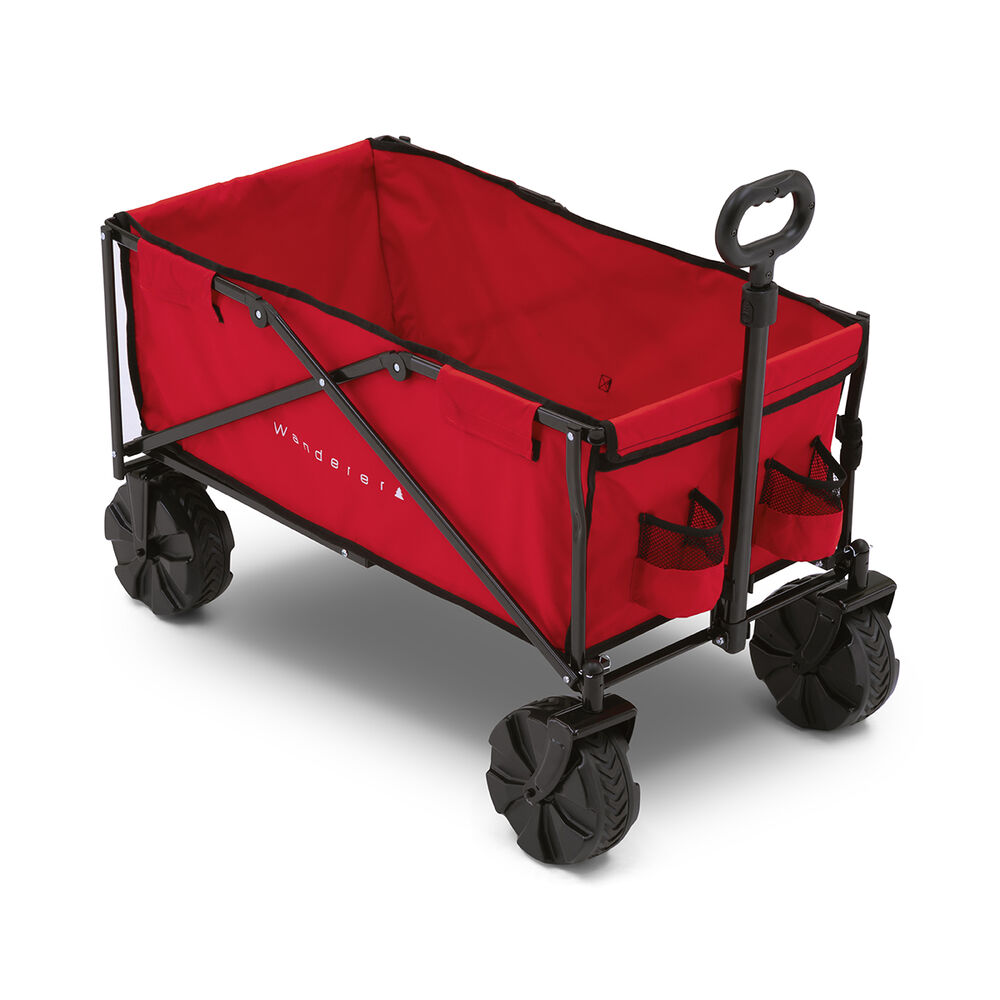 When it comes to transporting all of your beach stuff through soft sand or another difficult terrain in one trip, the WheeleezTM Beach Trolley seems to be an amazing pick!
With its foldable handlebars and kickstand, as well as its ability to be disassembled with no tools for compact storage and transportation, it is a breeze to travel with and store. It's also great for gardening, yard chores, and other DIY jobs around the house!
With the MAC Sports Folding Utility Wagon, you can transport your goods with ease—it opens in secs! The lightweight, long-lasting design has a 150-pound capacity and is an absolute must-have for transporting large, heavy objects. Excellent for outings to the beach, camping, outdoor athletic events, gardening, and a variety of other activities.
Furthermore, the accordion-style floor makes set up and breakdown a snap, and it folds conveniently into its own carry bag for convenient storage when not in use.
So, you've got your canopies, balls, beach toys, food, and beverages ready to go, and you're ready to hit the sand. However, the problem is that you can't bring everything at once…
With the Havana Outdoors Beach Wagon, it's easy to transport all of your outdoor stuff! — a must-have while going on a camping trip or even just transporting stuff about the yard when doing yard work.
This utility wagon cart is built to withstand the rigours of the great outdoors, with a substantial capacity that makes it the perfect companion for any outdoor adventure. It has an adjustable handle with a tilting mechanism, so you can store just about everything you can think of!
It is the handmade beach cart that will save your life when your arms are stuffed with beach towels, babes, and most likely the kitchen sink, and somebody has chosen to spew chips because they don't want to leave the beach. Put those sand-covered tooshies in there, along with the towels and everything else you can think of to make the trip home that little tad easier… If you have to, put your husband in it as well!!
It's also a superstar at farmers' markets, picnics, backyard parties, camping, and everywhere else you can think of!
The Habitation shopping collection, which includes a trolley, basket, and cooler bag in a trendy natural/green pattern, will provide some botanic flair to any beach or shopping adventure.
Designed to make transporting your shopping as pleasant as possible, these environmentally friendly shopping basics are lightweight and simple to clean.
If you like being outside or at the beach, you'll want to invest in the Porta Charlie Stripe Beach Cart! Bring everything you'll need for a nice outdoor barbecue, camping vacation, or a fun day at the beach.
This beautiful cart will survive for a long time since it is constructed of strong materials and has a smart folding construction— move your goods with ease thanks to the strong wheels, which are ideal for sand or grassy terrains.
This colourful seashore cart will put a smile on your mouth with its bright colours. Perfect for a relaxing day in the sun or a party in the open air.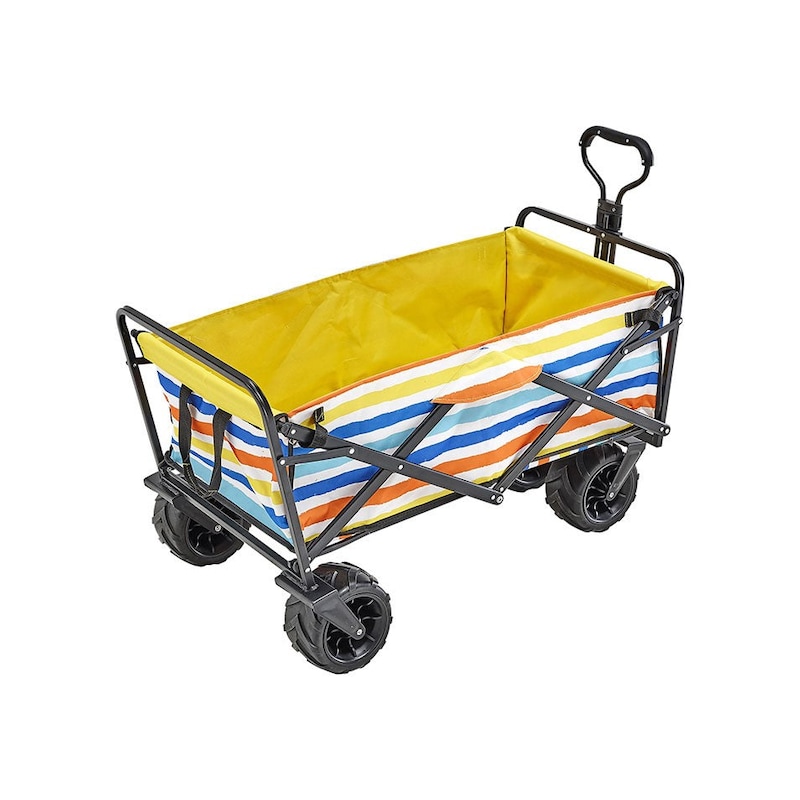 With its simple design and heavy-duty construction, this beach cart is the ideal companion for your next vacation! No matter whether you're heading to the beach, having a picnic in the park, or going on a camping vacation, this beach cart is guaranteed to turn heads!
I love the AESTHETIC!!
It is really fantastic for kiddos! When not in use, it may simply be folded and stored beneath the bed or in the closet. As you make your way from your vehicle to the park, beach, or other destination, your children and belongings may ride along in it. Plus, the cup holders are great for kids who love to play around!
The Burleigh Wagon, in contrast to a canvas-folding wagon, does not need repetitive packing and unpacking after each use. The contents of your wagon, including food and beverages that need to keep cold, will be easily enclosed throughout travel!
Your wagon is jam-packed with creative features that allow you to make the most of your time outside— it can be swiftly transformed into a bench seat or a table!
Imagine having a picnic on the beach without having to worry about bothersome sand getting into the goodies that you brought with you. Take a moment to envision bringing your wagon right up to the water's edge, letting your children play in the waves as you rest on the bench seating of your wagon and sip a refreshing drink from the esky of your wagon.
This All-Terrain Beach Trolley is the perfect addition to any family vacation.
Their beach cart makes it so much easier to pull around on sandy beaches for the whole family, with a heavy-duty design large enough to carry up to 130 kg, ergonomic adjustable handle, and all-terrain wheels!
So, There You Go! Here Are The Best Beach Trolley That Every Family Needs!