Who says a proper wedding dress needs to be long and floor-sweeping? Short wedding dresses are much more manageable and just as elegant and lovely! 
Whether you're going to have an outdoor wedding or a city hall ceremony..
Custom Short Wedding Dress With Sweetheart Illusion Lace Bodice and Sexy Open Back Keyhole Featuring Tulle Skirt and Removable Satin Sash
Available from LaceMarry – $304.96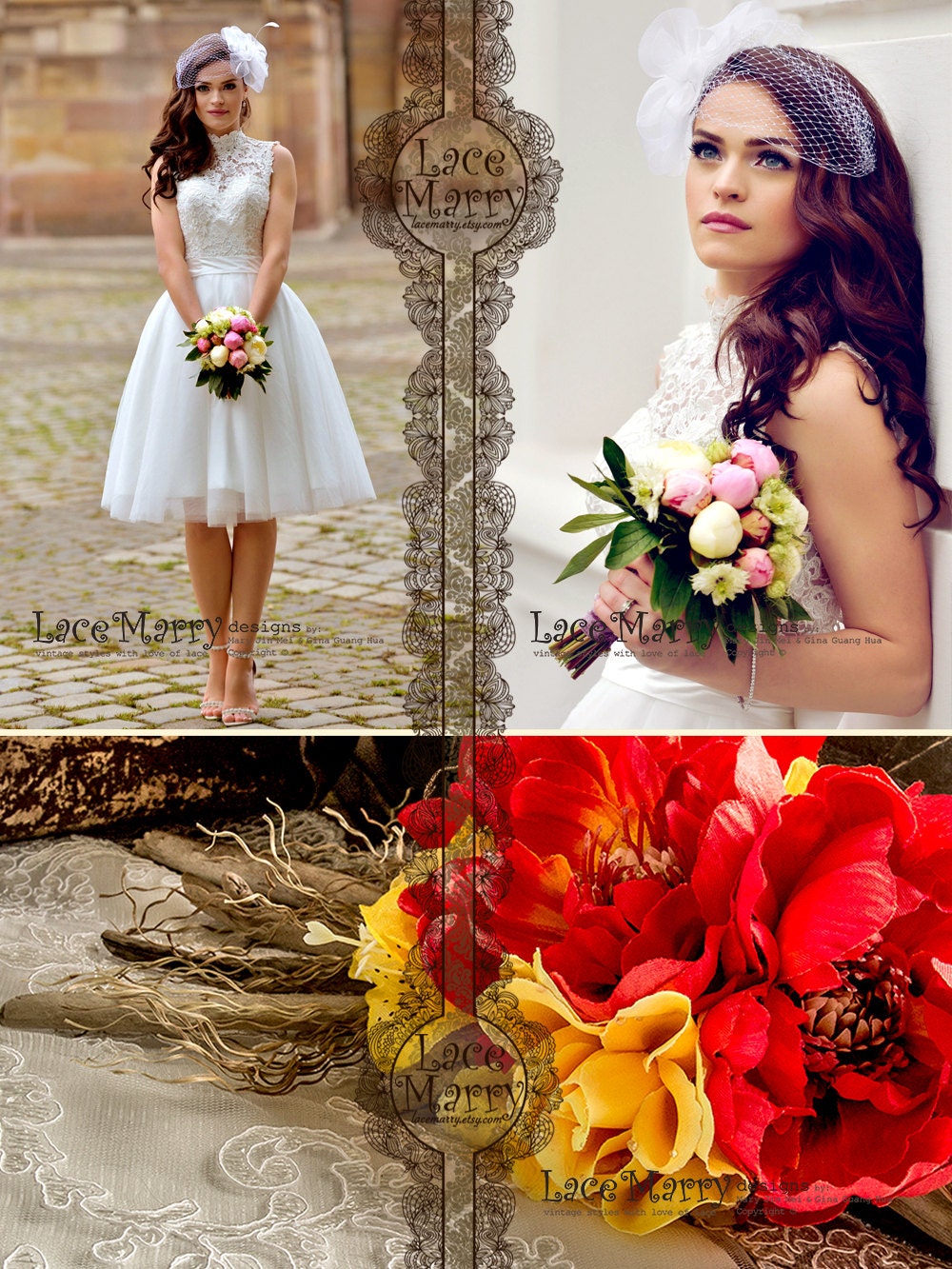 A short, twirly kind of wedding dress, with a high-low skirt in fluttery organza. The bodice features a plunging v-cut neckline in front and in back, it zips up the center back and the skirt is layered and fresh. Light, and easy to wear.
It could be made longer, tea or even floor length.
Available from larimeloom – $1,409.96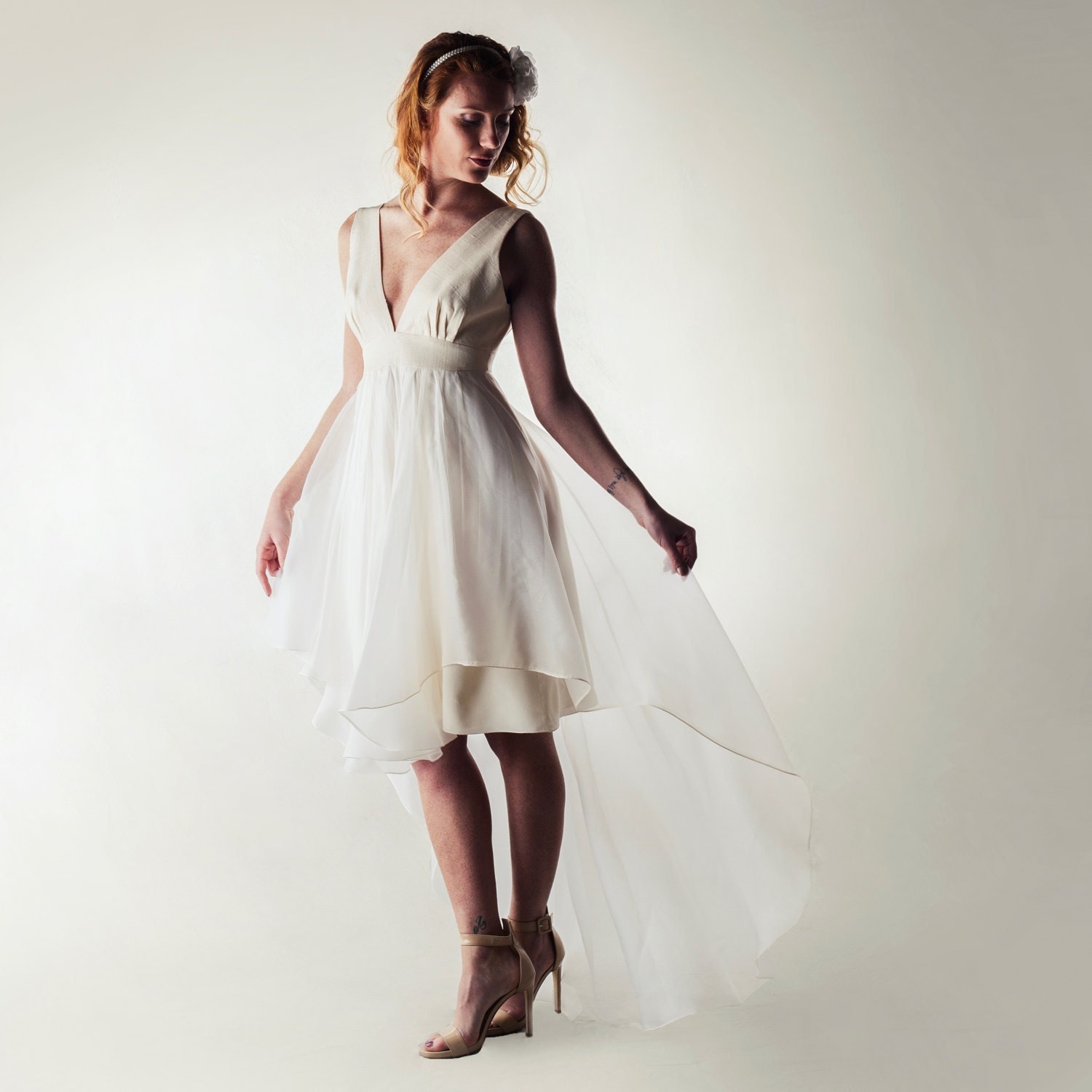 Short wedding dress with a train is made of organza, satin and tulle. We like the idea of bridal separates gowns.
Because you can combine any our skirt with crop top which you like. Also, If you haven't found flower girl dress, we can make it for you, similar to your wedding dress, using same fabrics.
Available from ANfashionDesigns – $872.03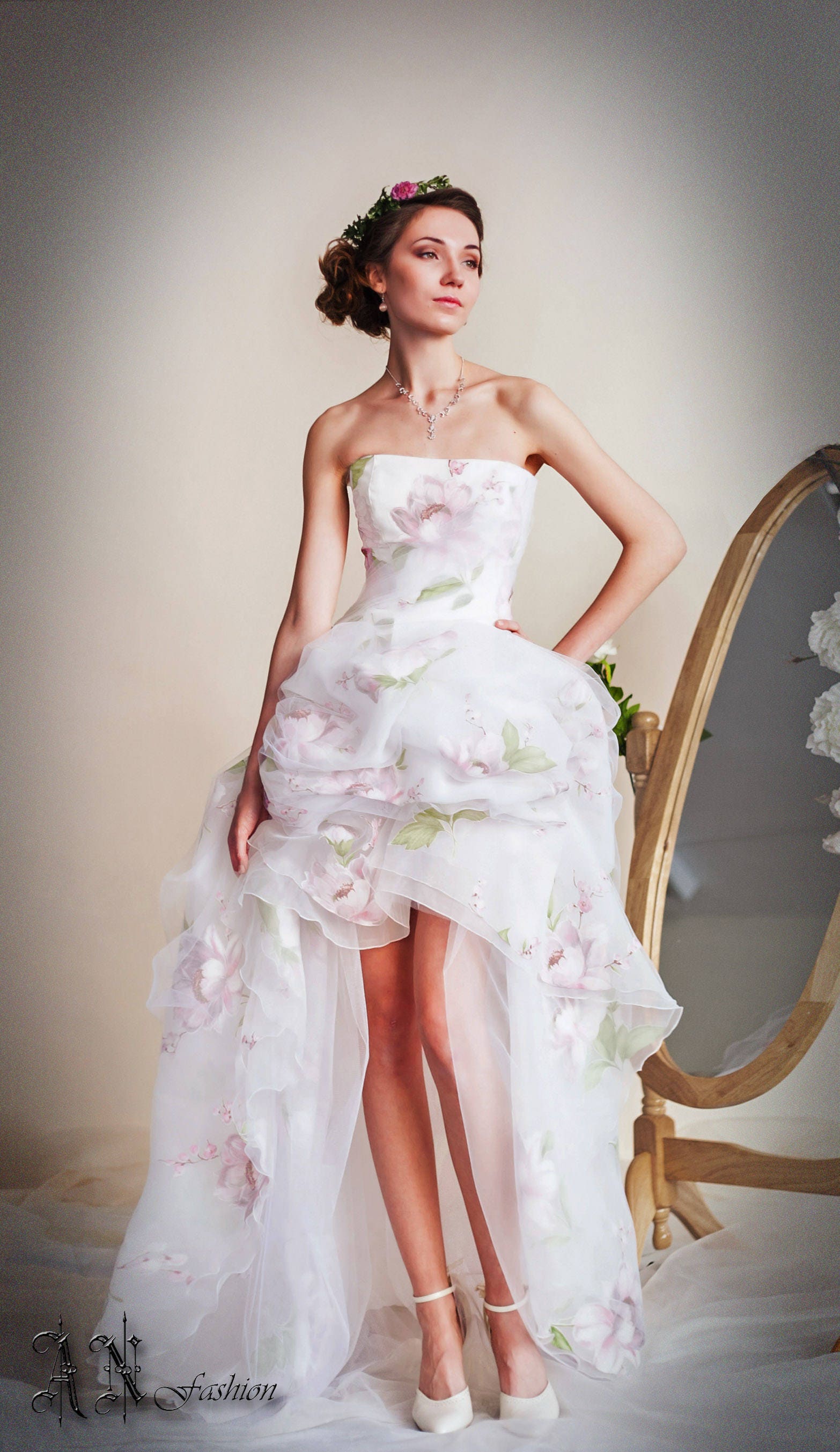 This knee length lace wedding dress with long sleeves is elegant, sweet and chic. This is made in French Chantilly lace, lined with high quality duchess satin. Bustier is made insides the dress. Satin buttons fastenings at center back. All in ivory colour. Please contact me if you would like any customization.
Available from AlesandraParis – $796.93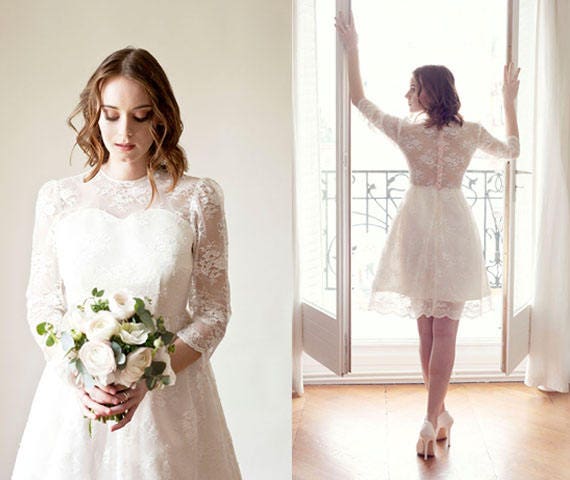 Our newest long sleeve knee length wedding dress – Lotta – marries modernity and femininity perfectly. Designed for the bride who loves sophisticated elegance enhanced by comfort and quality craftsmanship.
Available from LankkaBridal – $772.13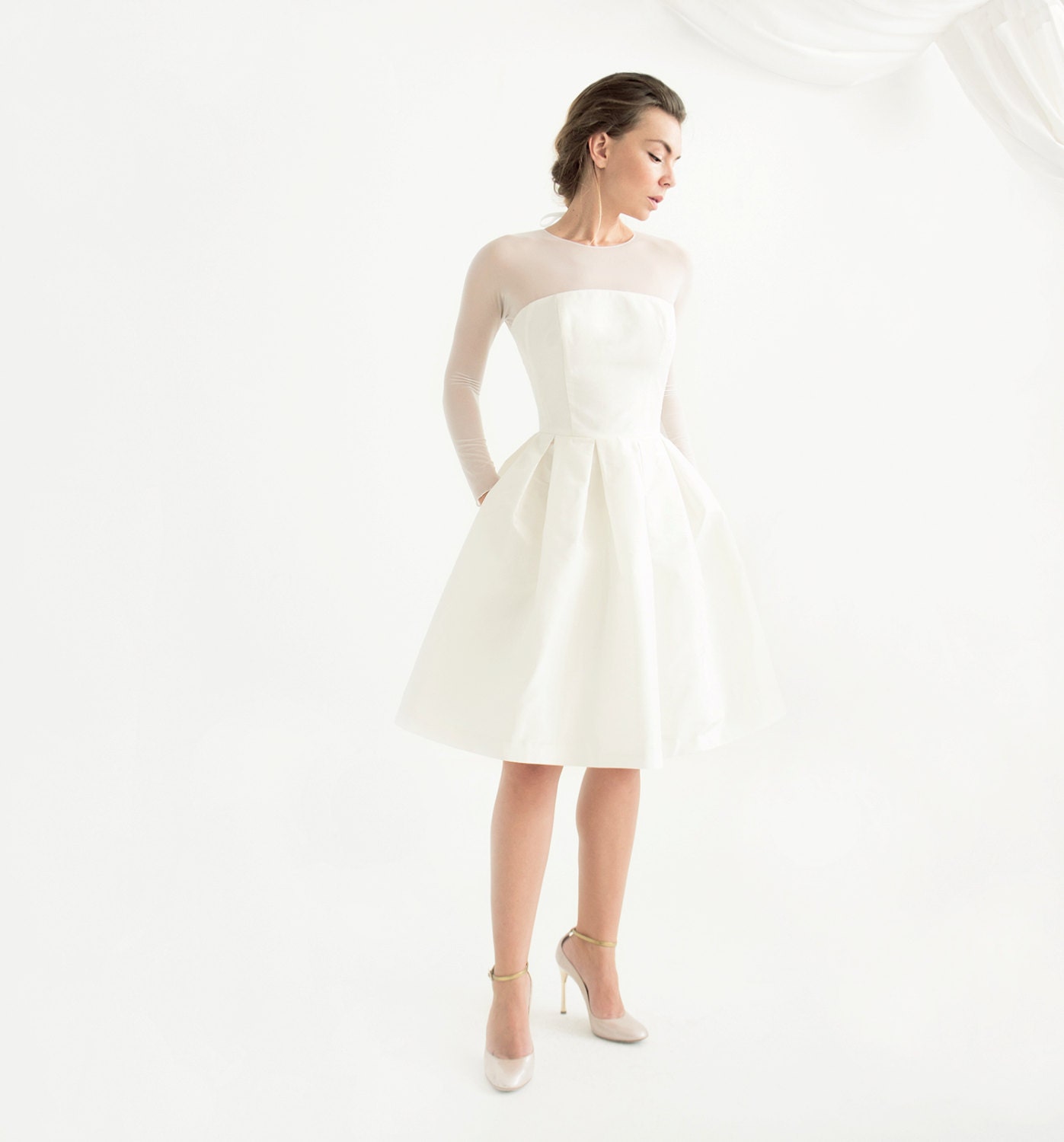 You can freely combine these three pieces and end up with so many different styles from strapless ball gown to retro looking mini with lace overlay.
Available from Milamirabridal – $895.41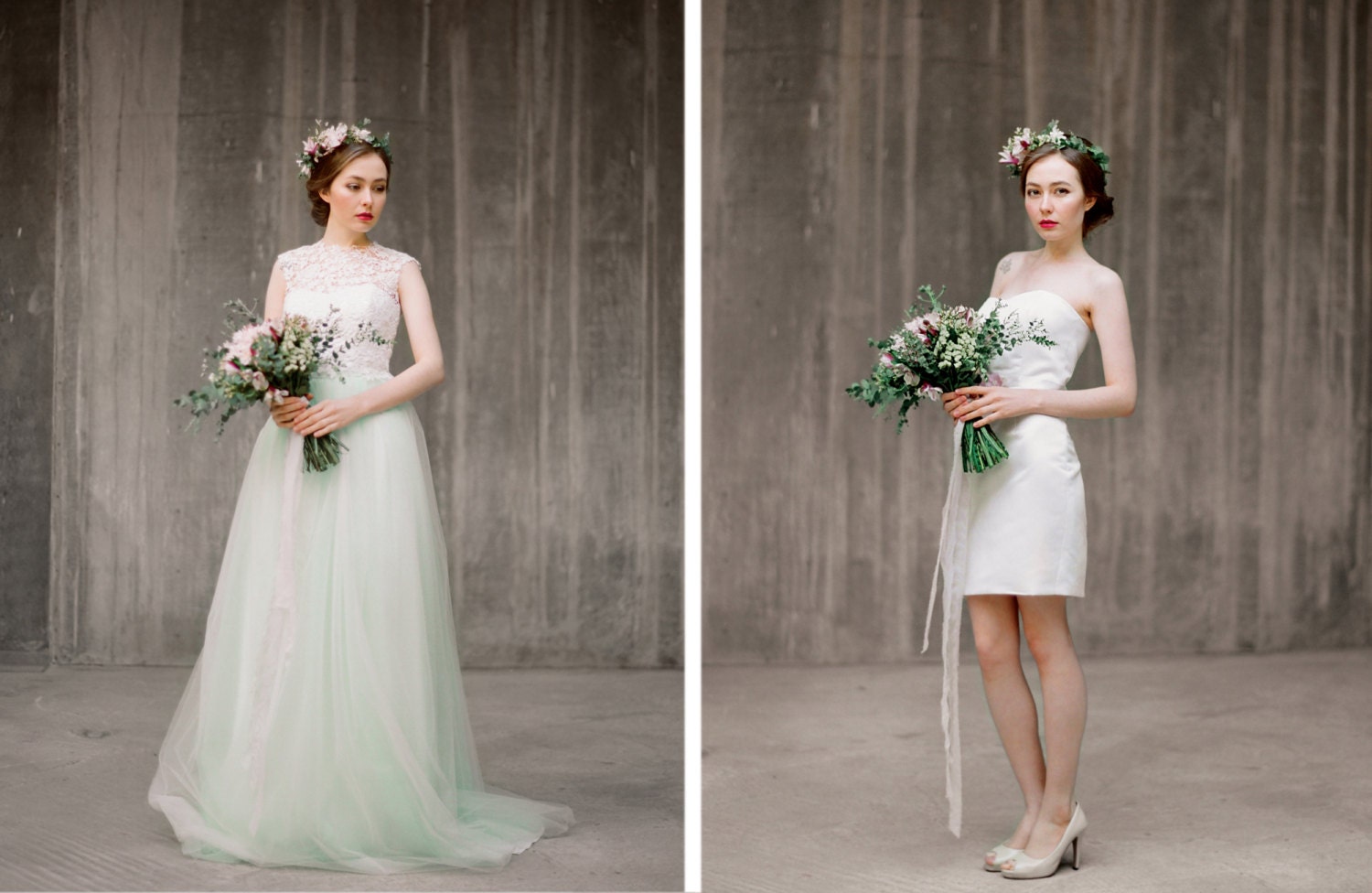 For the 1950s bride with its rustling skirts and pretty button and bow detailing at the back, the Meg is the perfect understated chic option. Featuring a sweeping boat neckline with tightly fitted bodice and full gathered tea length skirt.
Available from alexandrakingdesign – $1,115.88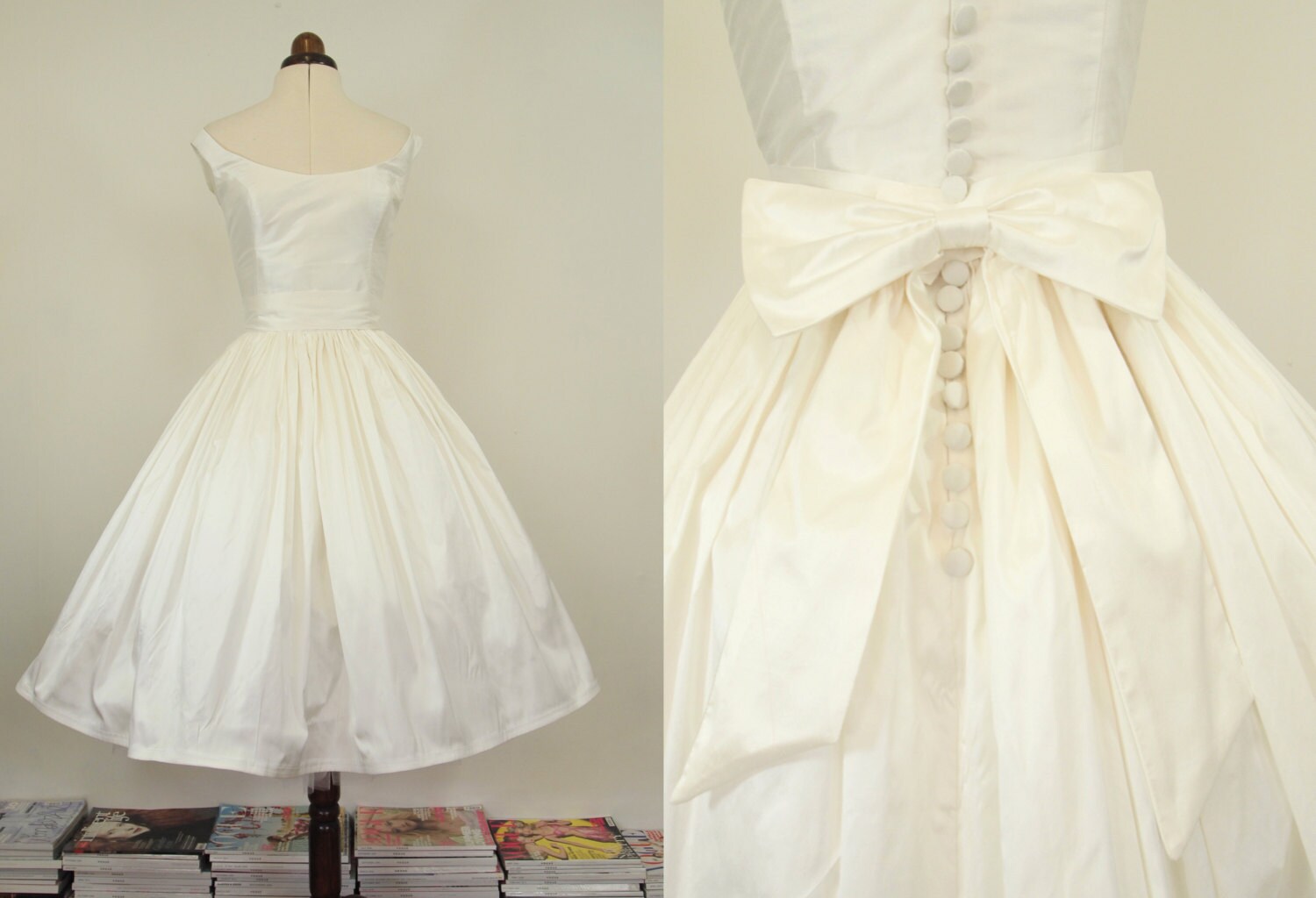 Gorgeous Vintage Inspired Short Wedding Dress.
~Illusion Polka Dot Lace bodice with Cap Sleeves
~Dress is fully lined with boning in the bodice
~Skirt has many many layers – lining – stiff tulle – satin layer – 4 layers of tulle on top
~Add a crinoline for even more fullness in white, ivory, or any one of 15 colors!
Available from StaysiLeeCouture – $512.59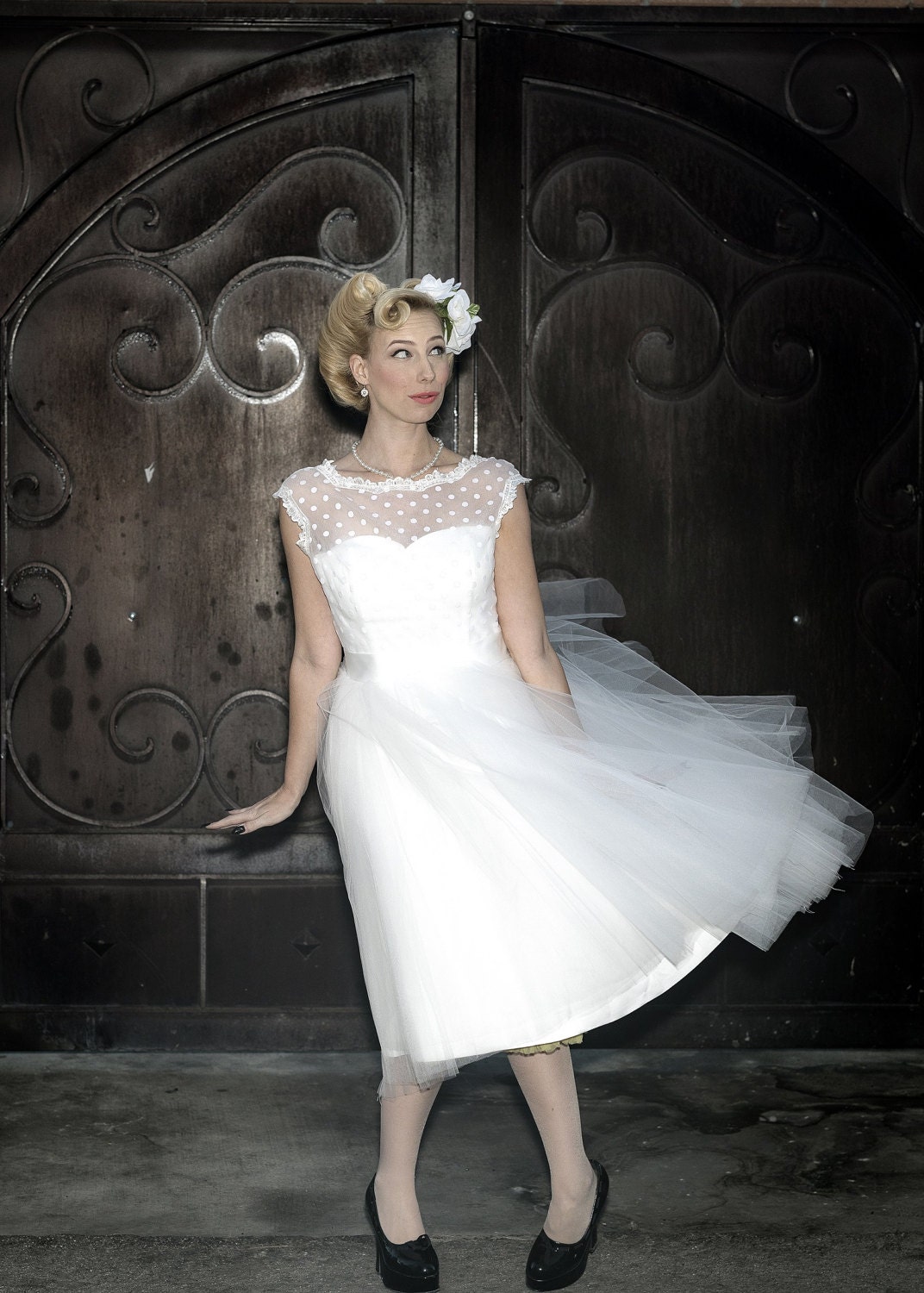 Tea Length Wedding Dress from Alencon Scalloped Lace with Illusion V Neckline and V Cut Back in Wide A Line Shape with Removable Beaded Sash.
Available from LaceMarry – $317.93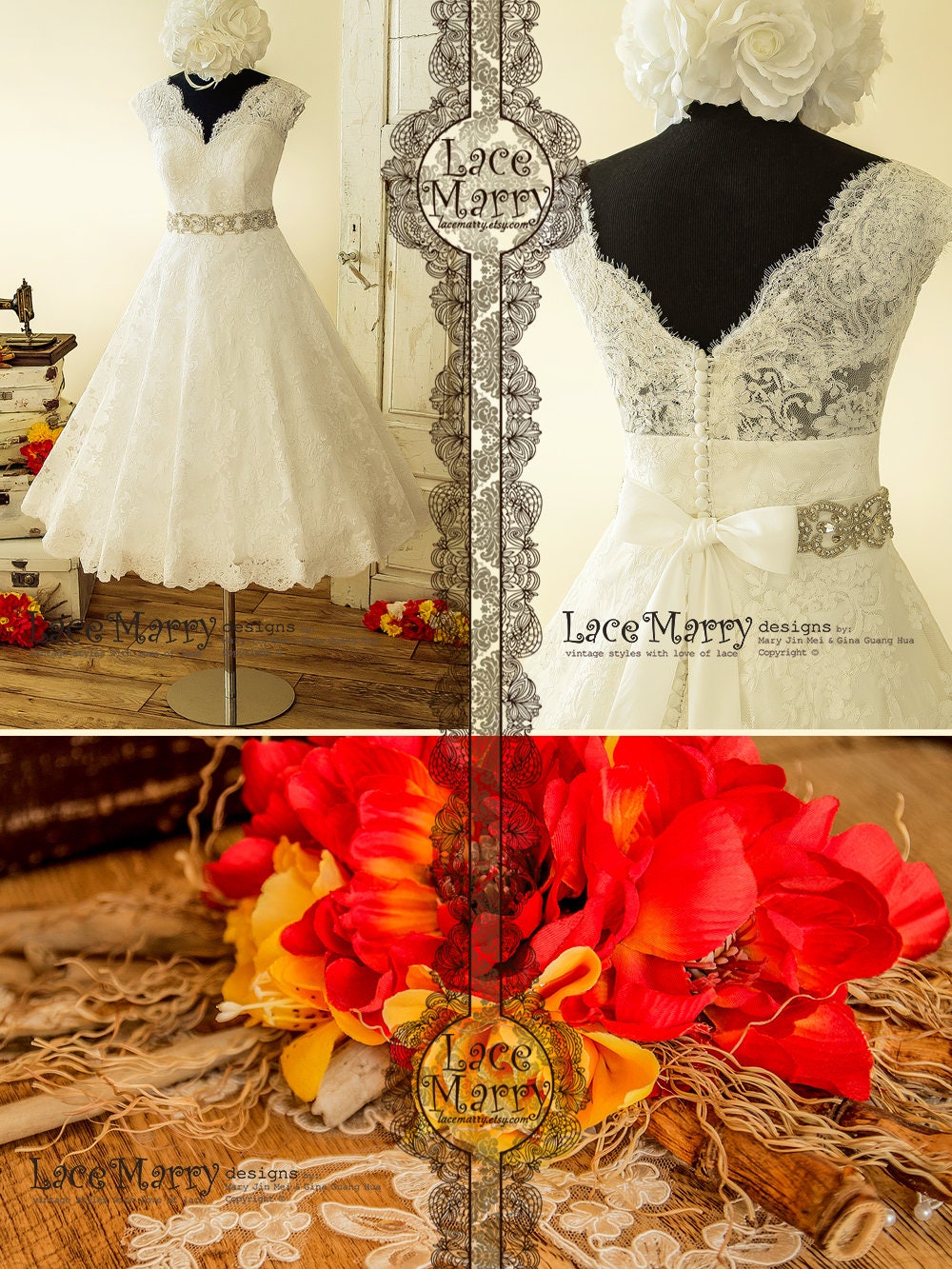 This dress has a criss-cross ruched overlay on the bodice with off-the-shoulder straps. It is fully lined, has light boning for support, and has a full gathered skirt. I finished the back with hand-covered buttons and a short zipper in the skirt. The skirt of this dress has a double lining.
Available from FrenchKnotCouture – $1,038.15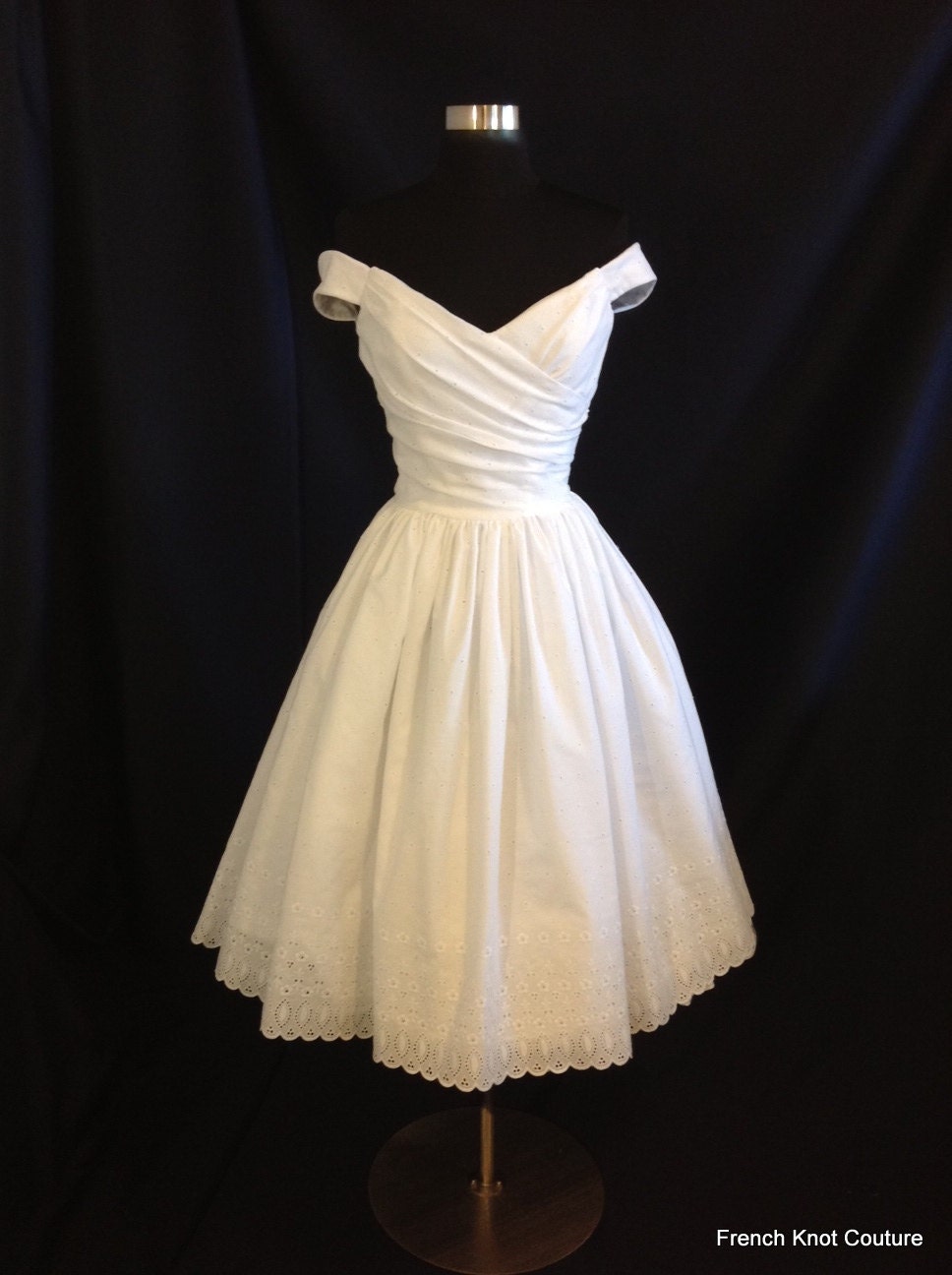 A short wedding dress, made entirely of a lovely, off white corded lace. It is styled with a smooth, silk belt which ties in back with a light organza bow. The smooth matte finish of the belt contrasts nicely with the intricate floral lacework of the rest of the gown.
Available from larimeloom – $888.89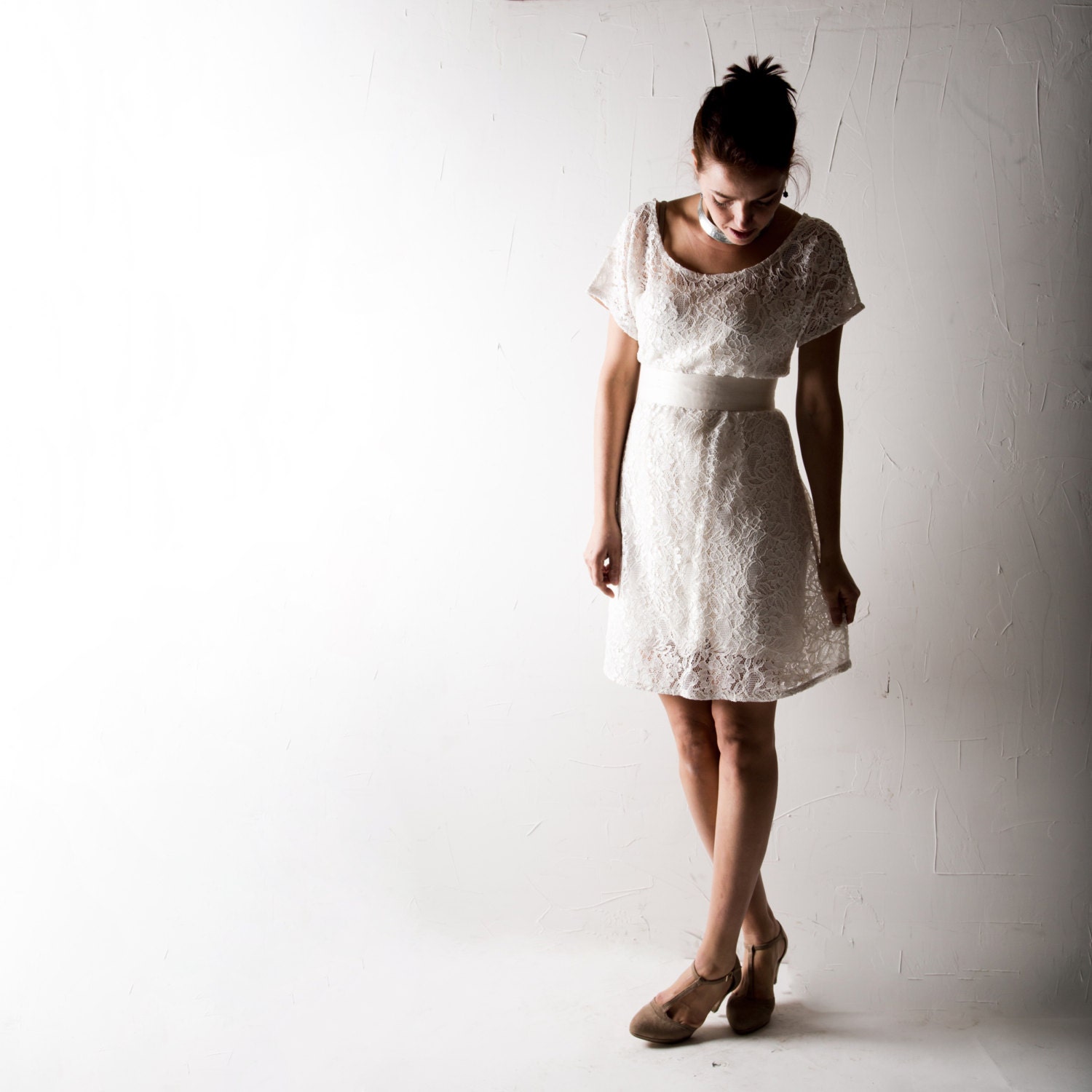 Tory is a modern backless short wedding dress with a square neckline and a full pleated skirt. Its beautifully cut low back combines with the elegance of luxurious silk taffeta and the refinement of its simple silhouette.
Available from LankkaBridal – $739.68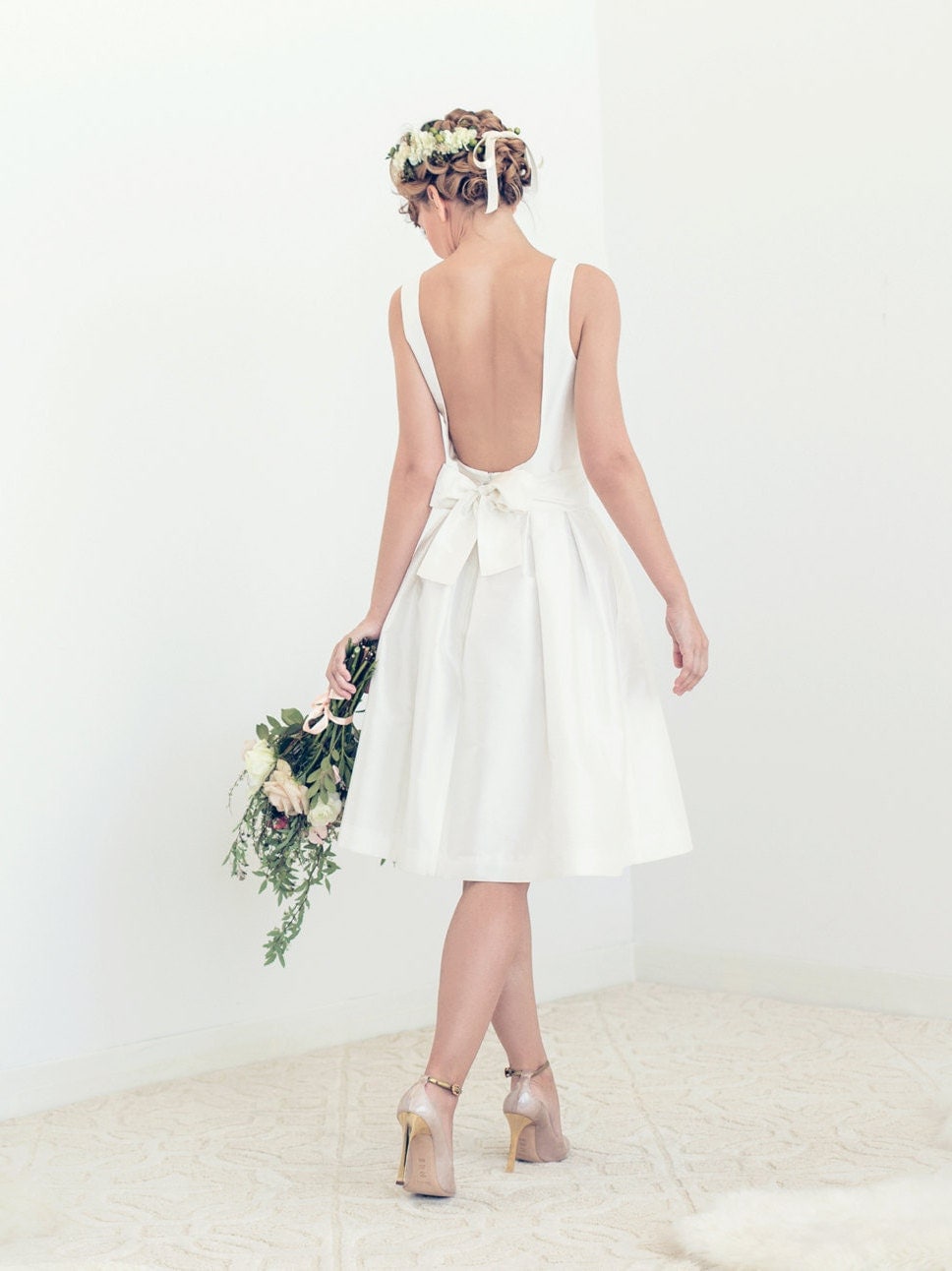 The short wedding dress has a sweetheart neckline, handmade multi-boned corset, lace up back.
The entire corset is cut by hand to form hundreds of small holes in the matte satin fabric and around the edges is embellished with hand beaded crystals.The lower part of the dress is made from countless hand-cut feathers from soft tulle. The front part of the dress is slightly shorter, making it very sexy and attractive.
Available from Tonena – $1,245.78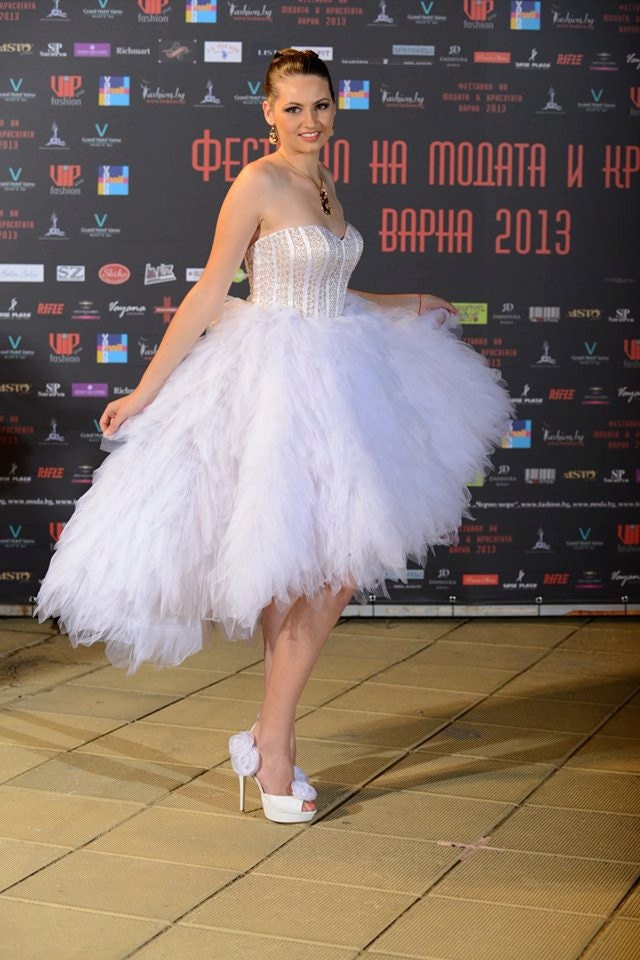 Gorgeous late 70's lace and chiffon wedding dress! Features a fitted V shaped lace appliquéd bodice, nipped waist and ultra sweet ( and fun ) full circle skirt. Faux crystal stone details throughout. Sheer chiffon sleeves with beautiful lace bell sleeved wrists. Hidden back zip up closure with button details.Fully lined in satin with a sculptured/formed bust. This dress is very flattering on and we absolutely love the movement of the full circle skirt! Excellent vintage condition. Freshly cleaned and ready to wear on arrival.
Available from GimmeShelterVintage – $512.59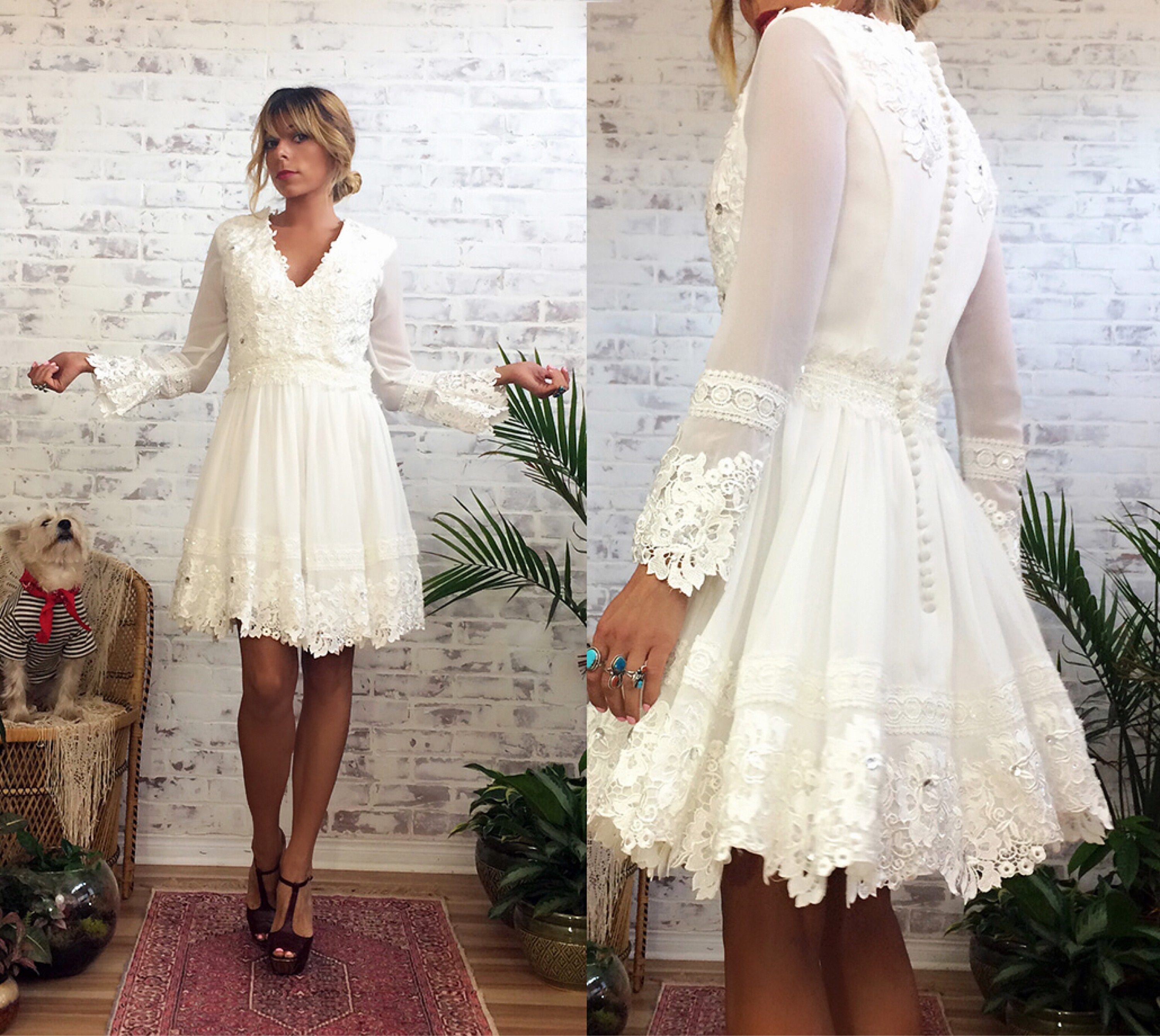 Short peplum wedding dress with overlay in front. There is a beautiful and stylish combination between basic material and luxury silver metalic jacquard. This dress is appropriate for bride with unconventional style and wants to have different than classic wedding dress.
Available from MilenaNacheva – $493.12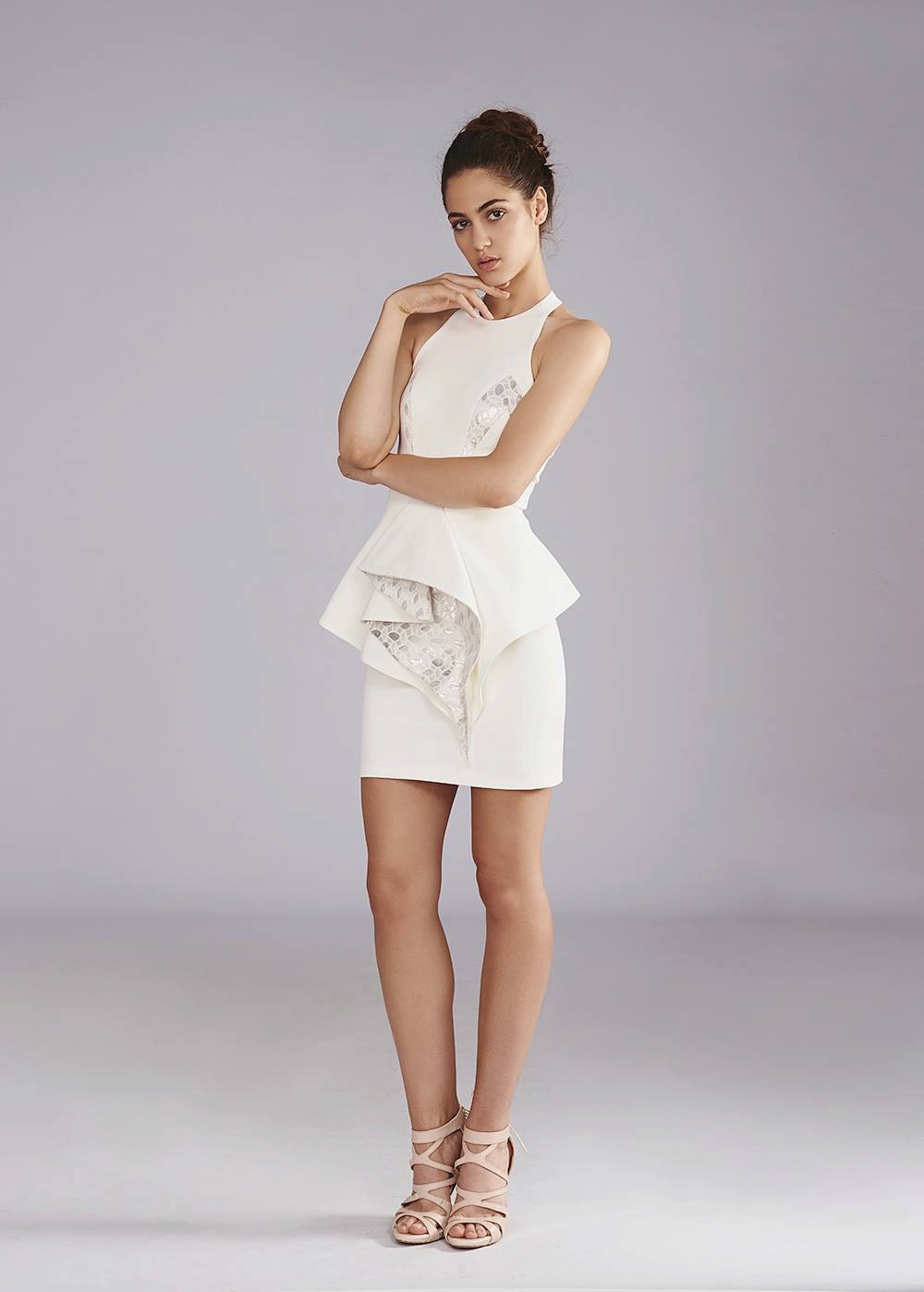 The country style wedding gown has a sweetheart neckline, finely fitted corset, embellished with handmade tangles of cords. split by hand into braids. All of it done in hand, from making the cords to splitting them by me and my team of professionals!
Available from Tonena – $966.78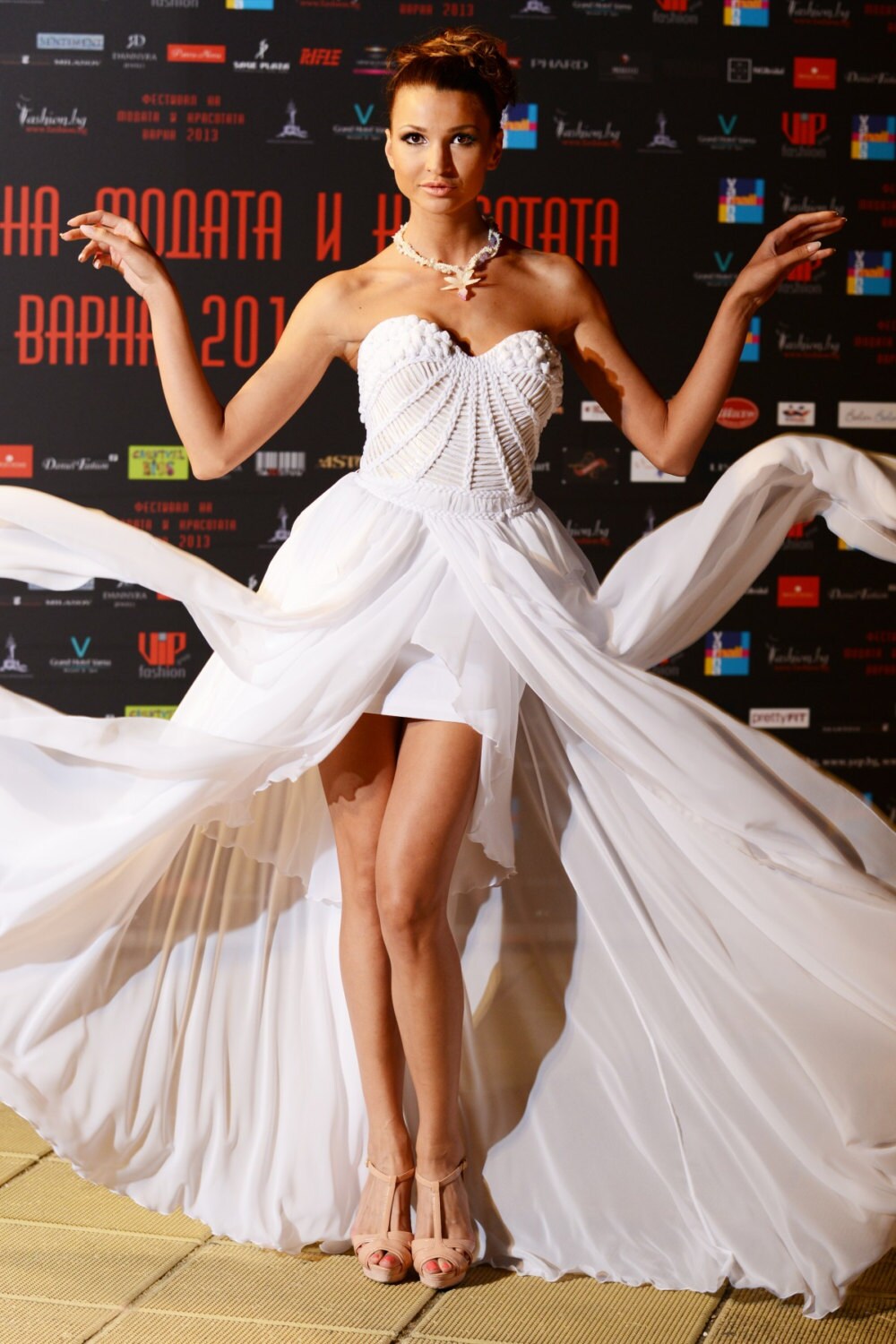 short wedding dress model Tiffany silk mikado, straight neckline, a-line, line
The short dress more and more in demand, smart and stylish, young and lively, retro and contemporary at the same time
The suitable dress for a civil marriage and the precious coats that complete the outfit, they are reusable tame even after the event.
If made in other colors may be suitable also for mother of the bride and groom, or for the bridesmaids
Available from AMoreForItaly – $3,272.03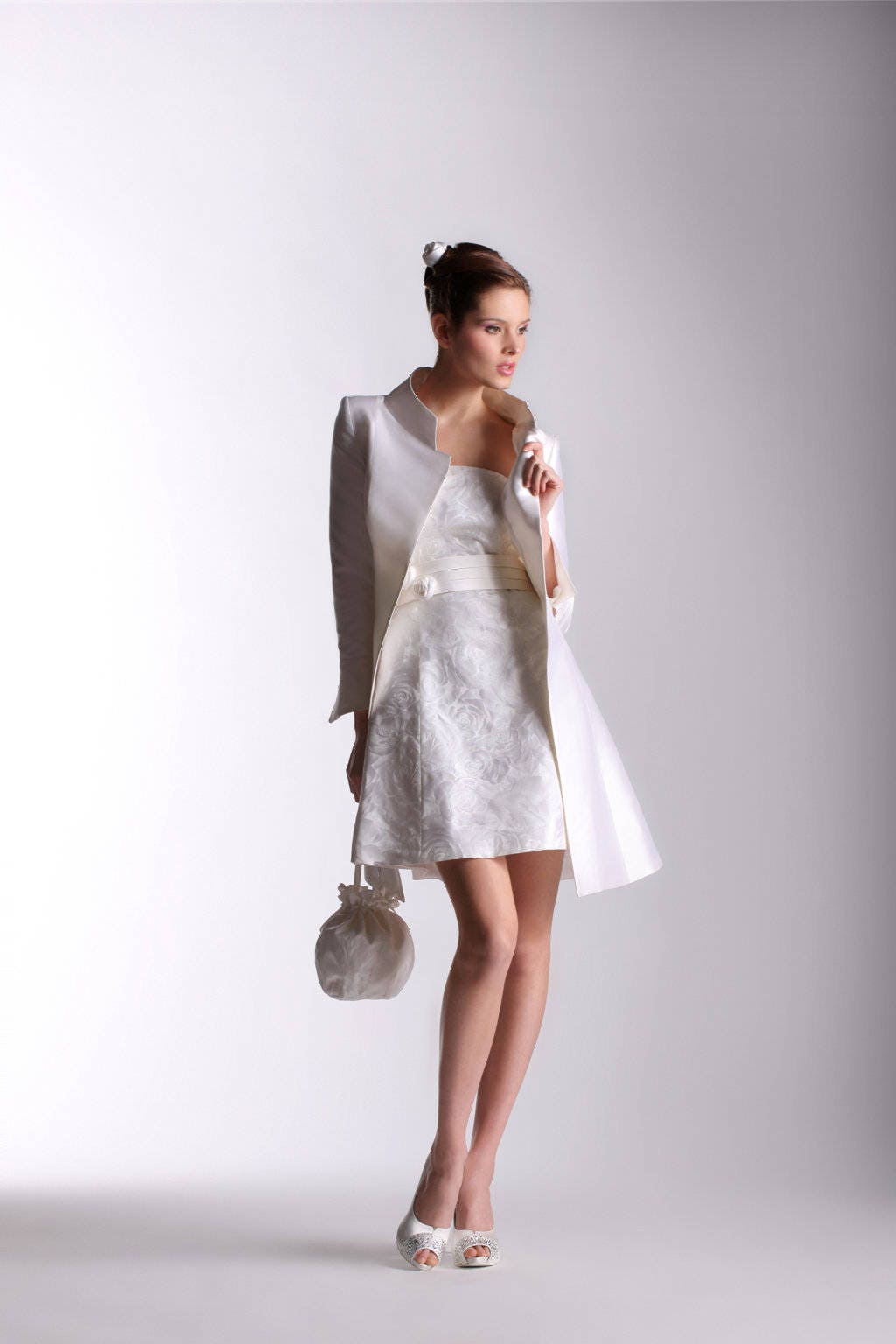 Looking for a modern twist on the regular Bridesmaid Dress? Check out our sequin mini, pictured in Gold but CONVO us for more colour options. This dress is the perfect statement piece for your Old Hollywood wedding or Gatsby inspired Affair or Vegas inspired wedding!
Available from PureMagnoliaCouture – $869.45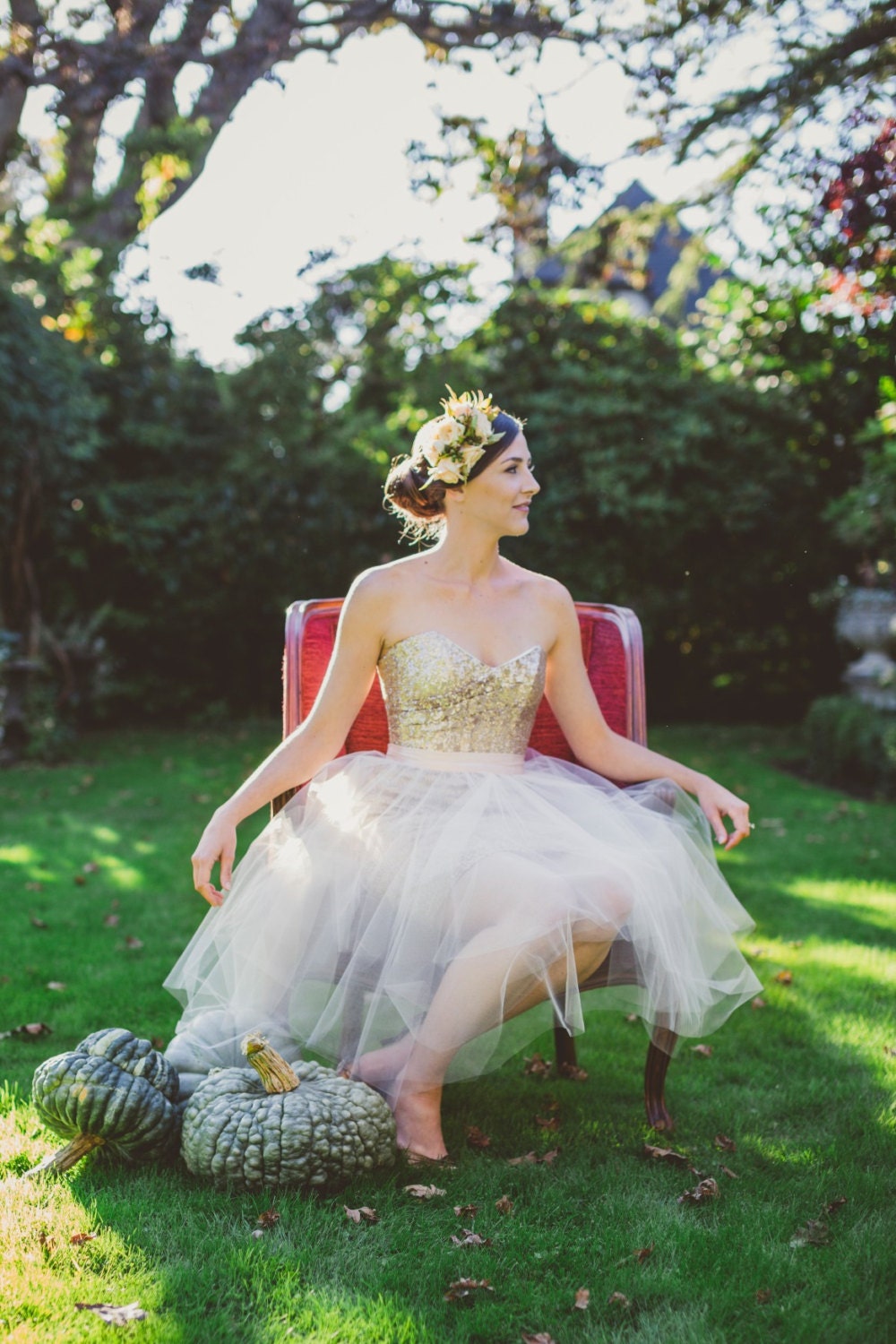 The lace pattern may differ slightly from the photo.
We suggest you choose the lace from those that are currently available.
We can send you some samples, so that you can choose the shade you need, the pattern and the density.
Available from ANfashionDesigns – $786.21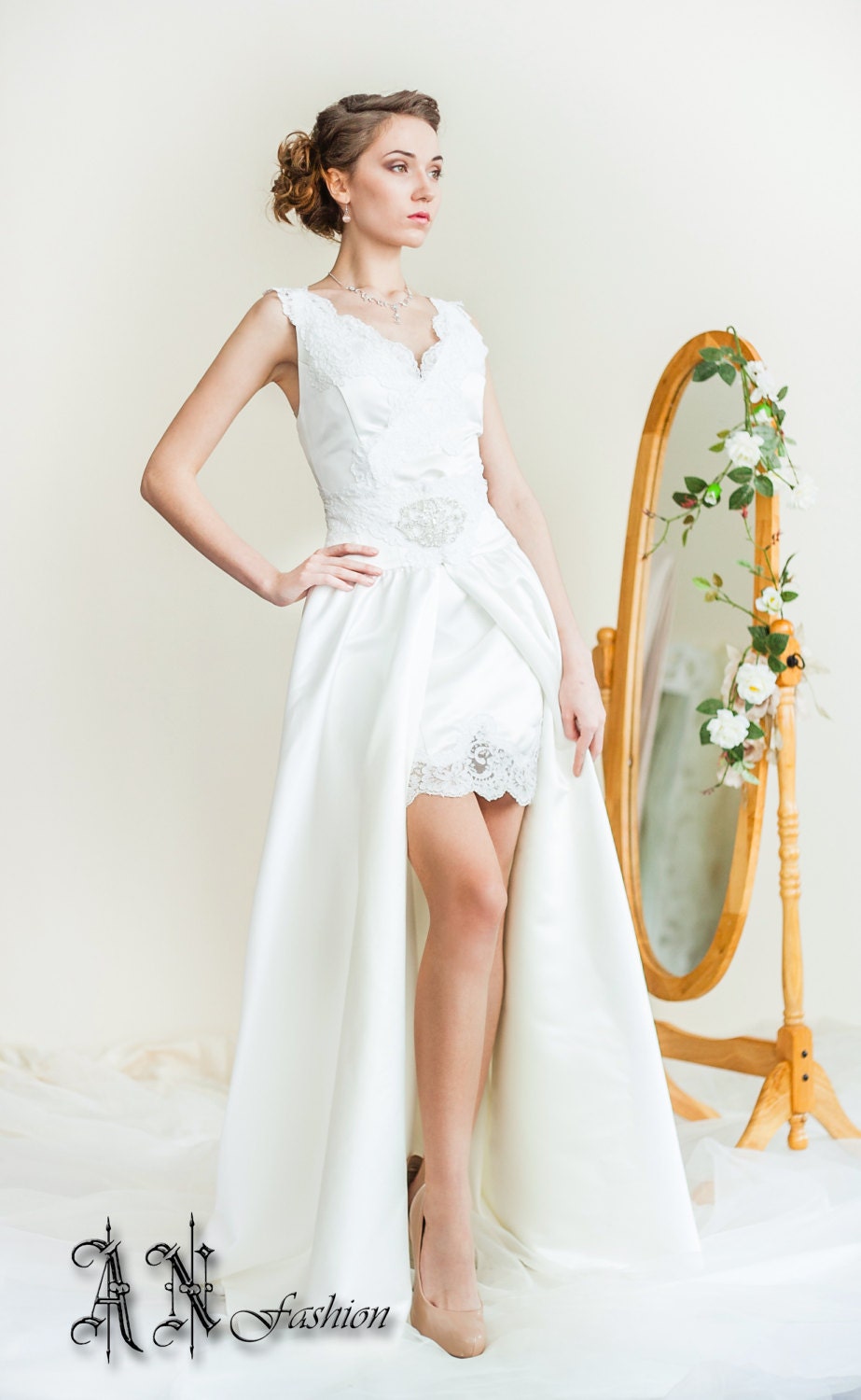 Gorgeous retro 50s style tea length wedding dress with ivory daisy floral applique and accented with hand sewn ivory pearl beadings. Working time is around 8 weeks from the time we confirm all the dress details with you. This dress can also be customized or changed based on your preference.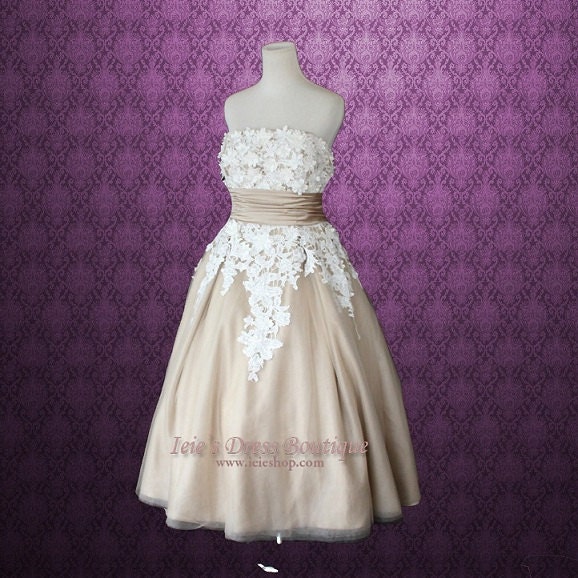 The skirt is made from 4 layers soft tulle fabric with none shiny satin lining. It is fully lined and not sheer. The skirt waist band is elasticated and stretchy, it is designed to fit your body perfectly and comfortably.
Available from Batelboutique – $183.91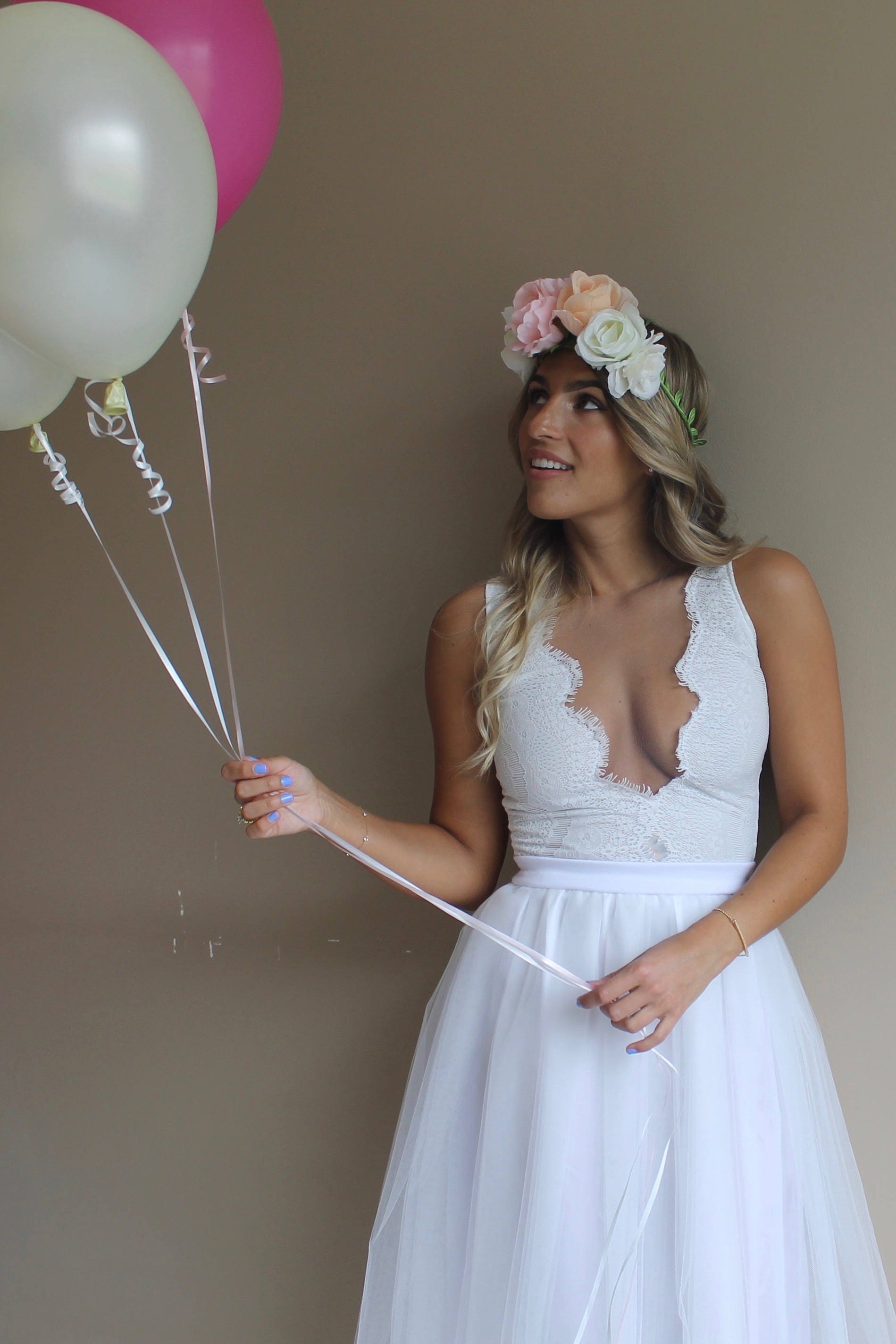 All our gowns are designed to feel lightweight and easy-to wear, be comfortable and grant you freedom of movement. To achieve that, we select only high-quality fabrics: soft, nice to skin and well fitting. All materials are reasonably wrinkle-resistant.
Available from Alexveilbridal – $1,077.08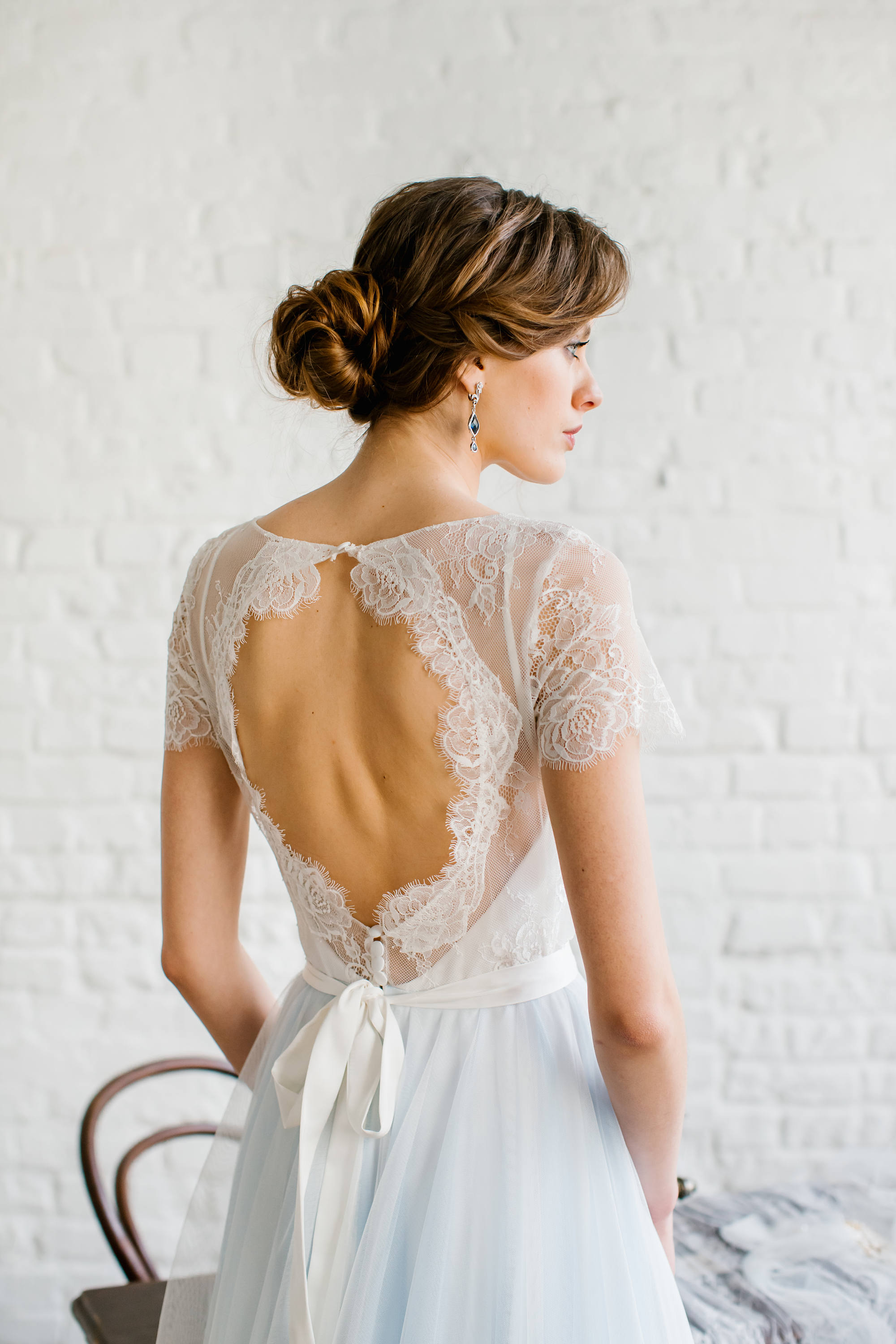 Wedding dress 2 in 1, ball gown, short wedding dress, lace wedding dress, unique wedding dress
Available from DressesLioness – $4,442.91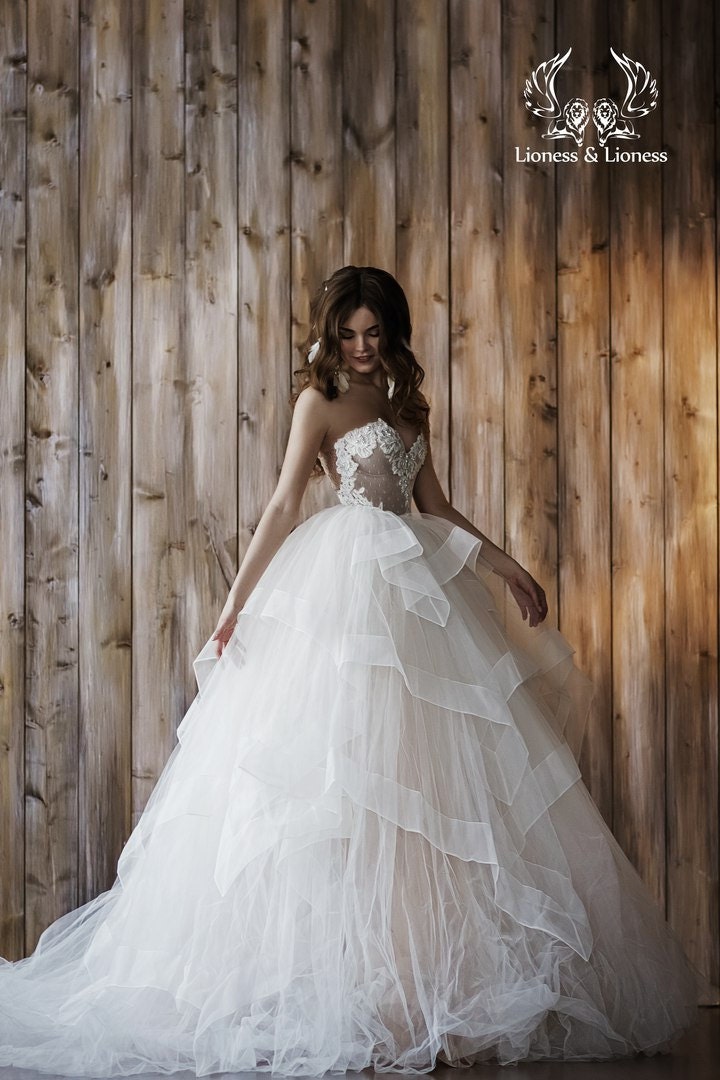 How lovely do you think these dresses are?