How to Save $5000 on Home Expenses Right Now
With the economy gone to shit and the massive loss of jobs, it is time that all of us really focus on being frugal with our home expenses.  With a bit of time, research and a couple of phone calls, you could easily save up to $5000 on your home expenses.
Here's how, who to call and how to negotiate better deals!
How to Save Money on Food Shopping
We really do eat way too much food.  Your grocery bill is a fantastic place to start when it comes to saving loads of money.  Before going to the supermarket, think about the meals that you can make with what you already have.  If you implement even half of these tips – you can expect to save $3900 per year!!!!!
We recommend the following:
Do a Stocktake of Your Fridge, Freezer and Pantry
You probably have more food than you realise!  Go through your fridge, freezer and pantry.  Write down all the meat or protein that you have in your freezer and then plan your meals around these to use them up first.
True story – when I cleaned out my chest freezer when I moved house, I found a ham that was five years out of date (no I didn't eat it!).  Check the items for their used-by date.  Remember that red meat is good in the freezer for up to one year, chicken and pork has a freezer life of six months, and pretty much everything else is two months.
Plus see what is in your fridge – what is about to go out of date?  Make sure you use that up!
The Pink Basket Method
The Pink Basket Method is how we use up food in our home.  We have a shallow pink basket (it can be any colour) – and it goes front and centre in the fridge.  Any item in the fridge that is nearly spoiled or is approaching its use by date gets popped into the pink basket.  Then those items are the ones that need to be used up first!  A simple and effective way to reduce food waste!
Watch Your Portion Sizes
Are you inadvertently eating too much because of your serving sizes?  Start serving meals on smaller plates and assess how you feel after you eat.  Are you satisfied or hungry?  Cutting down on your meat and eating more vegetables won't just save you money, it will also be good for the waistline and your health in general!
Don't Discount Generic Brands
For pantry staples, you can't go past generic brands – and most of the time you are buying exactly the same thing from the same factory as the well known, more expensive brands.  Think of items such as:
Make some big savings with no-name brands.
Buy Frozen Vegetables Instead of Fresh
If vegetables are going home to liquify in your fridge – stop buying them and purchase frozen vegetables instead.  You only use what you eat – and place the rest back in the freezer.
Only Go Food Shopping After Eating a Meal
If you go food shopping when you are hungry – you are going to spend more on shit like frozen yummies, chocolate etc.  Save it for after lunch or dinner when your tummy is nice and full – your wallet will thank you!
Invest in Good Quality Food Storage Containers
Spoiled food that goes in the bin is a huge waste of money.  And good quality food containers aren't cheap – particularly glass – but it will save you money in the long run – and glass is environmentally friendly.

Yes, Yes You Can Live on Less
A few years ago we had a great grocery list for living on $50 per week.  Sure, that might of gone up a few dollars, but it is still worth checking out.  It shows that if you eat very simply, you can save loads of money!
Best Grocery List for People on a Strict Budget
Buy a Butchered Whole Cow, Sheep or Pig
Now that Australia is coming into Winter, it is a great time to support local farmers by buying a whole or half beast.  Yes, it is a large initial investment, but if you can even go halves or quarters with family or friends then divvy up the meat  – you are guaranteed a whole freezer full of meat for as little as $10 per kilogram.
When you buy direct from the farmer you can decide on the cuts of meat you would like.  Sure, there will be quite a bit of stewing meat, but that's why this is the perfect time of year to do it – Winter means lots of slow cooked meals!
Bulk Up Your Stews and Casseroles with Vegetables
You should add grated carrot and zucchini to pretty much everything you eat.  Why?  Because they are healthy and bulk up your meals so you eat less meat!  Another great one is lentils.  If you add a can of lentils (drained first) to your spaghetti bolognaise, your kids won't even notice – it gives the mince a delicious crunch and again makes it go so much further!
Stop Buying Pre-Prepared Foods
Yes families are busy and that is why we buy an enormous amount of pre-prepared foods.  We are tired and we need to get the kids fed.  But with a bit of pre-preparing every day, you can get a fully home cooked meal on the table that will be healthier and cheaper!
Every night – think about what you might cook for dinner the next day – take the meat out of the freezer and place it on a plate in the fridge to defrost.
Peel or prepare vegetables, put them in a saucepan covered with water and place in the fridge ready to go straight on the stove.
Get your slow cooker out.  Place the meal in the slow cooker in the morning before you leave the house and let it cook all day.  Some really delicious and frugal slow cooker recipes to try include:
Super Cheap Slow Cooker Meals:
We have over 200 fantastic slow cooker recipes to try – but here are some of the most frugal ones:
Only Drink Water
Stop drinking expensive fancy coffees and teas – stick to water.  It is calorie free and good for you!
Make Your Own Cleaning Products
It's easy and fun to make your own cleaning products at home – and we have some really easy recipes – it can save you hundreds of dollars every year and your home will be just as clean!
Here are some recipes:
Homemade Dishwasher Tablets
Check out our article of How to Clean the Entire House for Under $3 Worth of Cleaning  Products
Spring Clean Your Home and Sell What You Don't Need!
Go through all your cupboards, book shelves, filing cabinets and wardrobes.  Anything you haven't worn or used in the last year can be sold.
Items that you can sell on free platforms such as Gumtree or your local Facebook Buy Swap and Sell Page include:
Gym Equipment
Ball Gowns
DVDs
Kitchen Appliances
Tools
Sporting Equipment
Musical Instruments
Designer Clothing Can Be Rented to Others
If you don't want to part with some of your more expensive wardrobe items, what about renting them to others for money?  Yes there are websites now where you can advertise your clothing and rent it for a short period of time.  Try the following websites:
Outdress App
Designerex
Tumnus
Save On Electricity Costs
Electricity bills can easily be pulled back with a bit of forethought.  Things you can do right now:
Clean your ceiling fans.  When they are dusty they use more electricity as they are not as aerodynamic.
Don't use the dryer, hang your washing outside instead
Unplug all of your appliances, they use electricity even when they are switched off
Open windows instead of using the air conditioner.
Use a small heated blanket instead of putting the heater on.
Turn off all computers at the switch every night.
Only wash in cold water
Don't Stay Loyal With Your Electricity or Gas Provider
Never ever – it doesn't pay to be loyal to anyone anymore – which is a bit sad – but the way it is!  Now that exit fees have been abolished by energy providers – you can swap them all the time!  To find the cheapest energy provider in your area – and swap to get a deal.
If you haven't heard of some of the energy providers – don't stress – all of them are regulated – and the smaller companies tend to have a more 'aggressive' discount to entice you over.  Remember that energy providers are simply billing you on behalf of Energex – you are not going to risk your supply by swapping.
How much can you save?  Well, when I ran my own house through I was offered a 21% discount in my area!

Look at Replacing Old Appliances
Newer appliances are much more energy efficient than old ones.  An example is that I had an old chest freezer that I inherited from my parents.  It was about 20 years old.  When I finally replaced it with a much-larger upright freezer – my electricity bill went down $50 per month!!!!  Yep that shit-box old box freezer was costing me a fortune!  So it does pay to upgrade old appliances for new energy efficient models.
Look for at least a 4 or even better 4.5 star energy rating to ensure you get the cheapest one to run!
I recently replaced my old dryer with a Heat Pump Dryer – sure – the purchase was a lot more expensive than base model dryers – but with the new technology – I will save 50% of my dryer bills with the new machine!

Heat Pump Dryers are a Great Way to Save Money by Using New Technologies
How much can you save?
Well even if you get a very small discount on your electricity – you can expect to save at least $500 per year!
Cut Your Subscription Costs
Do you really use your gym membership, your Netflix or Stan subscription, your audible?
Go through your credit card statement and see what subscription costs are coming out of your credit card.  Start cancelling the items you don't use!
Items to consider cancelling:
Pay TV (Netflix, Stan, Hulu, Foxtel)
Apps on your phone that are costing you monthly
Audible Subscription
Data Storage
Hint:  The very best way to cancel everything is to cancel your credit card and get a new one with a new number.  Anyone subscriptions taking payments out will soon contact you once their payments start bouncing!
How Much Can I Save?
Well that depends on how many subscriptions you have, and what you don't use anymore.  But just say that you cancel your Netflix Subscription, that will save you $624 per year!
Ask for a Better Deal on Insurances
Insurance payments really hurt when you don't have to make a claim.  And again there is no longer any loyalty when it comes to insurance, so it is a cost you should shop around for every single year!
Read our article on how to get a better deal on insurance including exactly what to say to get a discount!

Save Money on Water Usage
Water costs can get out of hand when showers run into the 40 minute mark and the kids are having a bath every night.  Here are easy ways to save money on water!
Pop a small empty plastic bottle (like a coke bottle) into your toilet tank.  These take up room which means that your toilet won't use as much water!
Make the kids have a shower instead of a bath
Time your showers
Have a bucket on the shower floor and use it to water the plants
If you live rurally, and you don't get in trouble, run your greywater to your plants instead of letting it go down the drain.
Use your dishwasher – it uses less water than using a sink to wash dishes
Check for leaks.  A leaky toilet can cost you hundreds of dollars per year.  To check for leaks, ensure all the water is turned off at the taps (turn off all the toilets etc) and go out to your water meter, if it is still clicking over, there is a leak somewhere!
Turn off your water at the meter when you go away.
Ensure you only wash when you have a full load in your washing machine.
Install a low-flow shower head
Sometimes Replacing Appliances is Cheaper
Sometimes it pays to invest in new appliances too that are more water-efficient.  For example if you have an old washing machine or dishwasher, these older styles use a lot more water than the newer versions.  Sometimes it pays to get rid of your old appliances and get new ones.  Weigh up the cost versus replacement.
Very water-efficient washing machines (with at least a 4.5 star WELS water rating) currently on the market include:
…and even better is a 5-Star WELS Water Rating:
Borrow Things Instead of Buying
If you need something, look at asking friends, family or a neighbour instead of buying it!  Think tools, ball gowns, anything!  Let's help each other to save cash!
Take Advantage of Round-Up Apps
There are many apps now that can be downloaded and used to 'round up' the price of any of your financial transactions to the nearest dollar.  These apps then use that money to either contribute to a savings account or to be invested into the stock market.  And it is surprising just how fast all those round-ups can add up!
The apps link to your bank accounts and it is all automatic so you don't notice the tiny little amounts coming out – plus you can re-draw it at any time – so there isn't any risk!
I personally use the Raiz App – check it out here –>  It's free to download and a terrific way to save!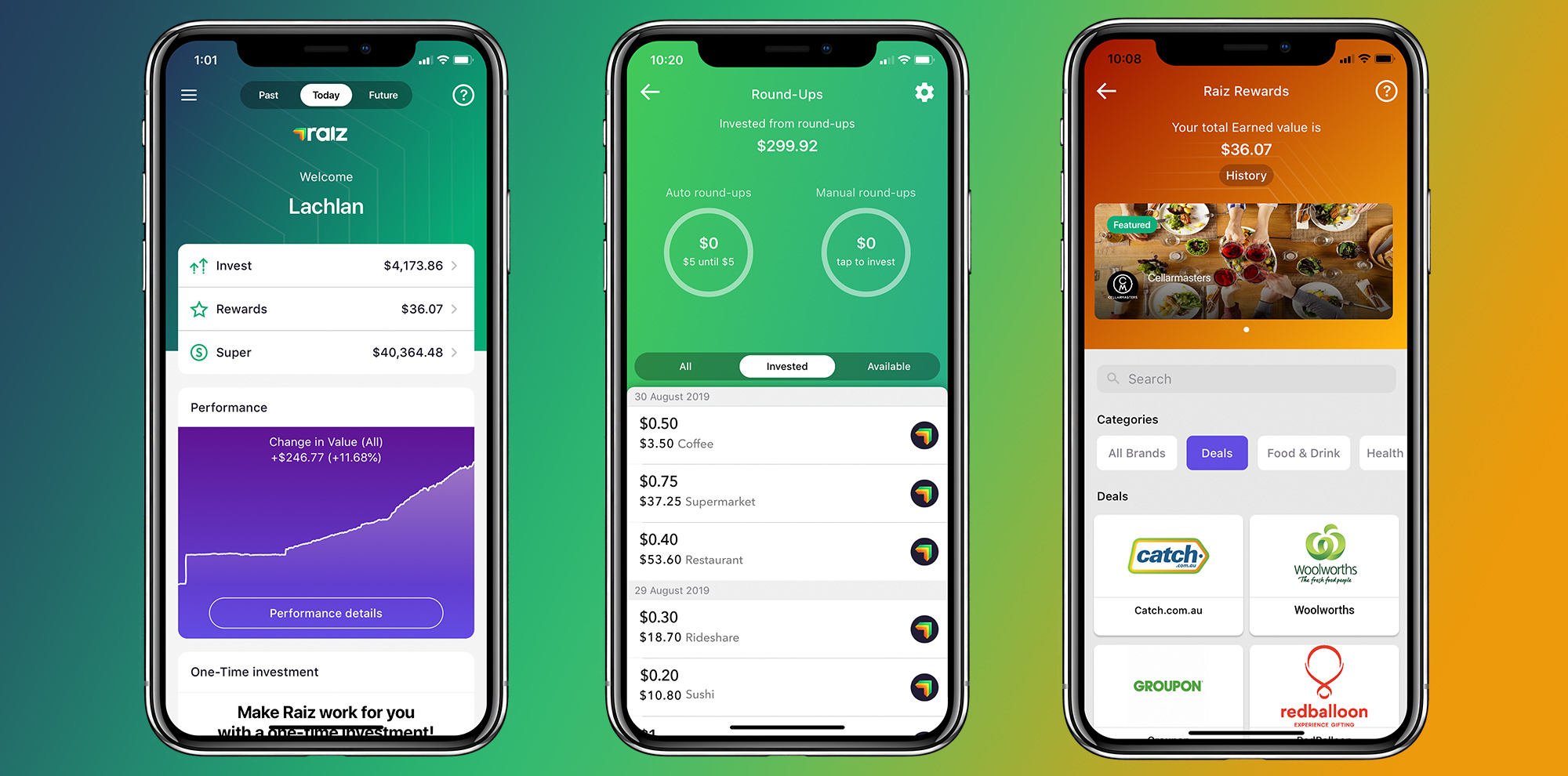 We will add more money-saving ideas to this article so make sure to check back once in a while.