Christmas is the most stressful time of the whole year, especially for mums. So it's really ideal to prepare a checklist!
After all, we really get burnt out of all the work that goes into making Christmas what it is, special! We want the kids to have that wide-eyed wonder look, we want them to be excited. And we also want to get a chance to have a rest ourselves, with a glass of bubbles preferably.
100 Things to Do Before Christmas Checklist is a bulk list of all the things I could possibly think of to do in advance (where possible) to take the stress out of Christmas Day. Not every item will apply to everyone, and I highly recommend getting your partner or Mum to give you a hand so everything doesn't fall on your shoulders…. but it will help cover all bases and will prepare your home for the Best Christmas EVER!!!
What We Will Cover In This Article:
1. Things You Can Do Right Now to Prepare for Christmas
1. Start shopping around for good deals on Christmas Gifts. Some of the very best deal sites for Christmas Presents include:
Crazy Sales
Kogan
Crazy Kart
Adrenaline
2. Decide on Where Will Christmas Be Hosted This Year
Speak to your family to decide where Christmas will be located and when. Try not to have more than one celebration per day if you have kids under 12 because that will always end in tears.
Think about when deciding on who should have Christmas:
Ages of young children – it is harder for parents of young children to travel distances – keep this in mind!
Does the 'Host' have the time – or do they juggle full-time work, a toddler and a house. Christmas can be stressful – try and take the stress off the most stressed family members.
Has anyone volunteered? Maybe someone would love to do it? Give everyone a turn!
Now Covid has made this hard to plan. If your family live out of your State, perhaps organise a Zoom Meetup during the day.
Start pre-buying long-life items to every shop to reduce the overall cost
This is something I have personally always done. When shopping, pick up a few items at each shop that will reduce the amount of shopping you will need to do closer to Christmas. Just check the expiry date first!
Boxes of Chocolates, Nuts or Nibbles
Paper plates, cups, cutlery
Start filling out your Christmas Gift List
We love this one from Living Well Mom. To save, just right-click and save.
Measure the family for clothing and shoe sizes. Keep the note in your handbag or on your phone for easy reference or to send to the Grandparents.
Buy a personalized 'Christmas Eve' box for each of the children.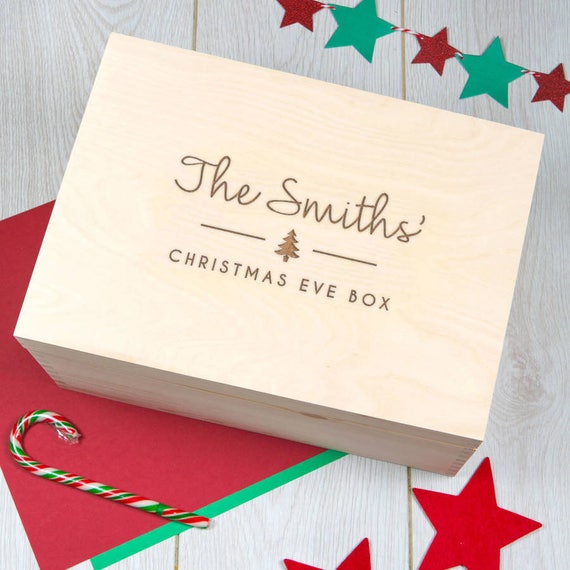 Put a calendar of events up on the fridge so you don't 'double book' yourself over the silly season.
Book any airfares or accommodation required for the Christmas break.
Grab an 'Elf on the Shelf' so you will be ready for the pre-Christmas pranks.
Look for new outfits for the kids for both Christmas Day, and for any end of year concerts.
Update all the contacts you plan on sending or emailing Christmas cards to.
Clean out kids' toy boxes and clothing and make a donation to charities (so that those items to get who needs it most for the Christmas season)
Plan and buy any gifts for your kid's teachers. Wrap and have them ready for the last week of school. See some great ideas for Teachers Gifts here.
Plan any time off work (and submit it to HR). Make sure your partner has done the same.
Organise what you will be doing with the kids over the school holidays.
Stock up on Christmas Wrapping Paper or Brown Craft Paper. Even better, wrap in beach towels as part of the gift or tea towels etc.
Clean the oven and line it with foil to prevent it from getting dirty again before Christmas.
Book all hair and beauty appointments up until January.
Start hunting for the perfect dress to wear to the Christmas party.
Order your Christmas Ham or Turkey.
Make sure all Passports are valid for any trips you might be taking over the Christmas period.
Have the kids write their 'wish list' to send to Santa.
Book the kids into any holiday care that might be required or tee up Grandma and Pop to look after them for a few days over the Christmas period so you can get some things done!
2. What to do in November to Prepare for Christmas
Pull out all of your Christmas decorations, throw out anything that is broken or unusable.
Order a Christmas Tree (if you plan on doing a fresh one) or take out your old tree, give it a hose and allow it to dry (they get very dusty!)
Plan your Christmas menu and Christmas Eve snacks. Write down a list of everything you need and when. Add this to your Christmas planning calendar.
Start putting together (or purchasing) your Advent calendar to start on the 1st December.
Wrap the '24 Books Before Christmas' to place under the Christmas Tree on the 1st December.
Organise any work Secret Santa or Kris Kindle gifts.
Search Pinterest for ideas on how to decorate your Christmas table.
Organise travel insurance if you are flying anywhere with children.
Start making some small homemade gifts to put around the house as decoration, and as last minute gifts for people you may have forgotten.
These Christmas Lolly Sleighs are pretty and make for a great last-minute gift!
Grab out suitcases (one per person) and download packing lists. Store them open somewhere where they won't be disturbed and start packing items here and there.
Have all the carpets and lounges professionally cleaned or hire a machine to do it yourself at home.
Organise a trip to Costco or similar to stock up on bulk items to save you time closer to Christmas. Take an esky!
Do some Freezer Cooking to stock the freezer with easy meals for the nights you will be too busy to cook.
Grab your copy of 'Once a Month Cooking' for hundreds of freezer-friendly recipes.
Mail any overseas Christmas gifts or Christmas Cards.
Clean out the fridge and freezer and take stock of what you have, and what you might need.
Start cob webbing the house weekly to have it in tip-top shape.
Clean all the windows, inside and out.
Vacuum the spare room and start preparing it for visitors. Put fresh linen on the bed, air it out and remove any unnecessary items that don't you may not want visitors seeing.
Gurney any outdoor areas that will be used over Christmas.
Clean out the pantry and get rid of all foodstuffs that are out of date. Clean all the shelving and re-arrange carefully.
Ensure all tablecloths are cleaned and ironed.
Purchase all the ingredients required to do a Christmas Food Gift Cook Up (perfect for neighbours and bosses). Set aside a day to cook and freeze for later.
Start stocking cheeses, dips, crackers and nuts so you can put together an impromptu platter for when unexpected visitors come by.
Grab a Gingerbread House kit to make with the kids.
If you are driving somewhere for Christmas, book the car in for a service.
Take some nice photographs of the kids to print and frame for the Grandparents.
Put together the shopping list for food items needed.
If you have a pool, ensure it is cleaned regularly and chlorine levels checked professionally.
Organise for friends or family to look after any pets should you be away from home.
Download a Christmas Ring-tone for your phone (it drives people mental!)
3. What to Do in December to Prepare for Christmas
On the 1st December, put up your Christmas decorations and Christmas Tree.
Get the kids to start opening their Advent Calendar.
Pull out any cameras you plan on using over the Christmas period and make sure the batteries are charged up, and perhaps invest in a spare.
Put together the Christmas Eve boxes for the kids.
Do your initial Christmas shop for items that won't go out of date before the big day.
Get the kids to put together a Christmas Day playlist.
Every night, have the kids open one of their Christmas Stories, and read it to them before bed.
Hang the Christmas stockings or grab out the Santa Sacks.
Organise some fun-filled days with the kids and their friends. Roller skating, Ice Skating, Train Ride or a visit to a show.
Ensure all lawns are mowed, gardens weeded, light fittings cleaned and the house is looking great.
Fill any gas canisters for the barbecue.
Grab out some fun board games, for both adults and kids. Teach the kids some new ones, and have a few games with your spouse for something fun.
Organise a photo with Santa.
Bake some biscuits with the kids and allow them to decorate them as they wish. Wrap and send them to relatives.
Organise to go as a family to a Christmas Carol service. Take a picnic blanket and pillows.
Ensure all gifts are wrapped and either put under the tree or stashed away.
Have your hair and nails done, a pre-Christmas pamper.
Deliver any small Christmas gifts to neighbours, bosses, and friends.
Finish preparing the guest room.
Thoroughly clean all bathrooms. Put fresh towels for guests.
Change all the bedding in the house a few days before Christmas.
Plan a drive around to all the Christmas light displays in your neighbourhood.
Stock up on batteries.
Pay any bills due over the Christmas period in advance.
Turn on the Booze fridge and fill it with beer.
Order any hot chickens you will need to pick up on Christmas Day.
4. What to do a Few Days Before Christmas!
Pick up any last minute items such as fresh cream, custard and bread rolls that are needed.
Pick up loads of ice and put it in the booze fridge freezer or start setting your own ice.
Take out any meats that have been frozen to defrost in the fridge.
Pack an 'Emergency' kit if you are travelling with things like torches, matches etc.
Buy some fresh meat and salad to have on Christmas Eve so you don't have to cook.
Construct the Gingerbread House with the kids.
Make any Christmas Desserts that are needed ahead of time and refrigerate.
Make sure the car is filled with fuel, the oil is checked and the tyres are at the correct pressure.
Pre-cook any roast meat required for Christmas Day.
Double check all gifts have been purchased, wrapped and labelled. If you have forgotten someone, pop online and grab a gift voucher!
5. What to do on Christmas Eve
If you are leaving early on Christmas Day, pre-pack the car.
Pick up anything you may have forgotten from the local shop (as the supermarkets will be crazy!)
Let the kids open their 'Christmas Eve' Box.
Watch your Video from Santa from The Portable North Pole.
Leave out some Beer and Cookies for Santa.
Put all the gifts under the tree after the kids have gone to bed.
6. What to do on Christmas Day
Put on the slow cooker in the morning with some cinnamon sticks, orange peel and star anise to make the home smell like Christmas.
Pour yourself a nice glass of bubbles.
And finally, tip #100! Enjoy a wonderful Christmas with your family!