It was a long time ago when women began to wear dresses and gowns on their wedding day. But our society is changing, and so is our confidence to baulk tradition!
Nowadays, there are women who want to be less feminine and aren't comfortable with flowers and lace. They want to present themselves as individuals, and so they opt to wear something that would somewhat show who they are. The number of ladies who ditch gowns for pants is increasing, so it's not unusual at all anymore.
Here are 20 Wedding Pantsuits that you can use as a pattern or an inspiration for your wedding attire if you don't want a traditional wedding dress.
More Reading: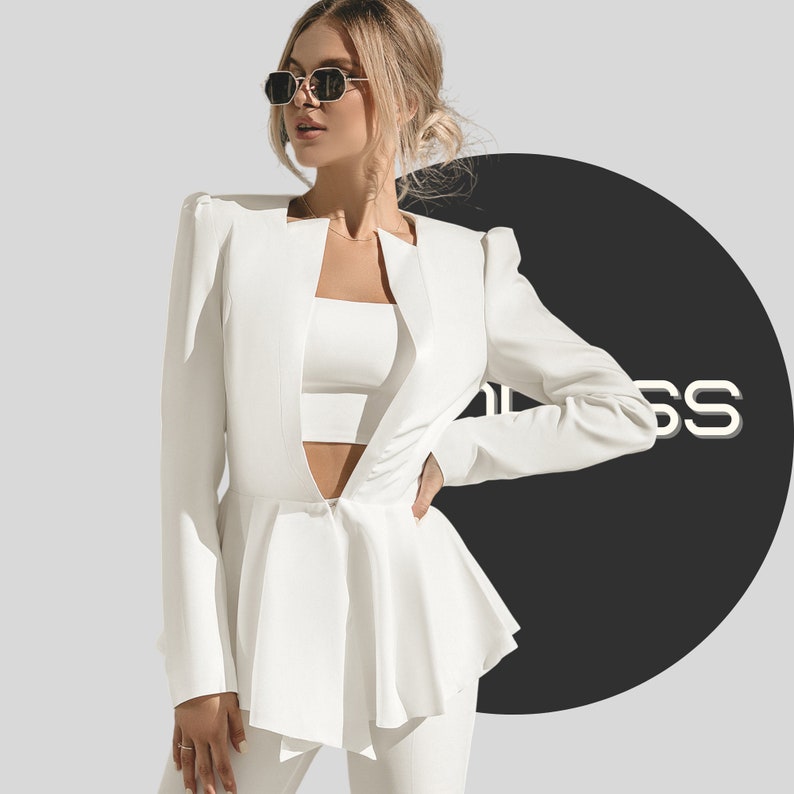 This gorgeous crepe outfit is perfect if you want the swish of a dress, but the practicality of a wedding pantsuit. It comes in three pieces, the corset, the pants and the over-skirt. All the bridal pieces can be purchased separately so if you don't want the overskirt – just don't order it! Feminine and girly – but still kick-ass – it is a gorgeous outfit for your big day!
Price: $274.15
Stockist: Etsy
A beautiful handmade jumpsuit with a delicate hand-beaded bodice and slim-fitting satin pants. Very well priced too with the whole outfit coming in under $300. This beautiful wedding pantsuit is made to order – so you need to allow a few months for it to be made just for you.
This beautiful three-piece wedding pantsuit has a lace over-shirt and a delicious full over-skirt. It also comes in black.
Sleek and sexy, this lace jumpsuit has a fitted straight leg, long narrow sleeves and an elongated v-neckline. There is an overlay organdy skirt that doubles as a train as an added extra if you want that bit of feminine touch. Made from stretch French lace.

This Minimal Lace Pant Suit can be worn as an alternative for a wedding gown perfect for a casual beach wedding. The Boho Style Jumpsuit is handcrafted with high-end satin fabric and has a silky lace overlay. The perfect alternative wedding attire.
Price: AU$850.00
Stockist: Yin Bridal
Handmade in Vietnam, this beautiful satin pantsuit is made with only the best fabrics available. Peplum style with long sleeves, a hanging ruffle and a classy belt, it is the perfect 'Wedding Suit' for women.
Stockist: Yin Bridal
With delicate floral lace, flared legs and sheer delicate kimono sleeves, this soft Boho Style Wedding Overall is the perfect wedding outfit from a garden wedding through to a formal shin-dig. Handmade to your exact sizing, the outfit is made from two layers of delicate floral lace over a crepe lining.
Comes from a 5-star rating on Etsy with over 2000 sales – you know you will be in the right hands.
8. Unusual Skirt Over Shorts Lace Wedding Jumpsuit
This is a gorgeous light blue jumpsuit with short lace shorts, with a beautiful chiffon overlay skirt. Handmade to order. Perfect for a beach wedding!
A high-couture wedding pantsuit made from high-quality Italian silk. Made to order with your exact sizing.
This beautiful wedding suit is made of matte satin. It has puffy sleeves that are detached, and the empire style bodice is separate from the Palazzo style pants. Made to measure to fit you perfectly.
Made from high-quality soft satin, this Ivory Boho Wedding Pantsuit also comes in a blush colour. Made to order to your exact sizing, this is a flattering Boho style suitable for a rooftop wedding to your dream partner.
More casual, less girly. A three-piece suit with a simple undershirt, double-breasted vest and straight cut pants. Available in white, black and red and the three pieces cost under $400.
Who says you should wear white to a wedding? I love black for a wedding – it is timeless – plus you can wear it again. The Jazlyn Black Velvet Wedding Jumpsuit from Cocomelody is the perfect outfit for your wedding. Classy and timeless, yet still fun and sexy.
Sleek and sophisticated, the Sasha Floor Length Chiffon Tulle Wedding Jumpsuit is the epitome of modern-day bridalwear. It features a v-neck notched lapel neckline, a sheer floral lace bodice and a cuffed sleeve lace bishop sleeve and lightweight chiffon wide-legged pant.
Price: US$369.00
Stockist: Cocomelody
The Iliana Floor Length Chiffon Wedding Pantsuit is the perfect combination of feminine and tailored. It features a fun soft chiffon wide-legged pant, a high-neck halter neckline and a knitted lace bodice that contours to your shape. It also comes in black!
This v-necked two-piece wedding pantsuit is crepe with a lace overlay. It comes with a large overcoat with pockets! Both feminine and tailored.
The perfect wedding pantsuit for the ultra-chic modern bride. The pantsuit features a pleated wide-legged pant, fitted sleeveless bodice and a low open back closed with an invisible zipper.
Available in both white and black, this simple but ultra-feminine wedding pantsuit is a beautiful choice for your wedding day. Tailored straight-legged pants with a simple crepe shirt and a lace long-sleeve overlay with a tie at the front.
A beautifully handmade to order wedding jumpsuit that is perfect for a beach wedding. Comes in three colours, white, champagne and ivory.
Because this wedding jumpsuit is made to order, allow 4 – 6 weeks from ordering to delivery.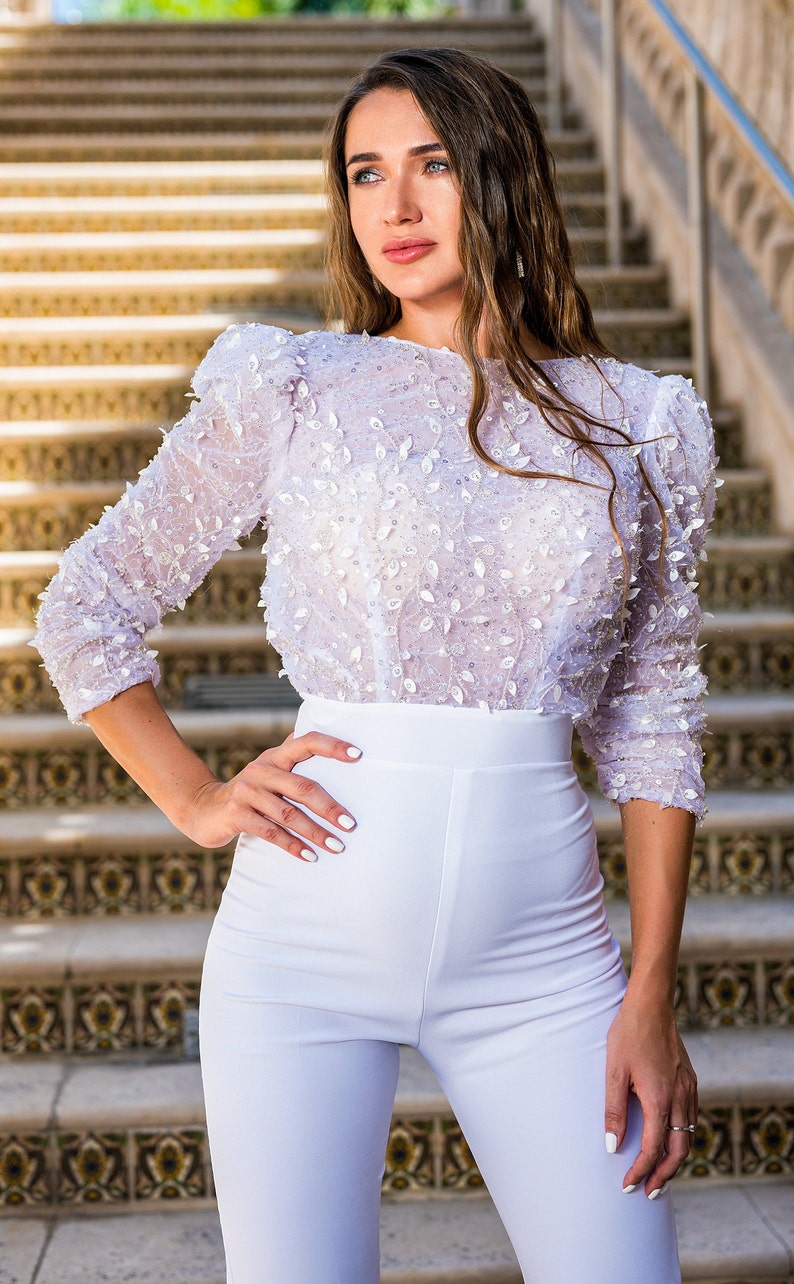 For the ultra-modern bride, this wedding pantsuit has an unusual cut and seductively emphasises your curves. Comes in two colours, milk and black.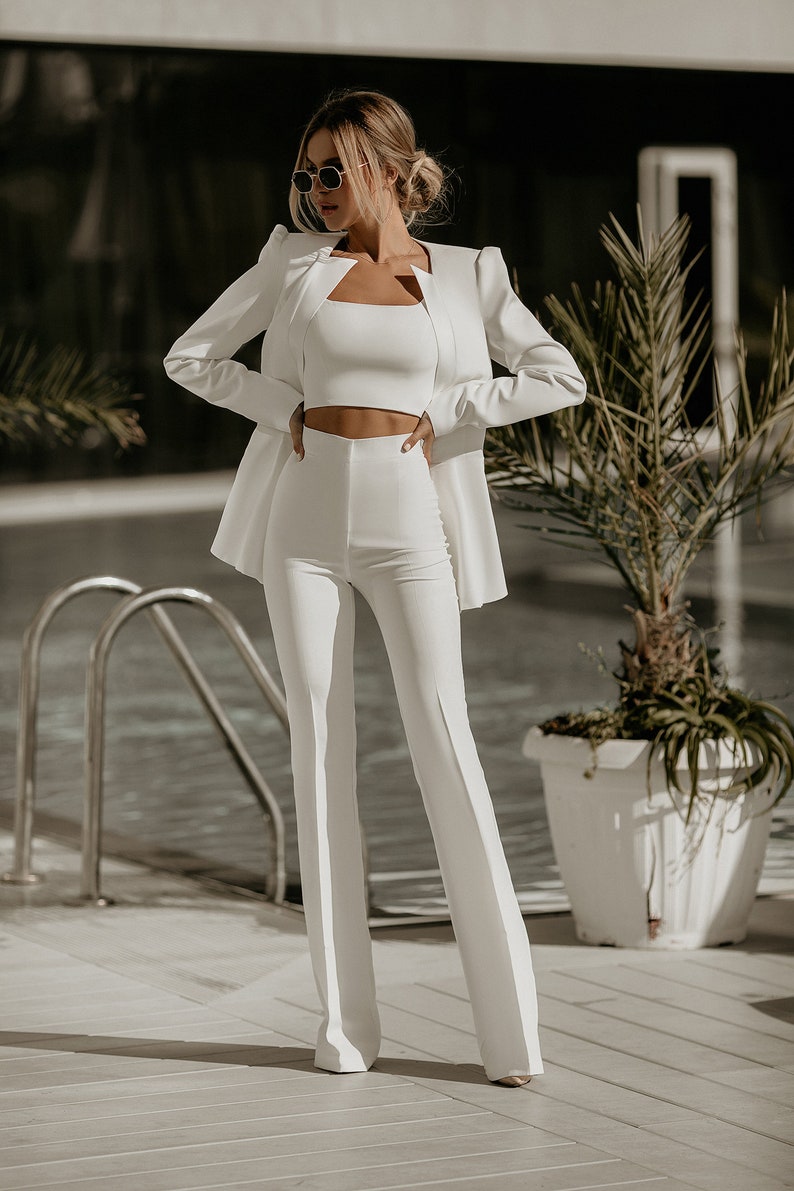 Which of these wedding pantsuits do you like the most?