Easter isn't just about dessert, but that doesn't mean that we can't enjoy one, or significantly more than one, during the Easter holidays.
If you're having an Easter party, or you just love to bake and make delicious goodies with an Easter theme, this is the place to come with your ideas.
We've put together a list of delightful Easter desserts, all of them totally drool-worthy, and perfect for the Easter celebration.
If you love those Cadbury Creme Eggs, then you are absolutely, 100% going to love this Easter dessert. Seriously.
No bake cookies that still embody the spirit of Easter, and look adorable as anything? Well it's a yes from us!
Another great cookie recipe for Easter, this one is baked but worth the extra effort!

These cakes are easy to make but look incredible, and are a great centrepiece dessert for any Easter celebration.
Elegant and beautiful, these cupcakes look good enough to eat right on the screen. Imagine when they're in your hand!
Blondies are like brownies without the chocolate, but these carrot cake blondes aren't missing anything in our eyes!
Holy moly these look good, and pretty straight forward to make as well. Fudgey Easter sounds great to us!
These nests are just too cute for us to deal with right now. Tiny little nests for tiny little eggs, and yummy as well!
Carrot cake in donut form? Now this is something that we definitely wouldn't pass up at Easter time!
A sweet and simple Italian Easter Bread is just what your Easter celebration needs!
We love a good rocky road, although we're usually making them for Christmas not Easter. Make this an exception!
Fudge is always going to be a yes from us, particularly when it's this super delicious Easter fudge. Yes please!
This delightful Easter dessert brings together the cutest little mini eggs with a stunning no-bake cheesecake recipe. Yum!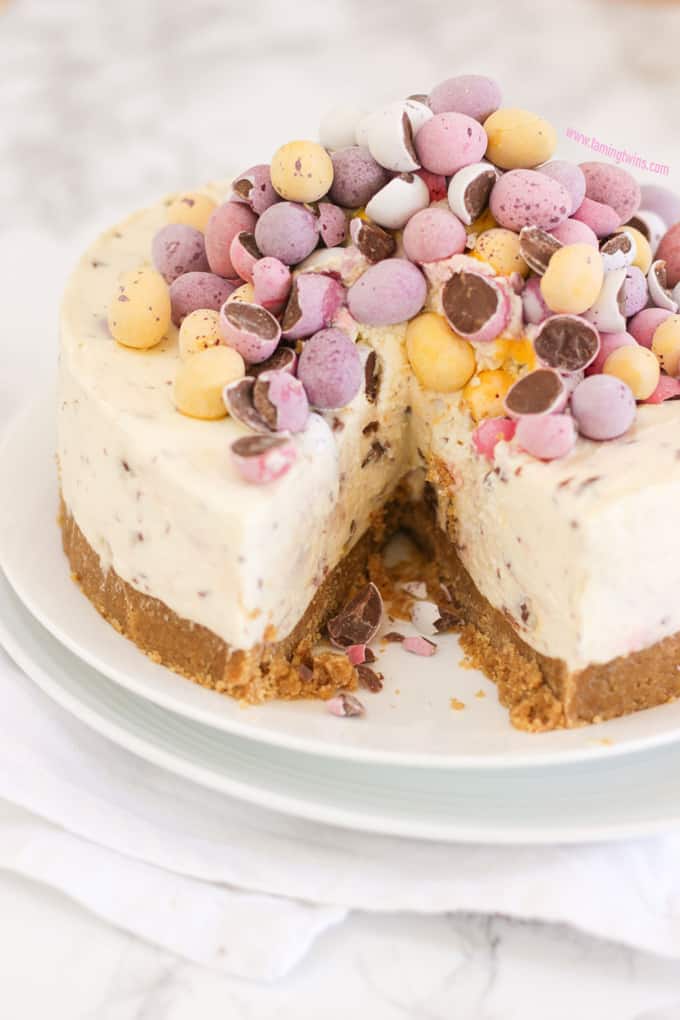 It's not everyday we think to ourselves: Boy we want to eat a rabbit butt. Except during Easter of course!
Chocolate barks are such a great treat because they are dead easy to make. This one is Easter-themed, and we're loving it.
How better to celebrate Easter than with carrot cake cookies? And yeah, there's frosting as well!
We don't think you can ever have too many Creme Eggs in your life, as this cheesecake proves.
We are BIG sugar cookie fans here, and Easter seems as good an excuse as any to whip this one together with some cute pastel M'n'Ms.
For a break from the chocolate fest of Easter, why not have a try of these Easter milk truffles. Looks delicious!
A fruit imitating a vegetable but still tasting like a dessert? This is the kind of Easter miracle we want to have in our lives!
These super sweet and wonderful mini easter cheesecakes are exactly what our Easter celebration has been missing. What about you?
There are so many fantastic things happening in this dessert, that we're having trouble getting words out from between the drool!
We're always going to say yes to pizza, particularly when we're talking about a sugar cookie pizza in the shape of an Easter egg covered in fruit.
Mini eggs are such versatile little beasts, and we're addicted to them at Easter. Try this recipe if you're also a mini egg addict!
Easter isn't really complete without carrots, particularly if they're in the form of this outstanding carrot cake!
Oh boy do these look good. These are the kind of nests that our tastebuds just want to sit in all day!
We love simple recipes that still look and taste fantastic, and these Oreo truffles, in Easter shapes, definitely fit the bill!
This dessert doesn't just look absolutely gorgeous, it's got a mix of flavours that just guarantees deliciousness!
These popcorn bars are so colourful and cute! Just replace the graham crackers with tiny teddies!
Kids love a good surprise, and these Easter cupcakes offer that as well as flavour!
What's your favourite Easter dessert?