Looking for wedding bouquets online is like looking for Mr. Right – it's hard work!
But totally breathtaking once you find the one.  Every bride needs the perfect bouquet arrangement to piece together their wedding look, find yours within this list of gorgeous bouquets you can buy online! These bouquets are absolutely beautiful!
Champagne rose gold BROOCH BOUQUET. Ivory, beige, cream broach bouquet. Jeweled crystal flowers wedding bridal bouquet by Memory Wedding.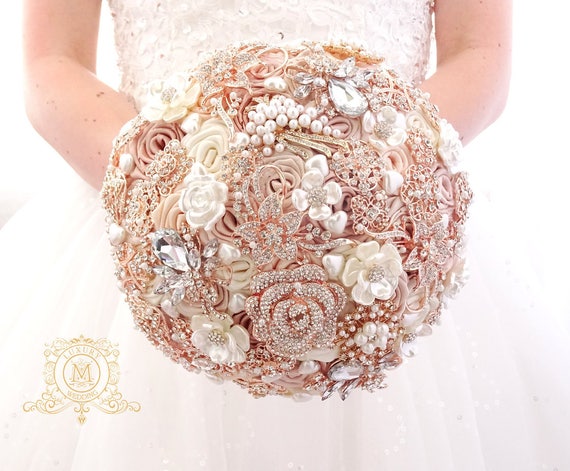 Shipped from Russia
Sparkling, vintage style bridal bouquet which has been made with beautiful floral rhinestone brooches, buttons, pearls and white foam roses. All brooches, buttons and pearls are hand wired and attached to the roses` petals.The handle of the bouquet has been decorated with white satin fabric, bridal lace, pearls and a crystal chain. The bouquet comes with a matching boutonniere made of white foam roses, white satin and organza ribbon.
Available from GogaIvGallery  – $340.00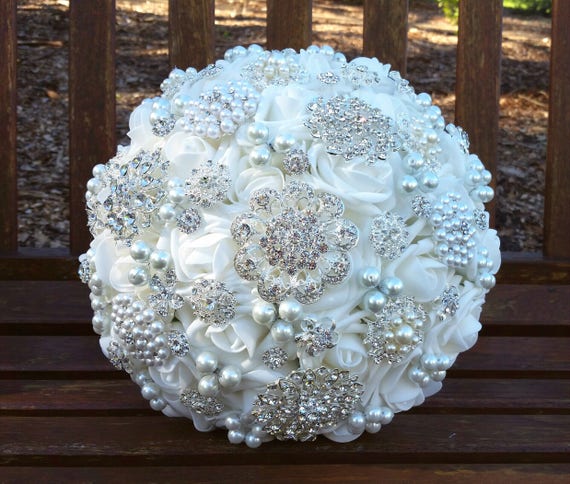 Elegant, sparkling, vintage style bridal bouquet that has been made with silver colored floral rhinestone brooches, ivory pearls, and ivory foam real touch roses.The handle of the bouquet has been decorated with a satin ribbon, bridal lace, crystal chain and a large rhinestone brooch. All brooches and pearls are wired and attached to the roses` petals. The bouquet comes with a matching boutonniere made of an ivory rose and a satin ribbon.
Available from GogaIvGallery – $310.00
small sized rustic wedding bouquet featuring Australian native flowers. This posy bouquet is so full of texture and flowers – red pin cushions, red kangaroo paw, green/white Geraldton wax, white blushing bride flowers, green thistle, gumnuts and eucalyptus gum foliage. A gorgeous collection of native flowers. Included is a matching buttonhole.
Available from LaPlumeDeFleur – $135.00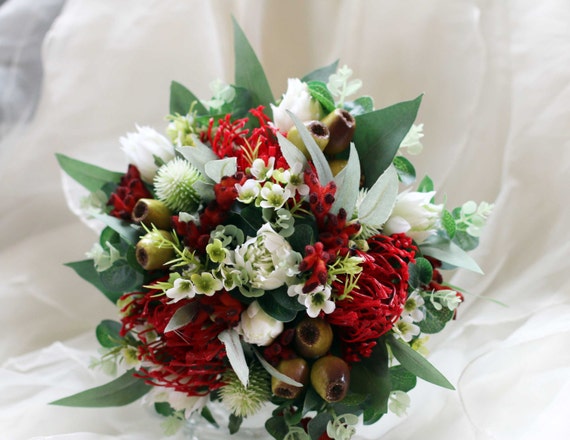 This White Peony Rose Bud Bouquet is a lovely and elegant classical peony bouquet. The flowers consist of multi layering of petals which creates that lovely soft and romantic look. The flowers are made from a good quality fabric fibre giving the bouquet a very realistic look.
Available from BeautifulBloomsSA – $85.00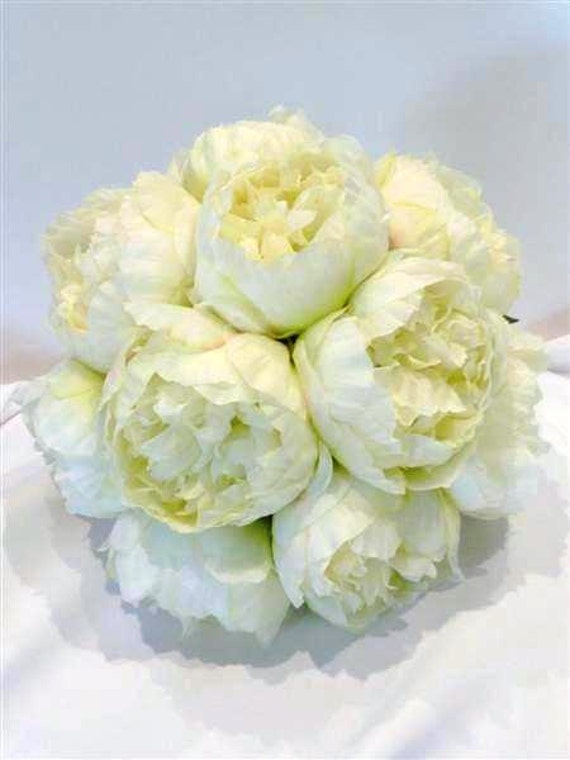 This bouquet has a mix of roses, peonies and wildflowers, with pink, peach and neutral flowers mixed with greenery. This bouquet is made to look like it was just picked from the garden. Absolutely perfect for a rustic or boho wedding!
Available from JasmineLoveHandmade – $83.35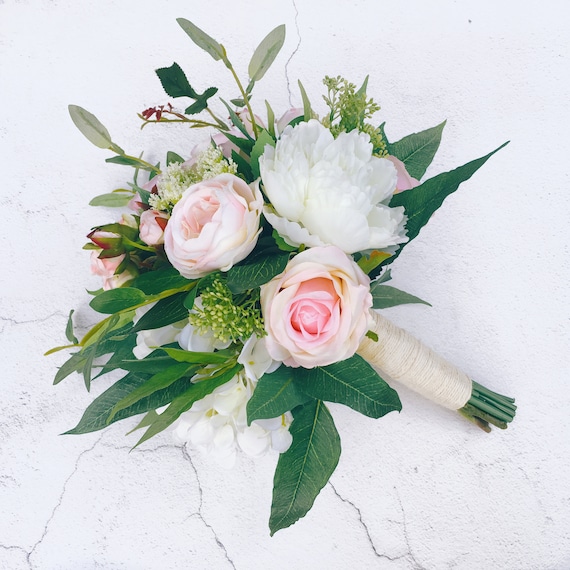 A stunning addition to make your special day one to remember. This beautiful silk bouquet not only looks fresh and realistic but will be a keepsake for a lifetime without the worries of wilting fresh flowers. This gorgeous bouquet was handmade in shades of plum purple, deep purple, lavender, blush pink, radiant purple, soft ivory and white and green. Made with deep purple orchids, ranunculus and thistle; white/ivory roses, hydrangea, berries, lavender and pinkish purple (radiant orchid) roses and ranunculus.
Available from DarlasBlooms – $89.90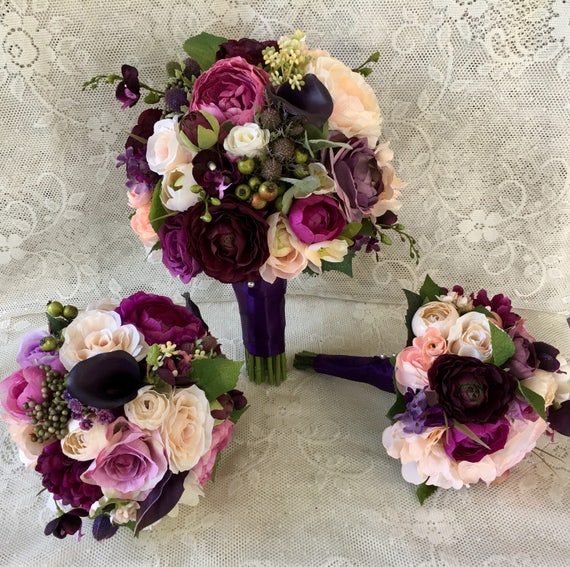 This boho bouquet has a mix of peonies and wildflowers. This silk flower bouquet has a beautiful mix of pink and neutral flowers mixed with greenery. If you are looking for gorgeous silk wedding flowers, these will do the trick! Absolutely perfect for a rustic or boho wedding. This is the extra large size, bridal bouquet. Shown wrapped in burlap and twine, this boho wedding bouquet is about 12″ wide and about 12″ tall.
Available from blueorchidcreations – $162.87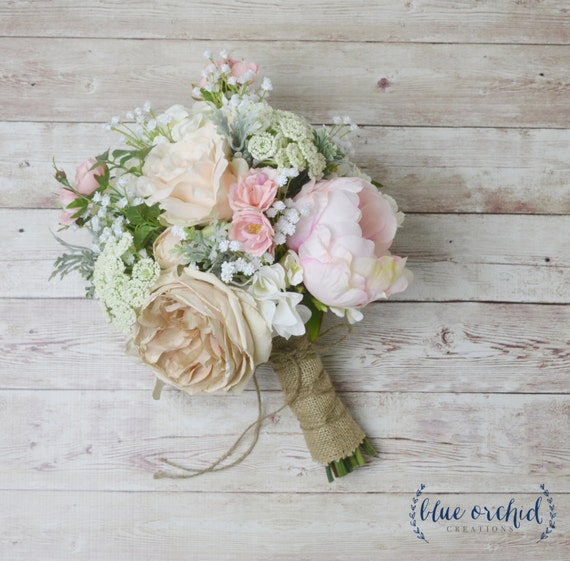 Fashion Design, Handmade Rose Bouquet For Wedding. Very Good Size Bouquet and Long Lasting Artificial Flowers, Silk Flowers. Bouquet Height 25-27CM and Diameter 22-24CM. Four Colors are available, Please choose when you checkout. Green and White: 25 Pieces Roses White:18 Pieces Roses Pink and White:20 Pieces Roses Champagne: 18 Pieces Roses.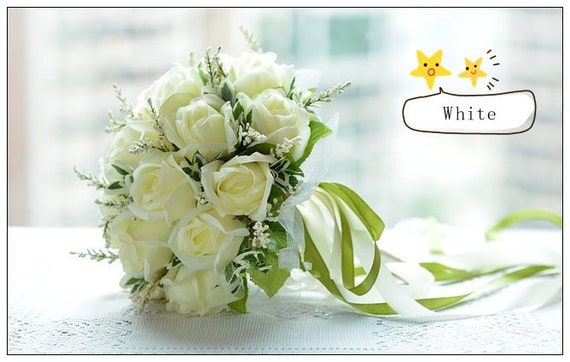 This wildflower bouquet is made of real-looking roses silk flower. The handle is wrapped in satin ribbon . Fashion design, good quality, Hand craft, Gorgeous Rose bouquet for wedding. Occasions: It is great for wedding , party , office decoration ,decor, altar, church,corsages.
Available from BlingQueenAu – $99.95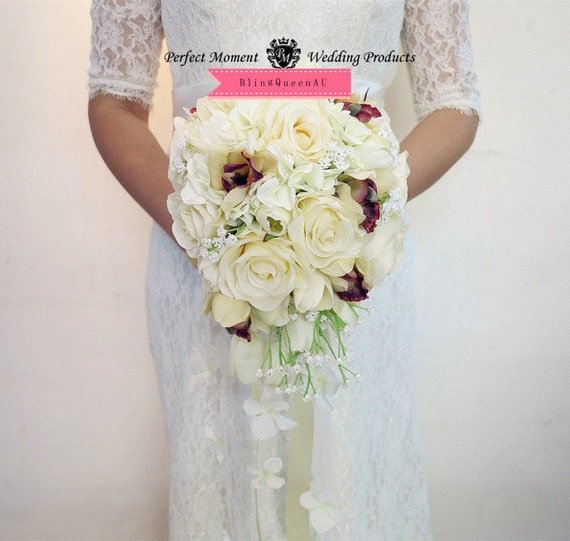 Ivory and lemon coloured Ranunculus. Beautifully arranged lemon colored flowers for your special occasion. White and golden pom pom this bouquet is absolutely stunning.
Available from MyBeadoir – $40.00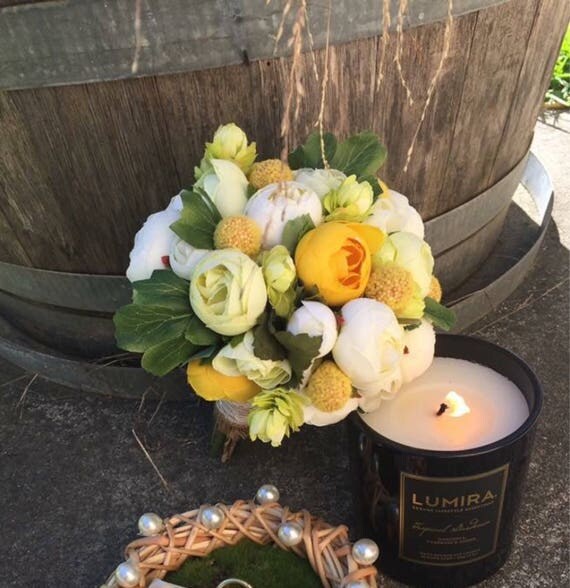 Wedding bouquet is made in rustic style of sola-magnolia flowers, pine cones and cotton flowers. Additionally, it is decorated with jute cloth and small dried flowers.I can make them in different dimensions, so they can match bride and bridesmaid bouquet sizes.
Available from WeddingDesignForYou – $86.82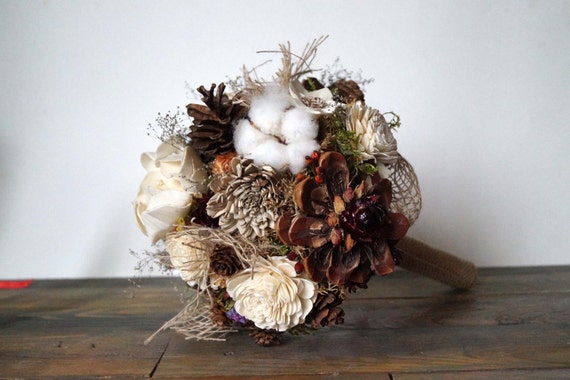 Stunning shabby chic style wedding bouquet. The pictures do not do this beautiful piece justice. Neutral tones with rose gold embellishments. Features hand made fabric flowers with ribbon wrapped handle. Flowers are made from cotton, silk and chiffon.
Available from HouseOfPrimrose – $260.00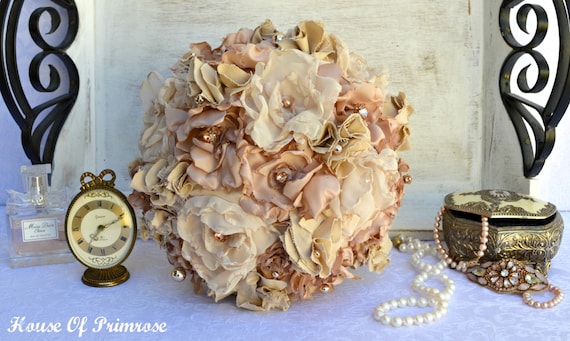 Brilliant bouquet set with cherry blossom, roses and dusty miller spray. All the flowers made by hand and made to order. Best thing about silk flower bouquets is they are light and you wont even know your holding them throughout the day. Bride bouquet is around 25cm while Bridesmaid bouquets are around 21cm wide
Available from FlorallandDesign – $325.00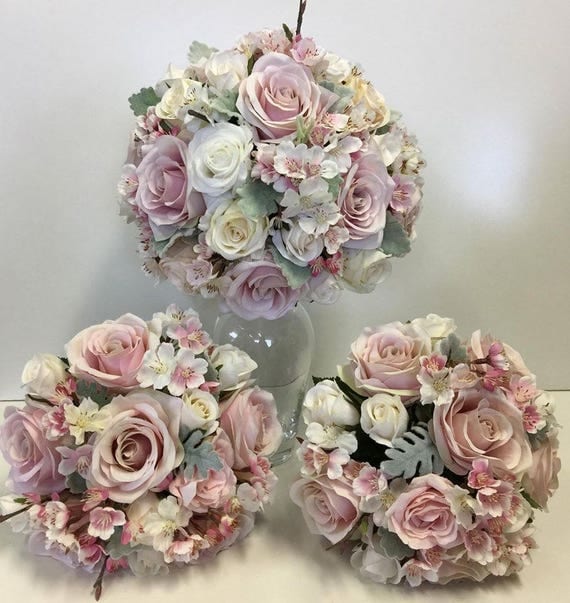 These gorgeous bouquets are made with roses, ranunculus, daisies, lilies, heleborus, peony with geraldton wax flowers, skimmia & wheat flower and finished with variegated foliage.They are made in a dome shaped, natural stem, posy style, tied with lace & fastened with pearl pins.These bouquets have a rustic, vintage country feel.
Available from UnrealWeddingFlowers – $325.00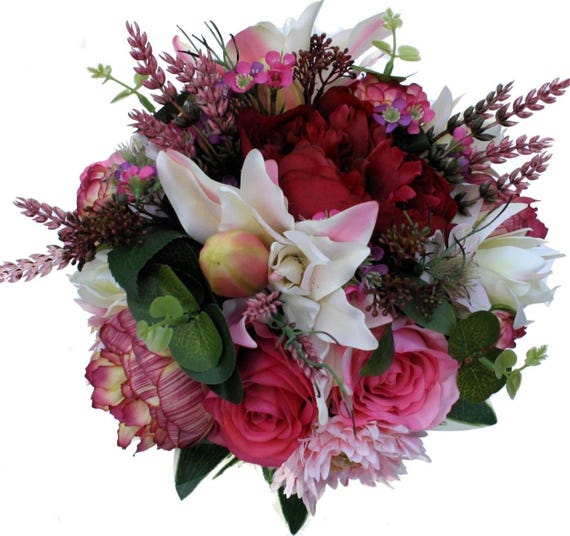 Since bridesmaid and toss bouquets are not shown in the listing and to avoid surprises, the last picture shows the approximate difference in size and handles thickness of all bouquets.
Available from LilyOfAngeles – $377.84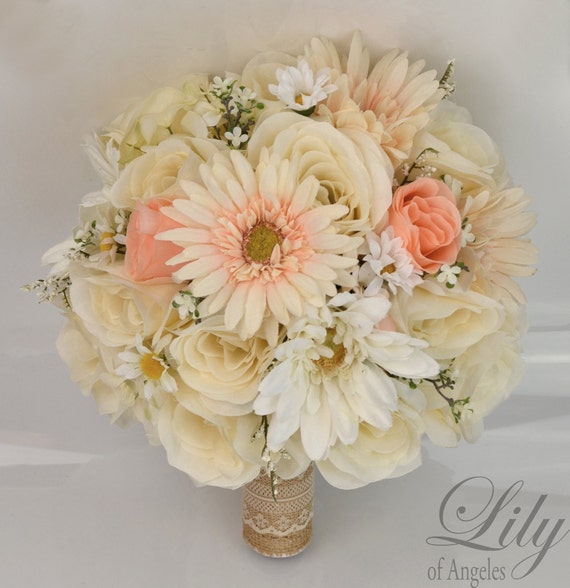 Boho wedding bouquet featuring pops of rich claret coloured garden roses in amongst cream peonies, soft green garden roses, ivory berries and lashings of foliage – lambs ear, eucalyptus gum and olive leaves.
Available from LaPlumeDeFleur – $160.00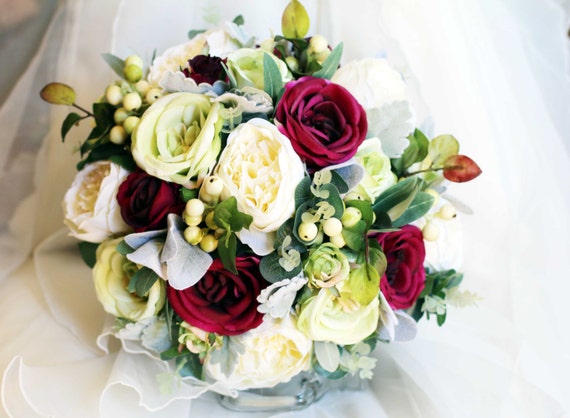 Each bouquet features kusudama flowers made from Harry potter book pages with smaller metallic white and cream kusudama flowers. The centres of each Kusudama flower has a beautiful glass pearl.
Available from LacePearlAndPaper – $220.00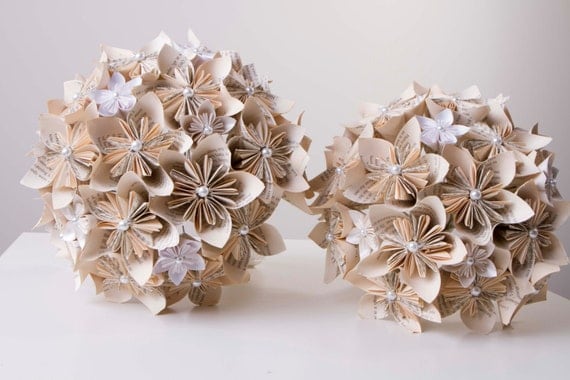 Made from a 'borrowed' book fittingly called 'The Wedding' by Elizabeth Bevarly, this bridal 'bookquet' will last forever, just like your marriage. Bound with a lovely ivory satin ribbon handle (please advise if you would like a different colour), this bookquet is light-weight & easy to hold.
Available from MissPoppinsandMe – $350.00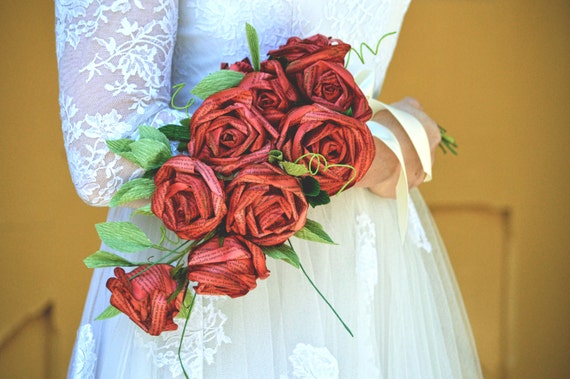 Beach Wedding Bouquet Beach Wedding Flowers Blue/White Beach Flower Bouquet-Beach Flowers-Nautical Seashell Wedding-Beach Bridal Flowers. The colors are a color of the beach at midnight with the water casting the hues of blues on the bouquet
Available from ModernWeddingTrends – $358.31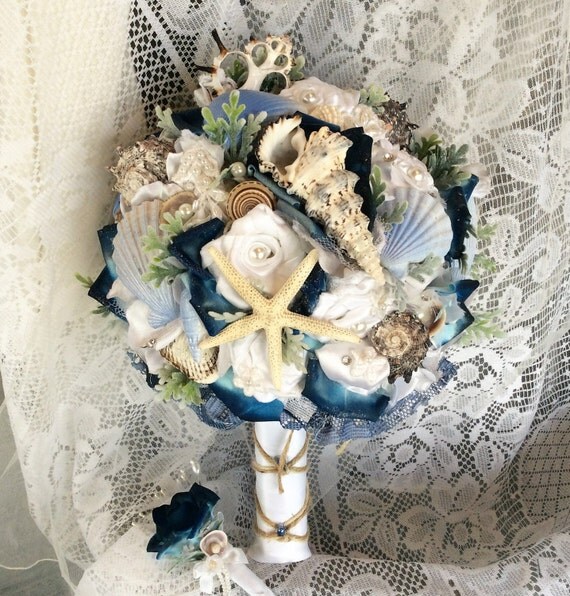 Tahlia is a soft pretty bouquet, packed full of gorgeous cream peony with pink/cream English roses and cream dahlia. Beautiful pink peony buds and cream/pink cabbage roses are arranged together and petite baby's breath is scattered throughout. I've wrapped the stems in light pink satin ribbon and the cuff has a cream rose ribbon wrapped around it.
Available from bloomroomdesigns – $250.00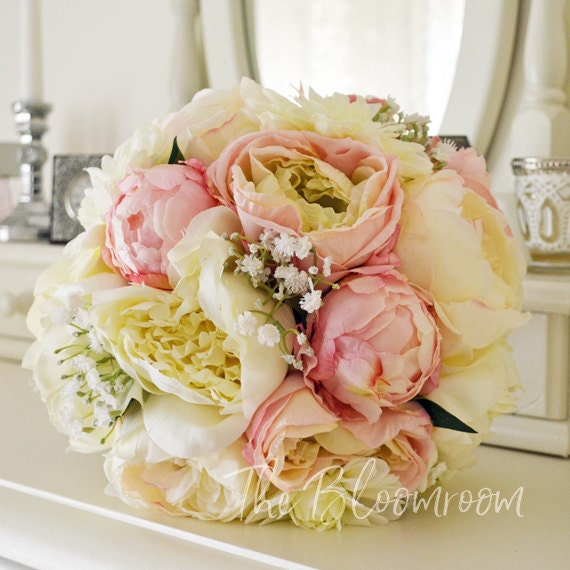 Luxurious and sparkly brooch bouquet perfect to make a statement for your big day! Variety of silver crystal and pearl brooches sparkle and will make you the queen of the day! Made with our signature Soft Touch roses that provide sturdy foundation so this bouquet will last a lifetime. Beautiful strip of brooches is intricately placed together like a puzzle so each piece has a perfect spot (NOT a one piece brooch)!
Available from TheBroochBouquet – $351.73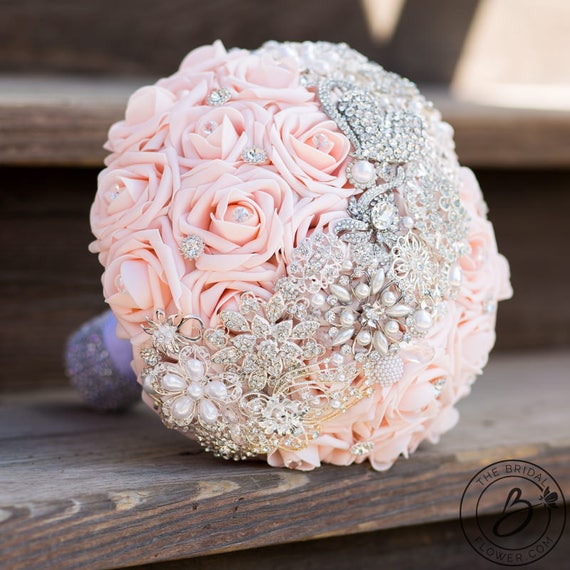 This ornate and beautifully detailed jeweled small wedding bouquet is made with a variety of brooches, crystal gems, jewels, pearl gems. Accented with deep red / apple red details throughout. Handle is wrapped in matching dark red ribbon – upgrade the handle for an extra touch of sparkle! Beautiful rich color is perfect for Indian weddings or any other elegant red themed wedding!
Available from TheBroochBouquet – $325.67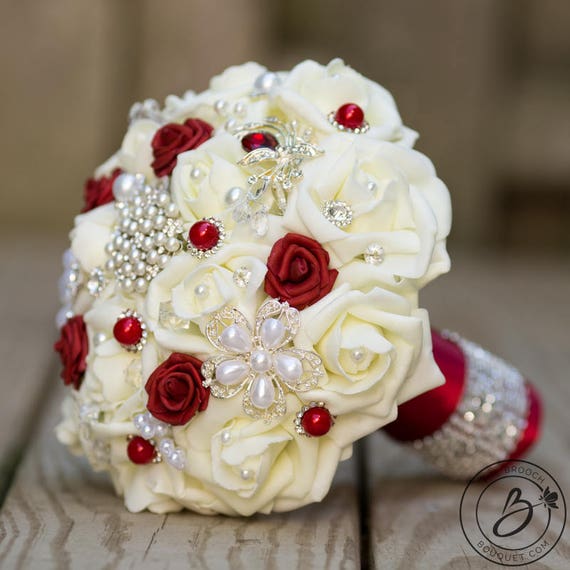 This ornate and beautifully detailed jeweled wedding bouquet is made with our quality Soft Touch roses that are sturdier, better quality, and more realistic than the traditional craft store silk flowers! Only the best flowers make the cut in this sparkly bridal bouquet!
Available from TheBroochBouquet – $514.59

Roses, parrot tulips, seeded gums, carnations, luscus, hyacinth and etc.
Available from AromiCandleNFlowers – $99.00+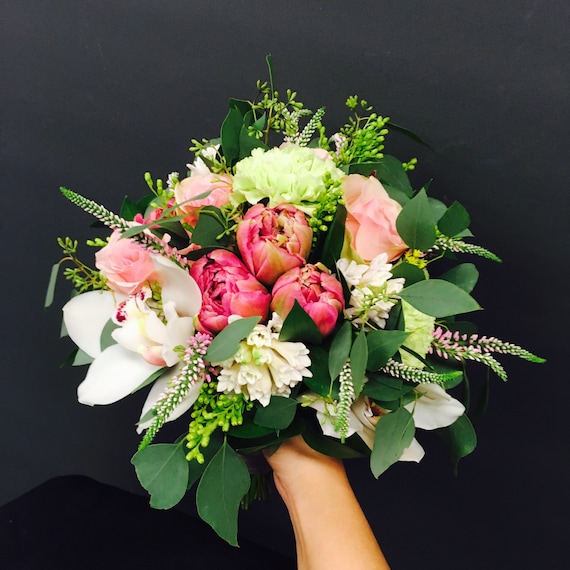 'The Novella' Keepsake Bouquet. Made with Green and deep red succulents, eucalyptus and green fern varieties. Approx – 19 inches but can be customised. (Note: Large Bouquet)
Available from AshleeLaurenDesigns – $470.00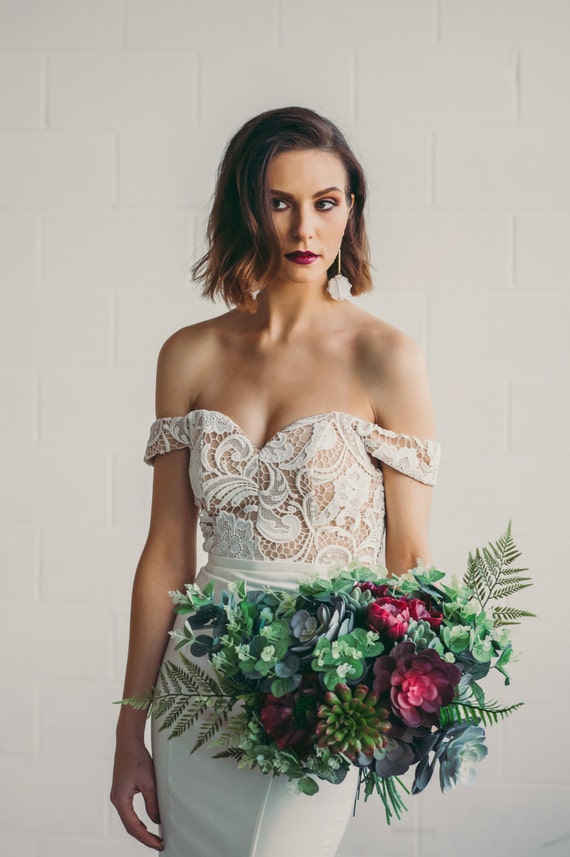 This boho wedding bouquet is a gorgeous, silk, wildflower bouquet full of lavender, purple, pink and cream wildflowers, peonies, ranunculus, greenery, statice and accents. Absolutely perfect for a rustic or boho wedding.
Available from blueorchidcreations – $130.29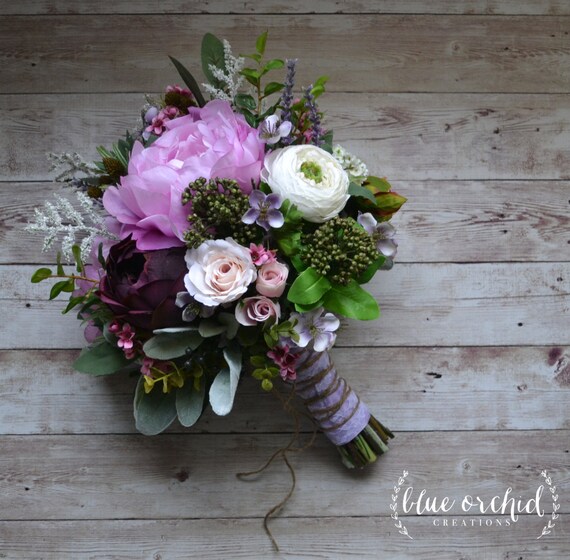 This silk wedding bouquet is full of eucalyptus, seeded eucalyptus and beautiful garden roses in shades of cream, pink, peach and beige. The peaches, pinks, and creams mix with the green from the eucalyptus to create a very lush and extravagant looking bridal bouquet.
Available from blueorchidcreations – $241.04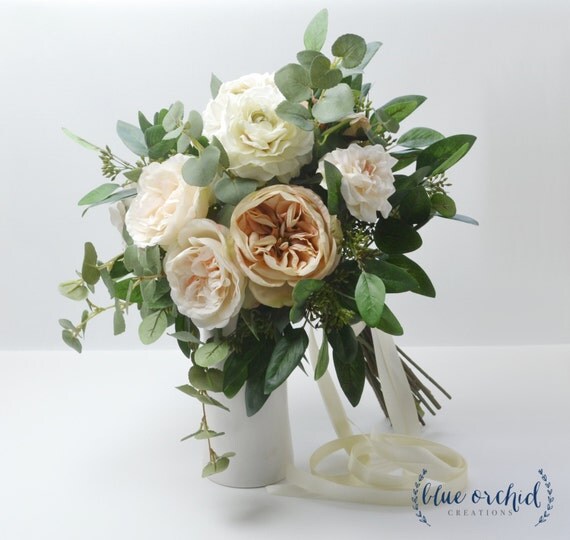 This boho style bouquet is filled with beautiful silk flowers. Garden roses, wildflowers, and blossoms are mixed with greenery to create a unique bouquet filled with interesting and beautiful elements.
Available from blueorchidcreations – $201.95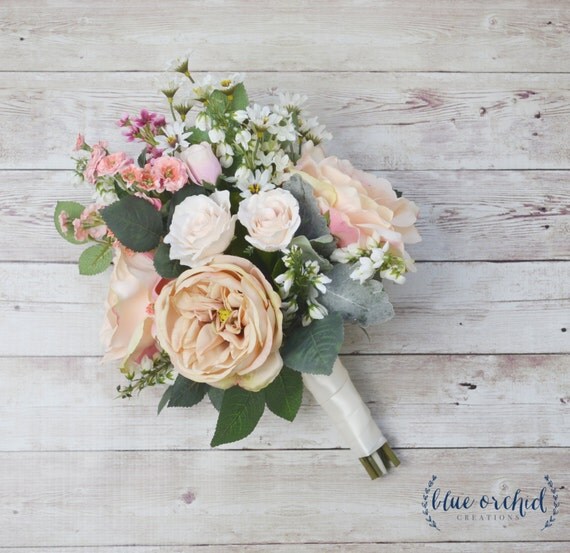 This bouquet has a very vintage/romantic feel to it. The light pink roses and white gerbera daisies are classically beautiful. The queen anne's lace and preserved baby's breath add that romantic element. Green leaves are sprinkled throughout the bouquet to give it a bit of color and freshness. This bouquet is GREAT for a petite bridal bouquet or a bridesmaid bouquet. If you're looking for a larger version of this bouquet, check out our "vintage romance bouquet".
Available from blueorchidcreations – $130.29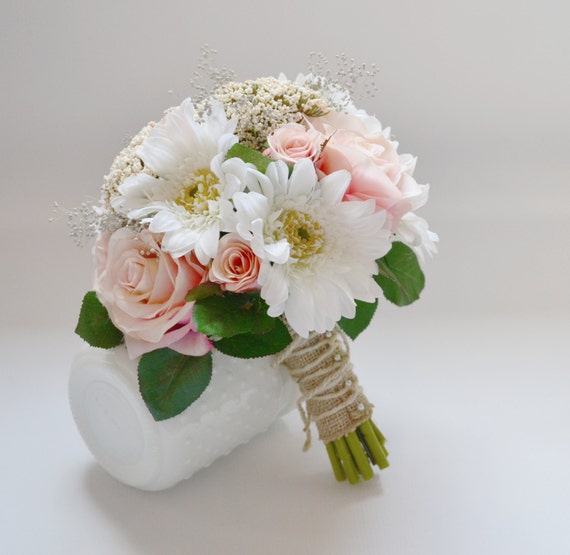 Which of these wedding bouquets did you like?