Queensland Based Fathers Day Experiences
Get behind the wheel of a genuine Ford or Holden V8 Race Car and experience a day in the life of a V8 Driver at Queensland's premier V8 venue for yourself! And just when you think you're ready to become the next Craig Lowndes, buckle up for 3 Hot Laps driven by a professional – now that is fast!
Choose either Ford or Holden V8 Race Car
6 laps of Queensland Raceway
3 back seat hot laps
Certificate & photo included
Bring spectators! The more the merrier
Go Indoor Skydiving on the Gold Coast! When you skydive indoors you can twist and turn, spin and enjoy all kinds of fun, without the months and months of training involved with outdoor skydiving. AND your family and friends can watch all the action from an all-glass viewing platform just a few feet away!
2 x flights for 1 person in the tunnel
Each flight lasts for almost 1 minute (each flight equivalent to a 14,000ft skydive!)
Minimum Age is 3
Includes training session
Includes flight suit, helmet and safety goggles
Hands-on personal assistance from your instructor
Includes souvenir flight certificate
Brisbane Story Bridge Adventure Climb is an adventure experience with a difference and the most spectacular way to discover Brisbane. Whether you are a local or a visitor, you'll be exhilarated by a once-in-a-lifetime bridge adventure climb that offers you the most breath-taking panorama of Brisbane and its surrounding natural beauty.
2 hour Story Bridge Adventure Climb experience
Includes
Spectacular, uninterrupted 360 degree views
One of only 3 bridge adventure climbs in the world
Dawn, day and night climbs are also available
A great achievement on your own or with friends and family
This year, buy them a Supercar Drive! Instead of spending 6 figures on one of these cars, you can now drive both of these thoroughbred Italian supercars. Start your engines and head out into the Gold Coast Hinterland in 2 stunning Italian exotic supercars. We put you behind the wheel of a Ferrari 360 Modena and a Lamborghini Gallardo – tick that one off your bucket list!
20 minutes in each car (please note that driving time is shared with another driver)
Includes briefing from professional driving coach
The tour will take around the highlights of the Gold Coast
Experience the thrill that only a supercar can provide. Take control of a stunning 500hp V8, Ferrari F430 F1 spider for 30 Minutes! Receive admiring glances and be the envy of your friends as you unleash the power of this stunning car!
This is a 30 Minute Ferrari driving experience on public roads designed for one driver
The car you will be driving is our beautiful Ferrari F430 F1 Spider
The drive route covers approximately 30km
In-car 'one-on-one' instruction and support from a fully qualified instructor
Complimentary photograph of the participant with the vehicle available to download after the event
Fuel and tolls
Vehicle insurance
Professional event management and exceptional hospitality with a passion for detail
This is where it all starts. You will be given a ground briefing by the instructor on how the plane flies, how the controls work and what to expect. From there you will prep the aircraft, jump in and leave the ground behind you.
Enjoy a Trial Introductory Flights in one of our fleet of modern Light Sport Aeroplanes
Take control of the aeroplane under the careful guidance of our highly experienced flight instructors
This flight can also be logged towards your future pilots licence!
This one-day Defensive Driving Queensland Level 1 course is suited to all drivers of regular passenger vehicles, including four-wheel drives and light commercial vehicles. The mix of practical and theoretical components of this advanced driver training session deliver actual on-road safety skills that underpin proactive driving.
Full Day Course 8:30 AM to 4:30 PM in your own car
Most experienced instructors in Brisbane
Perfect for L-Platers (with a little experience), P-Platers, Corporate Fleet and Court Order drivers
Prepare to be blown away by this epic Centurion Tank Ride Experience! You will have access to two different genuine Ex-Australian Army Tanks which both served in Vietnam.
Perfect for those interested in history or just looking for an awesome thrill! Spectators welcome for a fee of $5 per person, includes tour of the tank fleet, photo opportunities with the tanks and a climb through our awesome 52 tonne tank (not available anywhere else in AUstralia!).
Ride on an Ex-Australian Army Driver Training Tank
Explore an Ex-Australian Army Gun Tank
Have your picture taken in the Gun Turret
Drift Experience Day – the ultimate gift for the lead-footed adrenalin junkie. Led by a professional stunt driver and stunt double in Mad Max 2015 Eugene Arendsen.
Make no mistake, this is a massive day where you will learn how to drift from some of the best Professional DA Drift and Motorsport drivers in the country. Your instructor will teach you, one on one in the car talking you through all the steps. You won't be stuck in a class-room with this experience, it's full on, pedal to the metal, lock to lock excitement.
Learn from the best
No previous drifting experience necessary
Specially prepared drift cars
AASA Race Licence
Have you had enough of traffic, potholes and speed cameras? Then it's time you took your bike to Lakeside Park to see how you can both really perform!
his is a fantastic opportunity for riders of all abilities to get the most out of their bike in a controlled environment. In the morning there is a full safety briefing and you will be split into 3 groups according to your riding experience (Beginner, Intermediate, Advanced) before your bike and safety gear are checked to make sure you are safe to hit the track!
6 ride sessions in graded groups
Dunlop Tyre Facility
Suitable for all abilities
Get ready to take off on your very own top gun mission in an F/A-18 Hornet Jet Fighter Simulator. After a briefing from your expert instructor you will be strapped into the cockpit and ready to take off on a combat mission!
Experience air to air combat, bombing runs then try and land on an aircraft carrier all in a simulator used by the military.
Two Jet Simulators are available so why not grab a couple of mates and see who is Maverick, Iceman or just a plain Goose!
30 minute flight in an F/A-18 Jet Fighter Simulator
Expert Instruction
Now you can experience the thrill of racing a Formula One Race Car around an International Race Track with a 60 Minute F1 Racing Simulator Experience in Brisbane.
These replica F1 cars look the part and you will soon be immersed in the race as you roar around Albert Park on the street circuit in Melbourne or test your skills in Europe at Silverstone, the Nürburgring or the tight winding streets of Monaco – all the tracks from the 2013 Formula One Season are available and you can take on two of them!
Race Briefing
Choose from the 2013 F1 Season tracks
Practice laps on each track
Roughly 24 laps, depending on your skill level and track
60 minute session (session ceases at 60 mins)
Experience the true thrill of flying on Brisbane's first and only outdoor flying trapeze! If you are looking for an unforgettable adventure experience then this is the one for you. The classes are suitable for everyone 5 years and over, all levels of ability welcome!
Beginning on the low practice bar, you will learn the basic position and receive a full briefing. In the safety of a harness, you will then progress to the flying trapeze ready for your first swing. Under the watchful eye of our professional instructors, you will soon be experiencing the true thrill of flying! Be amazed as you master the knee-hang, the back flip to the net and finally the catch just like you've seen in the circus!
Expert tuition
All safety gear
5 swings on the flying trapeze
90 minute class
Try one of the most exciting new experiences in Australia! The Jet Pack Experience is an awesome, safe adventure and almost anyone can do it with minimal training. The jet pack unit blasts hundreds of litres of water through specially designed thrust nozzles to make you effortlessly fly above the water like James Bond!
Includes training session with up to 15 minutes of in-water instruction
One 10 minute flight on a Jet Pack or Jet Board
Minimum Age is 12
Includes wet suit and radio communication helmet
One-on-one assistance from your instructor
Enjoy the ultimate diving experience where people interact with sharks in their territory! Face your fears or simply analyse these fascinating kings of the sea from within the aquarium tank. Come within centimetres of sharks of all shapes and sizes, including leopard sharks, white tip reef sharks, the sleek whaler sharks and the carpet dwelling wobbegongs.
Rest assured that the pre-dive instruction is very professional and will leave you feeling confident with the diving aspect so all you have to worry about then is the sharks! Groups are kept small for a quality experience. A maximum of 4 people are permitted to dive at one time under the supervision of an experienced and qualified instructor.
Skydiving is known, for very good reason, as life's ultimate thrill. It's the big daddy, the adventure and rush by which all others are measured. Amazingly, the buzz of free fall is an easy and safe experience, especially during a tandem skydiving adventure.
The beauty of tandem skydiving is that it requires none of the usual intensive skydiving training, but offers 100 per cent of the mind-blowing, 200km/hr open-air thrill. The feeling is often described as floating on a cushion of air as you hurtle up to 5,000 feet through the sky in 30 seconds. The skydiving parachute is deployed at around 5,000 feet, offering an intensely serene experience and one of the world's greatest views – perfect for reflecting on the high-adrenaline skydiving adventure you've just enjoyed. During the five-minute glide to earth you'll be taught to control your direction and descent speed and, once you touch down, you'll be on a high for weeks – guaranteed.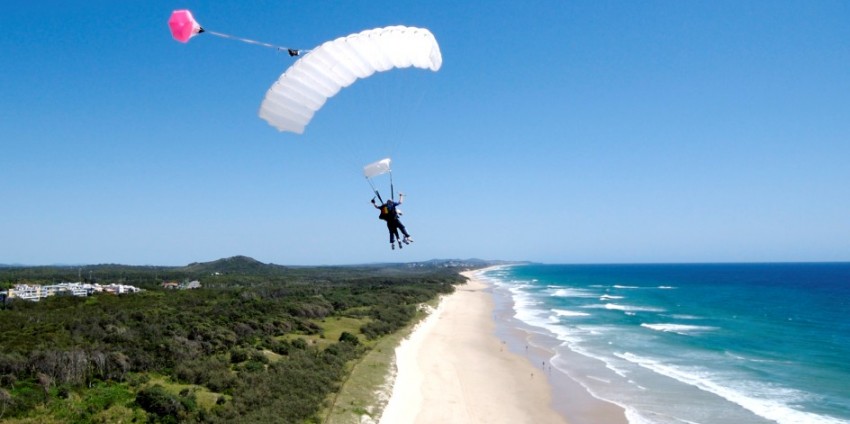 For the ultimate in surfing instruction, get your own personal coach. With a private one on one lesson you're bound to learn at the fastest possible pace. Surfing lessons are for beginners right through to advanced surfers. Complete beginners can experience the rush of catching their first wave on their very first lesson. Though be warned, it's not as easy as the pros make it look.
Merrick Davis and his team of friendly, Surf Lifesaving Australia and surfing Australia qualified instructors have a wealth of experience and they enjoy instructing and introducing new surfers to their local waves. Merrick is two times Australian Champion and World Pro Am Champion; he uses his specially developed 1-2-3 stand up system to finally make surfing easy! All lessons – beginners through to pro – progress through the skills of surfing according to your ability and previous experience.
This is the best value one-day trip to the Outer Great Barrier Reef. See spectacular coral gardens teeming with a vast array of marine life. Your day trip is aboard the M.V. Sunkist – a state of the art 18 metre mono hull licenced to carry 48 however for extra comfort we have limited passenger numbers to a maximum of 20 to the reef.
This is a great way to trial diving without certification. On this experience, 1 introductory dive of approximately 30 minutes is included in the price. An introductory dive allows you to go to approximately 10-12 metres. You can also book additional intro dives once you are out on the boat if you decide once is just not enough!
The Xtreme Rafting trip on the Tully River has been designed for the more adventurous rafter. Simply, to travel quicker and further, the group size is small and the action is large! This full day, 12km, white water adventure on the Tully River will have you tackling over 44 action packed rapids as you pass through World Heritage listed rainforest and waterfalls that cascade down the gorge walls.
The Tully River is rated moderate to challenging offering mainly grade 3 and 4 rapids. Departing daily from Cairns, travelling to the upper gorge of the Tully River, your trained and experienced guides will offer you all the tuition needed to enjoy approximately 5 hours of white water rafting – including a safety briefing, paddling techniques, what to do if you fall out of the raft and how to create the best splash in the water wars against the other rafts.
Set sail aboard the beautiful 30 metre sailing catamaran, Wavedancer, to the idyllic Great Barrier Reef Island Low Isles, just one hour from Port Douglas. From the moment Wavedancer moors in the picturesque lagoon, a host of reef activities await on beautiful coral isle. Enjoy snorkelling and exploring the island with a marine biologist, view coral gardens through a glass bottom boat, or just relax on the beach under thatched umbrellas.
An all–inclusive, great value day
Ideal for families and couples seeking a relaxing Great Barrier Reef island experience
One hour sailing from Port Douglas
Low Isles is an idyllic coral island with a major sea turtle habitat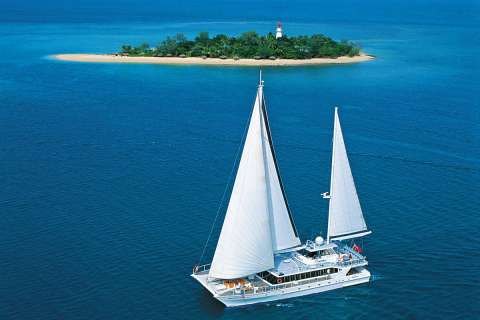 This is a nationally recognised driving course designed to reduce the risk of all drivers on the road throughout Australia, delivered by experts with over three decades of experience. Your Defensive Driving Course includes training on:
Our trainers have close working relationships with vehicle manufacturers, emergency services and police. All trainers hold the minimum qualification of TAE40110 Certificate IV Workplace Trainer and Assessor and are Qualified Learn to Drive Instructors. This course employs industry best practices and gives quality assured outcomes.
Vehicle technology
Driver attitude
The system of vehicle control
Workplace procedures and policies
Road laws
Emergency avoidance techniques
Fatigue Management
Next Page: Victorian Based Fathers Day Experiences