Please tell me I am not the only one that detests hosting kids' birthday parties at home? I mean come on.
Who really wants to spend all week cleaning the house from top to bottom, cooking heaps of food, making sure little Johnny has some gluten-free treats, and Mavis has something dairy-free to munch on, creating clever party decorations and hanging them at midnight while baking (read burning!) a cake for 20 little brats who then blow through your house like a hurricane, dropping debris everywhere they go and then leave again just as fast without a second thought for all that hard work you put in.
After all, it is usually only you that notices all that effort.
Don't get me wrong, I have suffered through the anguish. I am not that mean (really, I quite enjoyed it at the time)! But thankfully, as my kids have gotten older they prefer to do an activity with a couple of friends, rather than a boring party at home. Yay for me!
So if you are anything like me, why not consider one of these ideas for kids' next birthday party. There are plenty of ways for the kids to have fun that doesn't include you hosting a party and exhausting yourself to bits.
1. Have an Old School McDonald's Party
McDonald's even has two great-value packages to choose from, each offering games, entertainment and meals. And with more than 200 committed Birthday Party restaurants Australia-wide, there are plenty of nearby locations to choose from. Check your local store for any current COVID restrictions.
2. Have an After-School play session at a local park
What kid doesn't love hanging at the park with their mates. Do keep in mind that you may have to reserve your party area in advance. Check with your local council for bookings. There may also be a fee for reserving the area.
But provide loads of easy snacks and the party makes itself!
3. Book an Indoor Play Centre
With so many indoor play centres across Australia catering for birthdays, there is bound to be one that suits your party needs.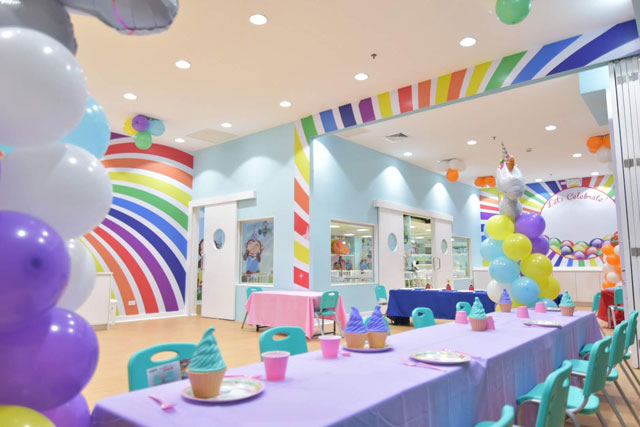 4. Have a Pool Party
A pool party is always a treat. Make sure your local pool has a lifeguard on duty and then you can also relax and enjoy the party without too much stress.
5. Class party – just send a cake to school and let the party get started
Don't quote me on that!  Please check with your child's teacher first if they are allowed to bring a cake to school. (We actually weren't allowed at our school.)
Why not pack up the tent and take the birthday child and a couple of friends camping for the night.  Or better yet set them up backyard camping in your own yard. Always popular at our house.
7. Take the Kids to a Movie
Grab some popcorn and one or two special mates and head to the cinema to watch a new release Gold class style. Fancy!
8. Go Bowling or Mini Golf
Always a fun day out with the family. Take a cake and sing Happy Birthday while trying to outdo each other top swing or bowling strike.
9. Go Ice skating
A great activity that will have you in fits of laughter as you watch the family fall on their arse and compare who gained the worst bruise on the ice rink.
10. Have a Spa day
If you are looking for a special day out arrange a few little friends and book in for a spa day to really treat the birthday girl (or boy!).
11. Go to an Amusement Park
Bumper rides, Merry go rounds, Ferris wheel, Squeals of excitement. What more could you want for your birthday?
1. Dreamworld, Gold Coast
2. Seaworld, Gold Coast
3. Warner Bros Movie World, Gold Coast
4. Jamberoo Action Park, Illawarra
5. Luna Park, Sydney
6. Luna Park, Melbourne
7. Adventure World, Perth
8. WetSide Water Education Park, Hervey Bay
9. WhiteWater World, Gold Coast
10. The Beachouse, Adelaide
One of the most memorable birthday parties you can attend as a child is the good old sleepover with a couple of mates. Technically, you're still hosting, but with a sleepover, you can limit the numbers to just a few. Not as much clean up that way! Stay up all night watching funny movies, eating lots of treats and having loads of great laughs. It's one of those things you really should experience at least once as a kid.
13. Go to a Sports Event
For the sports lover, take them out to a footy match. Buy tickets to your child's favourite sport for their birthday. Invite their best friend along too if you can, to make the day even more special.
14. Go on a Shopping Adventure
Did I hear Kmart trip! So awesome. Take the birthday girl or boy on a shopping trip. Give them and a couple of mates $20 each and see what they can score. Make it a game to see who finishes their shopping first and who scored the most bargains with their money.
15. Go for an Adventure Hiking
Go on a hiking adventure. Such a great way to make special memories that never fade. It might even become a family tradition.
So if you are the "Karen" of birthday parties you can see there really are so many other great things you can do instead of trashing the house with lots of little guests. It's much less stressful when you can trash someone else's "party room". Trust me!