When I was a kid, we would have jaffles for dinner often and I remember enjoying it.
We had one of those black single jaffle makers that you put over the flame, then turned it over half way through. I actually inherited that very jaffle maker recently because Mum and Dad bought themselves an electric Jaffle Maker. I have fond memories of trying loads of different fillings, and trying to avoid biting into a hot jaffle without getting third degree burns on my chin when the filling would burst out!
With that said, I thought I'd list all the fillings you can add in jaffles. The possibilities are endless!
Traditional Jaffle Fillings:
Ham and Cheese
Ham, Cheese and Tomato
Ham, Cheese, Tomato and Avocado
Ham, Cheese and Barbecue Sauce
Leftover Spaghetti Bolognaise with a sprinkle of grated cheese
Roast Beef and Gravy
Roast Pork and Gravy
Chicken, Cheese and Mayonnaise
Chicken, Pineapple and Cheese
Baked Beans and Grated Cheese
Corned Beef, Cheese and Pickles
Savoury Mince and Cheese
Salami and Cheese
Tuna, Cheese and Mayonnaise
Salami, Onion, Tomato and Cheese
Mushroom and Cheese
Chicken, Cheese and Sweet Chilli Sauce
Outside-the-Box Jaffle Fillings:
Creamed Corn and Grated Cheese
Cheese and a Whole Egg
Ham, Cheese and Pineapple
Chicken, Pesto Sauce and Grated Cheese
Baked Beans and Egg
Bacon, Egg and Cheese
Avocado and Cheese
Creamed Corn and Cheese
Mac 'n' Cheese
Cheese and Kimchi
Leftover Jaffle Fillings:
Beef Casserole
Leftover Curry and Rice
Leftover Stir Fry and Noodles
Leftover Lasagne
Taco Mince and Cheese
Pulled Slow Cooked BBQ Pork
Gourmet Jaffle Fillings:
Chicken, Avocado, Baby Spinach and Garlic Aioli
Smoked Salmon, Avocado and Mayonnaise
Sage and Caramelised Onions
Sweet Jaffle Fillings:
Banana and Peanut Butter with Chocolate Sauce
Banana, Honey and Cinnamon
Banana and Nutella
Apple, Custard and Cinnamon
Creamed Cheese, Brown Sugar and Blueberries
Mixed Berries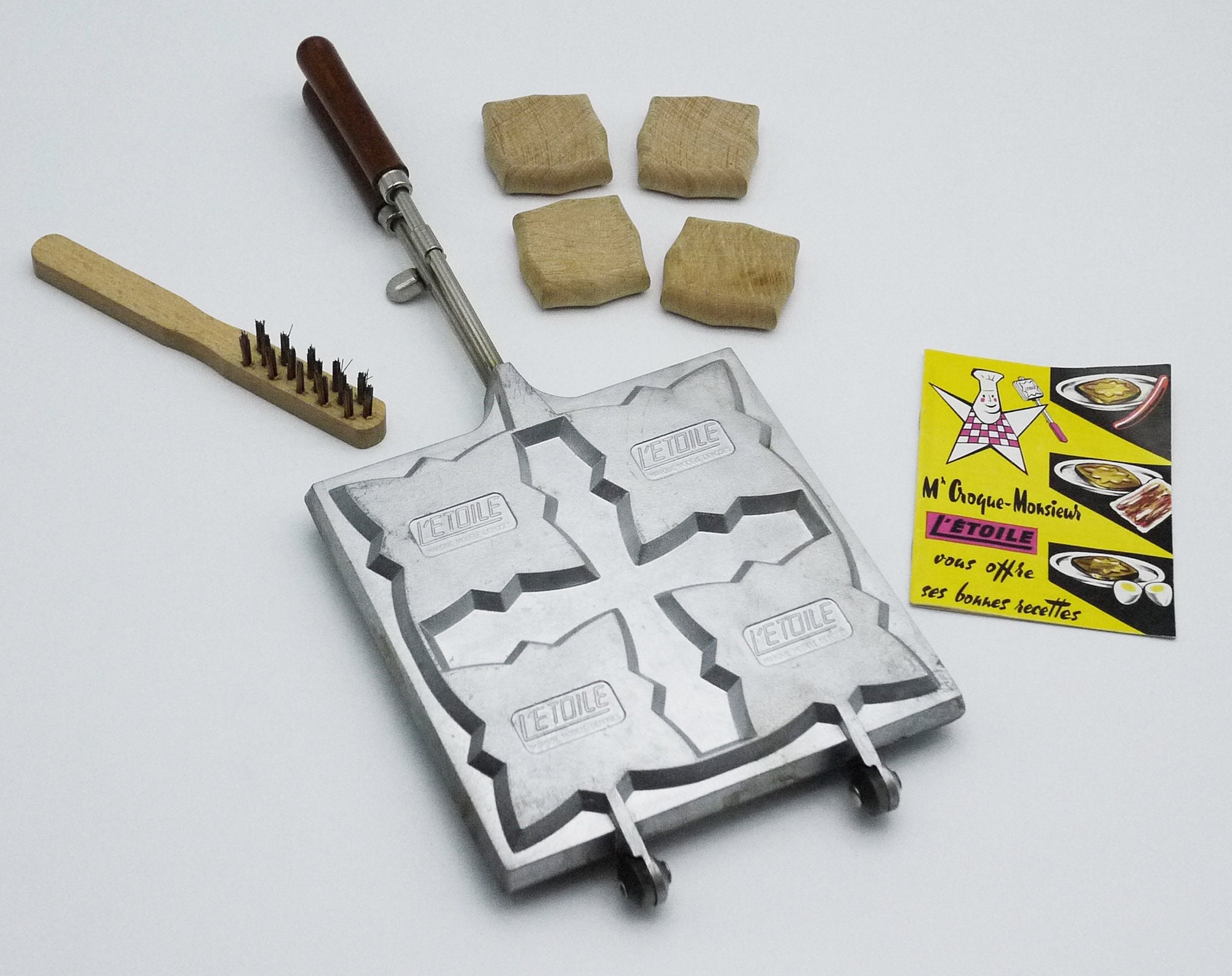 Even Jaffle Irons can get fancy!
This French Vintage version makes four jaffles at once!
Stockist: Etsy