We all know that sugar is the devil…. but hell, it does taste so good!
But in the interest that yes, we all ingest way too much of the white stuff and shouldn't, here is a great way to enjoy the baked goods that make life so damn wonderful, and they still taste GREAT!!!

The secret? Apples!
Apple Sauce has naturally sweet flavour and contains significantly fewer calories than white sugar. Not only that, apple sauce is full of dietary fibre, so it fills you up and keeps you full for longer, as sugar gives you that intense sugar high before crashing and burning.
The only drawback to using Apple Sauce in baking is that sometimes it can make your end products a bit heavier or chewier. So you need to get just the right balance. Remember apple sauce is liquidy and sugar is dry – so in recipes you want to try yourself at home, remember to reduce the amount of liquids evenly over the other ingredients by a dessertspoon or so.
But Wait There is More!
Not only can Apple Sauce be used as a substitute for sugar, it can also be used as a fat substitute. And it isn't just pureed apples, really you can use any ripened fruit puree as a fat or sugar substitute in cooking. Just try and match the flavour of the fruit with the baking you will be doing!
AND (yes there is even more!) it can be used in baking as an egg substitute.
3/4 of a cup of Apple Sauce is about 75 calories!
How to make a Simple Home Made Unsweetened Apple Sauce:
Ingredients:
2 peeled and diced apples
1/2 cup water
tiny pinch of cinnamon (optional)
Place the diced apple pieces and the water into a small saucepan and cook on a gentle heat for about 15 minutes or until the apple is very very soft. Season with the cinnamon. Allow the mixture to cool. Pour off any excess liquid.
Then blend the mixture until smooth.
Makes about 3/4 cup of Apple Sauce.
Use within 1 – 2 days. Keep it covered in the fridge until use.
Or just buy it pre-made:
Apple Sauce is super easy to make, but if yo don't have time for dat, you can buy it from most supermarkets. Remember it doesn't last for long once you have opened the bottle, so if you are buying it, try and grab it in small tubs like this one so you don't waste it!
Just check the ingredients though as some pre-made apple sauce contains a lot of sugar.
Hint: Buy one of those big tins of pie apples and just puree them! Instant Apple Sauce!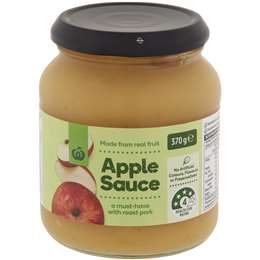 Other Tips of Using Apple Sauce in Baking
As Apple Sauce tends to make recipes a little heavier than usual, use it in recipes that already tend to be heavy such as fruit breads, pancakes and muffins.
Allow your baked goods to cool totally before cutting, as the apple sauce can make them a bit crumbly.
When making biscuits, the apple sauce will make the biscuits rise and be fluffy as opposed to crisp – so know that in advance.
Incorporate the apple sauce into the wet ingredients before mixing straight into the dry ingredients.
Great Baking Recipes Using Apple Sauce to Try:
Cinnamon Applesauce Pancakes
Recipe by The Simple Veganista
Made without eggs or dairy and using apple sauce as a sugar substitute, these delicious pancakes by The Simple Veganista cook up light and fluffy!
Chocolate Banana Applesauce Cake
This delicious gooey chocolate cake is from Mom On Time Out. It is made without oil or butter and makes for a nearly healthy snack!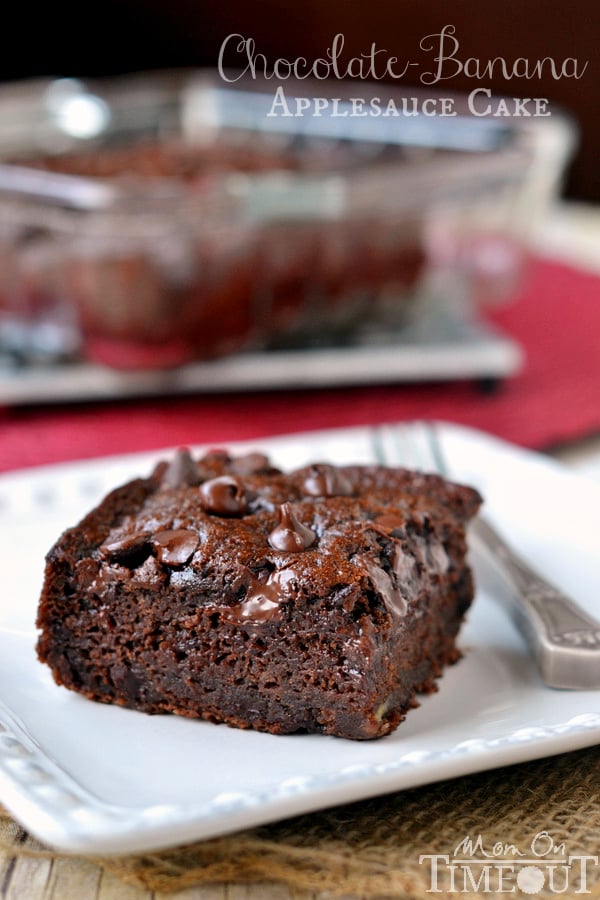 No Bake Applesauce Brownies (Paleo, Vegan and Gluten Free)
Only three simple ingredients and no baking involved!!!
Vegan Carrot Cake with Macadamia Frosting
This outstanding recipe by Love and Lemons encourages you to eat this delicious carrot cake warm, slathered with the macadamia frosting…. Yum!
Vegan Chocolate Chip Oatmeal Trail Cookies
Filled with cinnamon, orange and vanilla tones and loads of chocolate chips and fluffy rolled oats, these delicious and healthy cookies will be a winner for the kid's lunch boxes!
Healthy 4-Ingredient Apple Sauce Chocolate Frosting
A thick, spreadable glossy chocolate frosting by The Big Man's World. Perfect for icing a chocolate cake, brownies or cupcakes.
Heart Healthy Apple Oat Bran Muffins
Unsophisticook uses Pinata apples in their amazing healthy muffin recipe!