Summer Seafood Sensation Meal Plan
When you think of Summer, what do you think of? I think of sipping ice cold fruit cordial on the veranda… I think of fresh and delicious salads and ice-blocks and kids running around outside, with the sprinklers on. Summer also means entertaining, and is the time of year when we have our friends and family over on a gorgeous Summer Day for an easy and relaxing barbecue.
Nothing screams Summer more than fresh seafood. So this meal plan, so called our 'Summer Seafood Sensation Meal Plan', is light, fruity and best of all, uses the easy Fast Foods from Woolworths that are so easy to put together for entertaining, that it is hardly called cooking! Fast Food that is still light and healthy? That's what I want.
Here is the Menu:
Tomato and Bocconcini Skewers
250 grams Cherry Tomatoes
220 grams Woolworths Traditional Bocconcini
10 Fresh Basil Leaves
1 tbsp Balsamic Vinegar
1 tbsp Olive Oil
Salt
Mini Skewers
Using the mini skewers, thread one cherry tomato, one bocconcini and one basil leave. Place on a plate.
Dress with balsamic vinegar, olive oil and sprinkle with salt. Serve right away.
Fresh Prawn and Mango Cocktails
1 Red Onion
1 Mango
2 Medium Sized Avocados
500 grams Tiger Prawns (cooked, tails intact)
1/4 Red Capsicum
1/2 cup whole egg mayonnaise
1 pack of Rocket
1/2 teaspoon tomato paste
1.5 tsps Worcestershire Sauce
2 tbsps Fresh Lemon Juice
2 drops Tabasco Sauce
3 Lime Wedges (decoration)
1 bunch Dill (decoration)
Combine the mayonnaise, tomato paste, lemon juice and Worcestershire Sauce together and place in a small dipping bowl. Cover until you are ready to serve.
Using four large or six small cocktail glasses, line the bottom of the glasses with freshly washed Rocket.
Chop up the avocados, red capsicum, mango and red onion to make a basic salsa. Layer into the glasses evenly.
Top with the fresh Tiger Prawns and use the dill and lime pieces to decorate. Serve with the dipping sauce.
Barbecue Grilled Salmon Fillets with Creamy Cocktail Seafood Sauce
1kg Woolworths Salmon Fillets (Skin On) Tasmanian Atlantic
1/2 cup olive oil
1 lemon, cut in half
Baby Spinach
250ml Creamy Seafood Sauce
Pre heat the barbecue plate until hot. Pour the olive oil onto the barbecue plate. Cook the salmon, skin side up – for three minutes. Then turn and brush the top with the olive oil. Cook for up to 6 minutes or until just cooked.
Brown the lemon on both sides.
Serve on a bed of baby spinach and creamy seafood sauce.
Kid's Option: Fish Fingers
Honestly Fish Fingers get a bad rap – but they are so yummy – and my boys just love them! When was the last time you grabbed a packet of Fish Fingers from the Freezer Section?
Avocado Salsa
3 x Hass Avocados
2 limes
1 tomato (diced)
1 cucumber (diced)
2 teaspoons extra virgin olive oil
1 small red onion
1/4 cup fresh coriander
Cut the avocados in half and remove the seed. Cut into chunky cubes and place in a bowl together with the diced tomato and cucumber. Squeeze the juice of the limes over the avocados. Dice the red onion and mix into the avocado mix with the extra virgin olive oil and coriander.
Cover and serve cold
Crunchy Asian Salad
Grab two Tubs of the Woolworths Asian Salad! So easy!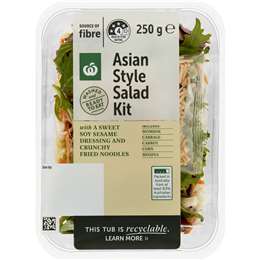 Lemon Tart
Now I just 'cheat' and buy one of the beautiful pre-made lemon tarts from Woolies. This makes entertaining so much easier!
But if you want to make it yourself at home – here's how!
Pastry:
2 cups Plain Flour
1/2 teaspoon salt
3 tablespoons caster sugar
150 grams butter
iced water
Lemon Curd Filling:
1/2 cup caster sugar
1/3 cup cornflour
1 cup water
1/2 cup fresh lemon juice
2 lemons, zested
3 egg yolks
1 tablespoon butter
1/2 cup caster sugar (extra)
To Make the Pastry:
In a food processor, add the sifted flour, salt, butter and caster sugar. Process until the mixture becomes breadcrumb like. Whilst the motor is still running, add a tiny bit of iced water at a time until the dough just comes together. Remove the dough from the food processor and wrap in plastic wrap. Put it in the fridge for 45 minutes.
Roll out your pastry between two sheets of baking paper and line your greased pie dish.
Blind bake your pastry at 180 degrees for 10 – 12 minutes. Remove the weights and pop the tart shell back in the oven for 5 minutes to brown. Remove and cool.
To Make the Lemon Curd:
Combine the sugar, cornflour, water, lemon zest and lemon juice in a saucepan and heat slowly. Cook whilst stirring continuously until the lemon curd mixture is thick and bubbly. Reduce the heat as much as you can and simmer for a few minutes – then remove from the heat.
Beat together the egg yolks in a small bowl. Add a tiny bit of the hot filling to the egg mixture, mix, then transfer the egg mixture to the cornflour mix. Whisk together over low heat for a few minutes. Stir in the butter.
To Put the Lemon Tart Together:
Pour the lemon curd into the pastry shell and refrigerate for two – three hours. Serve with ice cream or cream.