The Vegan Summer Barbecue Experience
Even though I love a good steak, unfortunately steak doesn't much like me. I have been eating Vegan more and more. I just really enjoy a really well made Vegan meal. In the past, like vegetarian food, I love it but always thought that there was just so much preparation involved that I wouldn't bother to make it – I'd rather eat it at a restaurant where I don't have to do all the pre-soaking and cooking. But now there are so many vegan choices available at the Supermarket that eating Vegan is easier than ever.
Now once you try my Vegan Cheeseburgers, you won't go back to the real thing – that I promise! Even Vegan Cheese is delicious!
Here is the Menu:
Vegan Cheese Ball with Crackers
1.5 cups raw cashews
2 tbsp lemon juice
1 tbsp nutritional yeast
1/2 teaspoon garlic powder
1 teaspoon onion powder
1 teaspoon fresh parsley
Soak the raw cashews in hot water for about 45 minutes. Drain and rinse well. Place them in a food processor together with lemon juice
Taste the mixture and add salt and pepper to taste.
Roll the mixture into a ball and refrigerate for 30 minutes to firm it up. Then roll in the seeds and serve with crackers.
Barbecue Vegan Cheeseburgers
4pk Macro Moroccan Veggeburger
60 grams Baby Spinach and Rocket
1 x tomato
200 grams Bio Cheese Cheddar Slices
Vegan Mayonnaise
1 tablespoon coconut oil
1 teaspoon sesame seeds
Gluten Free Hamburger Buns
Heat the barbecue plate until hot. Add the coconut oil and allow to heat. Add the vegan burger patties and cook. Sprinkle them with the sesame seeds (gives them extra crunch and texture). Cook until browned.
Cut the bread rolls in half, and brown on the bottom. Add a slice of Bio Cheese and let is melt on the barbecue.
Add salads as desired – and serve!
For the Kids:
It's always great to have a child-friendly option when it comes to entertaining. These vegan nuggets are delicious – the kids will never know!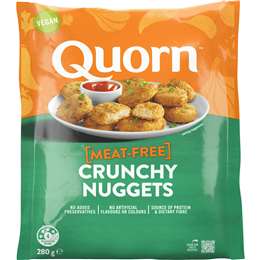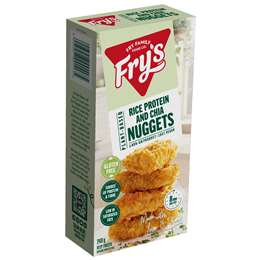 Rainbow Vegan Slaw
2 packets Woolworths Simply Stir-Fry Rainbow Vegetables
50 grams flaked almonds
1 avocado
1 carrot, grated
1 lemon, juiced
1/2 cup olive oil
Pour the two packets of Rainbow Vegetables into a large bowl. Toss through the flaked almonds and grated carrot. Dress with the lemon juice and olive oil and top with diced avocado.
Blueberry and Coconut Chia Pudding
400 gram Macro Organic Light Coconut Cream
1/3 cup Maple syrup
1/3 cup Woolworths Black Chia seeds
1 punnet fresh blueberries
In a bowl, place the coconut cream and maple syrup. Add the chia seeds and stir well. Cover and allow the chia seeds to soak in the mixture overnight.
Just before serving, spoon the mixture into glasses and top with fresh blueberries.
Remember that entertaining should be fun, not stressful!