Tips on Making School Lunches Fun and Healthy
My sons go into Years 6 and 5 this year, so I think it is about time that they start making their own school lunches. Like most kids, they need a bit of guidance when it comes to healthy choices…. I know they would pack chocolate biscuits and chips if they had it their way. But we have really been focusing on healthy eating at home, and I've been making food fun – and the boys are really getting involved.
What Makes a Healthy School Lunch Box
A nutritious lunch box includes each of the five food groups – vegetables, fruit, dairy (or alternatives), grains and protein. Balance is important in a lunch box and as a general guide, a packed lunch should include:
Vegetables such as carrot sticks
1 piece of fruit
Dairy (or alternatives) such as milk, yoghurt or cheese (mostly reduced fat).
Protein such as lean meats, fish, eggs or legumes/beans
1-2 serves of grain foods such as a sandwich, wrap, pasta, rice, sushi (try to include whole grains where possible).
Water
I like to pack at least two pieces of fruit and vegetables in their lunch box. Fruit is the easy part, but if you are struggling for some vegetable ideas – here are some suggestions:
Carrot Sticks (add some hummus for dipping)
Capsicum – yellow, red and green. Colour makes healthy food attractive.
Cucumber Slices topped with tuna
Cherry Tomatoes
Celery Boats filled with hummus
Broccoli florets
To make vegetables a bit more palatable to kids taste, add a dipping sauce. Think of ideas such as:
Hummus
Tomato Salsa
Tzatziki
Cream Cheese
Guacamole
Pesto
Greek Yogurt
Bread Alternatives for Main Lunch Component:
Sandwiches can get really boring. My boys sure are totally over them. Luckily – there are so many options now!
Wraps
Kebabs
Pita Bread
Bread Roll
Tortillas
Rice Cakes
Salad Bowls
Using lettuce as a wrap.
Wholemeal pikelets or pancakes
Cauliflower bread or pizza crust
Other Main Food Suggestions:
Risotto
Pasta – think spaghetti bol leftovers with loads of vegetables hidden inside!
Serve hot food in a Thermos
Meatballs
Sushi
Chicken Strips
Home made chicken nuggets
Pre-Packaged Foods
Pre-packaged foods have copped a bad rap over the years, but now at Woolworths there are Health Star Ratings so you can tell at a glance which options are the best choice for your child. The Health Star Rating is a voluntary Government led front-of-pack nutrition labeling system. The star rating ranges from 1/2 to 5 stars based on the overall nutrient profile of the food. It has been designed to help Aussies make healthier food choices when comparing packaged foods within the same category. Limit the amount of pre-packaged items to two maximum per lunch box.
Woolworths Original Gluten Free Popcorn (10 Pack)
Woolworths Yogurt Pouches
Woolworths Kids Banana Flavoured Milk – this is one of my favourites as it has 25% less sugar than the average of other flavoured milks and a Health Star Rating of 4.5/5. It has also been taste tested by kids and 36 out of 40 kids surveyed by Woolworths said they like this product, so it's a proven winner too.
Macro Lentil Bites (six pack) in Carrot, Pumpkin and Beetroot
Muesli Bars
Woolworths Mini Rice Crackers (8 Pack) in Original and Cheese
Pretzels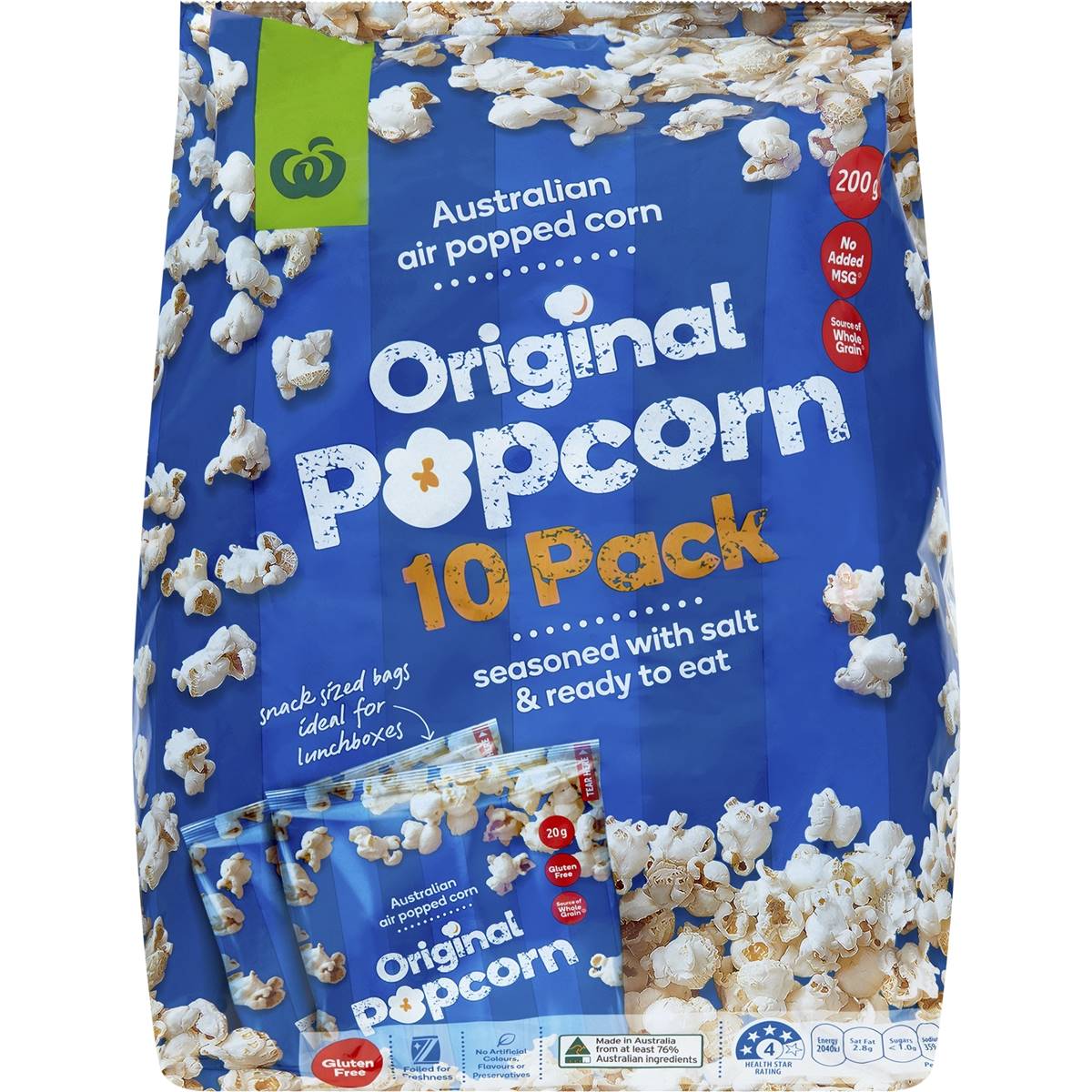 This 10-Pack of Original Popcorn from Woolworths are only $2.75 with a four-star health rating!
Gluten Free Options:
My husband is gluten intolerant so we have been stocking the pantry with loads of gluten-free options – and they are just delicious! Here are some of my favourites!
B-Free Wraps come in a few flavours. I'm a fan of these because they are pliable wraps – most gluten free items tend to break really easily – these ones don't!
Orgran Gluten Free Buckwheat Crispbread. I love a smear of peanut-butter on these. Sure you can't put peanut butter on them for school, but you can use them in place of bread and stack them full of fresh salad and chicken!
Quinoa Bread
Mission Gluten Free Wraps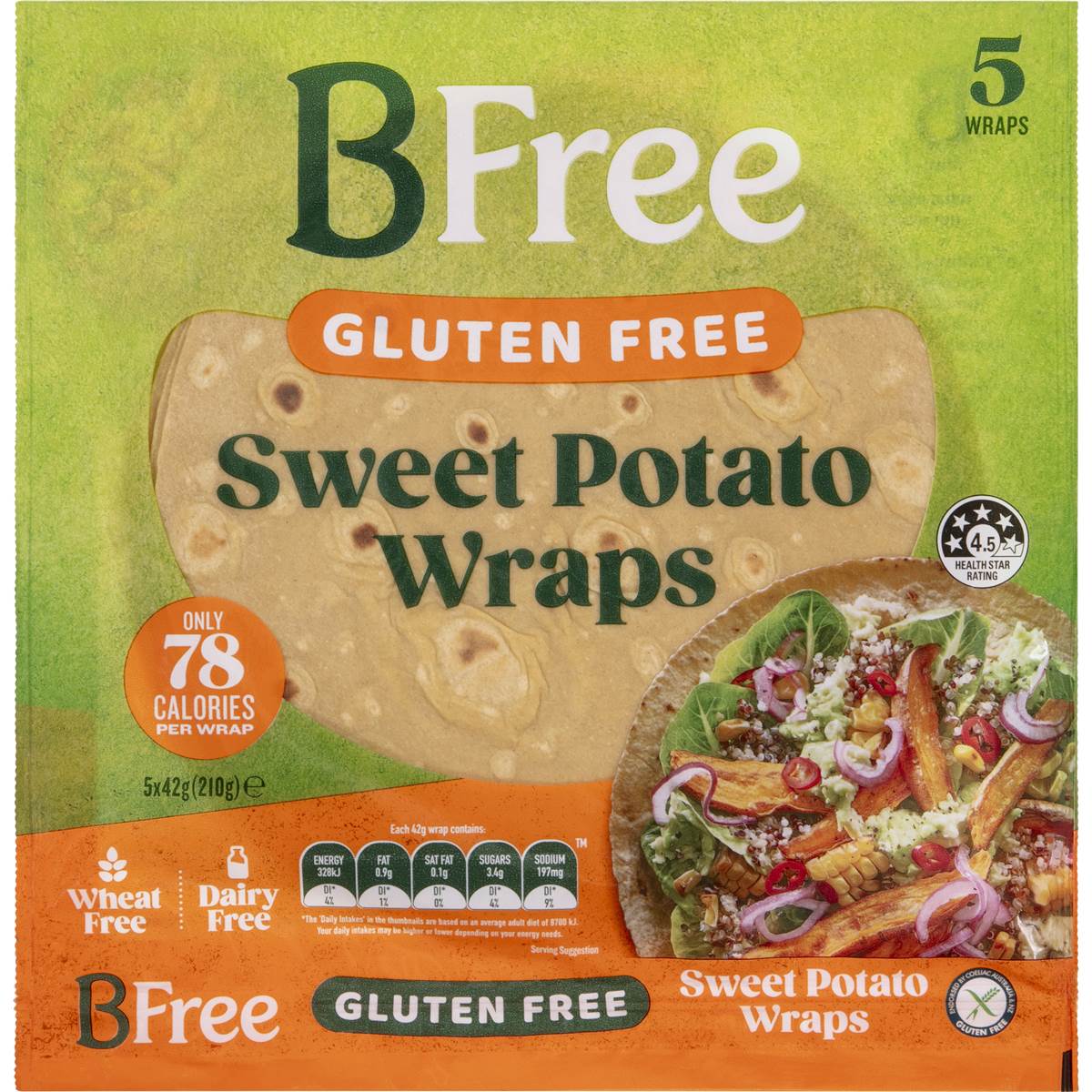 Snack Choices for Lunch Boxes
I always like to pack a treat for the kids. But a treat doesn't mean 'Full of sugar and fat' – there are loads of healthy options that are still considered a 'treat'. Here are some examples!
Yogurts (fruit or Greek styles)
Muesli Bars
Popcorn
Crackers with cheese
Chia Pudding is really easy to make and a healthy alternative to sweet snacks.
Vegan Choices:
Many people are now choosing vegan choices for school lunches. Vegan choices at the supermarket are now quite varied – so you have loads to choose from!
These are DELICIOUS!!!! Grab a pack of six from Woolworths for $4.50.