Traditional Australia Day Lamb Barbecue Meal Plan
What is Australia Day and Summer without having Barbecue Lamb? This easy to put together Lamb Barbecue uses Fast Food from Woolworths – which means that you can pop into Woollies, grab the items, throw them together, and know that not only are you providing a delicious barbecue lunch for your loved ones, but you won't be stuck in the kitchen for hours doing preparation work! Now I like that! When you have visitors over, you want the chance to actually talk, share and drink with friends and family, not be sweating in the kitchen.
That's why I love this range so much – because I'd have to go shopping anyway – so why not make it easy!!!
Here is the Menu:
Mediterranean Delight Platter
Why go buy loads of individual items for a platter, when you just buy the platter already done???
Chicken Satay Sticks with Secret Burger Dipping Sauce
18 x Woolworths RSPCA Approved Chicken Kebabs Satay Style
330ml Woolworths Secret Burger Sauce
Heat the barbecue and add a spray of canola oil. Cook the Satay Sticks until cooked through (about 10 minutes). Pour the Secret Burger Sauce into a bowl. Heat in the microwave for 30 seconds – and serve!
It is that simple!
Barbecued Lamb Leg with Garlic and Herbs
There is nothing more Aussie than an easy barbecued lamb roast! Here's how to make the perfect one for entertaining!
1.3kg Lamb Leg Butterflied Roast with Garlic and herbs
250 gram punnet of cherry tomatoes
3 zucchinis
1/3 red capsicum
1/3 yellow capsicum
Heat your barbecue to a medium heat. Remove the barbecued lamb from the pack and place it face down on the barbecue. Allow the bottom side to develop a crust – and keep turning the roast right around until it is all browned.
Then either put the lid down on the barbecue, or place a metal bowl over the top – and cook through on medium heat (about 45 minutes).
For an amazing decoration, skewer cherry tomatoes, zucchini slices and assorted capsicum slices onto skewers, and pop them on the barbecue 10 minutes before serving.
Serve with Sides (below).
Sides:
I'm making the sides both simple, and delicious with roast lamb. Both easy and delicious!
Here are my choices:
800 grams Woolworths Classic Coleslaw
800 grams Woolworths Roasted Vegetable Cous Cous Salad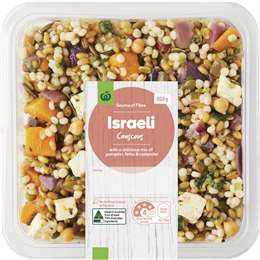 For the Kids:
It is always good to have another option for the kids. Something simple – but delicious!
Lamb Sausages with Mint and Rosemary
500 grams Woolworths Lamb Sausages with Mint & Rosemary
Cook on the barbecue for about 20 minutes. Serve with tomato sauce on bread!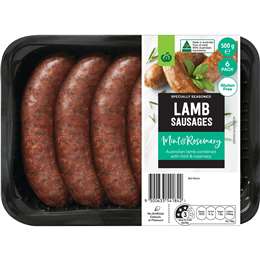 Raspberry Pavlova
500 gram Woolworths Pavlova Base
2 x 160ml Dollop Cream
1 tablespoon icing sugar
1 Chocolate Flake
125 gram punnet raspberries
Sift the icing sugar twice. Stir into the cream until combined. Place the cream on top of the pavlova base and decorate with the fresh raspberries! Sprinkle the Flake over the top.