List of Online Maternity Stores in Australia and Overseas
Just cause your are 'Up the Duff' doesn't mean you can't dress stylishly!  Even though maternity wear is only worn for a relatively short period of time, it is still good to have a few good quality and comfortable pieces that you can wear for any occasion that comes up. Here is out list of the best Australian online maternity stores.

More Reading: 12 Best Baby Car Seats in Australia
Ships from Australia
Ships Internationally
Soon Maternity sells premium designer branded maternity wear.  They have ranges covering workwear, eveningwear and nursing wear to take women through pregnancy and nursing and beyond.
Based in Melbourne, Ripe Maternity is a brand of maternity wear that has support undergarments, nursing tops, adorable overalls and maternity jeans.
Stockists of Ripe Maternity:
Cross Your Heart Dress from Ripe Maternity
Maive & Bo make maternity wear for women interesting.  No more boring tent dresses, they are a fashion-forward brand and offer both maternity wear and nursing clothing in bright and bold colours. They also have a great range of maternity workwear.
Check out their range of maternity clothing here >
The Essential Maternity Tank Dress by Maive & Bo
Angel Maternity have simple maternity basics.  Practical garments in soft material.  Perfect for the Mum-to-be that doesn't have a bomb to spend on maternity wear.  Lots of neutral colours and zip-front dresses.
Cake Maternity stock maternity underwear – nursing bra's, stretchy undies, soft-cupped moulded bra's and loungewear.  All the comfy items you can live in at home when no visitors are around!
Isabella Oliver Maternity is special because not only does it stock high-quality designer maternity wear that is ethically made, they also have a pre-loved section for Mum's who value sustainable maternity wear for their pregnancy.
Check out their range here >
Maternity Treggings from Isabella Oliver
Love2Wait is a Dutch maternity brand for the Millenial Mum-to-be.  They believe just because you're expecting a baby, it doesn't mean that your sense of style has to suffer. Their maternity jeans look like low-slung jeans – they don't scream 'baggy'.
Maternity basics at a fantastic price.  Maternity t-shirts, plain dresses, oversized jumpers and singlets.
Australian made maternity wear that blends pregnancy with everyday style.  Each piece is made with luxe fabrications using natural fibres such as cotton, linen and bamboo – all manufactured here in Australia.
The Stork Nest doesn't really sell maternity clothing as such but does have a huge range of belly bands, nappy bags, pregnancy journals and breastfeeding pillows.
Designer Maternity wear for the fancy Mum-to-be.  Seraphine dresses the celebrities including the Duchess of Cambridge with high-quality high-end maternity wear. We love their 'Bump Kit' with four must-have maternity styles!
Mamaway is a premium maternity wear brand that assists Mothers in every step of their journey to parenthood.  They offer core-support corsets, baby carriers, maternity and nursing wear, all both pretty and practical.
Brava Lingerie – Has a range of maternity bra's stocking the best brands for Mums-to-be including Anita, Bravado, Cake, Elomi, Freya, Goddess, Hotmilk and Panache
Asos isn't just a great brand for women's fashion, it has a terrific maternity wear section as well, and very reasonably priced.  Has a great range of maternity workwear and formal wear as well!
PatPat is a daily deals sites for both Mum's and Kids. Their pieces include loads of practical nursing shirts that are very inexpensive! They keep prices low as they are a direct link between you, the consumer, and the manufacturer – totally cutting out the middle man.
H&M's business concept is to offer fashion and quality at the best price in a sustainable way. H&M has since it was founded in 1947 grown into one of the world's leading fashion companies.
Has shipping across Australia
Stores across Australia (Sydney, Melbourne, Brisbane, Perth and more)
Boohoo
has beautiful clothing and has a really lovely selection of maternity wear. Very basic and well priced.
Bloom Maternity is a small Etsy based shop based in Margaret River, Western Australia.  She offers boho style maternity wear that is fitting, flowy and just beautifully different to other maternity wear.
Check out their range here >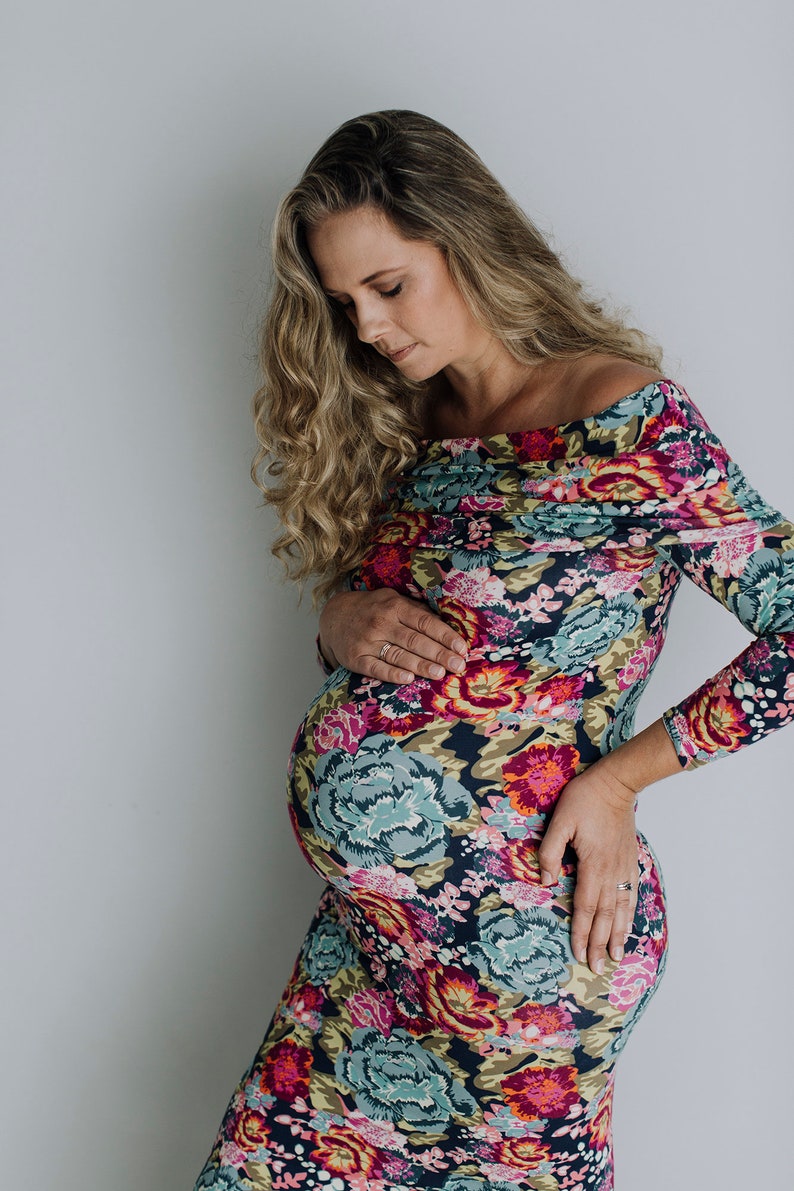 St. Frock is relatively new on the market and has a fantastic range of women's fashion – but they include a really affordable maternity range too!  Definitely worth checking out.  Perfect for casual wear and workwear.  They also have a breastfeeding-friendly range!
We add to our list of Australian Online Maternity Stores all the time!
If you have a maternity brand to add to our list, please drop us a line at [email protected]