Ultimate List of Australian Hamper and Gift Basket Companies 
Whether you want to celebrate a birthday or anniversary, shower a new mum and bub with gifts galore, or show dad that you love him on Father's Day, there is guaranteed to be a hamper to suit the occasion. There are hundreds of many companies to choose from, so we have scoured the internet and narrowed it down to the best of the best so all you have to worry about is choosing the perfect gift… no pressure.

If you wish to be included in this list – please drop us a line at [email protected]
The Hamper Emporium is a 100% Australian owned and operated business that specialises in gourmet gift hampers and offers free delivery Australia-wide. With their immense selection of gourmet food and wine baskets, an unexpected delivery from The Hamper Emporium is the perfect way to surprise the foodie in your life. In search of a gift that Dad will really love this Father's Day? Look no further because The Hamper Emporium's range of Father's Day hampers now feature Ponting Wines – a collaboration between cricketing legend Ricky Ponting and award-winning winemaker Ben Riggs. Alongside to accompany the wine is a selection of delicious savoury treats like Kangaroo Island Kalamata Olives and Brewer's Nut Co. Classic Beer Nuts.
Or if your Dad is more of a beer man, then he will ll love the Beers of Australia Hamper, featuring a selection of brews, ales, nibbles and more.
The Gourmet Pantry located in Victoria supplies beautiful chocolate, gourmet food and wine hampers with free shipping Australia wide.  Their range is perhaps the most affordable hamper company I've seen for what you get.
They have a great range of Mothers Day Hampers worth checking out such as this one below which is only $89.95!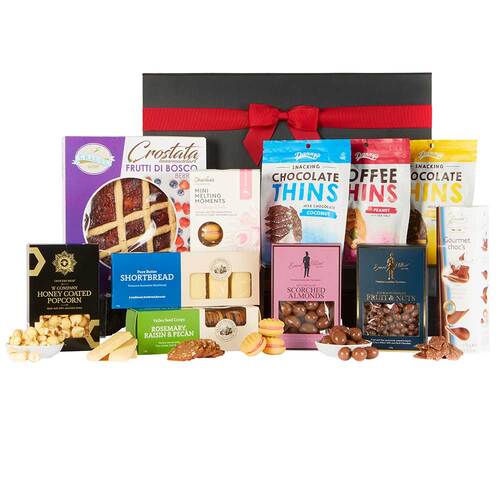 At Pretty Green, we put a modern twist on old fashioned hampers. We're shaking up the world of online gifts, and saying no to hampers packed with mass produced products from across the globe wrapped in planet polluting plastic. Instead, we're saying yes to goodies that are small-batch, delicious and different in all the right ways. Carefully curated? Tick. Handcrafted by Australian farmers and producers? Tick. Next-level gifts perfect for any occasion? You bet that's a tick.

If you are really looking to spoil someone, Bockers & Pony's range of luxury hampers are the perfect option. Whether you are looking for a gift for Valentine's Day, Father's Day, Christmas, or the birth of a new child, Bockers & Pony have something for every occasion. Let me ask you a question, is there any better way to say 'I love you' than with gin? No, the answer is no there is not! The Bokers & Pony Gin and Tonic hamper will brighten anyone's day with a bottle of Seppeltsfield Rd House Gin, Capi Dry Tonic, Whisk & Pin Dried Australian Orange Sliced, T LUX AU Honey Roasted Almonds, Simon Johnson Wasabi Peanuts, Bizzarri Dolci Lavosh and Random Harvest Chutney Mini Dish.
The Bokers & Pony ultra-luxe baby hampers will delight any new parent with products from some of their favourite brands including Glass House, Pretty Brave, Sophie La Giraffe and Pure Baby. All Bockers & Pony baskets come with free gifts cards and free Australia-wide shipping.
At Lily Rose Indulgence we create natural luxury bath products and gift boxes, for all occasions.
We care for our environment and what we use on our skin. All our products are eco-friendly, vegan and use sustainable packaging. Australian made, produced and owned. We would love to put a pack together for you.
If you are looking for something a little different with a personal touch you have to check out Koko Black! The Personalised Gift Cube, lets you choose a gift that is as unique as your loved one! Everything is up to you, from the flavours of the gourmet chocolates inside to the colour of the actual cube, you can even include a special message! If your gifting needs require something a little stronger than chocolate, Koko Black also offers a range of deliciously Boozy Hampers with Australian Green Ant Gin, Penfolds Rare Tawny, Starward Whisky and Four Pillars Gin hampers available. Koko Black ships Australia-wide with free standard delivery on orders over $100.00
Gourmet Basket has date night covered with their selection of exquisite food and wine baskets. Their range of Virtual Party Hampers will have you and your friends feasting yourselves into a food coma with artisan treats like, Baylies Gourmet Crackers, Ogilvie & Co Fine Food Merchants Mixed Olives, Caramelised Balsamic Relish, Falwasser All Natural Crisp bead, Simon Johnson Wasabi Peanuts, Charlie's Traditional Choc Salted Caramel Mini Melting Moments, Fudge by Rich Chocolate Divine Caramel as well as premium wines and boutique beers and spirits. Gourmet Baskets, Breakfast in Bed range means that your loved one won't even need to leave their comfy sheets to enjoy their delectable delights, they've even thought of the french press! Gourmet Baskets deliver Australia-wide.
You may recall seeing Dessert Boxes a few years ago on a little show by the name of SHARK TANK! Well, Dessert Boxes have gone from strength to strength and now offer Australia-wide service, with free delivery on orders over $100. As well as their insanely delicious doughnut and brownie boxes, Dessert Boxes also offer a whole range of hilarious and very cheeky selection of gifts including the White Girl Wasted Box which features doughnuts, brownies, jelly beans, candy and a bottle of Moscato. The White Girl Wasted box, would make the perfect gift for a Hens Night, 21st or even 18th birthday! It is often hard to find a gift for a foodie friend with intolerances, allergies or food restrictions but never fear, Dessert Boxes also offer Gluten Free and Vegan products!
Brewquets is the ultimate gift for any beer-lover, for any occasion!  The Beer-thday Doxen Brews box features a selection of 12 of beers from the best breweries around including Yulli's Slick Rick's Red Ale, Feral Biggie Juice NEIPA, Capital Coast Ale, Kaiju Paradise Pils, Hop Nation The Heart Pale Ale, Wayward Berliner Berliner Weisse, Nomad South Pacific Dream Pale Ale, Balter XPA, Modus Wippa Snippa Session Pale, Young Henry's Natural Lager, BentSpoke Crankshaft IPA and Mornington Brown Ale. As well as craft beer, Brewquets also have wine and chocolate packages available.
They also offer personalised labels which are perfect for corporate gifts! Brewquets ships Australia-wide with a flat rate of $10 per case to NSW/ACT and $15 per case to all other states. 
Another one for the beer-lovers! Beer Cartel offers Australia Wide Delivery with the option to Click & Collect in Sydney. For the perfect Father's Day gift you can't go past the Australian Craft Beer Mixed 6 Pack which retails for only $34.99 and includes six of Australia's best beers! If you really want to blow his socks off (probably the golf ball socks you bought him last father's day) then The Hottest 100 Aussie Craft Beers of 2021 Mixed 24 Pack is a must-have with, you guessed it, 100 different Australian beers to choose from! 
Interhampers sell their beautiful and inexpensive hampers through the Catch of the Day network – and they are cheap cheap cheap!  This hamper below is the Sparkling Gift Box Gift Hamper and it's only $50!
12. Cheese Therapy
Boxes full of gooey and delicious cheese? Yes please! Get a cheese box delivery and gift hamper anywhere in Australia filled with great Australian cheese.
13. Boxt
Boxt offers stunning hampers and baskets containing everything from gourmet treats to fresh fruit and of course wine as well as beautiful gifts for babies and children! The Boxt Children's Hampers are perfect for little ones and feature gorgeous stuffed toys, books and sweet treats as well as super fun things like playdough. My favourite gift option on the Boxt site is the *MAKE YOUR OWN* gift box! There are so many amazing products to choose from including handcrafted soaps, books, Australian wines, toys, savoury and sweet treats and quality gifts from brands like Alchoholder, Cheeki.
Boxt delivers Australia-wide from just $10.00.
See their full range here >
14. A Little Luxury
Spoil the people you care about with a decadent surprise from A Little Luxury. A Little Luxury has created perfect Pamper Packages using only the best products from brands like L'octaine, Jurilique, MOR and Areomatheropy co. and of course, no luxury treat day would be complete without a bottle of MOET.  They also supply gourmet food hampers with beer, spirits and liqueurs as well as picnic hampers which even include a picnic basket and utensils! A Little Luxury offers fast reliable, gift delivery Australia Wide. 
Check out your full range here >
16. Hamper World
Hamper World offers a wide variety of classic hampers for every occasion, including gluten-free options. The Small Drop Hamper is perfect for a birthday, Christmas or anniversary gift containing, House of Biskota Almond Crescent Biscuits, Valley Produce Cranberry and Hazelnut Crisps, Maggie Beer Paste, Chocolate Honeycomb Cubes, Penfolds Koonunga Hill Chardonnay and Penfolds Koonunga Hill Shiraz Cabernet with all 6 products packaged in an Exclusive Collector Gift Tin.
If you want to welcome an International guest the Taste of Australia hamper is a bloody ripper option containing all of our most loved snacks from Shapes to Tim Tams. Hamper World deliver Australia-wide with free Australia Post delivery to any Victorian address for orders over $65.
Check out their full range here >
17. Australian Gourmet Gifts
Australian Gourmet Gifts is your one-stop-shop for luxury hampers with free delivery to most major cities. For a beautifully bright hamper that would make anyone's day you can't go past the Gourmet Sensations Hamper featuring Charlie's Handmade Double Choc Chip Bites, Charlie's Raspberry White Choc Melting Moments, The Natural Nut Company Elite Fruit & Nuts Mix, Kangaroo Island Smoked Kalamata Olives, Olina's Artisan Raisin & Pumpkin Seed, Australian Country Gourmet Fig & Cinnamon Jam, Australian Country Gourmet Extra Virgin Olive Oil, and OB finest Wafer Crackers.
For the Jame Squire fan, the James Squire Beer Hamper will not disappoint, with five Pale Ales and all of the yummy snacks you need to go with it!
Check out their full range here >
18. Hamper Me
With hampers starting from $38, Hamper Me has something to suit every budget. Do you know a new mum who's not getting a lot of sleep? Why not surprise her with a Sleep Indulgence hamper featuring the perfect set of relaxation products to assist her in winding down from the day. These products have been infused with a blend of essential oils & natural salts. This kit allows you to create the perfect environment prior to bedtime to aid in a restful, relaxing and deep sleep. Each kit includes 100% Natural Magnesium Bath Bomb, Sandalwood and Bergamot a Scented Candle, Chamomile & Lavender Mist and a Sleep Mask. Speaking of lack of sleep the Coffee Indulgence hamper is another crowd pleaser with its selection of coffee, coffee flavoured treats and your very own travel mug! Hamper Me deliver Australia-wide, prices differ depending on location.
Check out their full range here >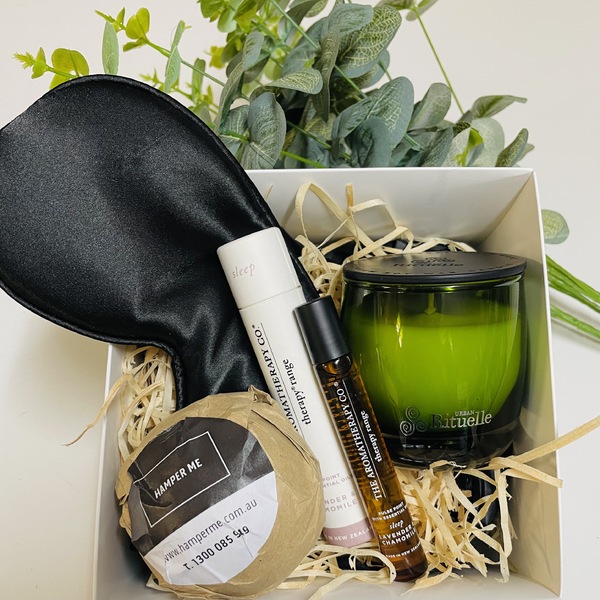 19. Snowgoose
For something, vibrant and delicious Snowgoose specialise in fresh fruit hampers. The foundation of each Snowgoose gift hamper is our their fresh fruit, handpicked at the point of perfection and delivered fresh from the orchards within 48 hours of plucking from the trees. The best-selling Cheese & Veuve Heaven hamper contains a luscious selection of seasonal fruit with cheese, French champagne and gourmet artisan luxuries. Or there is the Sweet Temptations box is a joy to give and an absolute delight to receive, this heavenly gift hamper showcases an irresistible selection of artisanal delights. The hamper contains a personal selection of handmade Belgian chocolates and a Turkish Delight Bar from the master chocolatiers at Nina's, together with a generous wrapping of White Chocolate Honeycomb and Nougat Noir, handcrafted by Chris Edwards. 
Snowgoose fruit gift boxes are delivered from Monday to Friday Australia wide. All orders are freshly packed and dispatched for timely delivery. The standard delivery cut-off time is 4 pm AEST on the day before your delivery is required. Delivery lead time will vary depending upon your location.
Check out their full range here >
Macarthur Baskets has something for everyone, from new mums to kids, to dads, baskets to say thank you or even, I'm sorry! There are gourmet baskets with everything from chocolate, to beer, to wine, even delectable cakes and cookies. A wide variety of fresh flowers and chocolate bouquets is also available on their site. If you have a loved one who enjoys getting out on the water, Macarthur Baskets offers a range of Fishing Baskets that feature some of the best fishing lures available. Macarthur Baskets offer Australia-wide delivery for a flat rate of $16.00 per basket.
Edible Blooms has always been the very best gift for any chocoholic but did you know that they have indoor plant and fresh flower packages as well!  The Money Tree and Chandon package is the ultimate housewarming gift or engagement present and can be customised with your choice of chocolates, ribbon and greeting card! If keeping a plant alive is too much responsibility then a bouquet of mouth-watering chocolate-covered strawberries may be more up their alley, either way, Edible Blooms has a gift for everyone! Edible Blooms ships Australia-wide with free standard delivery on orders over $120.00
Love these hampers?
UItimate List of Australian Hamper and Gift Basket Companies