Ever wondered just how to become a Professional Youtuber? Becoming Professional Youtuber is the dream of most 8 – 16-year-old boys, but if you have the time and dedication to plan a topic, do regular talks and videos and build up your audience – you too can make money by being a Youtuber. And if you are good at it – it can be incredibly lucrative!

Look at Dude Perfect (pictured) – they made $22 million dollars last year!

Overview on What a Professional Youtuber Actually Does:
Generally, to become a Professional Youtuber, you build up your traffic on Youtube. In the olden days, once you have over 4000 views in a one month period, you got paid a certain amount from Youtube. But now it depends on how many hours your subscribers will stay on your channel as to how much Youtube will pay you. The higher the number of hours watched – the more you get paid. You can also get product endorsements and do speaking tours and have merchandise – there are so many ways to monetize a Youtube Channel. The hardest part is building that initial traffic.
More Reading: Where to Get Work as an Influencer in Australia
What You Will Need To Become a Professional Youtuber:
Professional Youtubers will require a good computer (hopefully you already have one), a good ring light, video editing software and a big personality!
Next, you need to map out what your content will be, how your Youtube episodes are laid out and flow. Watch many of the current professional You tubers for some ideas on what is current. Consistency and listening to what your followers want is the key to success. Expect to put in huge hours for not a lot of money for the first six to 12 months.
Steps to Become a Professional Youtuber:
First of all, you will want to start your own Youtube Channel. To do that, first, you will need to think of a name for your channel that no one else has. Once you have a name, you will need to sign into Youtube on either your smartphone or computer. Click on your profile and then select 'Create a Channel'.
This video makes it easy!
Make sure you totally fill out your profile, including adding details in the 'About' section. You can design your own logo on programs such as Canva. Choose a profile picture that shows what your channel is all about. Your profile picture should be high resolution and should be a good representation of the brand you want to portray.
Then you upload your videos via the 'Creator Suite' and start building your channel to get views.
The next step is to enable the Youtube Monetization area of your account. We show you how in the content below.
Once You Build An Audience – Get Some Decent Gear
You can record videos using your phone, the latest smartphones have excellent video quality. If anything you want to invest your $100 in a decent microphone that you can mount on your phone so you can get top-quality sound. If your videos don't have good sound, people will be reluctant to listen all the way through your videos.
Later down the track if you want to do this more professionally, look at getting a decent camera and an upgraded microphone.
Ideally your videos will be at least 10 minutes plus long.
How Do Youtubers Make Money?
Like most online businesses, Youtubers make their money in a number of different ways – ways that aren't all just from being paid directly from Youtube.
1. Become a Youtube Partner and Make Money from Advertising
This is the one most people think about when they want to be a Professional Youtuber. First of all you need to enable monetization on your Youtube Channel. To do that, sign into your Youtube account and click on your profile picture or icon.
Next, click on 'YouTube Studio'.
Click on the menu and select 'Other Features', then 'Monetization'.
You will be asked to read all the Terms and Conditions and agree to them.
Next, you will need to set up a Google Adsense Account. Google Adsense allows you to stream ads from Google onto your Youtube Channel. You will need a Google email to set up an Adsense account, if you don't have a Google email address, you will need to sign up for a Google Account.
This is what a Google Adsense account looks like once it has been enabled:
Once your Google Adsense Account is up and running – you link your Youtube Account to your Google Adsense Account – and then your channel will start serving advertising!
The only downside to this form of advertising is that Youtube takes a whopping 45% of your advertising income before you receive a single cent! So it makes sense to check out other ways to make money using your Youtube Channel and have multiple streams of income.
2. Sell Your Own Line of Merchandise
This is perhaps the most lucrative ways Professional Youtubers use to make a dollar. Their very own line of merchandise. You want create and sell your own branded shirts, mugs, cups, mousepads, flags – anything that your customers will buy! Not only do you make money on merchandise, but it is also a terrific way to gain brand exposure.
To do this, most people set up a Shopify Store – and then use 'Print on Demand' service. That way when someone orders a shirt or a mug, the printer will get the order, and will fulfil it for you. All you need to do as a Youtuber is to upload your designs. Most Youtubers use their own logo as a t-shirt design to start with.
Print on Demand Suppliers include:
Printify have a huge range of products that you can add your own design to including t-shirts!
Printful are very similar to Printify and also have a huge range of t-shirts with different styles and materials.
3. Affiliate Your Content and Get a Commission on Sales Made
If you have ever watched a series of Youtube Channels or listened to Podcasts, you know when they tell you that if you make a purchase from one of those advertisers and you mention their brand, you get 10% off or something like that? Well whenever a customer does purchase from one of these companies and does mention the Youtube Channel or Podcast, they get a kickback from the purchase.
It is called Affiliate Marketing and if you have a lot of subscribers or a high-value item that your customers will buy, it can be a great steady way to make income.
Read our article on 'Starting an Online Business Using Affiliate Marketing' for information on how to start using affiliates!
Where Can I Learn More?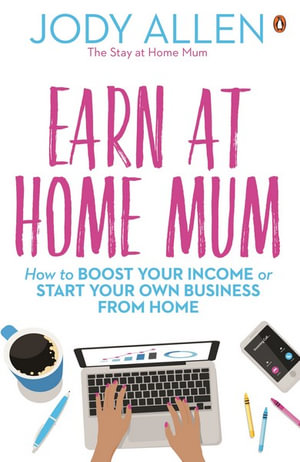 We have just released our book on how to get started with your own business from home!
Grab your copy of Earn at Home Mum here –>
Join our Community!
We have a secret Facebook Group called 'Earn at Home Mum' where we share more of our Small Business Secrets. It's FREE to join! Come over and say hello and find a mentor in your area!