Recently, we had a look at the 10 notorious female serial killers, spanning many decades and countries — and now we're back for more.
Female serial killers (sometimes referred to by experts as FSKs) are an unusual bunch. They're rarely considered a threat and as such often get away with their crimes for years before facing justice. Still, they're lethal to those they target, who are often friends, family, or individuals under their care.
Here are 10 more notorious female serial killers.
10. Belle Gunness
Belle Sorenson Gunness, born in November of 1859, was a Norwegian-American serial killer who was thought to have killed somewhere between 25 and 40 people, all of whom she disposed of on her large farm. Standing six feet tall and weighing around 90kg, she was physically very strong for the time she live in. Her victims included most of her suitors and boyfriends, as well as two of her own daughters. She is also thought to have killed two of her husbands, and all of their children. Gunness killed between 1884 and 1908, primarily to collect life insurances, but was never apprehended or charged. Instead, she dropped off the grid, and her identity remains a mystery.
Read more about Belle Gunness here.
9. Amelia Sach
Amelia Sach, born in 1873, was a prolific murderess who is thought to have been responsible for dozens of infant murders. Along with her partner in crime Annie Walters, Sach ran a 'lying-in' home in East Finchley, London. From 1900 onwards, advertisements claimed babies could be left at the home when they couldn't be cared for by their mothers, and in exchange for some money, they would be adopted out. Instead, Sach and Walters would murder the babies. The two were sentenced to death and were hung in February of 1903, the first double hanging of women in modern times.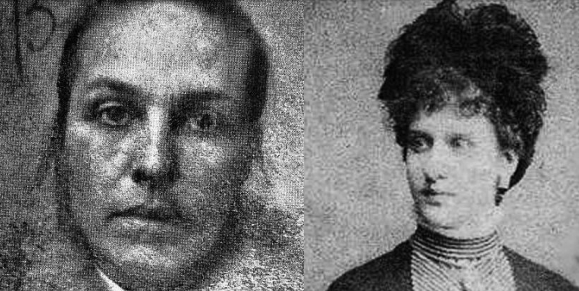 Image Via capitalpunishmentuk
8. Marybeth Tinning
Marybeth Tinning, born in 1942, is an interesting case because even though she was sentenced to 20 years to life for killing one of her children, she's suspected of killing several more. Tinning gave birth eight times in her life, and also adopted one child. All nine of her children died, from a wide range of medical issues including heart attacks, SIDS, brain diseases, convulsions and more. Initially, it was thought there was a genetic issue, as her adopted son Michael was not affected. However, he too died before his third birthday. Finally, when Tinning gave birth to her ninth child, a daughter whom she smothered, she was arrested and convicted. She has since been denied parole on several occasions.
7. Mary Ann Cotton
Mary Ann Cotton, born in 1832, was only convicted of the poisoning murder of her stepson Charles Edward Cotton, but she is believed to have murdered three of her four husbands, and as many as 21 others, including 11 of her 13 children. Cotton was known to use arsenic poisoning to achieve her goals, primarily to collect insurance policies she had taken out on her victims. However, it was Charles' murder that was her downfall, and Cotton was arrested and charged with his murder. Her trial was delayed as she birthed her 13th child, but she was eventually hung in March of 1873.
6. Amy Archer-Gilligan
Amy Archer-Gilligan, also known as Sister Archer-Gilligan, was born in October of 1873 in Connecticut. She would go on to run a nursing home and be an active female serial killer, thought to have killed almost 50 people. One of her victims was her second husband, Michael Gilligan, while others were nursing home residents who were killed via poisoning. Archer-Gilligan was motivated by money, pressuring her nursing home residents into bequeathing large sums of money to her, before killing them with poison. She was eventually arrested and tried for just five counts of murder, but that was reduced to a single count. She still died in custody, but in an insane asylum instead of a prison.
Next Page: More notorious female serial killers