My mother always said, 'You never wear black to a wedding', but I say, if you are the bride, go for it!
When you think of a wedding, the first image that might come to your mind is a blindingly white wedding dress with a long train and either frills or laces. Talk about immaculate! But who said every bride absolutely needs to wear white on her wedding? Who said frills and laces only go with white?

I think a bride can wear any colour of wedding dress that she wants, so we thought of looking for beautiful black wedding dresses, too. After all, anyone can wear black and it is a classic.

Here are the dresses that we're currently drooling over!

Disclosure: Some of the links provided in this article are affiliate links.  I will be paid a small commission if you use choose to make a purchase.
This custom black wedding gown has been hand-beaded with over 1500 invididual beads.  It has been made of the softest Duchess Satin with tulle laywers underneath for volume.  It also has POCKETS!!!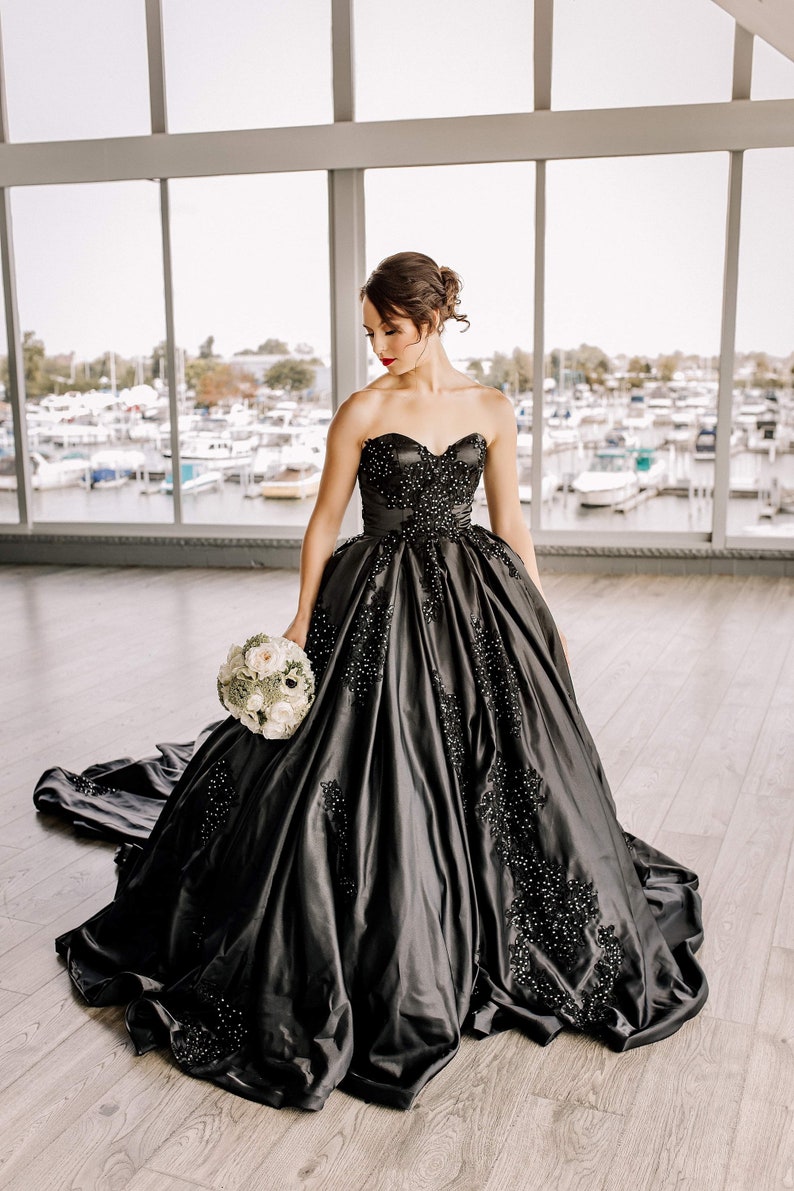 We love this beautiful two-toned tulle gown from Coco Melody.  It comes in sizing 0 – 28 and can be fully customized!
Black Tulle Wedding Gown with Embroidered Floral Applique
Black and White Tiered Rhinestone Strapless Gown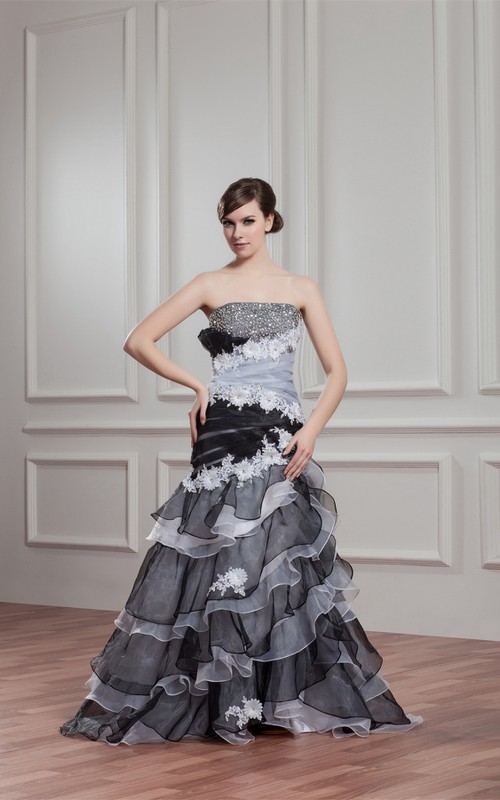 Stockist: Alice Corsets

Price: AU$1879.97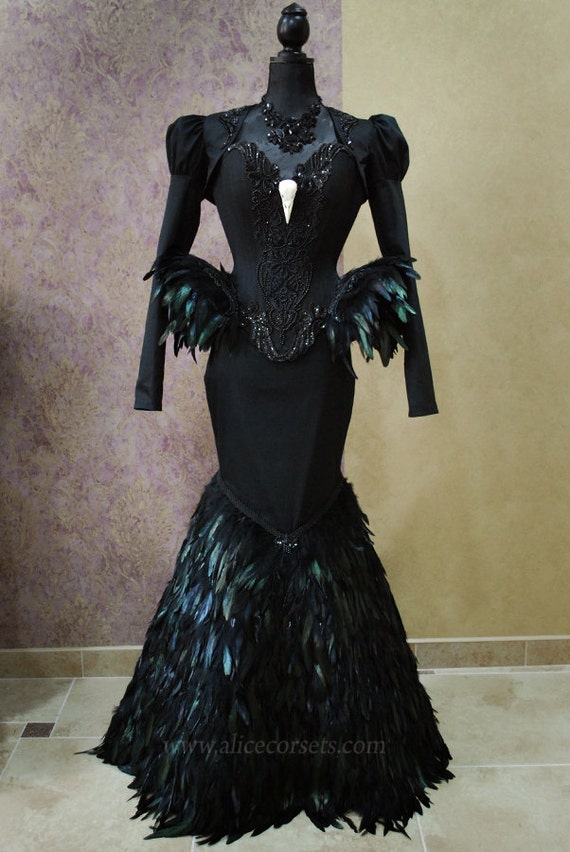 Stockist: Tonena

Price: AU$1287.06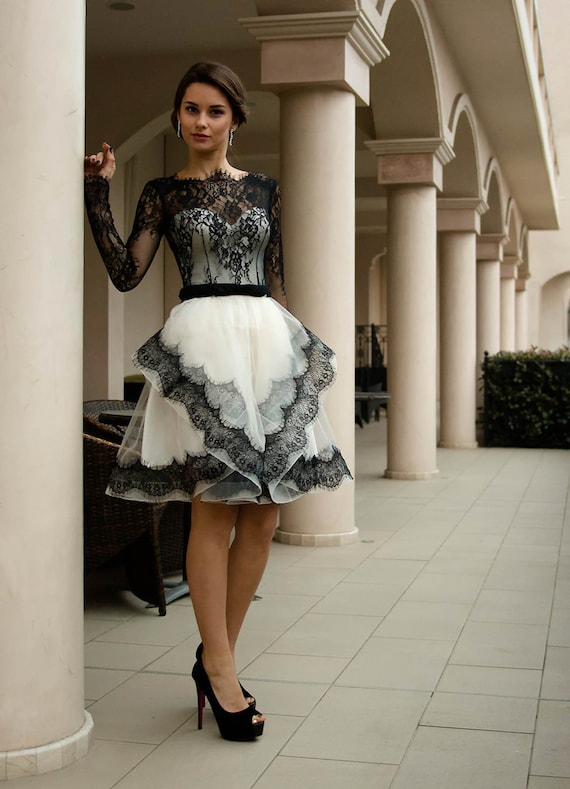 The French wedding lace dress has long sleeves; high neckline and scalloped open back in V-shape, handmade corset on top of which is placed a layer of fantastic French lace. It has built-in cups for better support of the bust with a special no-strap technology and despite the fact it's a backless dress provides an awesome shaping and very comfortable support.
The entire dress is made of fine Alencon lace with an amazing quality because I purchase all my fabric from French and Italian couture factories.
Black Lace Trumpet Aurora Wedding Gown
Stockist: Etsy

Price: AU$2267.85

I love this very Twilight inspired black wedding gown.  With its Brussels lace, invisible zipper and handmade silk buttons, it is a dress to remember forever.
The Gothic Chiffon and Lace Tulle Dress
Stockist: Etsy via Wedding Beautiful Day

Price: AU$989.61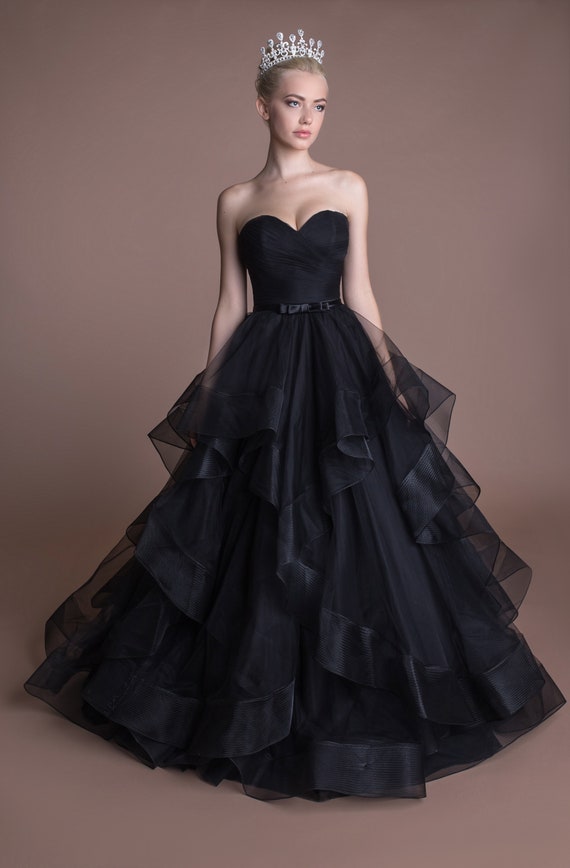 Soft layers of black lined lace, made of satin, chiffon, tulle, lace and organza, this beautiful dress is a masterpiece.
The Lunaria Queen Black Wedding Gown
Stockist: Ariadne Bridal Via Etsy

Price: AU $1414.32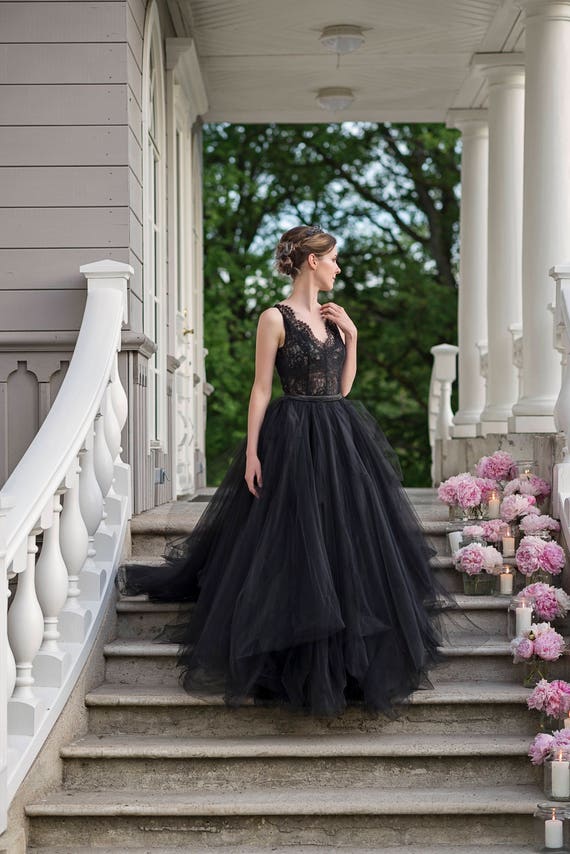 The Lunaria Queen is a regal looking gown with a completely detachable and full over-skirt.
The Italian Tulle Wedding Gown
Stockist: Etsy

Price: AU$2638.96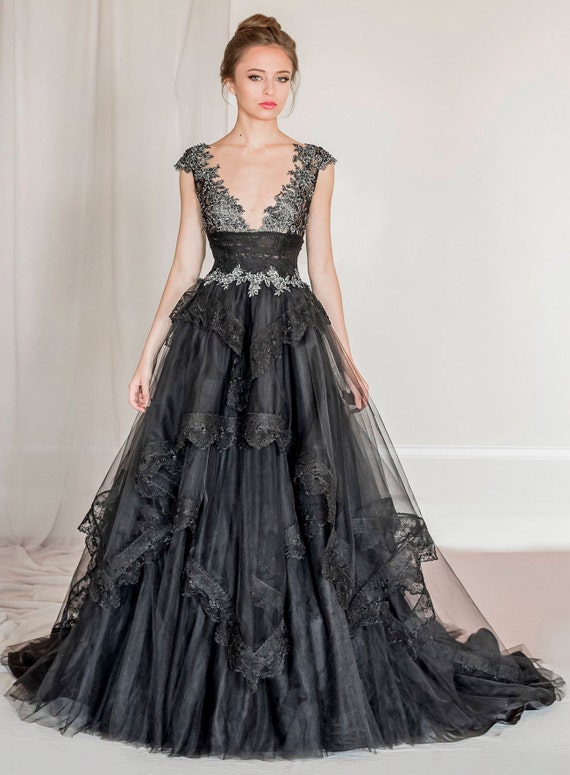 This beautiful Italian gown is made to order in your exact measurements.  It has a lace bodice with beaded appliques, an illusion bateau neckline and floor length skirt with lace edges.
The Sexy Fishnet Cocktail Gown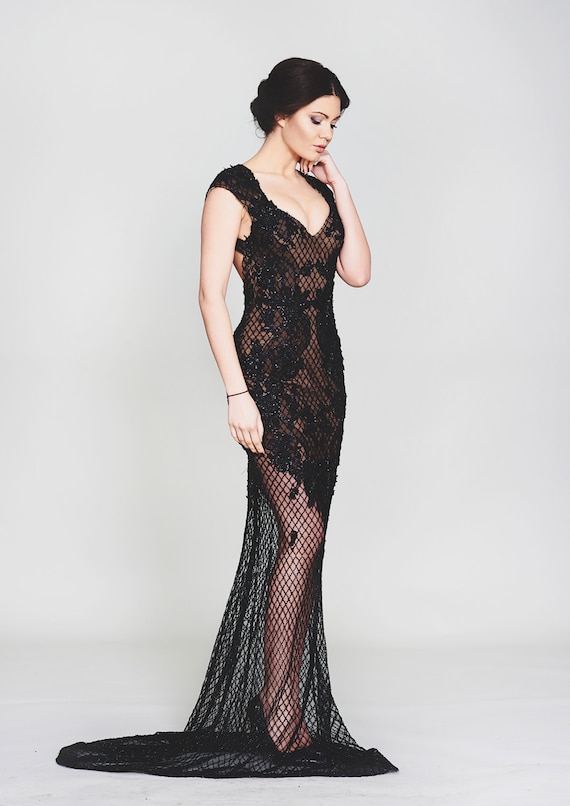 A stunning gown made from lace and chiffon in a mermaid design.
The Fairy Queen Gothic Black Wedding Gown with Train
Stockist: Julia Miren Dresses

Price: AU$1561.82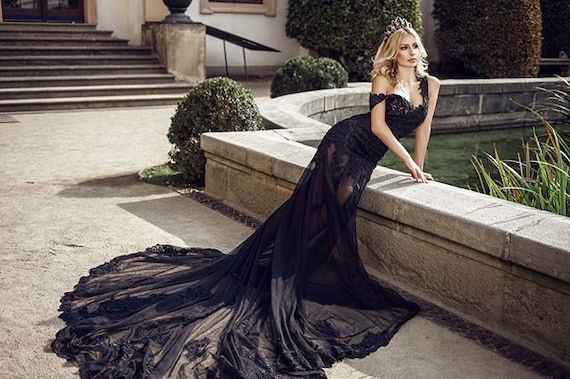 For the Fairytale Black Like Your Heart Wedding.  Black with a full train, floral lace and long tulle.
Stockist: Wedding Dress Fantasy

Price: AU$3181.49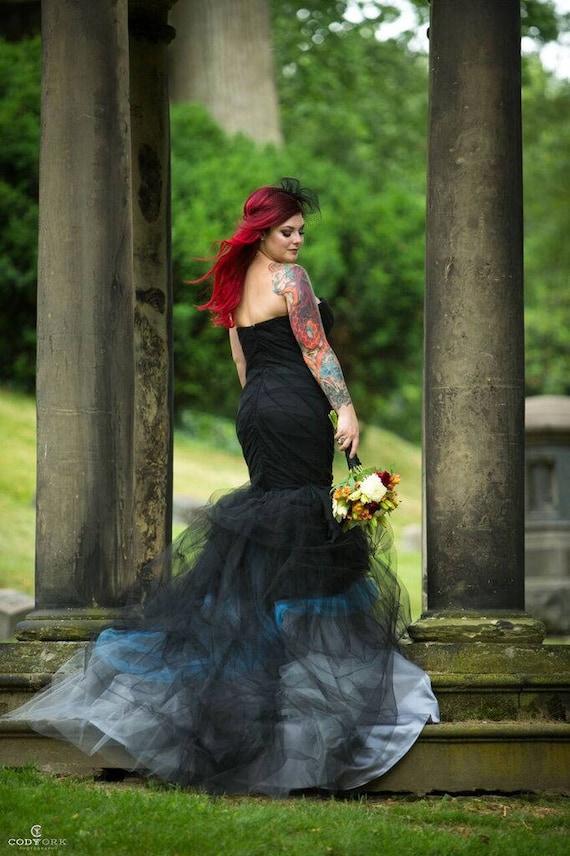 Made by Wedding Dress Fantasy who are award winning wedding gown designers located in the United States, this amazing gown has a fabulous ruched English net bodice and sweetheart neckline.  The ombre goes from deep velvet black to a light silver grey.  It has a fully corseted interior with boning and interfacing.
Stockist: Vanilla WFG Via Etsy

Price: AU$1149.67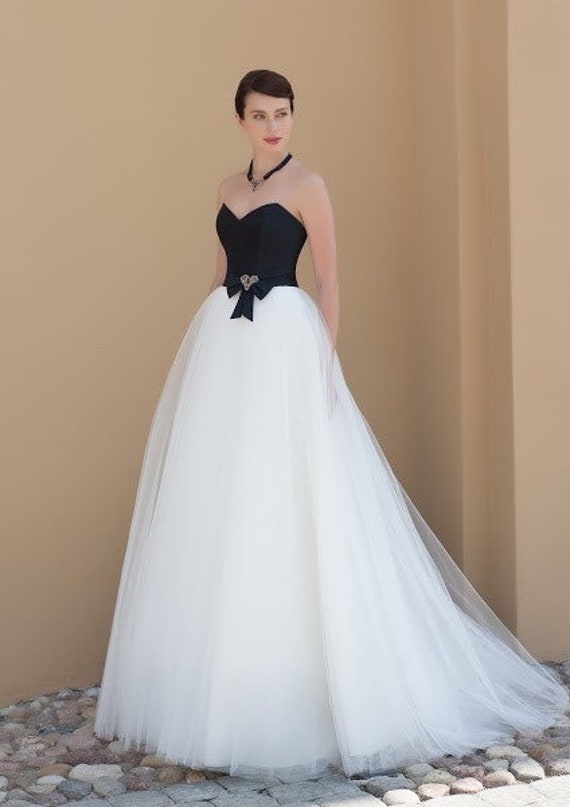 If you love black but don't think you can go the whole 'Black Wedding Dress' thing – than this is the perfect compromise.
Stockist: Etsy

Price: AU$1533.89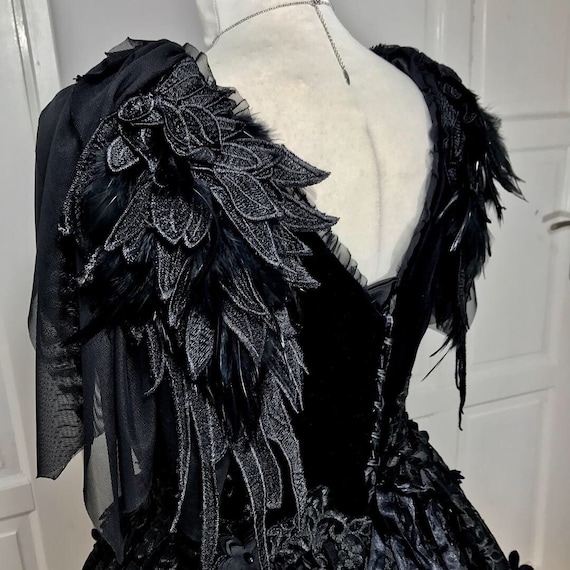 This absolutely incredible dress is black velvet with a black tulle skirt and 3d flower lace.
Stockist: Haizea Couture

Price: AU$1154.54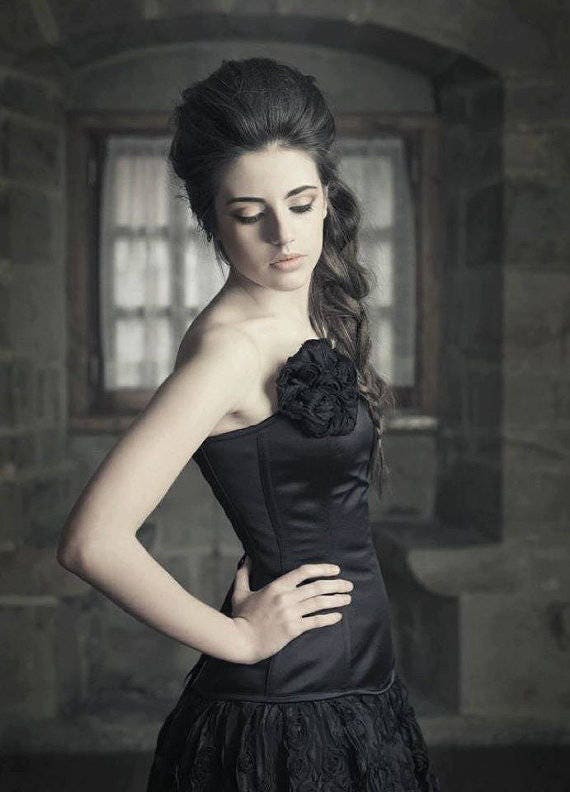 A black satin overbust corset with black tulle flower at the front. Made with steel boning and back satin lacing.
Stockist: Romantic Threads

Price: AU$2241.50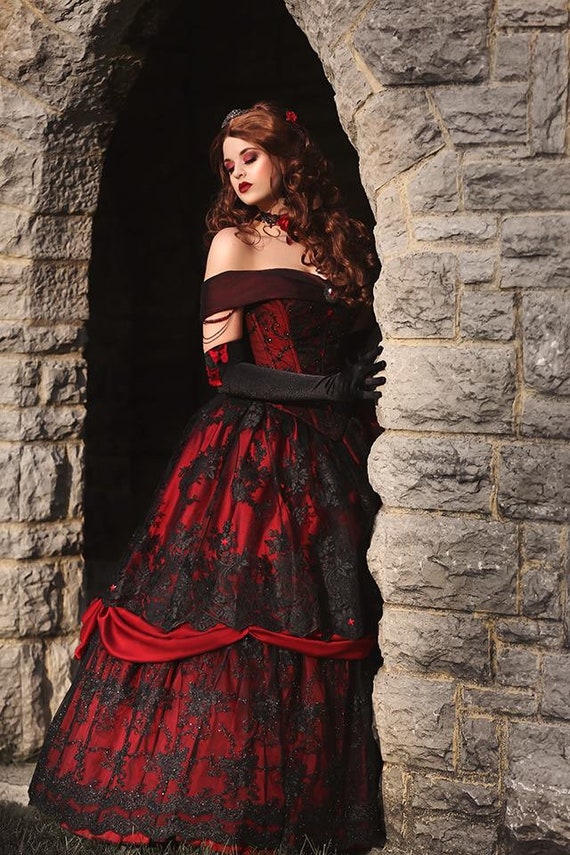 Beautiful Victorian Style Gown with a corset, full skirt and chiffon drape. Comes with opera gloves and hoop skirt.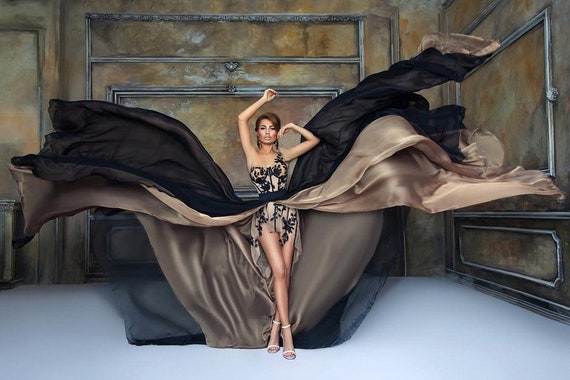 A sexy couture style wedding dress that is totally unique.  Made from a transparent nude style corset dress with a long train.
Stockist: KMK Designs

Price: AU$5278.38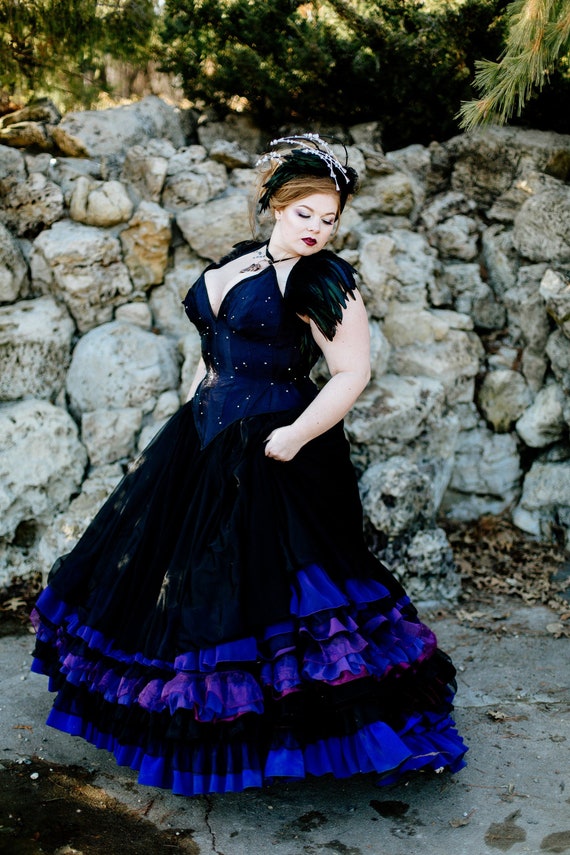 Stockist: Brides and Tailor

Price: AU$1417.21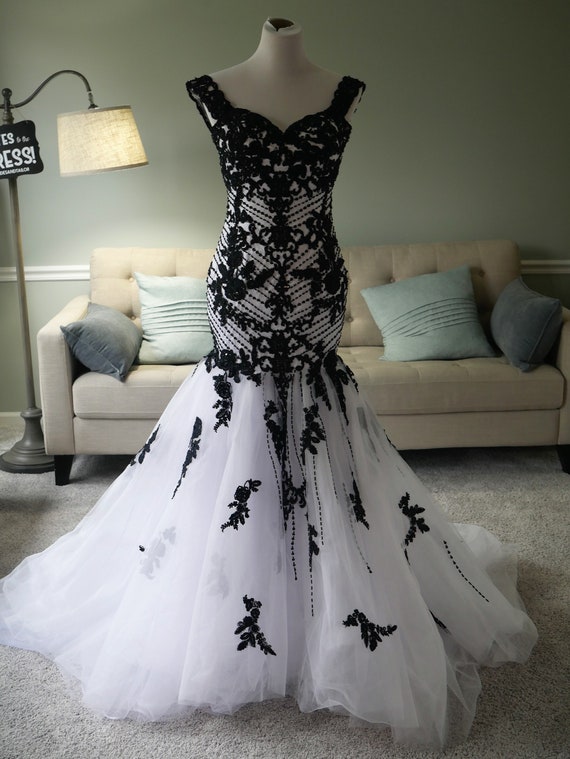 A handmade Gothic style gown.
Stockist: Iselle Bridal Studio

Price: AU$1247.29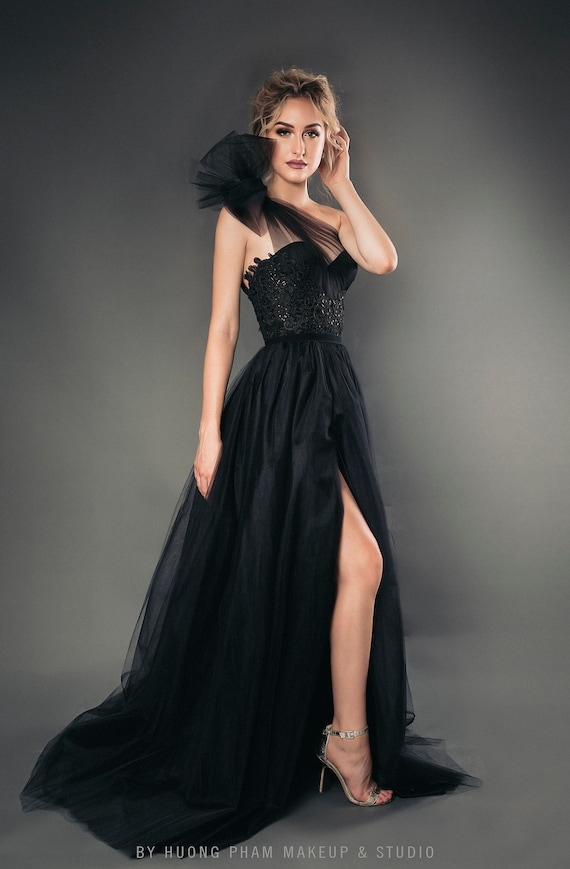 Handmade in California, this premium tulle gown with lace corset and high-slit skirt is simply stunning.
Stockist: Sveta Pushkina

Price: AU$5061.46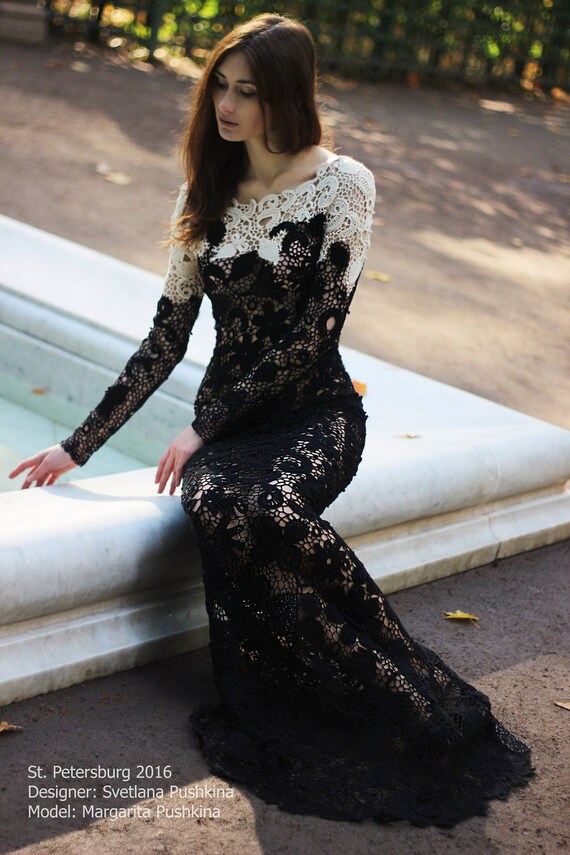 Made from Irish lace with buds and flowers embroidered with antique beads, vintage glass buttons.
Stockist: Maria Arciero Couture

Price: AU$1863.49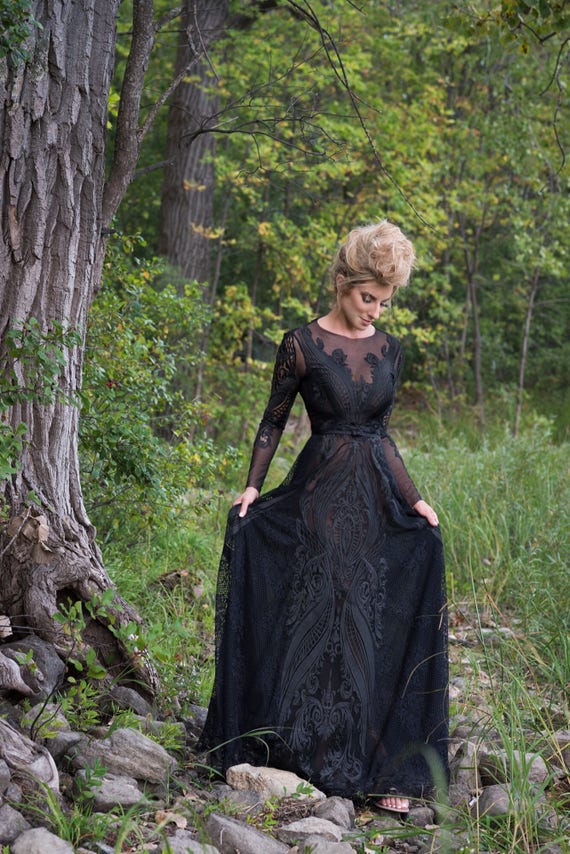 Stockist: A Cherie Couture

Price: AU$2819.96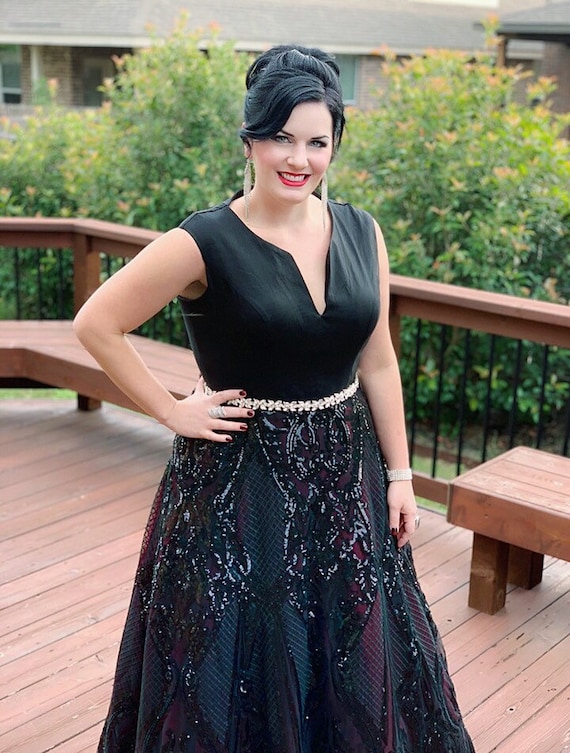 Handmade in the United States, this art-deco style gown is perfect for the older bride who still wants to look like a Queen on her wedding day!
Stockist: Alice Corsets

Price: AU$1272.60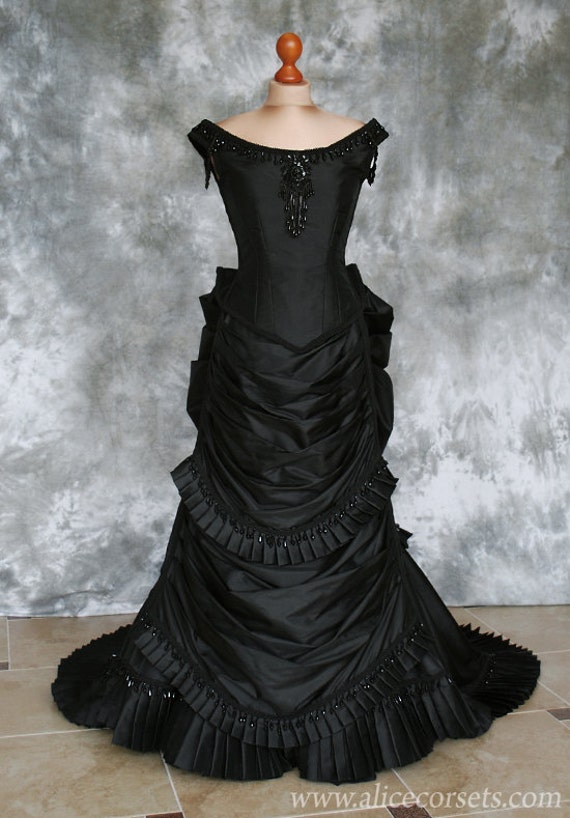 Stockist: Alice Corsets

Price: AU$2313.81
Stockist: Tonena

Price: AU$1937.82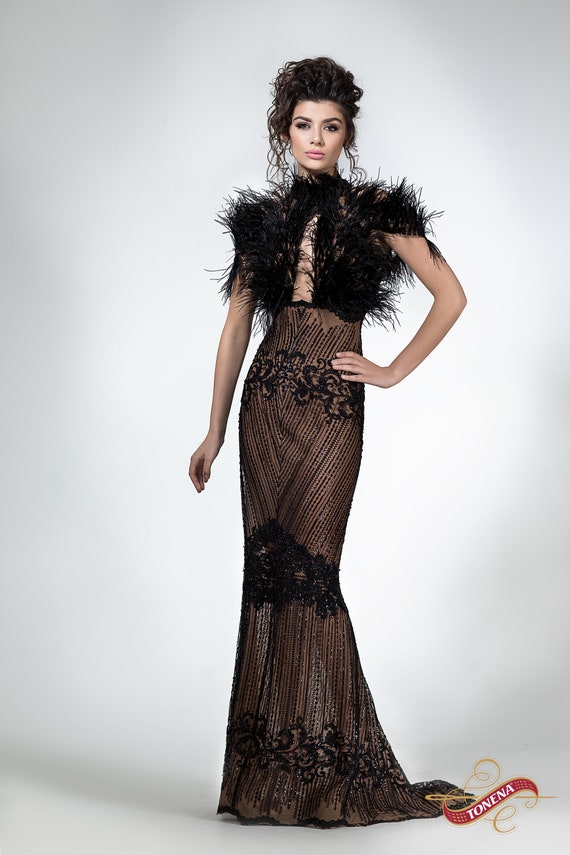 Hundreds of beads make the dress stunningly reflect the light and sparkle. In the upper part of this evening gown are incorporated black pheasant feathers, every single one of them sewn one by one by hand!  The basis of it is in a body color so that there's a beautiful contrast
Would you wear a black wedding dress on your wedding? What are your favourite black wedding dresses?