The Healthy Mummy Premium Smoothies Review. Super-impressed…
The Healthy Mummy has released a new line of smoothies – the premium smoothies! So, I've done a review and here is a hint – we are impressed!

Who is The Healthy Mummy?
The Healthy Mummy was founded by Rhian Allen, who had the vision to create products and programs that would support mums to live their healthiest life. She aimed to create products and promote realistic weight loss and not just about achieving the typical Instagram body. It isn't just about selling weight loss products, it's also about educating mums to be healthy and happy!
I've personally known Rhian for 10 years, she is a top chick and an amazing woman who really cares about the women she is helping with her products. She is a Mum too, with two beautiful boys.  She knows what it's like to struggle with weight, especially after having babies.
When you pop over to The Healthy Mummy website, you can see real weight loss results from mums and their reviews. The Healthy Mummy also has an app that included coaching, budget-friendly recipes and fitness plans. They also provide products such as supplements, snack packs, pregnancy products and also books.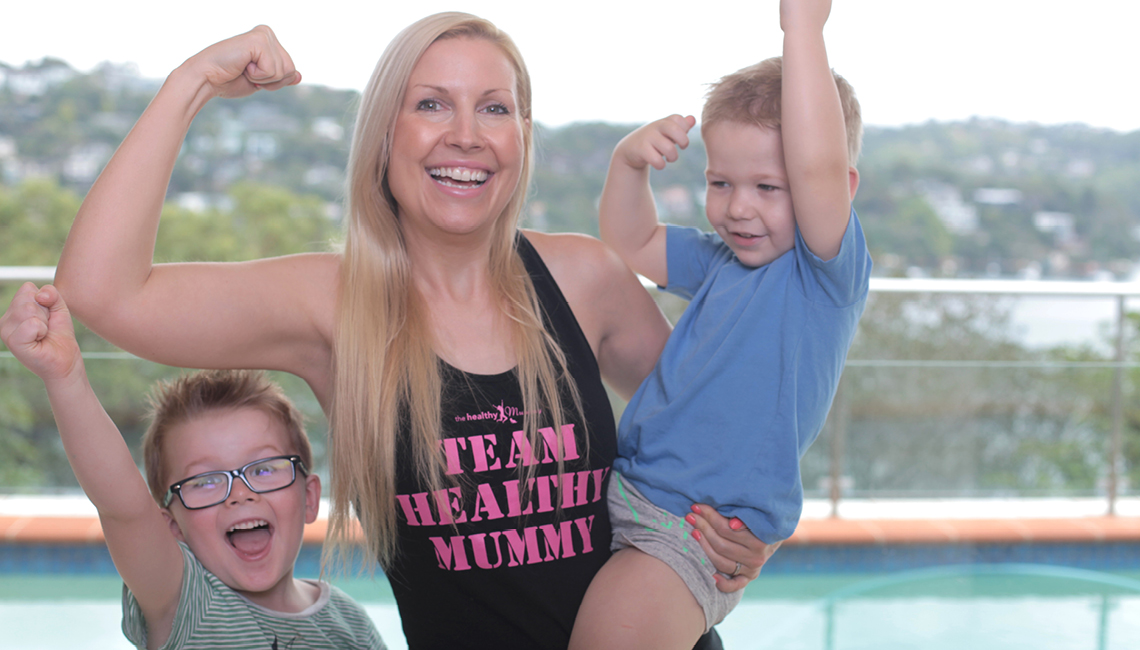 The Healthy Mummy most popular products:
The Healthy Mummy Premium Smoothies: 
The Premium Smoothies by The Healthy Mummy are a new range of weight loss whey protein meal replacement shakes. These smoothies have been designed by nutritionists and other experts, so with scientific input, these smoothies have some amazing health benefits. With 23 Vitamin and Minerals, the premium smoothies are jammed packed with nutrition. No artificial sweeteners or added sugar are included, and only 4 grams of carbs. Each smoothie contains 80% whey protein and is only 232 calories (using skim milk).There are three flavours of premium smoothies:
Double Chocolate
Caramel
Espresso.
Plus The Healthy Mummy just launched (Drum Roll):
Vanilla
Choc Mint
Banana Sundae
Here are just a few of the vitamin and mineral benefits of the premium smoothies:
More Vitamin A than a fillet of salmon
More Iron than a small steak
More potassium than 2.5 bananas
More Zinc than 5 eggs
More Calcium than a glass of milk
More folate than 2 cups of spinach
More vitamin B12 than 1 Chicken Breast
---
The Healthy Mummy Premium Smoothies Review
Please note that each smoothie doesn't come with a scoop, no real issue but just a heads up before you empty a tub looking for one. Tip: Just add 2 tablespoons of smoothie powder which will equal 30 grams.
Place 30g of smoothie powder into a glass or shaker with 250 ml of milk (alternatives of Almond and Skim are on the label). That's it! Simple, and quick – perfect for breakfast!
If you work outdoors or don't have access to cool milk, it might be hard to make smoothies throughout the day. But, you could always make one for breakfast or dinner if you needed. But, if you work in a workplace where you can access a fridge, then you are all sorted!
Quick Price Overview
RRP: $69.99 (Assuming Full Price)
Price / Serve: $4.60 (15 Servings)
Premium Caramel Smoothie: 
This was the first flavour that I tried, caramel is my love, so it makes sense I headed straight for this flavour straight up. I usually have protein powders with water, but I loved how refreshing this drink was with milk! It was smooth, creamy and light! Since its only 250ml (or 1 cup) of milk, I am a real slow drinker, I just sip! I didn't feel like "Oh crap! I've gotta drink all this in one sitting! The caramel wasn't overpowering or too sweet either. Very easy to drink.
Premium Double Chocolate Smoothie: 
Out of all of the flavours, this one is the winner for me! The after taste was just like a chocolate milkshake! So yum! It was easy to drink and it wasn't powdery in texture. I found myself questioning how they make it taste so yummy without sugar or artificial flavours! Out of all of the flavours, this one is the winner for me! It was filling, I drank it for breakfast at 7am, and I didn't get any hunger pangs until Midday.
It was so filling, I drank it for breakfast at 7am, and I didn't get any hunger pangs until Midday.
Premium Espresso Smoothie:
If you are a coffee lover, the premium espresso smoothie is amazing! It didn't taste artificial, or overly sweet. The texture was great, light, creamy and fluffy.
Overall, I was so impressed with these smoothies! For the price, they are really good value for money! I felt full, satisfied and the flavours were delicious! Let alone consider all of the healthy ingredients included!
---
---