Cheap Furniture Packages are a great 'value for money' way of setting you up in your first home
Whether you are a student living away from home for the first time or just finally getting your very own place, you know that buying furniture to suit your new home can get really expensive.
But did you know that there are loads of furniture chains that offer full furniture package deals? You get all the pieces you need in a 'cheaper than if you bought them all separately' bundle – perfect for your situation!
More Reading: 30+ Best Furniture and Home Decor Online Stores
Why You Should Choose Buying Cheap Furniture Packages?
It Helps You Save Time
Furniture packages are far handier for savvy, value-conscious, and time-pressed homeowners. They provide a rapid and cost-effective way to equip a house. Competent furniture packages supplied by different companies offer furnishing solutions that take into consideration all budgets.
You Can Put Together A Well-Coordinated Ensemble
Another advantage of furniture packages is that they guarantee that the furniture you purchase is well-matched. No matter what style you pick or whatever room you're completing, they'll go together. A well-coordinated house not only looks beautiful but also ensures that your visitors take pleasure in your home while they are staying there.
Tips For Selecting Furniture Packages
The beauty of furniture packages is that you get all the pieces of furniture you need at a discount. You don't have to visit shop to shop, deciding on every piece that will suit your space; instead, the work is done for you. Here are some tips to guide you.
If Possible, Pick It Up Personally
While a few furniture companies provide free delivery, cheaper retailers are less likely to do so. Pick it up personally if at all possible.
Look For Thrift Stores
Bargain and secondhand stores may be wonderful locations to locate affordable hardwood furniture but beware of taking cushioned and upholstered items home since they may contain bedbugs or other unwanted objects. For items like your first end table, shop at secondhand stores.
Start Humble
Rather than buying high-end furniture all at once, start with low-cost items to satisfy all of your needs, then gradually update pieces as needed. Purchasing an expensive sofa for a room only to discover later that the couch isn't quite appropriate is a terrible choice.
Look For Outlet Retailers
Many bigger furniture businesses also offer outlet stores to sell the remaining few pieces of an out-of-stock model. This is an excellent location to find a one-of-a-kind item at a low price.
Shop Online
You can locate amazing pieces online if you're prepared to forego trying out furniture and seeing it in person. Furthermore, purchasing online makes it easy to locate items in the exact colour and size desired.
So, to sum it all up, here are the 14 Cheap Furniture Packages for Setting Up Your First Home!
Cheap furniture packages aren't often widely advertised, so sometimes it's tricky to know just where to find these great deals – but we know where!
The Manhatten Package from Fantastic Furniture is a great way to inexpensively furnish your first home or apartment, especially if you are a fan of modern, minimalist furniture. The package includes:
The Verona Buffet
A Lowline Entertainment Unit
A Lamp Table
A Coffee Table
7-Piece Dining Room Table and Chairs
Read more about The Manhattan Package ->
The Chanelle 4-Piece Bedroom Package
Price: $2199.00 (save $1500.00)
Stockist: Amart Furniture
A beautiful and elegant four-piece French Provincial style bedroom furniture package that includes:
Queen Sized Bed
2 matching bedside tables
Tall set of drawers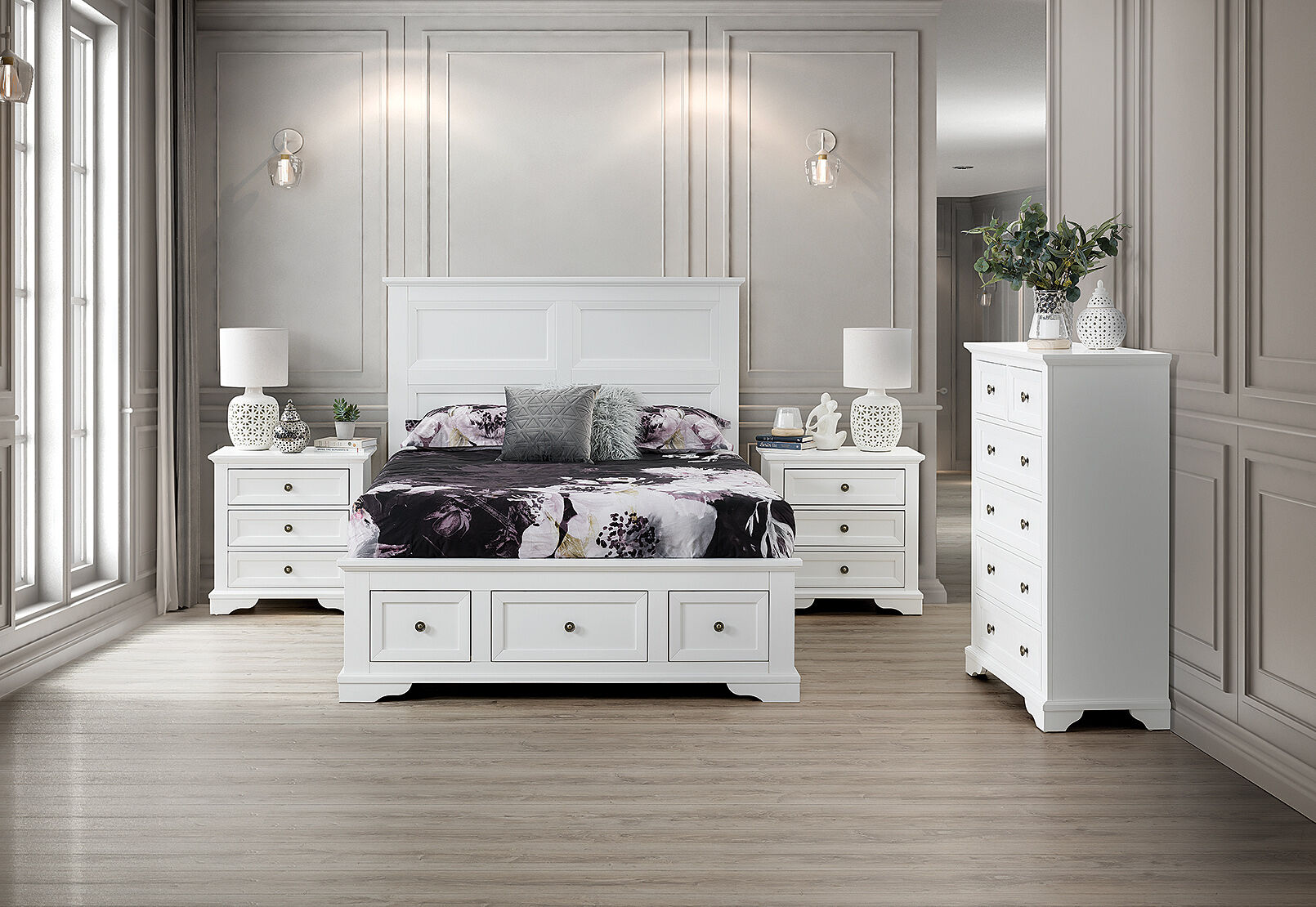 The Boston Living Package from Fantastic Furniture has 15 pieces of furniture to suit three-room in your new home. The package includes:
The Bondi Double Bed
Bondi Tallboy
Bondi Bedside Tables x 2
Sleeptight Double Mattress
Monti 6 Seater Dining Set with Mambo Chairs
Monti Coffee Table
Monti 140cm Entertainment Unit
Monto Lamp Table
Tivoli 2-Seater Sofa
Read more here The Boston Living Package ->
The Dalkeith Furniture Package is a bit more solid for a more vintage or old-style home. Timber is always timeless and is warm and inviting. The package includes:
The Dalkeith 6-Seater Dining Set with Madison Chairs
Dalkeith 180cm Entertainment Unit
Dalkeith Coffee Table
Dalkeith Lamp Table
Read more about the Dalkeith Furniture Package ->
French Country Charm is what the Torkay Package is all about from Fantastic Furniture. I love this style, very Hampton's and always timeless. The package includes:
Torkay 6-Seater Dining Set with Newhaven Chairs
Torkay Coffee Table
Torkay 190cm Entertainment Unit
Torkay Lamp Table
Read more about The Torkay Package here –>
Love the beachy look of the Hamptons? Then the Coastal looking Hamilton Package from Fantastic Furniture could be the perfect cheap furniture package for you. The package includes:
The Hamilton 6-Seater Extendable Dining Set with Province Chairs
Hamilton Coffee Table
Hamilton 116cm Entertainment Unit (Small)
Hamilton Side Table
Hamilton Buffet6
Hamilton Hall Table
Read more about the Hamilton Furniture Package ->
Entertain in elegance with the 9-piece Monaco Package, which will take your place to new heights. To enable you to get the modern luxe appearance for less, the Monaco Package combines the marble impression design of the Monaco collection with the sumptuous feel of the Lyon seats. With soft carpeting and gorgeous wall art, you'll never want to leave your home's elegant glitz! The package includes:
Monaco 4 Seater Dining Set With Lyon Chair
Monaco Coffee Table
Monaco Lamp Table
Monaco Hall Table
Monaco 160cm Entertainment Unit
Read more about the Monaco Package ->
The Seaforth Living Package will give your living area a Scandinavian feel. It is the ideal blend of Industrial and Scandinavian décor, with its straightforward to clean oak-look finish and black metal legs. The package includes:
Seaforth 4 Seater Dining Set With Mambo Chairs
Seaforth Buffet
Seaforth Coffee Table With Mesh
Seaforth 124cm Entertainment Unit
Seaforth Nested Tables
Read more about the Seaforth Living Package ->
You'll be astonished by how elegant and beautiful the Limited Edition Belrose Sofa is with just one look. The oh-so-chic Belrose 2 Seater is a contemporary twist on a traditional design that will fit a range of home designs. The Belrose will take centre stage in your house, whether you want the cozy sense of classic country décor or want to create a minimalistic and futuristic environment.
With the elegant Toto Coffee Table, you can embrace the simplicity of the current Scandinavian style at a fraction of the price. It has pale wood tapering legs and a circular tabletop, giving it a crisp, contemporary design that will complement any modern living area. The package includes:
Toto 4 Seater Dining Set With Dimi Chairs
Belrose 2 Seater Sofa With Oak Legs
Toto Lamp Table
Toto Coffee Table
Toto 120cm Entertainment Unit
Read more about The Cove Living Furniture Package ->
The Niva Living Package is a set of 12 items that will help you arrange your living and dining rooms in a stylish Scandinavian design.
The Retro 7-piece dining set has a softly moulded tabletop and sturdy wood legs. To bring your dining space a quirky retro touch, pair it with the designer-inspired Replica Eames Chair. The dining table's surface is made of extra-durable melamine laminate, which resists stains and watermarks and is easy to clean. The Replica Eames Chair has moulded seats for comfort and wooden legs for support. Most importantly, the seat is made of easy-to-clean PU, making cleanup a snap after meals! The package includes:
Retro 6 Seater Dining Set With Replica Eames Chairs
Jazz 3 Seater Sofa
Niva Coffee Table
Niva Side Table
Niva 160cm Entertainment Unit
Niva Buffet
Read more about The Niva Furniture Living Package ->
With the elegant Toronto Package, you can make the best-coordinated appearance for your lounge and dining area. Each item is handcrafted from Acacia wood and features a distinctive rough grain accentuated by a fine brushed finish and white washed stain. Relax and enjoy pleasant nights in your beautifully decorated house. The package includes:
Toronto 6 Seater Dining Set With Parker Chairs
Toronto Coffee Table
Toronto Lamp Table
Toronto 140cm Entertainment Unit
Read more about The Toronto Furniture Package ->
This beautiful Havana bundle will give your house a bright and airy feel. The chic wood pieces have a light oak finish, a textured surface, and a clever, contemporary design. With its slatted head and footboard, the Havana double bed offers a relaxing beach atmosphere. The Brighton Sofa 2 Seater, produced in Australia, is appealing from the minute you see it. The Havana Living Package's extra-plush padding invites you into its embrace, while the timber frame provides a stylish touch. The package includes:
Havana 6 Seater Dining Set With Replica Tolix Chair
Havana Coffee Table
Havana 140cm Entertainment Unit
Havana Tallboy
Havana Bedside Table
Havana Nested Tables
Brighton 2 Seater Sofa
Havana Double Bed
Sleeptight Double Mattress
Read more about The Havana Living Package ->
Do you want a seaside and bohemian appearance in your home but can't afford it? Get ready for the newest and most exciting collection – the Java! Our stylish Java collection includes natural rattan doors, panels, and drawers with a textured, sandy wood appearance finish! The package includes:
Java 6 Seater Dining Set With Elke Chairs

Java Coffee Table

Java Entertainment Unit

Java Buffet

Java Lamp Table

Java Hall Table
Read more about The Java Furniture Package ->
Wrap up your bedroom with the Dalkeith King Bedroom Package. This bundle creates a powerful statement and mother nature indoors. The acacia wood, which is acquired from sustainably produced planted forests, highlights the inherent beauty of the wood grain while providing a robust and long-lasting finish. The package includes:
Dalkeith King Storage Bed

Dalkeith Bedside Table

Dalkeith Bedside Table

Dalkeith Tallboy
Read more about The Dalkeith King Bedroom Package ->
The Longreach King Bedroom Package will add some traditional country beauty to your bedroom. The Longreach King bed's sturdy wood bed frame and slats have a rustic finish for a real rural appearance and feel, and it can easily blend in with a range of décor designs.
The matching dresser and bedsides are likewise crafted of solid wood and have large drawers with easy-glide runners that can provide plenty of storage room for your clothing and other belongings. The top two drawers of the dresser are even lined with felt to protect your most valuable possessions! The package includes:
Longreach King Bed

Longreach Bedside Table

Longreach Bedside Table

Longreach Dresser
Read more about The Longreach King Bedroom Package ->
Above all, Have A Good Time!
While moving into a new house might be stressful, take a minute to consider the home you're establishing for yourself and your family; it's a place where you and your loved ones can create new memories over mealtimes, Christmas feasts, and warming up on the couch.
We hope this post has provided you with some further tips on how to furnish your house cheaply. Let us know your thoughts or if you have just relocated and would want to share any of your new construction experiences!