Cheap Furniture Packages are a great 'value for money' way of setting you up in your first home
Whether you are a student living away from home for the first time or just finally getting your very own place, you know that buying furniture to suit your new home can get really expensive.
But did you know that there are loads of furniture chains that offer full furniture package deals? You get all the pieces you need in a 'cheaper than if you bought them all separately' bundle – perfect for your situation!
More Reading: 30+ Best Furniture and Home Decor Online Stores
Why You Should Choose Buying Cheap Furniture Packages?
It Helps You Save Time
Furniture packages are far handier for savvy, value-conscious, and time-pressed homeowners. They provide a rapid and cost-effective way to equip a house. Competent furniture packages supplied by different companies offer furnishing solutions that take into consideration all budgets.
You Can Put Together A Well-Coordinated Ensemble
Another advantage of furniture packages is that they guarantee that the furniture you purchase is well-matched. No matter what style you pick or whatever room you're completing, they'll go together. A well-coordinated house not only looks beautiful but also ensures that your visitors take pleasure in your home while they are staying there.
Tips For Selecting Furniture Packages
The beauty of furniture packages is that you get all the pieces of furniture you need at a discount. You don't have to visit shop to shop, deciding on every piece that will suit your space; instead, the work is done for you. Here are some tips to guide you.
If Possible, Pick It Up Personally
While a few furniture companies provide free delivery, cheaper retailers are less likely to do so. Pick it up personally if at all possible.
Look For Thrift Stores
Bargain and secondhand stores may be wonderful locations to locate affordable hardwood furniture but beware of taking cushioned and upholstered items home since they may contain bedbugs or other unwanted objects. For items like your first end table, shop at secondhand stores.
Start Humble
Rather than buying high-end furniture all at once, start with low-cost items to satisfy all of your needs, then gradually update pieces as needed. Purchasing an expensive sofa for a room only to discover later that the couch isn't quite appropriate is a terrible choice.
Look For Outlet Retailers
Many bigger furniture businesses also offer outlet stores to sell the remaining few pieces of an out-of-stock model. This is an excellent location to find a one-of-a-kind item at a low price.
Shop Online
You can locate amazing pieces online if you're prepared to forego trying out furniture and seeing it in person. Furthermore, purchasing online makes it easy to locate items in the exact colour and size desired.
So, to sum it all up, here are the 14 Cheap Furniture Packages for Setting Up Your First Home!
Cheap furniture packages aren't often widely advertised, so sometimes it's tricky to know just where to find these great deals – but we know where!
The Manhatten Package from Fantastic Furniture is a great way to inexpensively furnish your first home or apartment, especially if you are a fan of modern, minimalist furniture. The package includes:
The Verona Buffet
A Lowline Entertainment Unit
A Lamp Table
A Coffee Table
7-Piece Dining Room Table and Chairs
Read more about The Manhattan Package ->
The Chanelle 4-Piece Bedroom Package
Price: $3799.00
Stockist: Amart Furniture
A beautiful and elegant four-piece French Provincial style bedroom furniture package that includes:
Queen Sized Bed
2 matching bedside tables
Tall set of drawers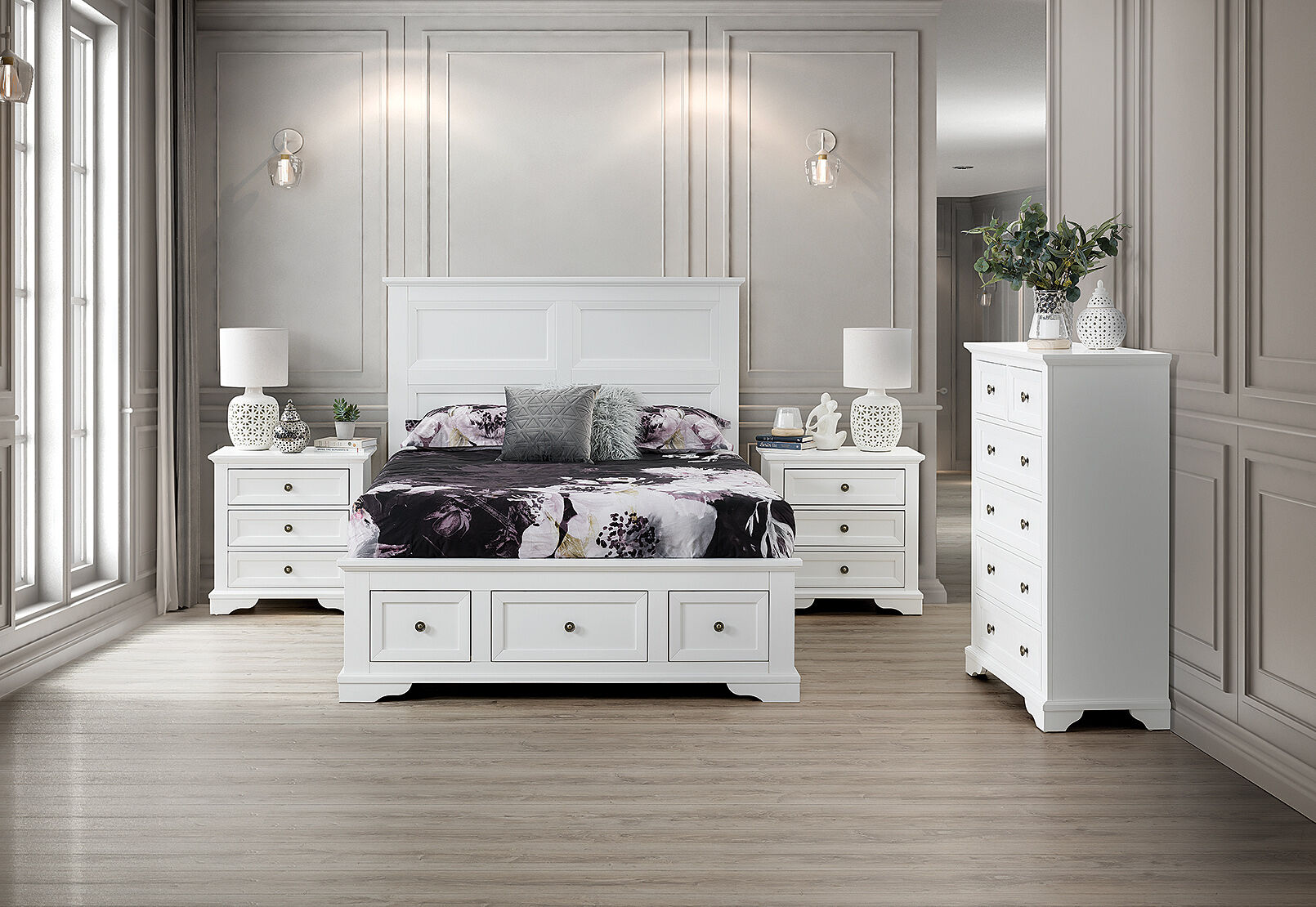 The Boston Living Package from Fantastic Furniture has 15 pieces of furniture to suit three-room in your new home. The package includes:
The Bondi Double Bed
Bondi Tallboy
Bondi Bedside Tables x 2
Sleeptight Double Mattress
Monti 6 Seater Dining Set with Mambo Chairs
Monti Coffee Table
Monti 140cm Entertainment Unit
Monto Lamp Table
Tivoli 2-Seater Sofa
Read more here The Boston Living Package ->
The Dalkeith Furniture Package is a bit more solid for a more vintage or old-style home. Timber is always timeless and is warm and inviting. The package includes:
The Dalkeith 6-Seater Dining Set with Madison Chairs
Dalkeith 180cm Entertainment Unit
Dalkeith Coffee Table
Dalkeith Lamp Table
Read more about the Dalkeith Furniture Package ->
Love the beachy look of the Hamptons? Then the Coastal looking Hamilton Package from Fantastic Furniture could be the perfect cheap furniture package for you. The package includes:
The Hamilton 6-Seater Extendable Dining Set with Province Chairs
Hamilton Coffee Table
Hamilton 116cm Entertainment Unit (Small)
Hamilton Side Table
Hamilton Buffet6
Hamilton Hall Table
Read more about the Hamilton Furniture Package ->
Above all, Have A Good Time!
While moving into a new house might be stressful, take a minute to consider the home you're establishing for yourself and your family; it's a place where you and your loved ones can create new memories over mealtimes, Christmas feasts, and warming up on the couch.
We hope this post has provided you with some further tips on how to furnish your house cheaply. Let us know your thoughts or if you have just relocated and would want to share any of your new construction experiences!