Life is not easy for busy mums who need to juggle between work and family responsibilities but some smart, time-saving home appliances can definitely make a difference.
If you are a busy working mum, you will probably know the challenges of rushing between cooking, cleaning, changing nappies and leaving for work. The woes are not just confined to those who are working 9 to 5, but mummies managing families can be equally tied up all the time.

Yet, there are some time-saving appliances that can be lifesavers for them. Here are the ones you must absolutely own.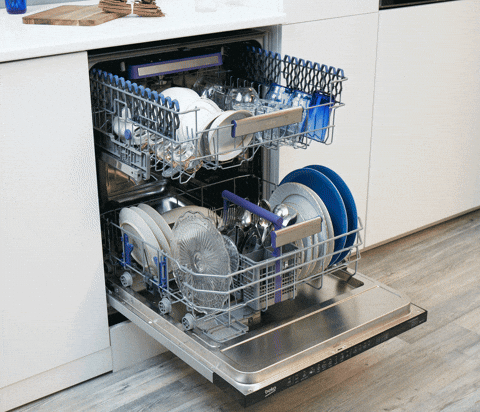 A Dishwasher
A dishwasher is an amazing kitchen helper as you just need to put your dishes inside it and you will have germ-free, sparkling utensils, that too with zero effort. The dishes turn out super clean, with stains and deposits of the toughest materials like oil and pickle removed thoroughly. So this cool appliance should be on top of your wish list if you don't already have it in your kitchen. Start exploring retail store catalogues right now to find a dishwasher that is right for your family and fits into your budget as well.
How Dishwashers Save You Time and Money:
Dishwashers use less water then constantly filling up the sink to do washing up. Plus they really save your sanity if you hate washing the dishes! Plus it is a job you can teach the kids to do!
An Air fryer
If you are a busy mum who is health-conscious as well, an air-fryer is the smartest appliance you can shop for. Just drop in at one of the nearest Harvey Norman stores and pick a piece to make your kitchen healthier than ever. The appliance cooks food quickly and requires almost no oil. You can even roast, grill and bake foods with an air fryer, which means that one device does it all for you. Another reason why it makes a superb pick for busy women is that you don't need to do much for cleaning it. In fact, you can even clean its parts in a dishwasher.

Food Processor
A food processor is your go-to appliance for all the cutting, chopping and mixing needs in the kitchen. You need not slog in the kitchen for hours, just because these tasks eat up as much time as the actual cooking does. A food processor has you covered for everything, whether it is about chopping veggies finely for stew, cutting them coarse for salads or mixing the dough. Also, you get custom settings to handle different needs with the appliance. It is a good idea to pick a new mini food processor in a sale if you don't have one already.
How a food processor can save you money:
I like to buy the 1kg cheese blocks – then run the whole lot through the food processor on the grating function. I then put the grated cheese in smaller ziplock bags and freeze them. Much cheaper than pre-grated cheese!
Robotic Vacuum Cleaner
When you have kids and pets in your house, cleaning can be a major chore to handle. Moreover, it can take away precious hours and drain your energy as well. A robotic vacuum cleaner can be a true saviour because it eliminates the need for brooms and mops and will go over your floors cleaning up all the crumbs without you even having to think about it.
If you have pets, there are pet versions available (I have two labradors – hair is everywhere!) – which really get all that hair out of rugs and carpets in the house. AND there are even Robotic Vacuums that will mop your floors!
A Dryer
Yes dryers cost money to run, but they really are handy to have, especially after a week of rain and you have no way to get the kids clothing dry. Hang the expense – sometimes a gal just needs to stuff that washing in the dryer and get it done!
Author Bio: Kevin Coles is the new research analyst at Outreach Monks and is a caring husband and father to two beautiful daughters. He has been contributing his work to the leading magazines online, and now leads a team of enthusiastic marketers.