Save Money on Your Power Bill with Solar Roof Tiles
As the renewable energy industry grows significantly across the glove, demand for solar power systems in Australia continues to increase. With the intense sunshine and hot Australia climate, there is a high potential for solar energy production in the country.
Australia has more solar power energy per square meter than any other country int eh world. Statistics also show that 2018 produced approximately 13 million individual solar panels across the country.
Conventional solar power systems consist of large, rigid solar panels that are attached to a roof mounted rack off the roof. Size and weight vary, but the aesthetic of most solar power systems is similar across the board. Some consumers have argued that these panels stand out like a sore thumb and would prefer something more inconspicuous. For those who prefer something slicker or less noticeable, or simply want a more high-end and aesthetically pleasing solar power system, solar roof tiles could very likely be your solution.
Solar roof tiles, also known as building integrated photovoltaics (BIVP), are an innovative solar energy solution, designed to be integrated discreetly with other similar (non-solar) tiles.
This seamless design has been created as an alternative to conventional solar power systems that some consider to be quite an eyesore. Like traditional solar systems, solar roof panels turn sunlight into electricity. Warm air collected beneath the roof tiles can be transferred throughout the interior of your home.
They work by storing all the electricity that is generated throughout the day so that it can be utilized after sunset. This means your home will always have access to electricity and heat at any time of the day or night.
What is unique about these tiles is their ability to perform as well as conventional solar systems while fitting seamlessly into the design of your existing roof. Or alternatively, to match the design you require.
As this industry develops, roof tiles are now being offered in a variety of styles including textured, Tuscan or smooth glass.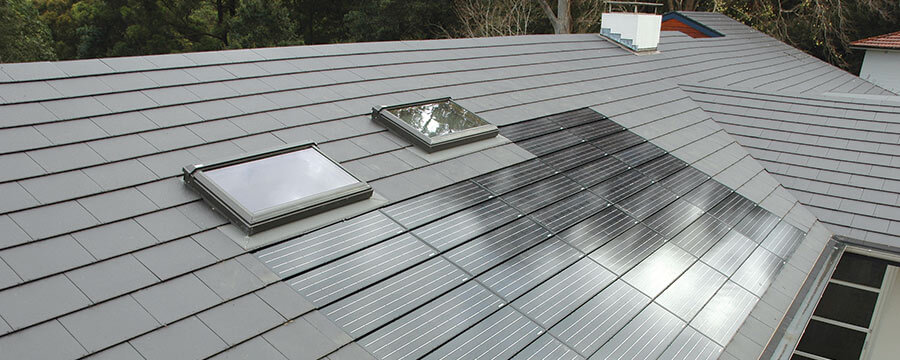 Nulok Roofing System
1. Drill Free
There is no need to drill holes into your roof when installing solar roof tiles, minimising any damage to your roof.
2. Solar Roof Tiles Increase the Value of Your Home
Installing such advanced solar power systems will increase the overall value of your home.
3. Innovative Design
Roof riles are created to match the aesthetic of your roof almost perfectly, creating a visually pleasing look.
4. Heritage Conversations and Other Similar Areas
If you live in an area that does not permit the installation of solar panels, roof tiles are the perfect alternative.
5. Wind Resistant
Roof riles are more resistant to heavy winds than regular solar panels and often perform better.
6. Modern Aesthetic
Roof riles are visually sleeker and more contemporary looking, perfect for newer and modern homes.
7. Less Maintenance
Roof riles require less upkeep than traditional solar power systems as there is no gap between the actual roof and the tiles. This minimizes the amount of debris caught in the system, something that often occurs with conventional solar power systems.
8. Easy Installation
If you roof isn't suited to traditional solar power systems, roof tiles can still be easily installed.
9. Advanced Battery System
Roof riles have an advanced battery storage system that can accumulate any excess energy to utilise it in the night or during the colder days.
10. No Damage To Your Roof
As there is no need to drill, cut or grind, roof tiles will not affect the integrity or quality of your roof.
Points to Consider Before Buying Solar Roof Tiles
Cost
Historically, solar roof tiles are significantly more expensive than conventional solar systems, with solar tiles requiring waste material for each cell. Furthermore, they are fairly dependant on the angles of your roof.
Water Ingress
Modern roofs are designed to keep out the rain through the use of large steel sheets with minimal joists or overlaps. Solar roof tiles have many joins and gaps, potentially allowing for water to get in.
Requires Same Branding Components
Once you have selected a solar roof tile model and design, you will be unable to change brand in the future. All upgrades, repairs and extensions must be done with the same brand components.
Yield
In order to optimize your roof area, it should be covered with solar tiles. If there are spaces between the tiles, your overall yield will be significantly lower.
Efficiency
Solar roof tiles are much thinner than conventional solar panels, which could result in them being less efficient overall.
Aesthetic
Almost all roof tiles have a metallic finish and may not match your roof or fit your homes look.
Roof and Angle
Unlike conventional solar panels, you cannot angle roof riles. Thus the shape and angle of your roof determines how many tiles can be laid down thereby affecting your overall efficiency and yield.
Tractile Eclipse Solar Tiles
Which Roof Type is Best for Installing Solar Roof Tiles?
Generally, all roof types should qualify. However, some roofs may require additional labour due to the difficulty of installation that may come as a result of the condition or the angles of your roof.
The following roof materials are numbered from easiest to hardest when installing solar roof riles.
Standing-seam metal roof.
Asphalt composite shingles.
Wood shake roofs.
Clay/stone tiled roofs
Cost
Solar roof tiles are most costly than conventional solar power systems. As with any product, prices range depending on the brand as well as any additional bells and whistles you may require. It is therefore almost impossible to get an exact costing without having a professional assess your home and give you a quote.
Cost of solar roof tiles from various manufacturers across Australia:
Bristile solar roof tiles – $15,675
Tractile's Eclipse solar PV tiles – $13,000
Nulok solar inserts: Between $8000 – $14,000
Solartiles by Monier – Approximately $18,0000
Tesla Solar Roof – TBC, currently there is a $1310 reservation cost, and experts estimate the cost to be around $95,000 (based on existing Tesla solar roof prices).