EEEEK!! Your child has come home with nits and head lice.
As a kid, I had really long curly hair, all the way down to my bum. I also had headlice almost CONSTANTLY because the girl that sat behind me in class always had them. It didn't matter that my hair was clean, that I wore it bundled up on my head. I remember sitting outside the office of the school after they had called my mother to come to collect me to 'Do something about the lice'. It was mortifying.
If you have young children, particularly in primary school, there is a very good chance that at some stage, you are going to have to deal with treating headlice. For when that inevitable day happens – there are a few items you should have on hand (because of course it will only be discovered on a Sunday night when you have already changed into your pyjamas!).
But many parents don't even know what to look for when it comes to headlice. So let's show you what they look like, where to look and the best ways to treat them!

Table of Contents:
More Reading:
More Reading:
1. Some Interesting Facts About Head Lice
Head Lice have been around for thousands of years. They are very small, wingless insects that feed on the blood from the human scalp. Head Lice spread very easily via 'head to head' contact, hence the reason primary school children are the most popular 'victim'.
Adults can, and do, get head lice – especially if their children are infected. A good way to prevent this is to wear a shower cap when treating your children.
A typical female louse can lay up to eight eggs (called nits) per day.
2. The Signs Your Child May Have Headlice
There are a few easy signs that indicate that your child may have headlice. They include:
Scalp itching, particularly on the nape of the neck
Your child makes a comment about a tickling feeling on the scalp
There are sores, scrapes or scratch marks on your child's scalp.
There are small red bumps on the scalp
Your child isn't sleeping well
Keeping a good Lice Comb at home will really come in handy when you need it the most!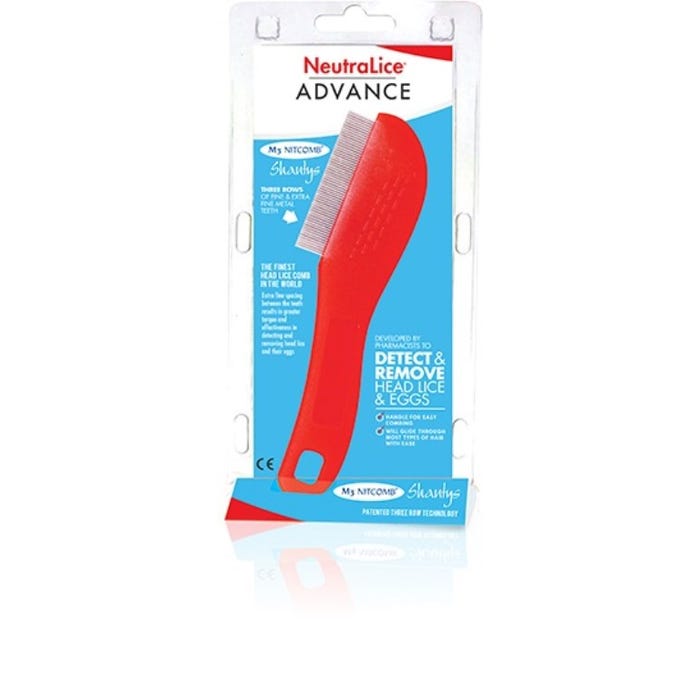 3. How Do You Check Your Child for Headlice?
The next step is to actually check your child for signs of headlice. To do this:
Place your child in a chair in a very brightly lit room (the bathroom with the heater lights on is ideal).
Part your child's hair down the centre to the nape of the neck.
If you need additional light – use your phone's torch function
Check from the base of the neck – remember that lice hate light – so they will be moving to avoid the light – this makes them easier to spot.
Use a very fine-toothed comb (or nit comb if you have one) to go through your child's hair section by section.
Tip: Parents can get lice too! When treating your child's hair, wear a shower cap!
4. What Do Nits or Headlice Look Like?
Nits (which are the eggs of the lice) look a bit like cracked pepper. They can be black, brown, white or even yellow – and they attach themselves to the hair follicle close to the scalp. Because they are so small, they are easily confused with other scalp conditions like dandruff. To tell, try and remove a nit with your fingernails (gross I know) – if the eggs don't want to budget – they are nits. If the 'spot' is easily removed with your nails – it's probably dirt or dandruff.
Lice on the other hand are a bit larger and are shaped a bit like a grain of rice. Live louse need to live near the scalp to survive, and they feed on the blood of their hosts.
If you look at the image below – you can see the nits attached to the hair follicles.
Okay, We Have Head Lice in the House – What Now?
Okay now that you have confirmed that yes indeed, your child has headlice, the next step is treatment.
You can go the home remedies route – or if that doesn't work – the more hard-core remedies!
5. Home Remedies for Headlice
Look home remedies are certainly worth a try. But headlice are tough little suckers – and usually need a bit more 'grunt' to get rid of them. But these are certainly worth a shot:
When the kids are in the bath – pour plain white vinegar through their hair (be careful you don't get it in their eyes, it will sting!). Leave it in overnight and wash it out in the morning and comb through with a nit comb. You will need to repeat this method three to four days later.
Use a cheap conditioner and cover the kid's hair with a shower cap and leave it for a few hours. Then comb through with a nit comb to remove eggs. You will have to repeat 3 – 4 days later in case you miss any eggs.
Mayonnaise is meant to work in the same way as the conditioner method above – and it makes your hair lovely and shiny.
Olive oil also works by 'smothering' the head lice and the eggs. Massage through to the scalp – leave for a few hours if you can – then wash thoroughly. Use a headlice comb to remove what's left!
If you have Selsun Blue or Selsun Gold (anti-dandruff shampoos), wash your child's hair with the Selsun and leave in the hair for 30 minutes (place a shower cap on to prevent the soap getting into their eyes), then wash out, condition and use head lice comb.
Fun Fact: Lice cannot 'jump' and do not have 'wings'. Transmission is usually made when direct head-to-head contact – which is why lice are more prevalent in kids!
6. The Best Head Lice Treatments
If all else fails, it's time to head to the chemist for something a little stronger.
There are quite a few options you can try including:
This is my go-to treatment for my boys – and I've found it works really really well – and doesn't smell all 'chemical nasty' like some of the other treatments do. Plus it is perfect for kids who have sensitive scalps! It smells very strongly of eucalyptus (which is a smell I really love). Like all lice treatments, just be careful not to get it in your child's eyes.
You do still need to comb out all of the eggs with a lice comb.
Probably the quickest, easiest and most effective way to treat head lice is Licener Complete Solution All-In-One Treatment. Licener kills both head lice and eggs in one easy 10 minute treatment and doesn't require any combing.
Licener is gentle on the skin and hair, doesn't sting and has little to no odour. It is natural plant-based and dermatologically and clinically tested.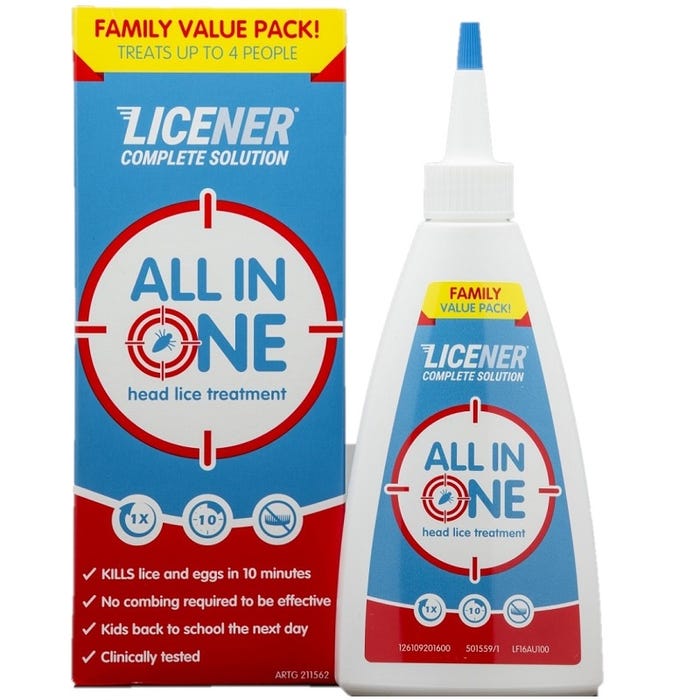 3. Robi Comb Pro Electronic Lice Comb
If you aren't a fan of putting any chemicals on your child's scalp, perhaps consider one of the electronic lice comb's on the market. The most well known is the Robi Comb. It detects, prevents and kills head lice electronically – just by using the comb on your child's hair.
4. Licetec V-Comb Supra
This is a product that I have used and endorsed myself (not paid to put it here either) – it really works! It is a 'vacuum' that literally 'sucks' the nits and lice out of the hair. So it is a bit like the Robi-Comb – but on steroids. Hygenic, mess-free and both prevent and eliminate head lice and eggs.
7. Head Lice Prevention Sprays
There are a lot of ways to try and stop the prevention of nits and head lice in the first place. This easy homemade head lice prevention spray is a nice smelling deterrent for lice. These are products that you can use to spray in your child's hair daily.
We have a homemade version here:
1 spray bottle
water
1 tablespoon conditioner
10 drops either Tea Tree, Lavender or Eucalyptus Oil
Place the conditioner and essential oils in a spray bottle and fill with tap water. Every morning whilst doing your children's hair, give it a quick spray with the mixture. Makes a great de-tangler too!
8. After Head Lice Treatments
Once you have treated your child for headlice, you need to continue to check your child's hair for 2 – 3 weeks afterwards to prevent re-infestation. You only have to miss one little egg – and the cycle will start again.
It is a good idea after treatment to:
Wash all linen, pillowcases, school hats, hairbands, headbands etc in hot water then use the dryer to dry them for a bit of extra protection
Vacuum the carpet in the house thoroughly, especially in the child's bedroom
Use a lice comb to go through the hair of all family members every couple of days for the next three weeks
Under no circumstance should you use kerosene, turpentine, methylated spirits, dog or cat flea/tick treatments or insect sprays on your child to kill nits and lice – these are completely dangerous practices which can cause harm to your child.
If you require any further information we have some hotlines and suggested websites for further information and advice*.
*SAHM takes no responsibility for any illness, injury or death caused by misuse of this information. All information provided is correct at time of publication.