How to Organise an Epic Baby Shower
So, you've volunteered to (or been roped into!) organizing a baby shower for your sister, best friend, workmate, cousin and you don't know the first place to start. Well here's some quick baby shower tips to get you headed in the right direction!
Traditionally, Who Should Host a Baby Shower?
Traditionally, it is the Mother, Mother-in-law or sister of the mum-to-be that hosts and organizers the baby shower. For second babies, the best friend is traditionally the host. But really, with families wide-spread these days, anyone can be the host in conjunction with the close family. Even the Mum-to-be can organise it – today – it doesn't really matter!
Who Should be Invited?
The Mum to be, all of her sisters and sisters-in-law. Both her Mum and Mother-in-Law should be invited (depending on the relationship). Any favourite Aunts or cousins. Then there are the best friends and work friends.
Traditionally a Baby Shower is half relatives, half friends.
Most baby showers have a maximum of 15 people in attendance.
The Baby Shower Invitations
Invitations should be sent about four weeks from the planned baby shower. It is also a good idea to set up a Baby Shower Event in Facebook so it is easy to remind everyone and to make RSVP's really easy!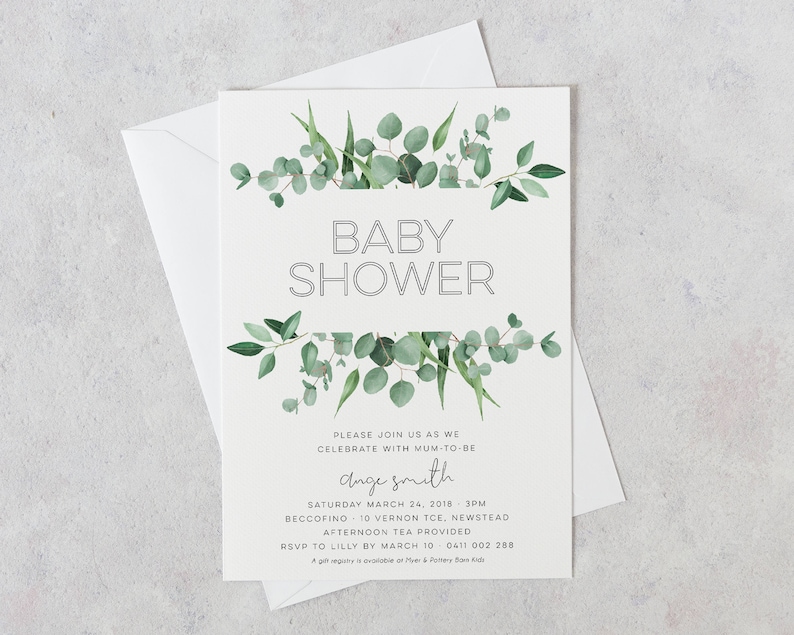 Where to Host a Baby Shower?
Any baby shower I have ever been to is either at the shower organizer's or the mum-to-be's house. It's usually the easiest and cheapest option, but there are some other places you can go if you want something a bit different. You can try a local park (especially if it has one of those lovely big rotundas) or you can hire a community hall (costs usually aren't huge and they have a kitchenette to heat food and make drinks). If you don't mind spending a little bit of money (or you can even ask guests to put some money in) then you can hire a private room at a restaurant, café or tearoom for something a bit schmancy like a classy ladies' high tea!
Here are some other suggestions for you:
Book a fancy hotel suite
A local clubhouse (such as bowling clubhouse or golf club) where there is a separated room.
A local community hall
Book the Mum to be's favourite restaurant
Garden Baby Shower
Have the Baby Shower at a Beauty Spa
When Should You Have the Baby Shower?
There's really no set rule as to when a baby shower should be held (the obvious main rule is that it's held before the baby's born!!) generally, most baby showers are held sometime in the mum-to-be's third trimester or around the 30 – 36 week mark. Many people also argue that baby showers should only be necessary for the first baby, but really, I think it's up to the individual. Any excuse to have a party is OK in my book!
If the baby happens to be born before the Baby Shower – that doesn't matter – you just have a new guest of honor to fawn over on the day!
Baby Shower Themes
Although you certainly don't need to have a theme for your baby shower, they are becoming more popular. Some popular ideas include;
A Gender Reveal Baby Shower (where the Mum to be reveals she is having a baby boy or girl)
High Tea
Tropical
Rose Gold
Baby Pink or Baby Blue
Monochrome
Disney Princess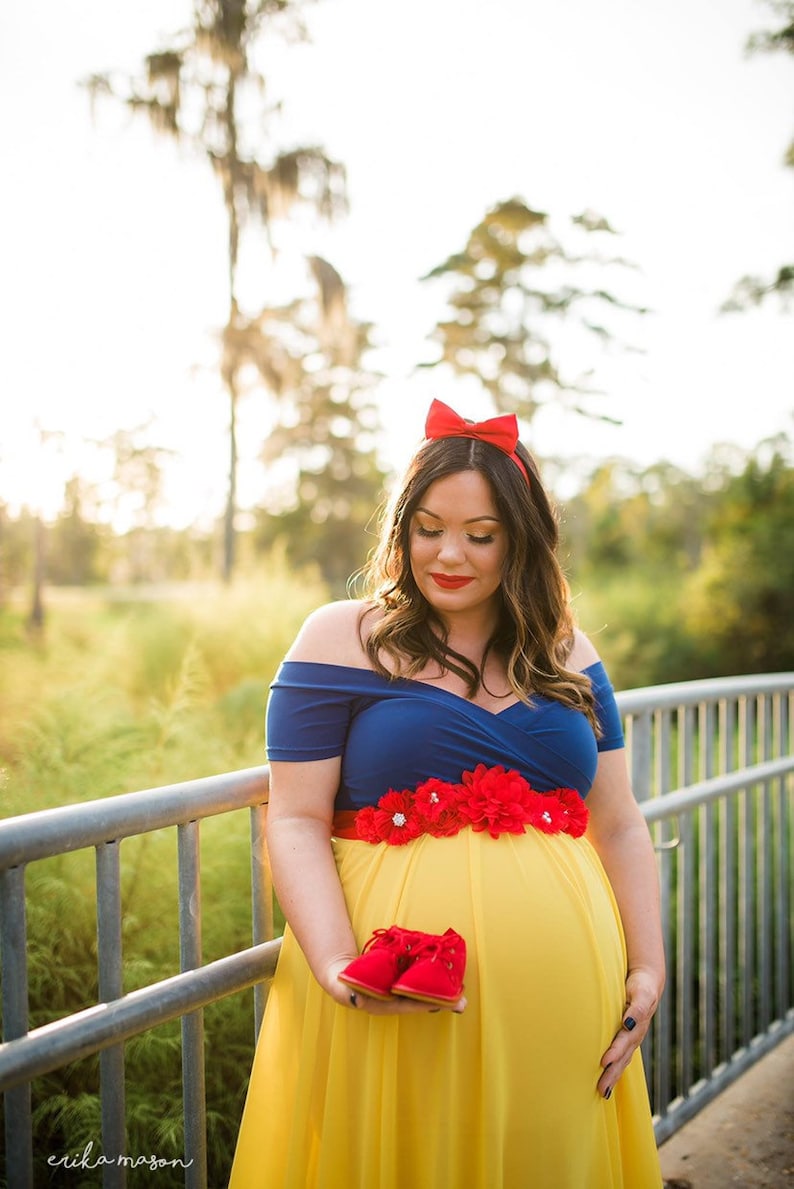 This Snow White Maternity Gown is just darling for a Baby Shower – By Silk Fairies
What to Serve for Nibbles?
Baby Showers aren't a fully catered meal. They are meant to be like a High-Tea. Think finger food, dainty cake and slices, perhaps some sausage rolls and rice paper rolls. Here are some lovely food suggestions to serve at a Baby Shower:
Unicorn Cream Cheese Sugar Cookies are a delicious option for a Baby Shower
What Gifts Should I Buy for the Mum to Be?
When I had my baby showers I remember receiving some awesome gifts a whole bunch of my workmates chipped in and gave me a big washing basket full of things like baby singlets, dummies, a pack of newborn nappies, wipes, washers, nappy rash cream, teething rings, nipple cream, breast pads"¦"¦basically all the stuff that I hadn't even thought of buying myself at that stage. It was a lifesaver and possibly the best present I received. I also remember getting some baby books and a couple of vouchers from places like Bra's n Things and a beauty salon. I think the best gifts you can give to a mum-to-be are practical ones and pampering ones. Click here for more gift ideas!
Other great suggestions from Mum's with young children include:
A Slow Cooker
Voucher for a Cleaner
Nappy Cleaning Service
Box of Disposable Nappies
A fancy new pillow and satin pillowcase
Beauty or Massage Voucher
Or is you want something a bit more modern and trending…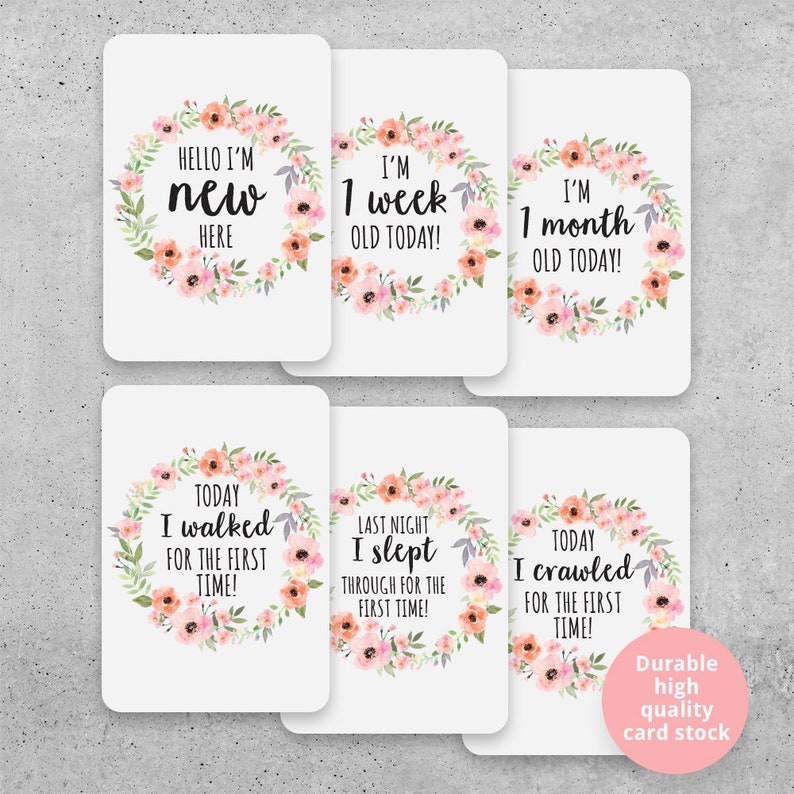 Printed Milestone Cards are a popular baby shower gift. Stockist: Co Creative Design
The Baby Shower Cake:
You don't need a huge elaborate cake for a baby shower. And if the parents aren't letting people know the sex of their unborn child, it is best to keep the cake in neutral colors so it doesn't give away the big secret! Here are some suggestions.
Can You Suggest Some Baby Shower Games?
As for games, well there are millions! Way too many to list here, so look out for my Baby Shower Games post.
Free Baby Samples
This is the best reebie around in Australia at the moment. Amazon Australia offers a FREE Welcome Box valued at over $200.
BUT – in order to get your box, you will need to add a few items to the Baby Wishlist and order items over a certain value – but if you order something you will use anyway such as nappies, you will reach your target fast and can claim your free Welcome Box. We have step by step instructions below.
What's in the Amazon Baby Box?
Well, every box is different – but according to Mums who have already received the box, there are nappy samples, wipes, bottles breast pads, fabric softener, toys, thermometers – loads and loads of baby stuff!
Step by Step on How To Get the Baby Box:
Create an Amazon Australia Account. You can do that HERE
Create a Baby Wishlist and add at least 20 different products that have an 'Add to Baby Wish List' button.
Buy at least $59 worth of products.
Wait for their arrival.
Once they do, you see get a 'Redeem' button on the top of your Amazon Baby Wishlist – click this button and it will add your Welcome Box to your cart!
If you have any other suggestions for Baby Shower or would like to share your Baby Shower experiences with us feel free to comment!